Last Updated on
Are you tired of waiting for ages to heat up your shower water? Or are you fed up with high electricity bills due to an inefficient water heater? Look no further than the Top 5 Best 707 Water Heaters in Singapore. In this article, we'll be exploring the most energy-efficient and reliable water heaters available on the market, from instant hot water options to storage tanks suitable for larger households or commercial properties. Say goodbye to cold showers and hello to comfortable warmth that won't break the bank! Here we present the 5 best water heaters from one of Singapore's top water heater brands, 707 Water Heater.
Table of Contents
Best 707 Water Heaters in Singapore

About 707 Brand
Conclusion
FAQs
1. 707 Alpine Instant Water Heater
Durable and high-quality built
Are you looking for the perfect shower experience? Look no further! 707 Alpine Instant Water Heater has got your shower needs covered. This premium product will ensure that your bathing time is infinitely comfortable and enjoyable. With its superior copper-constructed water tank built to stringent safety specifications, rest assured that you're getting the best quality of water with every shower. The pressure in the water tank is released automatically for complete peace of mind. It also has a warning indicator feature which lights up when the temperature reaches scalding levels – because we understand too well that having hot water spout over our skin isn't always comfortable!
Moreover, this heater also goes above and beyond with its anti-scald protection, ensuring your safety even in exorbitant temperatures. That isn't all: it also comes with a 5-way shower head and splashes proofing according to necessary international standards! And don't forget about its temperature flow control which allows regulating water flow to get the best-preferred shower temperature at any time. With all these amazing features, the 707 Alpine Instant Water Heater is sure to be a staple in many home bathrooms from now on!
Pros:
5 shower head options
Copper water tank
Anti-scald protection
Cons:
Limited temperature range
2. 707 Princeton Instant Water Heater
Trusted safety standards
Ready to replace your old water heater and upgrade to the most reliable one available? Look no further than the 707 Princeton Instant Water Heater! This revolutionary product is a premium choice, giving you long-lasting performance, energy efficiency, and dependable safety features.
This water heater was laboratory-tested to last you more than 10 years of service. Not only that, it helps save on energy consumption thanks to its eco-friendly design. You can enjoy luxurious showering experiences in any home with its quality performance – it also exceeds Singapore's product safety standards for added assurance.
The 707 Princeton Instant Water Heater has a range of useful features like anti-scalding protection, pressure relief system, warning signals and adjustable temperature control. So you can be sure that shower time will always be stress-free with this powerful yet elegant product from us. Get ready for the ultimate shower experience – upgrade your home with the 707 Princeton Instant Water Heater today!
Pros:
Copper Tank
Seal of safety (Singapore)
Non-slip controls
Cons:
Not ideal for large households
3. 707 Kensington Electric Storage Water Heater
Great for commercial use
Introducing the newest addition to your home—the 707 Kensington Electric Storage Water Heater! Not only will this two-in-one storage and electric water heater provide you with hot water whenever you need it, but it's also built with convenience and energy efficiency in mind.
The 707 Kensington is made of highly durable materials that guarantee a long-lasting solution for all your hot water needs. There is also a flexible installation available, meaning it can fit into any kitchen or bathroom no matter how large or small the space. And if that wasn't enough, this great product will help you reduce your overall energy consumption without sacrificing quality—so while you're saving money on your utility bills, you'll still be getting all the hot water that you need!
So why wait to upgrade your at-home living experience? Make the switch—get the 707 Kensington Electric Storage Water Heater, one of the best storage water heaters,and reap the rewards of its many amazing features. Trust us—you won't regret it!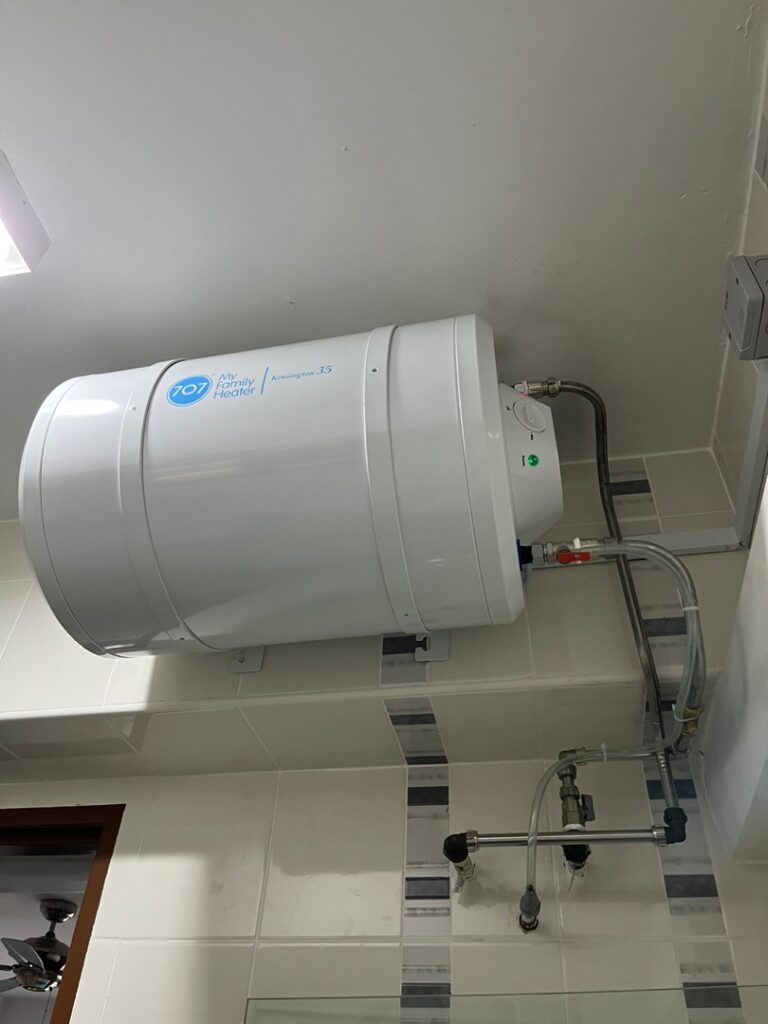 Pros:
Responsive with multiple features to suit everyone's needs
Top certifications in appliance safety
Flexible Installation
Cons:
4. 707 Compact Instant Heater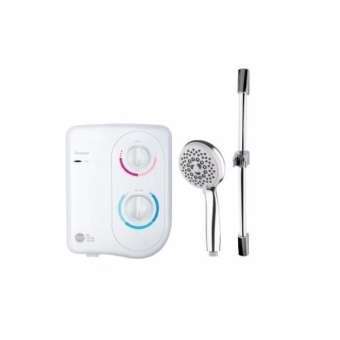 Best compact design
Step into your shower every morning and start your day off right with a warm and cosy shower! The 707 Compact Instant Heater is the perfect way to bring an extra bit of comfort to your bathroom. This instant heater has been trusted by countless families for years – dependable, consistent, and uncomplicated – it's the perfect piece of equipment for your daily shower routine. Start your mornings off in cosy warmth – you'll never want to get out!

More than just a simple heating device, the 707 Compact also includes a 5-way shower head, chrome shower sliding kit, as well a PVC shower hose with an elegant chrome design to finish off the look. With its easy installation and great features, this instant heater will have you feeling comfortable in no time at all. Don't miss out on this powerfully simple item that can make all the difference in starting your day off the right way. Get the 707 Compact Instant Heater today and make sure your mornings are full of warmth and cosiness!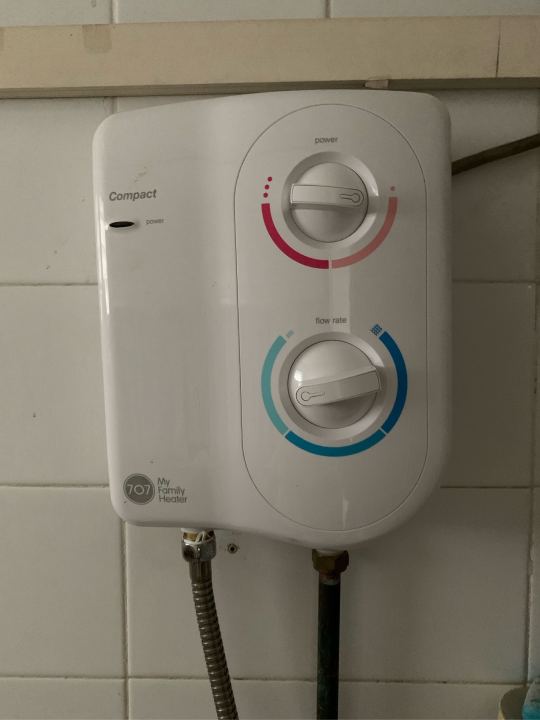 Pros:
Compact design
Water flow and pressure controls
Singapore safety standard-compliant device
Cons:
Limited temperature range
5. 707 Queenston Instant Water Heater
Best temperature control
Welcome to the ultimate shower experience – introducing the 707 Queenston Instant Water Heater. This state-of-the-art digital shower heater is designed with you in mind and featuring innovative heating technology, state-of-the-art touch sensors and a multi-level, anti-scald safety system, you'll never have to worry about cold showers again.
And that's not all! This luxurious spa rain shower set is designed to transform and elevate your shower experience, perfect for modern living. With its built-in water filter, you can be assured of clean fresh water with every shower. Its 6 hydro massage nozzles come with 3 different settings by which you can customize your showering experience each time – from normal to maximum based on your needs and desires.
So why wait any longer? Make the Queenston Instant Water Heater part of your home today, and let 707 turn your basic bathroom into a luxurious 5-star hotel shower room!
Pros:
Fully digital temperature control
Efficient heating system
Multi delivery system
Cons:
707 Brand
707 Water Heater Brand is committed to providing only the highest quality water heaters and ensuring customer satisfaction. They offer a wide range of services, including installation, maintenance, and repair. With their exceptional customer service and reliable products, 707 Water Heater Brand can help you find the perfect solution for your hot water needs. Whether you're looking for an energy-efficient tankless water heater or a traditional model with adjustable temperature control systems, 707 Water Heater Brand has what you need. Trust 707 Water Heater Brand to provide you with hot water solutions that are both affordable and dependable.
Factors To Consider When Choosing A 707 Water Heater
Choosing the right 707 water heater for your home can be overwhelming given the number of models available in Singapore. However, there are a few key factors to consider when making your selection. Firstly, take into account your household size and hot water demand to determine the appropriate capacity for your water heater. Next, think about your budget as well as the energy efficiency rating of each model to ensure you get a system that is both affordable and environmentally friendly.
In addition, pay attention to safety features such as automatic shut-off systems and temperature control settings that will help prevent accidents or injury. Also, consider the durability of each model and its ease of installation before making any purchase. With these factors in mind, you can confidently select the best 707 water heater for your needs while enjoying peace of mind knowing that you have made an informed decision.
Household Size
When it comes to choosing the right 707 water heater for your home, an important factor to consider is household size. The capacity of a water heater will depend on how many people are living in the house and their typical hot water consumption. If you have a large family or frequently host guests, you may need a larger tank or higher flow rate to ensure everyone can take hot showers without running out of hot water.
On the other hand, if you live alone or with just one other person, a smaller tankless or instant water heater may be sufficient and more energy-efficient in the long run. It's important to assess your household size and hot water needs before making a purchase decision so that you can optimize both comfort and cost-effectiveness.
Budget
When it comes to choosing a 707 water heater in Singapore, budget is an important factor for many customers. The price range of these water heaters can vary greatly depending on the size, capacity and features of the unit. Before making a purchase, it's important to consider your budget and what you're willing to spend.
While it may be tempting to opt for a cheaper model, keep in mind that investing in a high-quality 707 water heater will pay off in the long run through energy savings and durability. That being said, there are still plenty of affordable options available that offer great value for money without compromising on quality or performance. By taking into account your household needs and budget constraints, you'll be able to choose the best 707 water heater that suits both your pocket and lifestyle.
Hot Water Demand
When choosing a 707 water heater in Singapore, it's essential to consider your hot water demand. The household size and daily usage of hot water determine the capacity of your heater. For small families or individuals, an instant water heater like the 707 Elegance or Princeton would suffice. These models quickly heat up water as you turn on the tap, making them energy-efficient options.
On the other hand, larger households with higher hot water demands might need to invest in storage heaters such as the 707 Impression. This model stores heated water in a tank for later use and is suitable for families who use multiple bathrooms simultaneously or have higher hot water needs. Be mindful that larger tanks come with more significant energy consumption costs than smaller tanks; therefore, choose wisely based on your water and electricity usage patterns.
Ultimately, understanding your hot water demand is crucial when selecting a 707 Water Heater in Singapore. It can ensure that you get optimal performance while avoiding high electricity bills from inefficient heating systems."
Brand Reputation
Brand reputation is a crucial factor to consider when purchasing any product, and 707 water heaters live up to their excellent reputation. Known for its quality products and exceptional customer service, 707 has become a household name in Singapore. Their long-standing presence in the market speaks volumes about their reliability and durability.
Users can expect reliable performance from 707 water heaters since they use high-quality components during manufacturing. This means that you won't have to worry about frequent breakdowns or repairs, giving you peace of mind knowing that you made the right investment decision. Overall, with 707 water heaters' track record of providing efficient heating solutions, Singaporeans can trust this brand for all their home comfort needs.
Energy Efficiency
When it comes to choosing the right water heater for your home, energy efficiency is a crucial factor to consider. With rising electricity costs, having an energy-efficient 707 water heater can help you save money in the long run. The good news is that all of the 707 models on our list are designed with energy efficiency in mind.
Each model features different technologies and innovations that aim to reduce water and electricity consumption without compromising performance. For instance, some models have built-in thermostats that help regulate water temperature and prevent overheating. Others come with insulation layers that minimize heat loss and increase heating efficiency. Whichever unit you choose, rest assured that it will help you lower your electricity bills while providing hot water whenever you need it.
Overall, if saving money on your utility bills is important to you, we highly recommend going for a 707 water heater with high energy efficiency ratings. Not only will it be more cost-effective over time but also better for the environment by reducing carbon emissions associated with heating water at home.
Installation And Maintenance
One of the most important aspects to consider when choosing a 707 water heater is the ease of installation and maintenance. Thankfully, all of the models on our top 5 list are designed for easy installation with minimal plumbing required. The compact size and lightweight design also make it easier to install in tight spaces.
In terms of maintenance, regular cleaning and flushing out debris from the heating element can prolong the lifespan of your water heater. Look out for models that come with built-in self-cleaning features or easy-to-remove filters for hassle-free maintenance. It's also important to schedule periodic checks by a professional plumber to ensure that all components are working properly and efficiently. Proper installation and maintenance will not only save you money in repairs but also help improve energy efficiency and extend the life of your water heater.
Conclusion
In conclusion, choosing the right water heater can make a significant difference in your daily life. Whether you're looking for instant hot water or storage systems, 707 offers some of the best options in Singapore based on customer feedback and industry ratings.
Remember to take into account your household size and needs when selecting a water heater. Make sure to factor in different variables such as energy efficiency and installation requirements before making your final decision.
By choosing from one of these top-rated products from 707, it's possible to enjoy a consistent hot water supply while achieving cost savings at home. Contact us today for more information on our wide range of energy-efficient solutions!
FAQs
What are the best 707 Water heaters in Singapore? 🇸🇬
The top rated 707 Water heaters in Singapore are: 707 Alpine Instant Water Heater, 707 Princeton Instant Water Heater, 707 Kensington Electric Storage Water Heater, 707 Compact Instant Heater, 707 Queenston Instant Water Heater
Is 707 a good brand for water heater?🤔
707 has been known for their quality home appliances, including their popular instant water heaters which are seen in many Singapore homes. This home-grown company in Singapore puts a premium on family and personal welfare of their customers.
How much does a 707 water heater cost? 💵
707 water heaters can range from 150-400 SGD depending on the features and package inclusions.
This post was brought to you by Kimz House.
Disclaimer: The opinion is solely based on our testing or intensive research with customer feedback around the most popular shopping platform such as Shopee and Lazada. The products/services shown here are available and valid upon the publication date. It may change from time to time. Please email us at [email protected] if there is any discrepancy.