Last Updated on
One of the most important considerations when living in Singapore is the proper water purifiers and filters. Having purified and filtered water delivered to the location can be a costly and unreliable option. Having your source of filtered hot water and cold water and purifier on location offers a cost-effective plan and peace of mind of always having this access to something so important.
We understand that choosing a water filter in Singapore can not be easy, hence, we have compiled the best water filter Singapore for you to be able to narrow down your options.
Table of Contents
Why Purchase Water Filters?
Top Water Filter Brands in Singapore
Conclusion
FAQs
Quick Comparison Table
(scroll right for more)
If you have yet to make such an important purchase, you will want to know what the best two water purifier dispenser options are. Following are our top 10 picks for best water purifier dispenser filters Singapore.
1. Novita NP180UF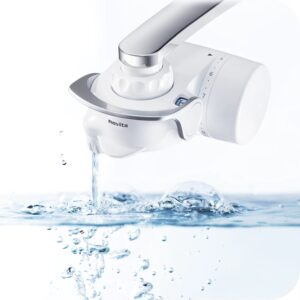 2 Step Water Purification
The Novita NP180UF water filter is an excellent choice for anyone looking to ensure their family has access to clean and safe drinking water. With a combination of a granular activated carbon filter system and an advanced ultra-hollow membrane ceramic filter top, this product ensures that up to 99.99% of bacteria are removed from the water. This is great news for those concerned about unhealthy contaminants in their drinking water as it eliminates free residual chlorine and volatile organic compounds (VOCs) along with other harmful impurities.
This model also has a high purification efficiency which makes it well worth considering when selecting a new home filtration system. Unlike some other air filtration systems out on the market that might deliver unsatisfactory results due to low-quality filters or inadequate design, this unit offers water purifiers with superior cleaning power for maximum peace of mind. Additionally, its easy installation means you can get it set up quickly without any hassle or having to hire professionals for the job!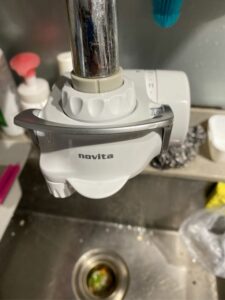 In conclusion, if you are looking for a reliable and effective way to ensure your family's access to safe and healthy drinking water then you should consider investing in the Novita NP180UF Water Filter System today! It will help protect your family boil water well from unwanted contaminants while delivering an efficient performance that meets all expectations – at an incredibly affordable price too!
Pros:
Granular Activated Carbon

Advance Ultra-hollow Membrane Filter

Remove up to 99.99% of bacteria
Cons:
2. Philips WP3828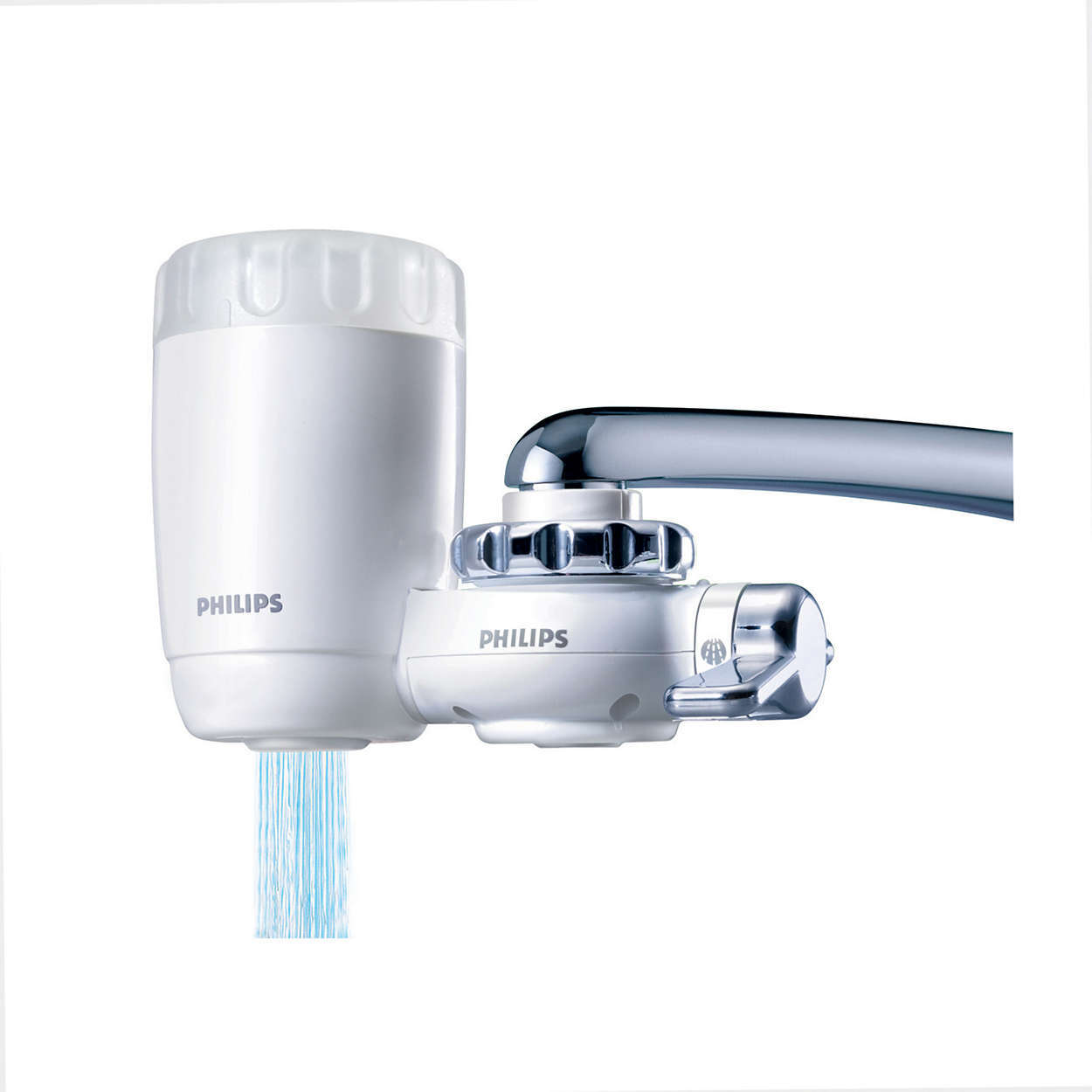 Filtration straight out of your faucet
Philips WP3828 water filter is an excellent solution for any home looking to enjoy tasty, pure water on demand. Thanks to the easy-to-install design and eco-friendly reusable water filters, you can get filtered water whenever you need it with minimal effort. Not only does this system make for great convenience; but it also guards your family against consuming impurities that may be lurking in regular tap water.
The advanced filtration system of the Philips WP3828 goes above and beyond protecting your drinking supply by making sure there's no unpleasant taste or odor when you go to fill up a glass of water straight from the tap. This way, you don't have to worry about buying expensive bottled options whenever you want refreshments – just use what comes out of the faucet! Plus, no need for replacing expendable filters means less cost over time as well as fewer trips to places like hardware stores or supermarkets for refills.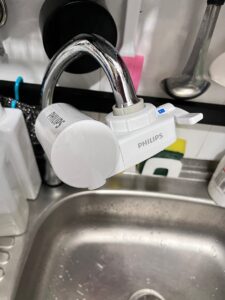 In short: if fresh, clean-tasting drinking water is important to you and your family – whether due to its extensive health benefits impacts or simply because it tastes better – then choosing a reliable purifying system like the Philips WP3828 is essential. With its top-notch features and eco-friendly reusable filters, this product promises perfect performance in eliminating contaminants from regular tap water plus enormous savings over time compared with other options available on the market today!
Pros:
Pure Protect alert tells you when the filter needs changing

The maximum rate of 2 litres per minute

Quick Twist for easy filter replacement
Cons:
Some users report some drips after turning off
3. OSIM uPure 2
4 Step Purification
The OSIM uPure 2 water filter is a great choice for anyone looking for a convenient and effective way to filter their drinking water. With its four-step purification process, the system will remove impurities like chlorine and heavy metals as well as other contaminants that can affect the taste and odor of your tap water. It also has a double filtration filter cartridge which is powerful enough to get rid of bacteria, viruses, and micro organisms while improving clarity and flavor. The convenient filter cartridge and replacement indicator makes it easy to know when the filters need changing, ensuring you always have clean filtered drinking water.
Another great feature of this product is the Water Mode Selector which allows you to adjust the temperature settings the flow rate according to your preference – whether it's faster or softer downstream flow from light up to heavy downpour feel. And with its LED Filter Change Reminder, you'll never forget about replacing your cartridges so you're sure to always be drinking fresh purified water with each cup!
Overall, I would highly recommend getting an OSIM uPure 2 water filter if you value convenience and having the peace of mind that comes with knowing you are consuming safe drinking water free from any harmful or other contaminants, or particles. So why wait? Get yourself this amazing product now!
Pros:
Double Filtration Cartridge

Convenient cartridge replacement indicator

Water mode selector
Cons:
Flow of water is a bit low
4. Mitsubishi CLEANSUI CSP801
With Digital Display
The Mitsubishi CLEANSUI CSP801 water filter is an excellent choice for those looking to improve their drinking water quality. Not only does this model include a digital display, which allows you to monitor the life of your own tap water purifier filter as well as keep track of your overall usage, but it also comes equipped with filters that are designed to remove impurities from your tap water. This includes an activated carbon filter and a hollow fiber membrane filter that can trap and remove unpleasant odors, tastes, and chemicals found typically in most tap waters. Furthermore, the Tap Water Shower feature ensures ease of use while the Lever for Purified Water Dispensing provides convenience when filling containers or glasses with filtered water.
By having access to purer and cleaner tasting water right at home one can enjoy greater health benefits due to higher pH levels as well as less exposure to pollutants on top of spending less money compared to buying bottled distilled water products. What's more is that this efficient unit has a plastic exterior making it lightweight yet durable enough for everyday use plus its charcoal color adds modern appeal whether being displayed in kitchens, guest bathrooms, or even office pantries alike!
All things considered, if you're looking for a convenient way that simplifies the filtration process all while enjoying great tasting safe drinking then look no further than the Mitsubishi CLEANSUI CSP801 Filtered Water System –an investment worth every penny! So why wait?
Pros:
Activated Carbon

Digital Display

Hollow Fiber Membrane Filter
Cons:
Water can splash on high flow
5. TORAY MK204
Easy Installation
The TORAY MK204 water filter is an excellent choice for anyone looking for safe and healthy drinking water. With its advanced filtration technology that can filter out contaminants such as organic matter, heavy metals, rust, and sediment particles from tap water, you can rest assured that the drinking water in your home will be clean and free of any unwanted substances. Not only that, but this convenient device's LED display makes usage of tap water filter even easier while a lever allows you to switch between purified and regular tap water on demand.
Another great feature of the TORAY MK204 is its Tap Water Shower (TWS) feature which helps conserve energy by automatically the water filter shower head and turning it on hot water and off when cold water is not in use after 3 minutes. This prevents unnecessary water wastage, while ensuring you always have access to clean, hygienic drinking water whenever you need it! Furthermore, with its high capacity of up to 5 liters at once, this filter has enough volume to meet the needs of any household size without having to refill constantly or purchase additional filters for larger families.
All in all, the TORAY MK204 Water Filter offers a combination of convenience and efficiency like no other product on the market today! By incorporating several innovative features into one single unit – from its advanced filtration system down to conserving electricity via TWS – this filter proves itself time again as an invaluable addition to any modern-day kitchen setup that truly cares about providing safe drinking water for every family member involved. So don't wait around; get yourself a TORAY MK204 today and enjoy a better quality filtered drinking water dispensers throughout your home!
Pros:
LED display

Switch from tap and purified

High Capacity
Cons:
Needs battery for digital display
6. Philips WP3861
Best in Maintaining Water Flow
The Philips WP3861 Water Filter is an excellent choice for anyone looking to improve the quality of their drinking water. This filter comes with a high flow rate of 2 liters per minute, so you get consistently clean and gentle filtered water when you need it. Additionally, replacing filters is easy thanks to the Advanced Quick Twist technology – all you have to do is twist it and the old one drops out automatically for the quick replacement!
Another great feature this water filter system has are its intuitive indicators which show you exactly what stage your filter is in at any given time. With this information, you can be sure that your water will always be pristine and free from contaminants! The Activated Carbon Filtration System works together with these indicators to ensure that no harmful or unpleasant tastes make it into your glass.
If having fresh-tasting filtered water on tap sounds like something for you, then the Philips WP3861 Water Filter could very well be perfect for your needs! With its hi-flow rate and exceptional filtration system, you'll never worry about dirty or contaminated glasses again – so don't delay, invest in this great piece of tech today!
Pros:
Hi-flow rate of 2 litres per minute

Advanced Quick Twist filter replacement

Water flow selection (spray/stream, filtered/unfiltered)
Cons:
7. Panasonic PJ-225R
Cartridge Life Checker
The Panasonic PJ-225R water filtration system is a great choice for households looking for clean, pure drinking water. It comes with an easy installation process which makes it convenient and hassle-free. With temperature settings and a 2 liter/minute flow rate, you can get all the purified water you need while saving time and energy.
The best part about this filter is its Activated Carbon Filter that ensures superior filtration of any impurities in your water supply. Additionally, there's also the Selector Lever to choose between Unpurified Jet, Unpurified Shower, or Purified Jet Modes as per your requirement for water volume at any given time; making sure that each glass of water consumed will be full of flavor and goodness! To top it all off, the Cartridge Life Checker helps maintain the filter by alerting users when to change filters so they don't have to worry about spoilt tasting or contaminated drinking water ever again!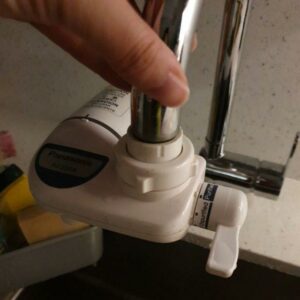 If you want pure, clean drinking water whenever you require it without having to go through extensive steps just to ensure the quality then consider purchasing the Panasonic PJ-225R Water Filtration System today! Enjoy fresh tasting healthy drinking anytime without worrying about impurities – Get yours now!
Pros:
Direct Faucet Mount

Antibacterial Activated Carbon Filter

Easy Installation
Cons:
8. Novita NP9002UF
Ultra-fine filtration
The Novita NP9002UF water filter is an amazing product that offers an effective filtration solution for your home. It has a Pre-Carbon Element which traps many impurities heavy metals, odors, and toxins in the water you use for cooking or drinking. This element also removes residual chlorine so you are sure to have clean, healthy drinking water.
In addition, the advanced Ultra Hollow Membrane found within this device reduces the particle size of contaminants down to 0.1 microns! That's incredibly small! As such, even dangerous agricultural chemicals and other harmful toxins will be eliminated from your water supply before you drink it or cook with it. And what's more amazing is that it does all of this while having a sleek and modern design at the same time!
All in all, I highly recommend the Novita NP9002UF Water Filter if you want to ensure that your home's freshwater supply is safe and pure drinking water quality at all times! With its remarkable filtration effectiveness combined with its stunning design aesthetic, it's one of my top picks when it comes to home-water filters on today's market! So don't wait any longer – Get yourself one now and start enjoying cleaner, healthier drinking water right away!
Pros:
Pre-Carbon Element

Advanced Ultra Hollow Membrane

Remove impurities particle size up to 0.1 micron
Cons:
9. Novita NP190
Easy to Use
The Novita NP190+ water purifier filter is an outstanding product that can help you get clean and pure drinking water. It ensures the highest level of water purification with its two-step ultra-purification process, which removes 99% of free residual chlorine, 99.99% of bacteria, and suspended colloids up to 0.1 microns for a perfect, alkaline drinking water experience. The easy DIY installation allows anyone to install the filter without relying on expensive professionals, making it a great addition to any home or office kitchen setup.
In addition, the filter also has several other benefits that make it an even better choice than regular filters available in the market today. The filter lifespan indicator makes sure that you are always aware of when you need to replace your filter so you can be sure that your family will have access to safe and healthy drinking water every time they turn on their tap or faucet. Moreover, this powerful yet compact design conserves more water while still retaining essential minerals like calcium and magnesium at the same time!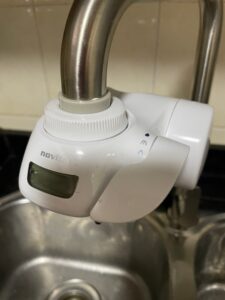 Therefore, if you're looking for a reliable source of fresh and pure drinking water then look no further – invest in the Novita NP190 Water Filter today! With its high-quality 2-step ultra purification process plus additional useful features like easy DIY installation and conservation of essential minerals – this is undoubtedly one investment worth making for better health as well as peace of mind! Go ahead – give yourself and your loved ones some extra protection by getting your hands on this amazing product now!
Pros:
Easy DIY Installation

Conserves water

Filter lifespan indicator
Cons:
10. Philips WP3811
Hi-flow
The Philips WP3811 Water Filter is an excellent choice when it comes to filtering your water. With its hi-tech hollow-fiber membrane filtration system, the water filter alone removes 99.99% of all bacteria from your tap water giving you clean and healthy drinking water free from any dangerous contaminants. Not only does it remove bacteria but also features granular activated carbon that eliminates chlorine, bad taste, and odors providing tasty drinkable water every time. Additionally, this innovative product preserves vital minerals for good health as well!
Installation of this filter is extremely easy as all you need to do is follow the simple step-by-step instructions provided with the product. Furthermore, its unique Pure Protect alert lets you know when it's time to replace the filter so that there are no complications or issues in getting rid of particles that may have collected over time ensuring optimal performance of this quality item at all times!
All in all the Philips WP3811 Water Filter should be seriously considered if anyone wants pure drinking water without any hassle or guesswork involved in installation or maintenance. So don't hesitate and grab one today to enjoy crystal clear safe drinking water whenever you want!
Pros:
Easy to install

Removes all bacteria, harmful organic compounds and chlorine

Pure Protect alert shows you when to replace the filter
Cons:
Why Purchase Water Filters?
It may seem that the upfront cost for a water filter that will deliver the same pure water as you will find from a water delivery service is unbelievably high and most people would be loath to dish out money for something that costs so little from a local service.
But, the most economically-minded homes and offices know that you will be buying fresh and clean water until the day you shake this mortal coil. It makes sense to provide yourself with a suitable water system that will last for the foreseeable future.
Water filters are essential because everyone, even your cats and dogs, needs to be supplied with a healthy source of water. This is even more important when you are also providing water for clients, customers, patrons, employees, guests and other people.
Top Water Filter Brands in Singapore
Novita
NOVITA is a company that prides itself on delivering the best products for your home. They have appliances to meet any need, no matter how unique it may seem!
Philips
Philips is a company that never backs down from the challenge of making life better. They're always looking for new ways to help people and their brands are excited about this too, as they know there's no limit on what can be accomplished with innovation!
Conclusion
Access to clean and safe water is crucial, no matter where in the world you are. And while there are many options for filtering and purifying your water, we believe that having your own filtration system on site is the best way to ensure a reliable and cost-effective solution. By installed a quality water filter at home or work, you can have peace of mind knowing that you always have access to clean water – something that is essential for good health and wellbeing.
FAQs
What are the best brands of water filters in Singapore? 🇸🇬
Among the top brands of water filters in Singapore are Brita, Philips, DrinkPure, and Lelong.
What are the types of water filters? 👀
Different types of water filters are: Activated Carbon, Reverse Osmosis, UV Filters, and ION Exchange.
Should I buy a water filter? 🧐
The most economically-minded homes and offices know that you will be buying fresh and clean water until the day you shake this mortal coil. It makes sense to provide yourself with a suitable water system that will last for the foreseeable future.
Water filters are essential because everyone, even your cats and dogs, needs to be supplied with a healthy source of water. This is even more important when you are also providing water for clients, customers, patrons, employees, guests and other people.
How much does a water filter cost?
It will greatly depend on the type of water filter that you will choose, as well as the level of filtration that you pick. It will range from from 100-250 SGD.
This post was brought to you by Kimz House.
Disclaimer: The opinion is solely based on our testing or intensive research with customer feedback around the most popular shopping platform such as Shopee and Lazada. The products/services shown here are available and valid upon the publication date. It may change from time to time. Please email us at [email protected] if there is any discrepancy.