Last Updated on
When it comes to major house purchases, it is best to find brands that are known for the quality of their products. The washing machine should no doubt be a long-term appliance, so it is crucial to find the perfect match for your lifestyle and other needs.
Samsung has almost become a household name in Singapore. Whatever electronic or appliance needs you to want, Samsung got it for you. While we often associate this brand with entertainment appliances, we also found that the brand now has a solid line of washing machines. We discovered this when we were scouting for the best washing machine in Singapore.
If you are a huge fan of Samsung, then you know full well their commitment to quality and customer support. Here are the 7 Best Samsung washing machine to check out:
#1 – Samsung WW75J42G0KW Front Load Washer (7.5Kg)
Best for small households
For starters or smaller household, we consider this size and load capacity ideal. Samsung offers an elegant, perfectly-sized washing machine powered by its trademark smart appliance technology.
Why buy this:
Durable Performance Digital Inverter Technology utilizes strong magnets for a quieter and more powerful performance
Comes with easeSmart Check is an automatic error-monitoring system that detects and diagnoses problems at an early stage and provides quick and easy troubleshooting using a smartphone app
Removes 99.9% of bacteria and allergens in clothes
This model comes with an 11-year warranty, too! Truly a good, long-term investment for your home. Buy this online here.
#2 – Samsung Front Load 8Kg, WW80K54E0UW/SP
Best frontload washer
While front load washing machine is a definite upgrade, one of its downsides is that it makes it impossible to add a piece of laundry once you started the wash cycle. This AddWash front load from Samsung addresses just that.
Why buy this:
Powerful EcoBubble™ Technology, Outstanding performance
Intensive Stain Removal, but gentle on every fabric
Durable Performance
Extraordinarily beautiful design
Troubleshoot with ease
It comes with the same smartphone connection as the previous model to help you easily address any error. Convenience and performance guaranteed. You can buy this Add Wash model here.
#3 – Samsung WA10R5260BG 10kg Top Load Washing Machine
Space-saving top-load machine
When upgrading the load capacity of a washing machine, but also dealing with space limitations at the same time, the best option is going for a top load washing machine.
Why buy this:
Wobble™ Technology – Powerful Wash, Gentle on Fabric
Digital Inverter Technology – Uses up to 40% less energy* and last longer
Magic Dispenser – Dissolves detergent efficiently Intensive Wash
The good thing with Samsung is that you are not really missing out on a lot in terms of fabric care even if you switch to a top-load machine. It comes with a diamond drum, which is essential for the gentle fabric care. Buy this for less than 500 SGD here.
#4 – SAMSUNG WA90F5S5QWA TOP LOAD WASHER
Water and energy efficient
If you are looking for a no-fuss but reliable washing machine from Samsung, this is a good start. It comes with a decent load capacity of 9Kg, but will not consume that much space in your laundry area.
Water and energy efficient (7.5 litres per kilogram)
Diamond drum for gentle spinning/washing
Ready to install
It also comes with great service warranty coverage so you can be assured of the quality of this washing machine, as well as the easy access to Samsung's customer support.
#5 – SAMSUNG WA12R5260BG 12KG WOBBLE™ Technology Top Load Washing Machine
Great fabric care
Top load washing machines have been infamous for being too harsh on clothes, due to its design. Samsung breaks the prejudice by having the Wobble technology on their top-load models. This means fewer tangles and twists for your clothes.
Why buy this:
Deep softener for lasting fragrance
40 % less energy consumed
Magic Dispenser – guaranteed no detergent residue on your clothes
Top load washing machines can be sophisticated and functional at the same time, just like this one from Samsung. You can buy this online and enjoy free delivery and installation.
#6 – Samsung WA14N6780CV Top Load Washer (14kg)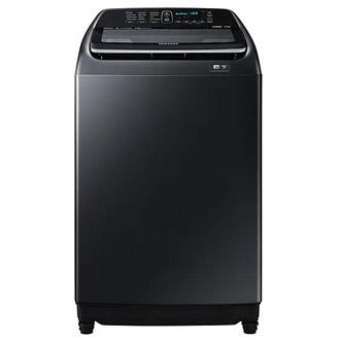 Best for large households
You may wonder if you will ever need this much capacity in your home. We did, too. We, later on, understood that this is actually a multi-tasker washing machine, so the 14 kg capacity eventually made sense. It allows you to soak and wash at the same time.
Why buy this:
Active Dual Wash technology
Magic dispenser efficiently dissolves detergent leaving no residue
Gentle clothes care with the Wobble Technology
All your favourite features from Samsung washing machines were all included in this model. Don't miss this online here.
#7 – Samsung WD80K6410OW Combo with Ecobubble Front Load Washing Machine (8Kg)
Best for tough stains
Washing our clothes and eventually drying them up is one of the most cathartic feelings among household chores. But, having this washing machine upgrades the whole laundry experience, making it a less tiring task.
Why buy this:
Powerful Cleaning in Less Than an Hour
Intensive Stain Removal
Freshen Clothes with Air Wash
Easy Troubleshooting
This is an even better washing machine than those you see from commercial laundry shops, and you get to enjoy it at the comfort of your own home. Buy this online here.
Why Samsung Washing Machine?
Samsung is an internationally renowned brand with a great record, in terms of performance and durability of their products. Whatever industry they get into, whether it is gadget or appliances, the brand name manages to stand out.
This alone makes us trust their washing machines, as well. Both their top load and front load washing machines are powered by sophisticated technology to meet proper laundry care needs, while also being energy-efficient.
Check out our top choices for Samsung Washing Machines below:
This post was brought to you by Kimz House.
Disclaimer: The opinion is solely based on our testing or intensive research with customer feedback around the most popular shopping platform such as Shopee and Lazada. The products/services shown here are available and valid upon the publication date. It may change from time to time. Please email us at [email protected] if there is any discrepancy.