Last Updated on
When it comes to major house purchases, it is best to find brands that are known for the quality of their products. The washing machine should no doubt be a long-term appliance, so it is crucial to find the perfect match for your lifestyle and other needs.
Samsung has almost become a household name in Singapore. Whatever electronic or appliance needs you to want, Samsung got it for you. While we often associate this brand with entertainment appliances, we also found that the brand now has a solid line of washing machines. We discovered this when we were scouting for the best washing machine in Singapore.
Table of Contents
Best Blender and Smoothie Maker Comparison Table


Why Choose A Samsung Washing Machine

FAQs
Quick Comparison Table
(scroll right for more)
If you are a huge fan of Samsung, then you know their commitment to quality and customer support. Here are the 7 Best Samsung washing machine to check out:
1. Samsung WA14N6780CV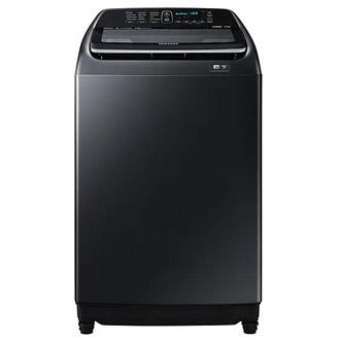 Best for large households
Samsung is known for its innovative and reliable washing machines, and the WA14N6780CV is no exception. Introducing the all-new Samsung WA14N6780CV Top Load Washer. This powerful machine comes with a whopping 14 kg capacity, making it ideal for large families or anyone who likes to do laundry in bulk. But that's not all—this top-load washer also features a versatile soaking function that lets you soak and wash your clothes at the same time. So no more waiting around for your laundry to absorb before you can start washing it!
Pros:
Active Dual Wash technology

Magic dispenser efficiently dissolves detergent leaving no residue

Gentle clothes care with the Wobble Technology
Cons:
Not that suitable for anyone with a smaller space or living alone
2. Samsung WA90T5260
Energy Efficient
Looking for a washer that looks great and is also convenient to use? Check out the Samsung WA90T5260. This new washer has a sleek, round-edge design with bright chrome accents that will add a touch of style to any laundry room. But it's not just about looks – the WA90T5260 is also designed for efficiency and ease of use. The large, easy-to-fill detergent compartments make it a breeze to get your laundry started, while the slanted Dual Cluster Control Panel puts all the controls right at your fingertips. Plus, the foldable tempered glass door that makes loading and unloading a breeze. And with the Diamond Drum providing a gentle yet effective cleaning performance, you can be sure your clothes will come out looking their best. So why wait? Make your life easier with the Samsung WA90T5260 today!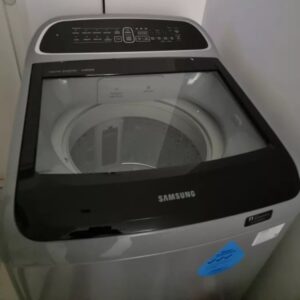 Pros:
Magic Filter solves lint issues by capturing lint and debris that regular washers overlook by working below the water line.

Dual air intakes draw in more air while the drum rotates quickly as part of the Air Turbo Drying System, which also dries your garments more thoroughly.

It generates multi-directional washing flow movement that distributes water to all regions of your wash load using cutting-edge Wobble pulsators.
Cons:
Only one detergent slot may be cleaned.

Clothing cannot be washed twice with the same detergent.
3. Samsung WA75H4400SS
Best For Small Spaces
Looking for a washing machine that can take your fabric care to the next level? Look no further than the Samsung WA75H4400SS. With advanced fabric care and cleaning capabilities, this top-load washer is sure to become your go-to appliance for all your laundry needs. But that's not all – the WA75H4400SS also features a speed drying system, so you can dry your clothes faster than ever before. Plus, with Eco Tub Clean technology, you can keep your washer fresh without harsh chemicals. And finally, the sleek and ergonomic design of this washing machine will look great in any laundry room. So why wait? Get the Samsung WA75H4400SS today!
Pros:
Compact design and great value for money

A powerful yet delicate washing performance is offered by the Diamond Drum's streamlined design.

Easy to clean filter
Cons:
Only spins at 700rpm as compared to some models that spins at 1000rpm
4. SAMSUNG WA10T5360BV/SP
Space Saving
The SAMSUNG WA10T5360BV/SP is a top-of-the-line washing machine that offers powerful cleaning and fewer tangles with Wobble™ Technology. Its Digital Inverter Technology makes for less noise and energy consumption, while the Magic Dispenser™ ensures that detergent is dissolved better for a thorough wash. The Intensive Wash feature is perfect for removing stubborn stains, and the Deep Softener adds a longer-lasting fragrance to your clothes. With a Diamond Drum designed to be soft on fabric, this washing machine is an excellent choice for anyone looking for an effective and efficient way to clean their clothes.
Pros:
Slanted rear control for easy control

The eco-friendly tub cleaning cycle

Automatic notification once your machine is due for a cleaning

Uses 40% less energy than normal
Cons:
Might be noisy while in use
5. SAMSUNG WW80T534DTT
Best Front Load Washing Machine
Looking for a washing machine that will get the job done quickly and efficiently? Look no further than the SAMSUNG WW80T534DTT. This machine features EcoBubble technology, which turns detergent into bubbles that quickly penetrate fabric and remove dirt with ease. You'll also appreciate the Auto Dispense feature, which dispenses the appropriate amount of detergent and softener for each load. Plus, it holds enough detergent for up to 1 month of washing, so you can avoid having to fill up the tank after every wash. Get the best washing results with less waste and effort – choose the SAMSUNG WW80T534DTT!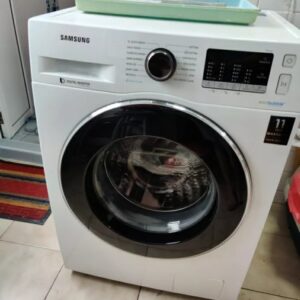 Pros:
It emits steam from the bottom of the drum, thoroughly saturating each item.

Drum Clean eliminates 99.9% of odour-causing microorganisms from the drum.

Multiple features help assure your clothes are properly taken care of.
Cons:
The silicon in the door might get loose if not constantly maintained
6. SAMSUNG WW12TP94DSX/SP
Best for Big Loads
Looking for a powerful and efficient washing machine? Then check out the SAMSUNG WW12TP94DSX/SP. This top-of-the-line washing machine comes packed with features that will make your life easier, including AI Control, QuickDrive, and Auto Dispenser. And with Bubble Soak technology, your clothes will come out cleaner than ever before. Plus, the child lock and door lock features will give you peace of mind knowing that your little ones are safe and sound. So why wait any longer? Order the SAMSUNG WW12TP94DSX/SP today!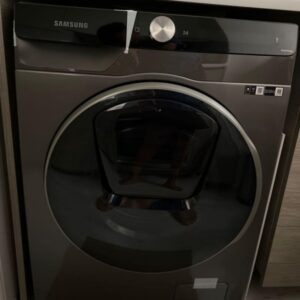 Pros:
Personalises washing settings based on the user's usage

Reduced wash time by half

4 built-in censors in order to dispense the optimum amount of water and detergent
Cons:
7. SAMSUNG WW75TA046TE
Front Load For Small Spaces
Looking for a washing machine that can handle your family's laundry needs? Check out the Samsung WW75TA046TE. This washing machine comes with Hygiene Steam, which means you can sanitise clothes without any pre-treatments. With EcoBubbleTM Technology, you can efficiently clean clothes even at low temperatures. And with Digital Inverter Technology, you'll get a quieter and more powerful performance. So if you're looking for a washing machine that can handle your family's laundry needs, the Samsung WW75TA046TE is the perfect choice.
Pros:
Deep steam to fully sanitize your clothes for every wash

Silent operator

The specially designed water-flushing system
Cons
Will not work with only a single piece of clothing
Why Choose A Samsung Washing Machine:
If you're in the market for a new washing machine, you may be wondering why you should choose a Samsung model. There are many reasons to consider Samsung washing machines, including the brand's excellent reputation. Samsung is an internationally renowned brand with a great track record in terms of performance and durability. Whatever industry they get into, whether it is gadgets or appliances, the brand name always manages to stand out. This alone makes us confident in their washing machines. Both their top load and front load models are powered by sophisticated technology to meet proper laundry care needs, while also being energy-efficient. In addition, Samsung offers a wide range of features and options to choose from, so you can find the perfect washing machine for your home. When it comes to finding a quality appliance, Samsung is a brand you can trust.
FAQs
Are Samsung washing machines a good brand?
According to J.D. Power, Samsung front-load washers have the greatest customer satisfaction rates. Samsung was listed as one of the most dependable brands by Yale Appliances and Puls repair personnel in Power's laundry appliance satisfaction assessment.
How long should a Samsung washing machine last?
Samsung washing machines should last around 10 years old.
How to store my washing machines?
Before storing your washer and dryer, make sure to cover them. Dust, wetness, and damage from other objects can all be avoided by using a cover. Use of plastic tarps or other airtight covers should be avoided since they trap moisture and encourage the growth of mould.
Conclusion
After compiling all of our research, we have come to the conclusion that Samsung is one of the best brands for washing machines in Singapore. Their appliances are known for their quality and durability, which is why we believe that they are worth investing in. Not to mention, their line of products has something for everyone – whether you are looking for a front or top load machine. Do you have a Samsung washing machine at home? Let us know your thoughts about it in the comments below!
This post was brought to you by Kimz House.
Disclaimer: The opinion is solely based on our testing or intensive research with customer feedback around the most popular shopping platform such as Shopee and Lazada. The products/services shown here are available and valid upon the publication date. It may change from time to time. Please email us at [email protected] if there is any discrepancy.