Last Updated on
Nourishing your skin is a great way to keep it healthy and youthful. Whitening body lotion provides the moisture that keeps your skin supple, which will help slow down the aging process for both men and women alike. You can find the word "white" for every product on any aisle of a store – from sunblock to makeup, there is always an option to make your skin lighter. This obsession has been created by factors like sun damage, stress, or unhealthy eating habits, which could cause discoloration or other damages that show up more clearly against fairer skin than darker ones. The best solution would be using effective whitening lotions and creams so as not only to keep you looking young but also healthy at all times!
Whether you are looking for body whitening lotions, face whitening lotions, or whitening lotions for men, our list has it for you!
Table of Contents
Top Whitening Lotion Brands in the Philippines
How to Choose the Right Whitening Lotion
Our Top Recommended Products
FAQs
Quick Comparison Table
(scroll right for more)


hard to find something that fits your personal preferences and lifestyle but luckily we have found the what is the best whitening lotion Philippines that you can buy right now!
1. Belo Intensive Whitening Body Lotion 200mL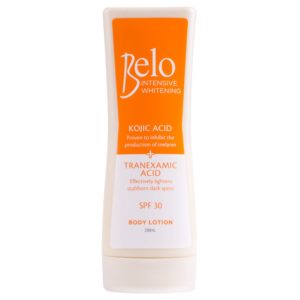 Intensive Whitening
Belo Intensive Whitening Lotion is a highly effective and indulgent product designed to whiten the skin. Its powerful formulation includes Kojic Acid and Tranexamic Acid, which work synergistically to reduce dark spots and acne scars while enhancing the overall complexion. The addition of SPF 30 sun protection in the formula ensures continuous sun exposure without compromising the skin's safety against UVA and UVB rays, effectively preventing harmful UV damage. The lotion's lightweight consistency allows for rapid absorption, providing deep moisturization without any sensation of heaviness or greasiness. Furthermore, it is hypoallergenic and dermatologist-tested, making it suitable for all skin types.
The product has garnered positive feedback from users who have experienced impressive results in a relatively short period. Brightening effects are noticeable after just one week of regular use, with visible improvements in dark spots and overall skin tone. Users have also reported well-hydrated skin after application, along with the added benefit of SPF 30 protection, enabling them to engage in outdoor activities without concerns about sunburn.
For individuals seeking a fast-acting and irritation-free solution to intensively brighten dull complexions, Belo Intensive Whitening Lotion stands as an excellent choice. For optimal outcomes, users are encouraged to combine it with the Belo Intensive Whitening Bar. The positive experiences shared by many attest to the remarkable achievements of these products, prompting the recommendation to try this transformative solution today.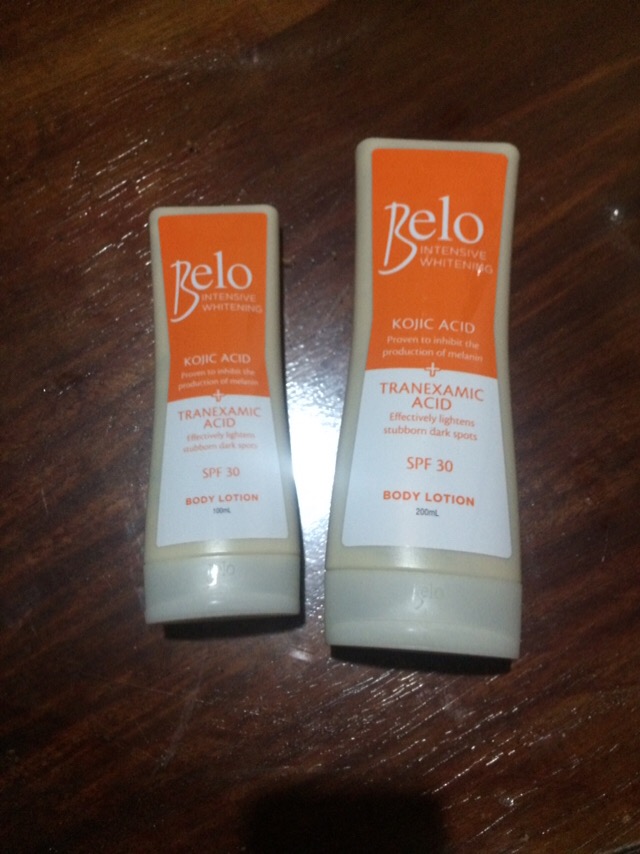 Pros:
Clinically proven and contains Tranexamic Acid and Kojic Acid
Contains hydrating glycerin to keep your skin supple, smooth, and bright
Hypoallergenic and dermatologist-tested
Cons:
SPF 30 may not be enough to protect against the harmful UV rays
2. NIVEA Body Extra White Firming Lotion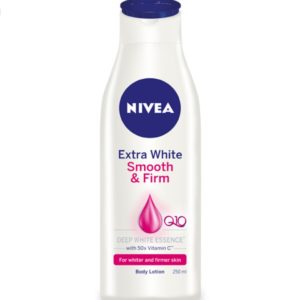 For A Smoother Skin
The NIVEA Body Extra White Firming Lotion is ideal for those looking to lighten and firm their skin. This unique product contains superfruit extracts that help to achieve intense whitening while also providing the rich nutrients of 50x Vitamin C necessary for repairing and strengthening the skin's structure. Furthermore, natural Camu Camu and Acerola Cherry are included in their formula to promote a lasting firmer look. What's more, it is easy to apply with its non-greasy texture yet still suitable for all skin types!
The benefits of this LOTION do not stop at whitening but will also leave your skin feeling revitalized and hydrated throughout the day with each application. After just one use you will notice visible results – from brighter complexion to smoother lines – thanks to its nourishing ingredients aptly selected by NIVEA's experts. With regular use, you can expect longer-term effects such as the prevention of premature ageing or reducing age spots among many other improvements in your overall look!
If you're looking for an effective skincare solution that provides great value for money then don't wait any longer! Try out NIVEA Body Extra White Firming Lotion today and unleash the beauty within you whether it be instantaneous white glow or sustained youthful vitality achieved through continued usage. Don't delay – take action now as this lotion offers fast-acting results specially formulated with superior ingredients!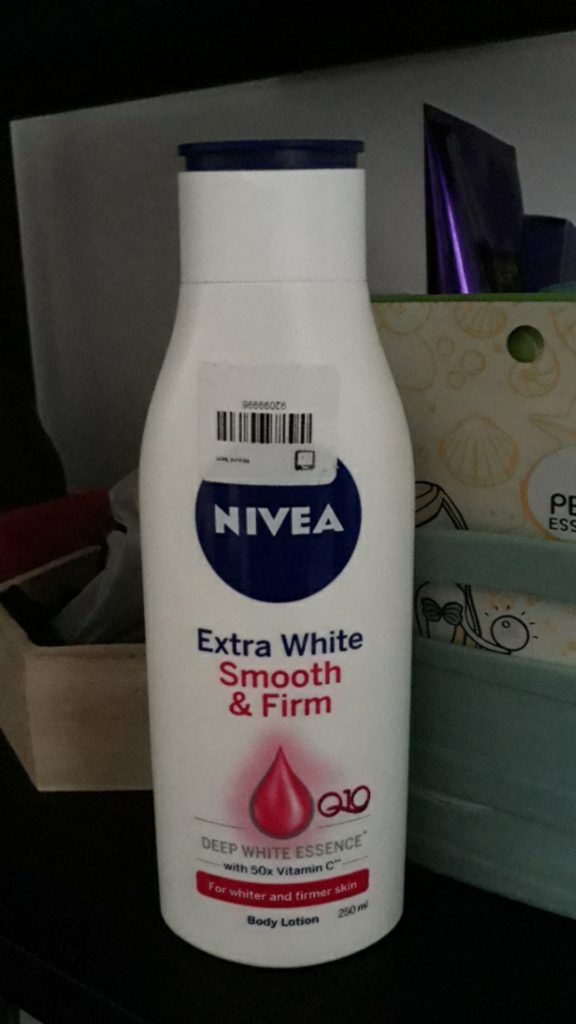 Pros:
Vitamin C
Cell Boosting Ingredients
Repairs 10 signs of dark spots
Cons:
Capped opening, and not pump
3. Vaseline Healthy White Lotion UV Lightening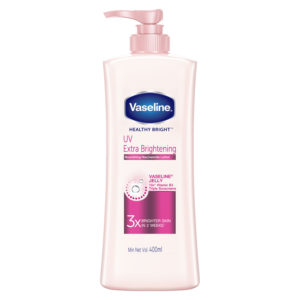 Best for Sun Protection
Vaseline Healthy White Lotion UV Lightening is a highly effective and convenient solution for maintaining vibrant skin throughout the day. The lotion's quick absorption and non-greasy texture ensure there is no residual oily feeling on the skin. Moreover, enriched with Vitamin B and B3, it provides long-lasting whitening effects without the need for frequent reapplication. The presence of Vaseline Jelly enhances its moisturizing capabilities, penetrating up to 10 layers deep into the skin.
One of the notable features of this lotion is the inclusion of triple sunscreens, offering comprehensive protection against UVA and UVB rays. This eliminates the necessity for an additional sunscreen, saving time and effort in the skincare routine while safeguarding the skin from sun-induced damage and premature aging.
In summary, Vaseline Healthy White Lotion UV Lightening is a preferred choice for those seeking to brighten their dull complexion effortlessly while simultaneously ensuring skin protection from sun damage. The combination of superior whitening effects and potent sun protection makes it a reliable and time-saving option. Experience the effectiveness of this exceptional product firsthand by trying it out today!
Pros:
Helps heal dryness and damage
Offers long-term whitening effect
Fast absorbing and leaves no greasy residue
Cons:
The lotion does not provide SPF protection
4. LTS Milky White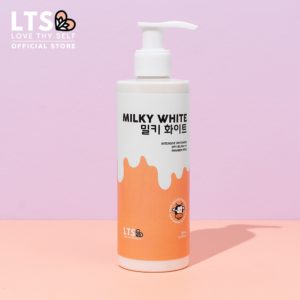 Best Moisturizer
The LTS Milky White has proven to be an exceptional product for the individual's skin. Its remarkable benefits include intensive whitening and moisturization, coupled with natural ingredients that offer protection against harmful UV rays. The cream's ease of application, quick absorption, and non-greasy residue set it apart from other whitening products. Furthermore, its hypoallergenic and non-comedogenic formulation make it suitable even for individuals with sensitive skin, ensuring no fear of irritation or breakouts.
Within just a few days of using the LTS Milky White, visible improvements in the complexion's brightness and overall healthiness were observed. The long-lasting effects eliminate the need for daily reapplication, allowing for a prolonged glowing complexion. Additionally, the cream's lightweight texture avoids the burden of heavy creams and prevents any cakey appearance in makeup.
For those seeking a new skincare solution that offers both brightening effects and intense moisturization, the LTS Milky White comes highly recommended. Its unique formulation allows for maximum absorption, resulting in irresistibly glowing and healthy-looking skin that lasts throughout the day. With such benefits, there is every reason to consider trying out this exceptional product. Don't hesitate; pick up your LTS Milky White today and experience the transformation of your skin into beautiful, healthy radiance in no time at all.
Pros:
Gives skin a radiant complexion
Keeps skin hydrated all day
Protects skin from harmful UV rays
Cons:
5. Gluta-C Intense Whitening Dual Antioxidant Lotion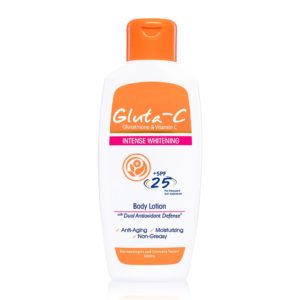 Anti-Aging Properties
The Gluta-C Intense Whitening Dual Antioxidant Lotion is an exceptional product that offers intense skin whitening alongside anti-ageing protection. Its potent blend of Vitamin C, Glutathione, and Licorice Extract effectively targets uneven skin tone and discolourations. The inclusion of Deep Moist Complex ensures the skin remains moisturized and healthy. Additionally, the lotion's advanced sun protection capabilities safeguard the skin from harmful UV rays and environmental aggressors. Furthermore, the lotion is paraben-free and utilizes environmentally friendly sunscreens, prioritizing safety and sustainability.
One of the notable benefits of incorporating this lotion into the skincare routine is the long-lasting hydration it provides throughout the day. Users have reported reduced patchiness on their faces and improvements in overall brightness and texture after using the product for two weeks. Moreover, the knowledge that the lotion offers effective sun protection while being safe for the environment provides added reassurance.
For those seeking a brighter complexion, particularly individuals who spend a significant amount of time outdoors, trying out the Gluta-C Intense Whitening Dual Antioxidant Lotion is highly recommended. Apart from offering hydration, it also combats signs of ageing due to its powerful active ingredients. With the added benefit of a 30-day money-back guarantee, there is no risk involved in giving this product a try. Experience the transformative effects of this lotion by trying it out today.
Pros:
Keeps skin feeling moisturized
Provides maximum broad-spectrum protection from UVA/UVB rays
Protects against free radical damage
Cons:
6. Gluta-C Kojic Plus+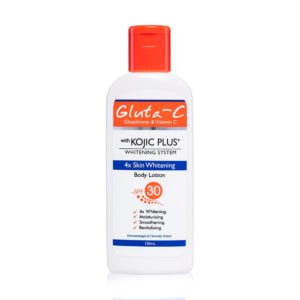 Skin Protection
Gluta-C Kojic Plus+ is a revolutionary 4X Intense Whitening Action that promises to provide users with bright and glowing skin. Its powerful formulation contains active ingredients such as kojic acid, glutathione, Vitamin C, arbutin and licorice extract which help reduce dark spots, uneven skin tone and brighten the complexion. The moisturizing and hydration benefits of this product keep the skin healthy while its anti-acne properties prevent breakouts.
One of the greatest advantages of using Gluta-C Kojic Plus+ is its effective sun protection feature which helps protect from UVA/UVB rays thereby preventing premature aging due to excessive exposure to sunlight. In addition, it revitalizes dull skin while making it ultra smooth through regular use over time.
With all these amazing features put together into one package, there's no doubt why Gluta-C Kojic Plus+ should be your go-to choice for achieving beautiful brighter looking skin! For those who are serious about skincare routine or just want an effortless everyday look – try out this amazing product now!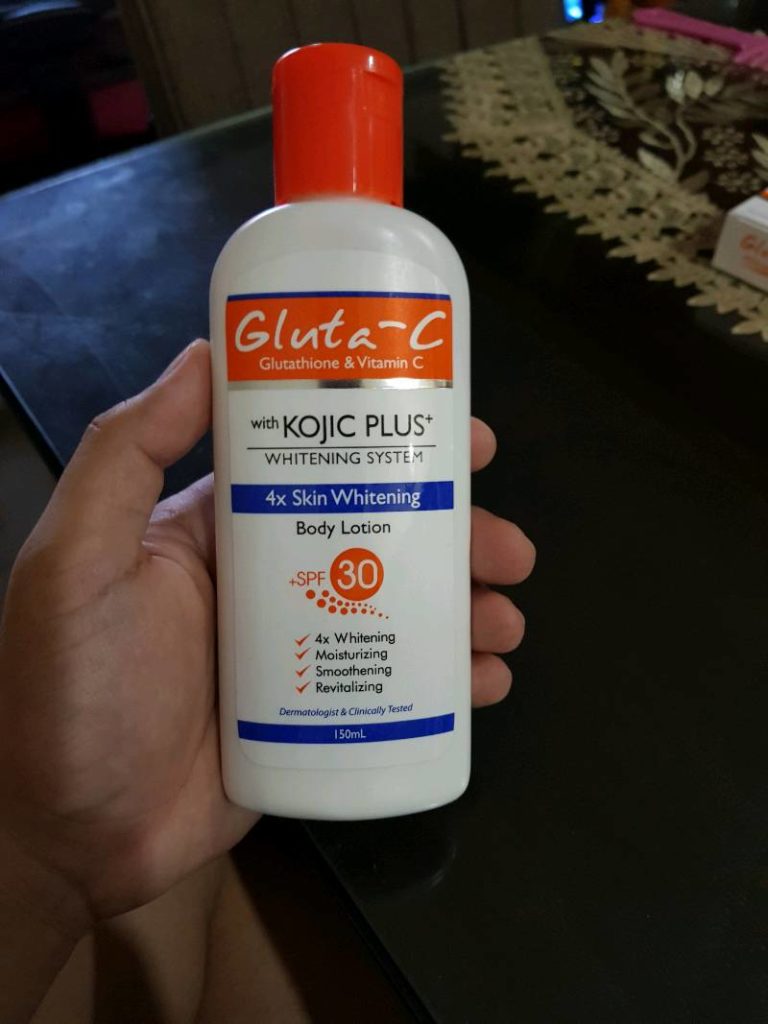 Pros:
4X Active Whitening Action to lighten and even skin tone
Moisturizes and hydrates your skin
Effective anti-acne treatment
Cons:
Not suitable for all skin types
7. Dr. Davey Carrot Whitening Body Lotion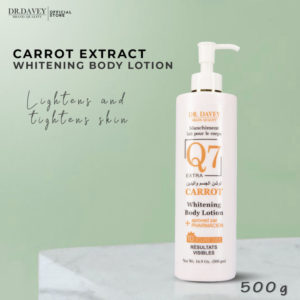 Made from Mineral Ingredients
Dr Davey Carrot Whitening Body Lotion is a highly recommended solution for individuals seeking both moisturization and skin improvement. Its formulation includes nourishing ingredients that provide sun damage protection and reduce wrinkles and fine lines, leading to a smoother complexion. Moreover, the lotion offers immediate whitening and brightening effects for those desiring a more even skin tone without waiting for prolonged periods.
Upon using the lotion just once, users have experienced noticeable improvements in skin softness and hydration. Consistent application over a few days resulted in significant enhancements in skin texture, brightness, and overall appearance, even garnering compliments from friends on the vibrant appearance of their skin. These benefits are attributed to the enriching ingredients that go beyond mere moisturization, actively contributing to the skin's health with each use.
For those in search of a comprehensive product that not only keeps the skin hydrated but also yields long-term effects such as improved elasticity, tone, and clarity, Dr. Davey Carrot Whitening Body Lotion is a worthwhile consideration. Its lightweight formula, pleasant scent, and eco-friendly packaging contribute to its popularity among beauty enthusiasts. By trying it out today, users can embark on a journey towards brighter and younger-looking skin from the very start.
Pros:
Lightens skin tone
Eliminates dark spots
Reduces wrinkles
Cons:
A bit on the expensive side
8. Abonne Milk Power Lightening Lotion w/ Collagen
Non-Greasy
The Abonne Milk Power Lightening Lotion w/ Collagen is a highly effective product designed to lighten the skin. Its unique formulation includes Lacticare Milk Power and Collagen, which deeply moisturize the skin, locking in essential moisture. The presence of Milk Protein further contributes to softening and smoothing the skin's texture while combating signs of ageing. Incorporating this lotion into the skincare routine results in a refreshed and well-hydrated feeling that lasts all day.
One of the notable features of this lotion is its lightweight texture, providing nourishment without feeling heavy on the skin. The subtle and pleasant vanilla fragrance makes it suitable for those sensitive to strong scents. Additionally, the lotion's collagen content aids in reducing fine lines and wrinkles, leading to a more youthful appearance over time.
In conclusion, Abonne Milk Power Lightening Lotion w/ Collagen is an excellent choice for individuals seeking softer, smoother, and more radiant skin, all from a single product. Regular application yields visible complexion improvements within weeks, without the need for harsh chemicals or sticky residue. Furthermore, the product's affordable price and delightful fragrance add to its appeal. For those in search of a lightweight yet effective formula, trying out Abonne's milk power lightening lotion is highly recommended – a decision that is sure to be rewarding and satisfying.
Pros:
Non-greasy lotion that protects against UV rays
Gives skin a healthy glow
Long-lasting protection
Cons:
The milk proteins in the lotion may be too harsh for sensitive skin.
9. Relumins Advance White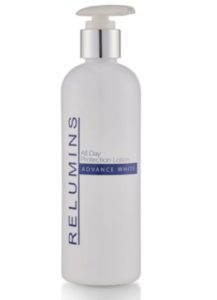 For Skin Hydration
Relumins Advance White is an incredibly powerful skin-lightening product, packed with natural ingredients that will help you achieve a confident and healthy look. The 300ml (10.14 fl oz) bottle contains TA Stem Cell Stimulates Collagen which helps promote healthier skin by nourishing the deeper layers of your epidermis. This product also includes Arbutin from botanical sources as a safe and effective whitener to reduce melanin production for brighter, glowing skin with fewer dark spots or blemishes. To top off the formula, there's Argan Oil which softens your skin while it works to lighten, leaving your face buttery smooth!
Thanks to this amazing product from Relumins, you can get beautiful results after just one use! You'll notice how much softer your skin feels almost immediately – plus, over time you should see reduced discoloration and more even-toned complexion due to its active ingredients working in synergy with each other. With regular use of this gentle but potent solution, you'll be able to say goodbye to dullness and age spots for good!
If have been looking for a tried-and-true stress-free way of lightening up your complexion without irritating or damaging the delicate surface of your face- then Relumins Advance White is definitely worth giving a try today! Enjoy smoother texture with fewer dark patches on your face sooner than later when using the power of Relumin's advanced skincare solution backed by natural science!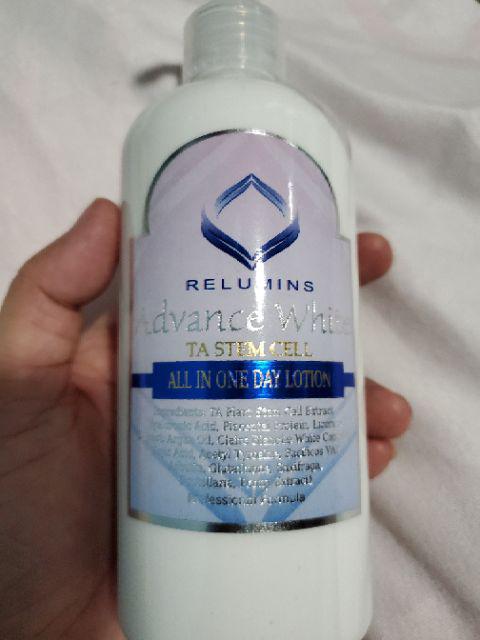 Pros:
Professional formula, Pharmaceutical Grade.
TA Stem Cell Stimulates Collagen for Healthier Skin
Arbutin from botanical sources is the safest and most effective skin whitener
Cons:
A bit on the expensive side
10. VITAPACK 8-in1 Whitening Lotion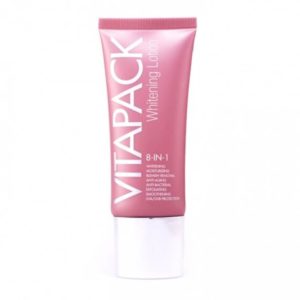 Multi-Purpose
The VITAPACK 8-in-1 Whitening Lotion is an exceptional all-in-one product that delivers rapid results for a brighter and healthier complexion. Its natural formulation includes potent whitening agents that effectively lighten and even out the skin tone over time. Furthermore, the lotion keeps the skin well-hydrated and nourished, ensuring a softer and smoother texture that lasts.
The innovation of this product extends beyond brightening the skin; it also targets blemishes and provides long-lasting anti-ageing benefits. Consistent use of the VITAPACK 8-in-1 Whitening Lotion leads to visible reductions in wrinkles and fine lines, as well as an overall improvement in skin texture and firmness. Moreover, the lotion incorporates UVA/UVB protection, offering added defence against harmful UV rays.
For those seeking affordable brightening solutions without compromising on quality or effectiveness, the VITAPACK 8-in-1 Whitening Lotion is the ideal choice. By trying it out today, users can experience almost immediate improvements in the look and feel of their skin, all while enjoying the convenience of a comprehensive skincare solution in one product.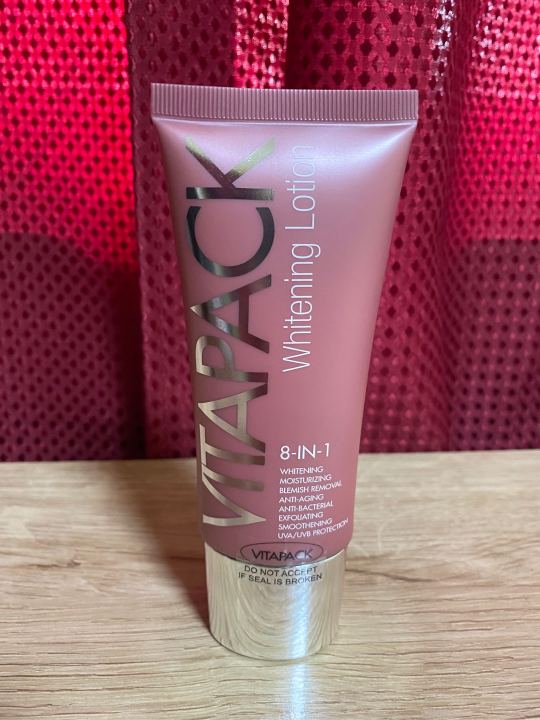 Pros:
Reduces wrinkles
Repairs elasticity
Lightens blemishes
Cons
The scent is very strong and floral
Top Whitening Lotion Brands in the Philippines
Belo
The formulation of Belo's products is grounded in science and they're safe for everyday use. There's proven efficacy, backed by extensive clinical tests on Filipino skin as well! The company doesn't contain any banned or harmful chemicals so you can feel good about buying these essential items from them every day without worry.
Vaseline
Vaseline is a favourite among many people for its hypoallergenic, safe and effective skincare properties. Plus it never fails as an easy way to get rid of dry patches on the skin!
Nivea
The new Nivea products are so amazing, they leave your skin feeling softer and more hydrated than ever before with no unpleasant residue. The formula for all of their skincare line has changed to be easier on sensitive skin like yours!
How to Choose the Right Whitening Lotion
SPF – Exposure to sunlight without proper protection causes all types of negative effects on our beautiful complexions, including wrinkles, age spots, and uneven pigmentation. So, when choosing the right whitening lotion, make sure that they offers some protection from the sun. Whitening lotions are known to reduce the production of melanin in the body, which causes the skin to lighten and brighten. These products serve more as preventative measures rather than solutions for pre-existing skin problems.
Natural Ingredients – Kojic acid, vitamin C, niacinamide, and glutathione—are just a few of the natural ingredients found in whitening lotions. The best ones contain these as their active ingredient because they can penetrate deep into your skin to remove stubborn stains on an even deeper level than other products you might find at your local store. Kojic acid is a natural extract that comes from the fermentation of malting rice. Kojic acid, which reduces skin discoloration and pigmentation in the skin, can be found among many products on store shelves today – including lotions manufactured by leading brands like Neutrogena. Vitamin C also plays an important role when it comes to keeping your complexion healthy and bright-looking; not only does vitamin C help ward off immune problems, but it promotes firmness and elasticity in our body's largest organ as well!
FAQs
How long does it take to whiten skin with lotion?
Whitening skin with lotion is not a quick process- it typically takes at least 7 days for noticeable results. However, if you want to get rid of your dark spots and sun damage as soon as possible, natural products can also work better than other products formulated with more concentrated ingredients that have been shown to take less time.
Do whitening lotions really work?
Do you want to whiten your skin? There are many products that will help, and they all vary in their ingredients. Some of the major ones include kojic acid (which suppresses tyrosinase), vitamin C (helps with collagen production) or hydroquinone. These may have side effects such as dryness, irritation, redness or itchiness--so be careful when choosing a product! Aside from this though there are also some things we can do: limit our sun exposure by wearing sunscreen every day and moisturizing often;
Can I use whitening lotion on my body, or is it only for the face?
Whitening lotions can be used on both the face and body, depending on the product's instructions. Some are formulated specifically for facial use, while others are designed for the entire body.
Conclusion
Nourishing your skin regularly is the best way to keep it healthy and fight against aging. While there are many products that claim to whiten your skin, it is important to consider what ingredients are in these products and if they are actually beneficial for your skin. Many store-bought options contain harmful chemicals that can do more damage than good in the long run. Choose a natural whitening lotion or cream next time you are at the store so you can be confident you are taking care of your skin in the best possible way!
This post was brought to you by Kimz House.
Disclaimer: The opinion is solely based on our testing or intensive research with customer feedback around the most popular shopping platform such as Shopee and Lazada. The products/services shown here are available and valid upon the publication date. It may change from time to time. Please email us at [email protected] if there is any discrepancy.