Last Updated on
The Philippines is among the luckier countries to still have abundant sources of potable water. In fact, in some cities, people can drink their water straight from the faucet because of the good water quality. This is however, not the case for most areas in the country.
One of the best ways to still enjoy access to safe, potable water though is to have your own water filter and water purifiers. This is something more practical and environment-friendly than constantly buying filtered or distilled water.
While water purifiers and water filters are not cheap, you will easily gain back that expense with your savings from no longer needing to pay for a water refill a couple of times a week.
Here are the best water purifier Philippines that you can also buy online for a better water taste:
1. High Quality 3 in 1 Alkaline Water Purifier Complete Set
Multiple Filtration Method
This is one of the best water purifier Philippines set that you will find in the market.
This product is perfect for anyone who wants to make sure their filtered water is clean and healthy giving you only the best water there is. This is the best water filters for families, as a gift, or for use.
Why buy this
Mineral filter
Maintaining pH balance
Micro-cluster for excellent cellular hydration
We particularly trust its thorough filtration method, which does not only make clean clean but also adds a higher concentration of minerals that are essential for better body function. It has plug-and-play water filters, so no need to hire a professional plumber to have this installed.
Get it here:
2. IVO SB151 Faucet-mounted Water Purifier
Best for Limited Space
If you're looking for a quick and easy way to make the most of your limited space in the sink, a faucet-mounted best water filter is the perfect solution. You'll be able to have filtered, clean water on tap at any time
Why buy this
Comes with a C151 Cartridge that filters up to 1500 L
99% Bacteria Removal with 4-stage Filtration System.
Cartridge Removal Type: Water Turbidity and Residual Chlorine
The IVO SB151 Faucet-Mounted Water Filter is a no-fuss and easy way to get the water in your tap clean enough for drinking. Filtering 99% of bacteria, this device comes with a C151 Cartridge that filters up to 1500 L. The cartridge is easy to remove, and the four stage filtration system removes rust, sediments, and smaller debris.
It also takes charge of residual chlorine, making sure you're only drinking the best water possible.
Get it here:
3. PureIt Germ Kill Kit Water Purifier Filter
Germ-Free Drinking
One of the latest types of water purifier Philippines we've seen is the one that promises not to let any germs into your drinking cleanwater. It comes with an entire kit, which includes the replaceable germ kill processor.
Why buy this
Ready to install and use
Sediment filter
Carbon polisher
Micro changed Membrane
Pure-It Germ Kill Kit Water Filter is a household water purifiers that kills 99% of harmful bacteria with its novel, patented, multi-stage filter design. The product is designed to be installed and used in your home without the need for any special skills.
Apart from the usual filtering of sediments and contaminants, you are guaranteed of 99% elimination of harmful bacteria.
Get it here:
4. IVO C151 Faucet-mounted Water Purifier Cartridge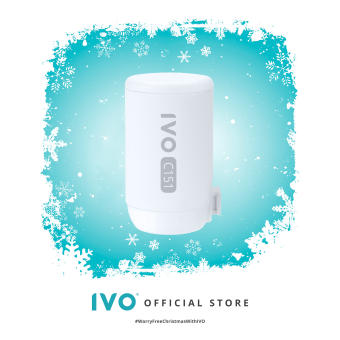 Activated Carbon Filter
If you have limited space in the sink, which we can totally relate to, a faucet-mounted water purifier Philippines your best option.
This type of filter retains all other helpful materials, while thoroughly eliminating the junk.
Get it here:
Comes with a C151 Cartridge that filters up to 1500 L
99% Bacteria Removal with 4-stage Filtration System.
Cartridge Removal Type: Water Turbidity and Residual Chlorine
This faucet-mounted water purifier Philippines is the perfect accessory for any home or office. It has no-fuss filtering mechanisms that simply make your faucet water clean enough for drinking. It removes rust, sediments, and smaller debris. The filter takes charge of the residual chlorine.
Comes with a C151 Cartridge that filters up to 1500 L filters for 99% bacteria removal with 4-stage filtration system. It comes with two cartridge removal type: Water Turbidity and Residual Chlorine
Get it here:
5. Tap Water Purifier Tap Faucet Water Filter
Space Efficient
Don't you just love a water filter that doesn't require a lot of maintenance? Not only is the filter easy to clean, but it's also easy to disassemble and put back together.
Why buy this
6 mounting joints to fit almost all types of faucets
Multi-layer filters
Filter water of 1.8 litres per minute
Your water might be more expensive than you think. Tap water contains a lot of harmful impurities that can prove to be detrimental to your health. The Tap Water Filter Tap Faucet Water Filter removes these impurities with its multi-layered filters, which is why it's one of the most affordable water filters in the market.
It also removes chlorine, heavy metals, rust, colloids, suspended solids and other impurities. This filter can purify 1.8 litres per minute, and it is very easy to install on your faucet.
Get it here:
6. EIDERFINCH ZSW-010A Water Faucet 7 Level Filtration Water Purifier
Easy Installation
Ready to start cleaning up your water? This is the perfect product for you.
It's easy to install, using top quality materials, and costs way more affordable than its water purifiers counterparts.
Why buy this
Non-pressure design, no leakage accident
7 filtration systems, water troubles farewell
Maintenance-free and more peace of mind
The EIDERFINCH ZSW-010A water filters is an excellent addition to your kitchen sink, giving you a refreshing source of filtered water without taking up too much space. This package comes with everything you need: a water faucet, water faucet filter, gaskets, and a faucet converter.
It's maintenance-free and non-pressure, providing the best possible drinking experience without the annoyance of boiling or having to buy bottled water.
Get it here:
7. Zoosen Water Purifier Faucet Filter
Easy-To-Use

It's never been easier to filter your clean water. This easy-to-use water filter makes it convenient for you, and it's as simple as just plugging it in and letting it do its job. It will make a difference in your life
Why buy this
Filter material: Ceramic filter/air fibre membrane filter
Applicable temperature: 5 ° C-65 ° C
Body flow: 2.0L / min
The Zoosen Water Filter was desinged as an easy-to-install water filters that can be attached to your faucet in just minutes. Once installed, this tiny purifier will offer a 7-layer filter to eliminate rusts, worms, dust, parasites, algae, sediment, colloids and even bacteria.
This filter is made of ceramic filter and air fibre membrane filter and can work in all temperature. The flow rate is 2.0L/min.
Get it here:
8. SWS Ceramic Cartridge Water Purifier
Nano-KDF Technology
One of the best things about going for a water purifier Philippines is that you can get your purified water instantly!
You won't have to wait for hours on end for your water to get filtered, giving you plenty of time to do other things. Plus, your water will taste better.
Why buy this
Switches between filtrated water and tap water flexibly using Nano-KDF technology to inhibit the growth of bacteria.
Fits any kind of faucets
Comes with 3 faucet joints to fit different types of taps
Meet the SWS Ceramic Cartridge Water Filter – an affordable, easy-to-use water filter that is perfect for kitchens, schools, recreation centers, and any other place with a faucet. This purifier comes with 3 faucet joints to fit different types of taps, and fits any kind of faucet.
The best part about this product is its convenience – it switches between filtered water and tap water flexibly using Nano-KDF technology to inhibit the growth of bacteria.
Get it here:
9. Water filter Six-fold filtration Integrated waterway design
Best for Businesses
This water filter provides a better quality of water for your business by filtering out chemicals, dirt, and sediment. The integrated waterway design is perfect for smaller restaurants or cafés.
Why buy this
Six-fold filtration Integrated waterway design
Siphon blowdown
Food grade material
This water purifiers Philippines is perfect for your home and office. It filters up to 120 litres of water at a time, making it ideal for residential and commercial use.
This product also includes a siphon blowdown, six-fold filtration, and an integrated waterway design that will keep your water tasting great.
Get it here:
10. Semter Sink Alkaline Water Purifier
Non-Electric
Alkaline water is great for the body because it provides a natural source of minerals. Get unlimited alkaline water from your own home with this water filter.
Why buy this
Non-Electric
5 stages/ Filter Purifying Method
FDA,NSF,WQ & DOH approved
Water is essential to living, and we should be very careful of the water that we drink. Drinking water from the tap can lead to many health problems, while bottled water can be too expensive for some people. That's why you should have a water purifiers in your home.
We recommend using Semter Sink Alkaline Water Purifier. It is very easy to install and use, and as it is non-electric, you don't have to worry about the expense of electricity.
It has a 5-stage filter that does not require electricity or batteries, as well as being FDA & NSF approved, and it is the perfect addition to your home!
Get it here:
11. Xiaomi Mijia Tap Water Purifier
Best Water Flow-Out
Xiaomi has been doing well in the kitchen product line, and this water purifiers Philippines is no exception.
You can be confident when you buy it that you're going to get a high-quality product with great customer service.
Why buy this
4 layers of strong filtration
Deepwater purification
Healthy water flow-out.
No more harmful substances in your water, that's what you'll get with the Xiaomi Mijia Tap Water Purifier. It removes not just the usual bad things like chlorine and heavy metals but also the bad tasting water and smells.
And if you're worried about the water filter, don't be. This purifier comes with a reminder to change the filter when it's necessary so you can enjoy clean and healthy water without any worries.Additonaly, it give a good water system, allowing for a healthy water flow-out
Get it here:
How To Choose Water Purifiers
The key consideration for choosing a water filter Philippines is the type and levels of water filtration sytem that you want. Naturally, you would want to have peace of mind that the water that you will be drinking is indeed clean and safe drinking water. With this, it is important to go for water purifiers with as many water filters as possible, including bacteria removal.
The next consideration is whether you want a faucet water purifiers or the cartridge type. This will greatly depend on the space available to you, but both types have the same level of filtration.
Why do I need a water purifiers ?

It's always important to have a filter for your water because it helps make sure that you are getting the cleanest most nutritious water possible.
In addition, it can help remove any chlorine or other contaminants that might be in your water supply.
Reverse Osmosis vs Carbon Filtration
Carbon Filtration
Carbon Water Filters is on the of the most basic and oldest means of purifying your water. It filters water and remove chlorine and other volatile organic compounds and heavy metals using activated carbon.
Reverse Osmosis
Reverse Osmosis uses membrane technology. It forces water over a semi-permeable membrane, cleaning it in the process. The membrane separates the water from the non-water elements.
Although the two technologies are difference, both can be useful. Carbon Filtration is best used for whole-home dichlorination while Reverse Osmosis is better for drinking water.
Top Water Purifier Brands in Philippines
The water purifier price Philippines usually depends on the brand and model you would choose. We listed below the most popular fda approved water purifier Philippines:
Megafresh – As the leading provider of water filtration services to homes and businesses, MegaFresh offers top-of-the line products that are reliable. They offer highly trained employees who can help you with any questions or concerns about your system. The mega fresh water purifier price Philippines usually goes for around ₱3,000 up to ₱6,000.
Panasonic – Panasonic has long been know in the industry for their high-quality products. From refrigerators to washing machines, they have developed many ingenious solutions that improve peoples' daily lives and help alleviate bloating with their Panasonic water purifier philippines! The price of these purifiers usually starts at ₱5,000.
Westinghouse – Westinghouse water purifier Philippines make your drinking water taste good and keeps it pure by removing unwanted minerals. The high-faucet design aids in quick flow, making them easy to connect with kitchen taps for convenience of use at any time! These filters will never fail you because they're so simple yet effective–the best part being that maintenance is minimal too! These purifiers usually cost ₱3,000 up to ₱6,000.
Top Recommended Water Purifiers in PH:
FAQs
What is Water Purification?
Water purification is the process of removing impurities from water, which includes many different steps depending on what type of impurities the water may have. In its most basic form, it can be as easy as boiling it.
What is Reverse Osmosis?
Also known as hyperfiltration, Reverse Osmosis is the best way to filter water. This method is also what bottled water uses. Basically, in this method, the water is forced through a semi-permeable membrane under pressure to be filtrated.
Are water purifier systems better than bottle water?
Absolutely. Bottled water can be dangerous for your health. It's not regulated, and it may contain dangerous contaminants. The best thing to do is invest in a water purifier system that filters out any potential toxins. Bottled Water also uses so much plastic for packaging.
What happens if you don't change your water filter?
As the filter wears out, it becomes less effective at filtering out contaminants. When the filter is nearly done, you might notice an increase in bad smells or tastes coming from your water.
This post was brought to you by Kimz House.
Disclaimer: The opinion is solely based on our testing or intensive research with customer feedback around the most popular shopping platform such as Shopee and Lazada. The products/services shown here are available and valid upon the publication date. It may change from time to time. Please email us at [email protected] if there is any discrepancy.