Last Updated on
The Philippines is among the luckier countries to still have abundant sources of potable water. In fact, in some cities, people can drink their water straight from the faucet because of the good water quality. This is, however, not the case for most areas in the country.
One of the best ways to still enjoy access to safe, potable water is to have your own water filter and water purifier. This is something more practical and environment-friendly than constantly buying filtered or distilled water.
While water purifiers and water filters are not cheap, you will easily gain back that expense with your savings from no longer needing to pay for a water refill a couple of times a week.
Here are the best water purifiers Philippines that you can also buy online for a better water taste:
Table of Contents
Best Water Purifier Comparison Table
How To Choose Water Purifiers
Why do I need a water purifier?
Reverse Osmosis vs Carbon Filtration
Top Water Purifier Brands in the Philippines
ConclusionFAQ
Quick Comparison Table
(scroll right for more)
1.
KONKA KPW-LT01
Fast Filtration
The KONKA KPW-LT01 water purifier is a great choice for any household looking for an efficient way to remove heavy metals, bacteria and other impurities from their drinking water. Thanks to the double water technology and zero splashing, it guarantees superior filtration performance without requiring electricity or special plumbing requirements. The nine-stage fine filtration process is further complemented by its intelligent minerals retention technology, allowing you to enjoy safe and delicious mineralized drinking water while saving energy at the same time.
In terms of design, this product stands out with its lightweight and compact profile that takes up minimal space on your countertop or kitchen sink while providing a high flow rate of 2L/min – more than enough for most households' needs. Moreover, its easy-to-clean ceramic composite filter is standardised which allows you to install it quickly on nearly all existing faucets in homes or offices without needing additional tools or hardware.
All in all, the KONKA KPW-LT01 water purifier offers comprehensive protection against dangerous contaminants while not compromising on convenience thanks to its simple installation process and small size. So if you're searching for an affordable yet reliable way of keeping your family healthy and hydrated at home or office then check out this amazing device right away!
Pros:
Eco-friendly: No electricity or plumbing required.
Compact Design: Lightweight and does not take up space.
Safety & Convenience: Removes lead, fluoride, and other contaminants for safe drinking water
Cons:
It can be difficult to install without the necessary accessories.
2. IVO SB151 Faucet-Mounted

Best for Limited Space
The IVO SB151 Faucet-Mounted Water Filter is a great addition to any kitchen. It offers an advanced 4-stage filtration system that removes up to 99.99% of bacteria, leaving you with clean and pure drinking water. This filter also features an easy-to-use rotational lever that allows you to choose between plain water or filtered water at the flip of a switch. Additionally, it can be used with other Torayvino refill cartridges so you don't have to worry about buying new filters every few months.
Not only is this filter incredibly convenient, but it's also aesthetically pleasing too! The sleek design will look great in any kitchen setting while the included adapters make it compatible with most faucets on the market today – no modifications required! Plus, when it comes time for cleaning and maintenance, you can easily remove just one cartridge without having to take apart the entire unit – saving both time and money in the long run.
Ultimately, if you're looking for an affordable yet effective way to enjoy safe and healthy drinking water throughout your home without breaking your budget AND adding some extra style points into your kitchen at the same time – look no further than IVO SB151 Faucet Mounted Water Filter! Reliable performance combined with easy installation makes this product a winner in my book – I highly recommend giving it a try!

Pros:
Easy to install and use with a rotational lever
Filter up to 1500 L of water with a 4-stage filtration system for 99.99% bacteria removal
Removes turbidity and residual chlorine from water
Cons:
Expensive compared to other faucet-mounted options.
3. Philips AWP3751
Two Modes to Select
The Philips AWP3751 is an incredibly convenient and economical solution for reducing chlorine, pesticides, microplastics and particles in your drinking water. With two modes to select from – filtered stream water or unfiltered shower water – it's designed to meet all of your needs. The filter replacement reminder timer ensures that you are always using squeaky-clean filtered water with no hassle so you don't have to constantly check the appliance. Plus, the one-click installation process makes set-up a breeze!
If you want superior protection from harmful contaminants then the X-Guard Ultra filter does just that: providing up to 99.99% bacteria reduction down to 0.1 micron size particles which could include E coli, Vibrio cholerae etc. Also, its cost-effectiveness allows users to save a lot of money on bottled drinking water as well as being more eco-friendly by reducing plastic waste.
In conclusion, if you are looking for a great way to keep your tap water clean and safe without breaking the bank yet still getting superior performance, then look no further than Philips AWP3751! It provides outstanding filtration capabilities along with easy installation and maintenance thanks to its filter replacement reminder timer – making it perfect for any home or office environment! And best of all, you can enjoy clean drinking water without worrying about nasty chemicals or toxins again with this innovative product from Philips!
Pros:
Easy filter replacement with a simple twist
Filter replacement reminder timer
One-click installation with the correct adaptor
Cons:
Replacing filters can be expensive


4. IVO C151 Faucet-mounted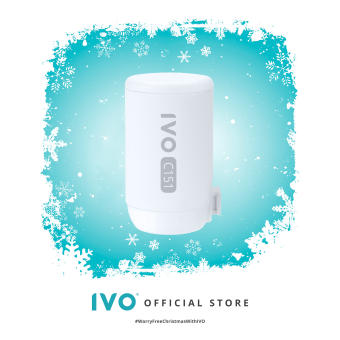 Activated Carbon Filter

The IVO C151 Faucet-Mounted Water Filter is the perfect solution for those who want to enjoy pure, clean drinking water without needing to buy a whole-house filter system. This easy-to-install unit attaches directly to your kitchen faucet and features a 4-stage filtration process that removes 99.99% of bacteria, chlorine and turbidity from the water supply. It also uses no electricity at all since it runs on the natural pressure from your tap or faucet's water flow so there are no ongoing costs other than replacing filters periodically.
When combined with its small size, this makes the IVO C151 an economical yet effective way of ensuring pure, healthy drinking water in any home or kitchen environment. Its 1500L capacity is more than enough for household use and with a 0.1-micron filtration rate you can be sure that there won't be any nasty contaminants left lurking in your glass of H2O after it passes through this product!
With such great features packed into one simple product, it's clear why the IVO C151 Faucet Mounted Water Filter is gaining such popularity among households around the world! Enjoy health benefits from having cleaner drinking water plus peace of mind knowing that you're not just wasting money on expensive bottled waters each month when really all you needed was this affordable investment to keep your home safe from pollutants while keeping costs low! So what are you waiting for? Get yourself an IVO C151 today and start enjoying clean H20 straight outta your own tap like never before!
Pros:
Reduces contaminants such as lead, chlorine, bacteria and turbidity
Easy-to-use faucet mount for installation with no plumbing needed
Economical alternative to bottled water
Cons:
Requires installation and maintenance


5.
LaVie 7Layer Faucet Water Purifier
Easy to Clean
The LaVie 7Layer Faucet Water Purifier is an ideal product for those looking to significantly improve the quality of their water. This purification system removes a wide range of contaminants such as rust, worms, dust, parasites, algae and sediments from your tap water. Not only does it provide a high level of protection but it also utilizes nano KDF technology which inhibits the growth of bacteria in the filtration process.
One major benefit this purifier provides is its easy installation process which comes along with 7 faucet joints that can be used for various types of taps! It also has two filter materials – a diatom ceramic filter element and a cleanable reusable cartridge so you don't have to worry about frequently replacing them either. Needless to say, this fantastic product will make sure that your drinking water is safe and free from harmful substances every single time!
If you want to protect yourself and your family by providing them with clean and safe drinking water then I would highly recommend trying out the LaVie 7Layer Faucet Water Purifier! It offers great features at an affordable price which makes it perfect for anyone looking for an effective solution to their water issues without breaking bank balance in the process. So what are you waiting for? Get one now before they run out of stock!
Pros:
Provides clean, pure, and healthy drinking water
Removes rusts, parasites, contaminants, worms, and residual chlorine effectively
It can be used repeatedly by brushing without secondary pollution
Cons:
The filter life is short, only 3-6 months, depending on water quality.


6.
Westinghouse WWWPS106A3
Easy Installation
The Westinghouse WWWPS106A3 is a highly practical and user-friendly faucet. Its long-reach design gives users the flexibility to access water sources that are difficult to access with shorter models. Additionally, its durable brass connector ensures that your connection stays strong for years. Furthermore, using the housing wrench included in the kit makes it incredibly easy to install and replace components if necessary.
Thanks to its adjustable pressure range, this faucet can suit any household or office environment regardless of how much water pressure is available from the source. And thanks to its wide temperature range of 5 – 40 °C / 40 – 104 °F, you'll have hot or cold water depending on what you need at any given moment!
If you're looking for an efficient and reliable faucet that will provide consistent use throughout countless years, then look no further than the Westinghouse WWWPS106A3! With excellent features such as long-reach taps and adjustable temperature settings, you won't regret adding this must-have tool to your home plumbing arsenal! Don't wait until it's too late – get yours now!
Pros:
Removes 99.9% of contaminants from water
Long-reach faucet for easy access to clean water
Wide range of operation pressure and temperature
Cons:
Cannot remove organic impurities like pesticides, lead, and VOCs


7. Zoosen Water Purifier Faucet Filter
Easy-To-Use
Zoosen's ZSW-010A Water Purifier is an excellent option for those looking for a reliable and efficient water purification device. The advanced Level 7 purification system ensures that rusts, worms, dust, parasites, and algae will be removed from tap water sources while the ceramic filter and air fibre membrane filter create double-layer filtration which helps to ensure accuracy at a high precision level of 0.1 microns. This eliminates harmful bacteria and colloids which can be found in tap water sources. Additionally, the body flow rate for this purifier is 0L/min with a body material made up of ABS food grade material; it also has an operating water pressure range between 0.1 Mpa to 0.4Mpa with its filter able to last up to 6 months depending on how much you use it and what type of source your tap water comes from.
Furthermore, the design of this product makes it easy to install without needing any special tools or expertise – making set-up hassle-free! It also takes up very little room within your kitchen area due to its compact size whilst still being powerful enough to provide sufficient clean drinking water every time you need it. With all these features combined into one unit, this product has something great for everyone no matter what their needs may be when looking for a new home filtration system.
In conclusion, if you are wanting superior quality purified drinking then look no further than Zoosen's ZSW-010A Water Purifier because its superb combination of features cannot be beaten! So don't wait any longer – buy yours today as supplies won't last forever!
Pros:
Utilizes high-precision filtration of 0.1 microns to remove rusts, worms, dust, parasites, algae, sediment, colloids and bacteria
Durable filter that lasts up to 6 months depending on water quality
Easy installation anywhere in various taps with adjustable water pressure
Cons:
Filter life may be short in certain water conditions.


8. SWS Ceramic Cartridge Water Purifier
Nano-KDF Technology
With the SWS Hi-Tech Water Purifier, you can be sure that only clean and safe water enters your home or office. It utilizes Nano-KDF technology to inhibit the growth of bacteria in your water, a ceramic filtering cartridge that can easily be cleaned and reused, as well as tourmaline for effective filtration. What's more, is that it has a switch between filtered and regular tap water! The three different faucet joints also make installation easy.
This purifier is not only efficient but also cost-effective since you don't have to constantly replace filters like some other brands require you to do. You'll spend less time maintaining it due to its longer filter life span plus its small size allows for easier storage as compared to conventional purifiers on the market today. Finally, this product comes with peace of mind – knowing that every drop of drinking water is safe and free from toxins because this advanced device takes care of all the pollutants before they even get into your cup!
If you're looking for an effective way to keep your family hydrated without spending too much money on buying bottled drinking water then invest in one today! The SWS Hi-tech Water Purifier will effectively keep harmful toxins away while providing healthy H20! Plus installation isn't complicated – just connect any standard kitchen faucets with ease so why wait? Get one now and enjoy crystal clear reverse osmosis purified water immediately!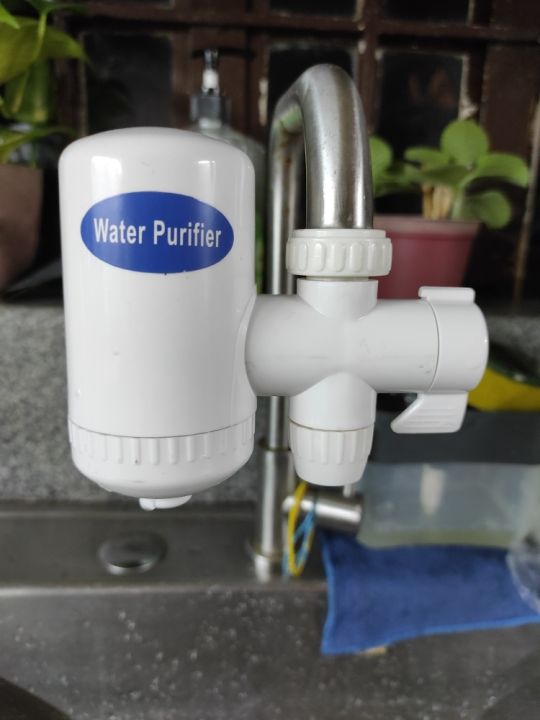 Pros:
Easy to install and maintain, no special tools required
Fits any faucet with 3 different faucet joints
Utilizes natural tourmaline filter to purify the water
Cons:
Not suitable for heavy water usage.


9.
Westinghouse WWWPS106A2
User-Friendly Design
The Westinghouse WWWPS106A2 is an incredible water filtration system that eliminates 99% of contaminants, including lead, sediment and bacteria. This ensures that the water coming out of your tap is clean and safe to drink. Installation is quick and easy thanks to the included brass connector and housing wrench which make it compatible with most standard faucets.
What makes this system so great is its advanced technology which quickly filters tap water into clean drinking water in just seconds! It also has a convenient indicator light that reminds you when it's time to replace the filter, making sure you always have access to clean drinking water whenever you need it. On top of all these features, the design is user-friendly so anyone can use it without any experience or hassle!
If you are looking for a reliable way to make sure your family only drinks pure filtered water then look no further than the amazing Westinghouse WWWPS106A2 Water Filtration System! Its advanced technology paired with its user-friendly design makes this product perfect for anyone who wants healthful drinking water on demand at the simple push of a button. Don't wait – try out this brilliant product today!
Pros:
Reduces 99% of contaminants in water
Delivers unlimited, clean and crisp-tasting drinking water
Easy to install with brass connector and housing wrench
Cons:
On the pricier end of countertop water purification systems


10.
Xiaomi Mijia MUL11
Best Water Flow-Out
The Xiaomi Mijia MUL11 is an amazing water filtration system that offers superior filtration capabilities. Equipped with a hollow fibre ultra-filtration membrane and four layers of strong filtration and purification, this state-of-the-art product efficiently removes harmful bacteria from your drinking water. Whether you need to save on costs or conserve the lifespan of the filter, three different modes are available to suit your needs. Moreover, it has a visible window for viewing as well as a monthly ring reminder for when filter replacement is due!
Furthermore, setting up this high-quality filter is easy and convenient, with just three steps required in the installation process. With one simple device, you can now enjoy clean and healthy drinking water without any hassle or stress! Eliminate worrying about potential contaminants in your drinking water with the powerful performance of this unit; now everyone can have access to safe drinking water quickly and easily anytime, anywhere!
Don't hesitate any longer; get yourself a Xiaomi Mijia MUL11 today for healthier living tomorrow! Forget about boiling tap water every time before consumption – make sure you get purer than ever hydration while reducing all chances of getting sick from contaminated sources made possible by this top-notch filtering product. A must-have item everyone should own!
Pros:
4 layers of strong filtration for deep water purification.
Three water output modes with efficient water saving and long filter use lifespan.
Visible window with manually set month ring for easy filter replacement reminders.
Cons:
Requires proper setup and maintenance for optimal performance


How To Choose Water Purifiers
The key consideration for choosing a water filter Philippines is the type and levels of water filtration system that you want. Naturally, you would want to have peace of mind that the water that you will be drinking is indeed clean and safe drinking water. With this, it is important to go for water purifiers with as many water filters as possible, including bacteria removal.
The next consideration is whether you want a faucet water purifier or a cartridge type. This will greatly depend on the space available to you, but both types have the same level of filtration.
Why do I need a water purifier?

It's always important to have a filter for your water because it helps make sure that you are getting the cleanest most nutritious water possible.
In addition, it can help remove any chlorine or other contaminants that might be in your water supply.
Reverse Osmosis vs Carbon Filtration
Carbon Filtration
Carbon Water Filter is one of the most basic and oldest means of purifying your water. It filters water and removes chlorine and other volatile organic compounds and heavy metals using activated carbon.
Reverse Osmosis
Reverse Osmosis uses membrane technology. It forces water over a semi-permeable membrane, cleaning it in the process. The membrane separates the water from the non-water elements.
Although the two technologies are different, both can be useful. Carbon Filtration is best used for whole-home dichlorination while Reverse Osmosis is better for drinking water.
Top Water Purifier Brands in the Philippines
The water purifier price in the Philippines usually depends on the brand and model you would choose. We listed below the most popular FDA-approved water purifiers in the Philippines:
Megafresh – As the leading provider of water filtration services to homes and businesses, MegaFresh offers top-of-the-line products that are reliable. They offer highly trained employees who can help you with any questions or concerns about your system. The mega fresh water purifier price in the Philippines usually goes from around ₱3,000 up to ₱6,000.
Panasonic – Panasonic has long been know in the industry for their high-quality products. From refrigerators to washing machines, they have developed many ingenious solutions that improve people's daily lives and help alleviate bloating with their Panasonic water purifier Philippines! The price of these purifiers usually starts at ₱5,000.
Westinghouse – Westinghouse water purifier Philippines make your drinking water taste good and keeps it pure by removing unwanted minerals. The high-faucet design aids in quick flow, making them easy to connect with kitchen taps for convenience of use at any time! These filters will never fail you because they're so simple yet effective–the best part is that maintenance is minimal too! These purifiers usually cost ₱3,000 up to ₱6,000.
Conclusion
In conclusion, the 2023 review of the 10 best home water purifiers in the Philippines has highlighted an array of top-notch products that have proven to be reliable, efficient, and effective in ensuring access to safe and clean drinking water. As water quality continues to be a pressing concern in the country, investing in a high-quality water purifier is an essential step towards safeguarding the health and well-being of households. Whether it's advanced filtration systems, user-friendly interfaces, or innovative purification technologies, each featured purifier brings unique advantages to cater to diverse consumer needs. As consumers, we can now make informed decisions based on this comprehensive review to choose the most suitable water purifier that aligns with our requirements, budget, and preferences. Ultimately, these top 10 home water purifiers serve as indispensable solutions, promising a brighter and healthier future for all Filipino households.
FAQs
What is Water Purification?
Water purification is the process of removing impurities from water, which includes many different steps depending on what type of impurities the water may have. In its most basic form, it can be as easy as boiling it.
What is Reverse Osmosis?
Also known as hyperfiltration, Reverse Osmosis is the best way to filter water. This method is also what bottled water uses. Basically, in this method, the water is forced through a semi-permeable membrane under pressure to be filtrated.
Are water purifier systems better than bottle water?
Absolutely. Bottled water can be dangerous for your health. It's not regulated, and it may contain dangerous contaminants. The best thing to do is invest in a water purifier system that filters out any potential toxins. Bottled Water also uses so much plastic for packaging.
What happens if you don't change your water filter?
As the filter wears out, it becomes less effective at filtering out contaminants. When the filter is nearly done, you might notice an increase in bad smells or tastes coming from your water.
This post was brought to you by Kimz House.
Disclaimer: The opinion is solely based on our testing or intensive research with customer feedback around the most popular shopping platform such as Shopee and Lazada. The products/services shown here are available and valid upon the publication date. It may change from time to time. Please email us at [email protected] if there is any discrepancy.