Last Updated on
The best water heater in the Philippines is one of the most important household appliances for comfortable living. If you're looking to buy a water heater, it's not always easy to find the perfect brand that suits your needs and budget.
This article will present a list of the top 10 brands with their pros and cons so you can make an informed decision when purchasing your next water heater.
A more luxurious shower starts with having a functional, energy-efficient water heating system installed in your home or business. In this post, we'll take a look at some popular brands that offer high-quality products at affordable prices!
Quick Comparison Table
(scroll right for more)
1. JOVEN S510 Instant Water Shower Heater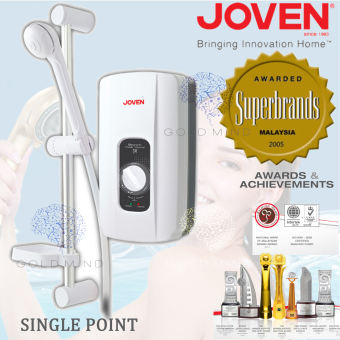 Easy Installation
It's hard to go wrong with a brand that has been loved and tested over the years, especially in Asia. Your best bet for easy installation of a water heater is to go for an instant type like this one.
Why buy this
Autoflow sensor switch
5 spray pattern
Anti-scalding
This water heater comes with an adjustable shower holder and soap tray, to go along with its compact and elegant packaging. The hose of this water heater is extremely durable and flexible, so it's unlikely for you to have to change or upgrade it for a couple of years.
2. GV SP-35 Single Point Shower Heater
Best Water Heater for High Rise Apartments
This is a local favourite, mainly because of its no-fuss installation and luxurious packaging. This water heater will upgrade the look of your bathroom with its sleek-looking tanks.
Why buy this
Instant heating, no more waiting for hot water, especially suitable for big families
The high precise thermostat ensures a constant temperature
Low water pressure to start, users of higher floors can enjoy the pleasant experience of a shower
This is an ideal water heater for those who are residing in high-rise apartments. Water flow will not be an issue, plus you also get to see your water temperature conveniently through the LED display of the heater.
3. Orville Instant Water Heater
Space-Friendly
Instant water heaters are now getting more space-friendly, and this one is by far one of the sleekest we've found. It'll fit even condominium bathrooms, and will even add to the overall value of your property.
Why buy this
High-temperature resistant
Wear-resistant
High-quality insulation materials
Apart from its aesthetics, what we love about Orville water Heaters are its security features. Almost all parts are made to be waterproof, thus avoiding untimely corrosion.
4. Speed ​​Heat 6000W Electric Heater
Energy Efficient
Get access to hot water no matter the time of the day with this powerful water heater. It has one of the most modern looks, as well, so it'll look great in your bathroom.
Why buy this
Waterproof
Leak-proof
Chip-controlled
No need to worry about your energy consumption, because this is also an energy-efficient water heater. It takes mere seconds to release hot water. It can also achieve super high water temperature efficiently.
5. American Home Instant Heater Single Point Knob Control AIWH-3705SE
Multi-Massage Spray
One of the reasons why people love a good hot shower is how effective it is in relaxing the body. Add to that the multi-massage spray sensation that comes with this instant water heater.
Why buy this
ECLB (earth leakage circuit breaker)
Built-in auto flow sensor
NTC Thermal Cut-out
The installation of this water heater's shower needs to be done professionally, given this model is only splash-proof. When you buy this online, you may opt to avail of the P1,000 pesos installation from the supplier.
6. Electrolux EWE351KX-DWX2 3.5kW Instant Heater Single Point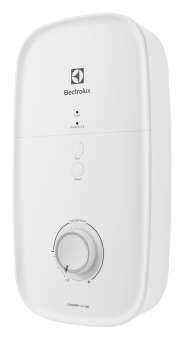 High Heat Resistant
Conveniently meets IP25 safety standards, with reliable resistance to high temperature. The case of this water heater can withstand up to 90 degrees Celsius.
Why buy this
LED Indicator
Built-in water and dust protection
Built-in surge protector
The surge protection is an important feature to look out for a water heater since this will be crucial in the longevity of the water heater, as well as the safety of all the users.
7. Aerogaz AZ-S895 3.5Kw
Best for Low-Pressure Areas
Choose the best shower spray that your body craves for the day, along with a relaxing and consistent water temperature with this water heater.
Why buy this
5 spray options
Variable control selector
Good for low-pressure areas
When you live on higher floors, it's important to look for a water heater that is good for low-pressure areas. This way, there will be fewer interruptions in your shower time.
8. Phliplus Fast heating 6000W
Fast Heating
Another high-powered water heater Philippines that can conveniently give you hot water fast, but with less impact on your electricity consumption.
Why buy this
Waterproof
Leak-proof
Chip-controlled
Get access to hot water no matter the time of the day with this powerful tankless water heater. It has one of the most modern looks, as well so it'll look great in your bathroom.
9. Jatec X5 Heater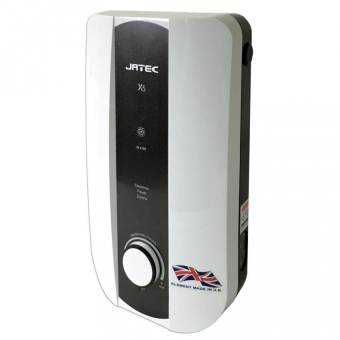 Low Maintenance
Passes the small but terrible water heater when it comes to performance and durability. It is low-maintenance and comes with lifetime service.
Why buy this
Splash Proof Casing – IP25 Standard
Flow Switch System
Thermal Cut-out
It is also relatively easier to install compared to other brands of water heater. While they offer professional installation for this, the product manual is also sufficient enough for those with the inner handyman in them.
10. Imarflex Shower Heater ISH-6500BP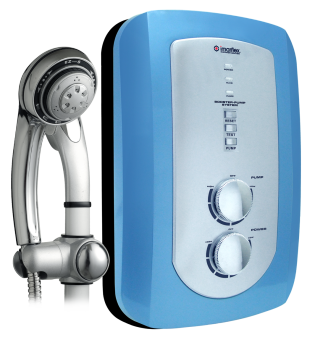 Anti-Scalding Features
One of the most innovative water heaters in the market today, with reliable anti-scalding features making it a safe choice for families with kids and elders.
Why buy this
Slim-Type Design with Booster Pump
Auto-Shut Off
Anti-scalding Feature
Splash Proof
All the controls you need for this water heater are clearly indicated on every switch and button, so it's best to install this within arm's reach. However, a local brand, the motor running this water heater is imported from Italy, known for optimal and long-term function.
Top Water Heater Brands in the Philippines
Water heaters is becoming more and more popular in the Philippines. Here are some of the top brands that dominates the water heater market right now!
Panasonic – Panasonic is a well-known brand for its high level of service. They have centers all over the country and are known internationally due to their reliability in both manufacturing electronics, including water heaters , as well as providing repair services on those products. Safe to day, Panasonic water heater Philippines is one of the best there is.
Ariston – The showering experience you deserve is now available with the latest Ariston water heater Philippines technology. With their sleek, modern designs and advanced features like an LCD screen that displays your desired temperature precisely – Ariston has made sure to provide all of our customers high-quality products they can rely on for years!
Alpha – According to Alpha's official website , Alpha water heater Philippines are highly energy efficient which will help you save money on your electricity bill each month while still enjoying warm water all winter long without breaking out into cold sweats at night
Why Choose Instant Water Heaters?
This list features instant tankless water heaters, which are more commonly used for households and apartments. One of the main reasons for this is space efficiency. Unlike storage water heaters, instant types are easier to install and requires minimal space in the bathroom.
Instant water heaters are also known to provide more consistent water temperature compared to gas-powered ones. Similar to most electric appliances, these heaters are also very easy to control or set.
This post was brought to you by Kimz House.
Disclaimer: The opinion is solely based on our testing or intensive research with customer feedback around the most popular shopping platform such as Shopee and Lazada. The products/services shown here are available and valid upon the publication date. It may change from time to time. Please email us at [email protected] if there is any discrepancy.