Last Updated on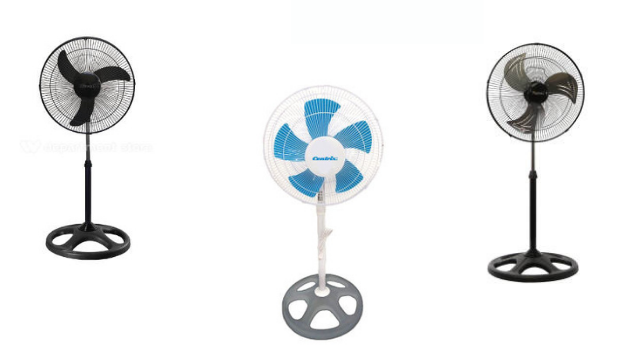 The Philippines, being a tropical country, has more days of heat and humidity rather than cold. In this case, staying cool is important, as air conditioners are expensive both to purchase and for the electricity consumption, stand fans are the next best options to stay comfortable despite the humidity and high temperatures.
Below are the 6 Best Stand Fan Philippines you can buy:
1. Karavision KVISF-1113 11 Mini Industrial Stand Fan with Oscillating Function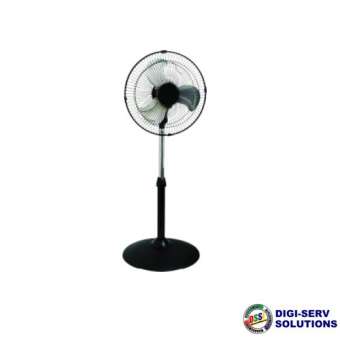 Space Saving
This Karavision stand fan is perfect for keeping you cool in these hot summer days. It's powerful motor saves energy and it's also very space saving and lightweight, so you can have it anywhere!
Why buy this
Wide oscillation and aerodynamic
3 11″ wing blade made of aluminium
120-degree airflow directional control
Karavision's KVISF-1113 is the perfect fan to get you through the most intense summers in style. With a wide oscillation range and aerodynamic blade, this stand fan is not only powerful but also aesthetically pleasing. It is made from high-quality materials to ensure durability and safety.
2. Fukuda Electric Fan Stand Fan 16 Inches Banana Blade Plastic SF164XS
Best Air Circulation
Summers in the country can be very hot, and regular fans might not be able to suffice the air needed to feel the comfort we need under the scorching heat. This is where this Fukuda stand fan is a perfect choice. With a 16″ banana blade, air can surely circulate in the room.
Why buy this
Three-speed controls to suit anyone's preference
Powerful motor that can endure an all day and night use
Durable and lightweight
This fan uses 220v or 60Hz with an oscillating action. Fukuda Electric Fan Stand Fan 16 Inches Banana Blade Plastic SF164XS is a fan that can be used in the living room, kitchen, bedroom, or office. It has three-speed controls to suit anyone's preference. This fan is equipped with a powerful motor which can withstand an all day and night use. The fan is also durable and lightweight.
3. Karavision KVISF-1005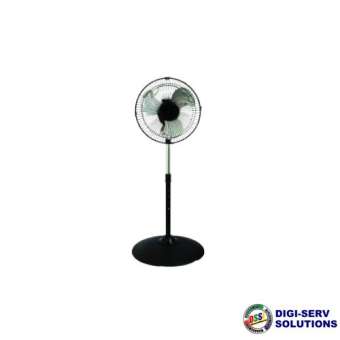 Energy Saving
Beat the heat with this Karavision stand fan with a powerful motor while being energy saving at the same time. This stand fan is also very space-saving and lightweight, so it is also very portable.
Why buy this
Wide oscillation and aerodynamic
3 10″ wing blade made of aluminium
120-degree airflow directional control
The Karavision KVISF-1005 stand fan is a great addition to any room with a high level of heat. The fan has three blades that are made of aluminum and can oscillate 120 degrees. The height of the fan is also adjustable to ensure that it covers a large area. The base is made of sturdy plastic only for the motor to be protected with thermal fuse.
4. Centrix CX-1666A 16″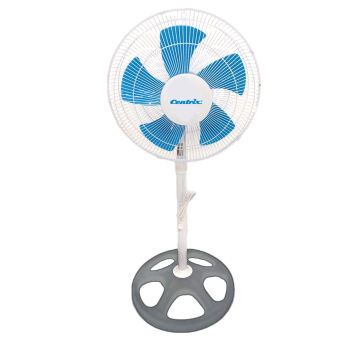 Durable and Chip Resistant
For better circulation, this Centrix CX-1666A 16″ Stand fan is the top tier with its 5 rounded-banana shaped fan blades that ensure the air is being circulated perfectly. Durability is also ensured as even the fan's body is crack and chip resistant.
Why buy this
16″ in diameter
3-speed controls and 90-degree oscillating function
Height is easily adjusted, and the fan head can be tilted for more directed airflow.
The Centrix CX-1666A 16″ fan is perfect for any household. It is a modern looking fan that would not clash with the aesthetic ambiance of your household. The fan can be adjusted to a height that is best for you, and the head of the fan can be tilted to direct airflow in a specific direction.
5. Imarflex IF-355T-W Stand Fan
Silent Motor
Elegant looking white and slick designed stand fan with copper motor and thermal fuse protection, because beauty should not compromise functionality.
Why buy this
3-speed adjustments and an adjustable height
2-hour timer and an automatic shut-off once the timer is over
Five blades for a quieter and wider ranged airflow
The motor is also designed to be silent and create not only a comfortable temperature but an overall comfortable environment. It is also built to last an entire night so you can use it while sleeping especially because of its silent motor.
6. Astron Omni Industrial Stand Fan with 18″ Metal Blade
Best for Bigger Rooms
This is the stand fan option for bigger rooms as the size of the fan as well as its blades are designed to circulate air at a quicker and greater rate.
Why buy this
High-performance motor to ensure ultimate functionality.
60 watts and 230 vac
An adjustable height.
The Astron Omni Industrial Stand Fan with 18″ Metal Blade is a fan that can be used in any room. This fan has a high-performance motor and is adjustable; it can go from a low height to high height. It also has a 60 watt and 230 voltage. This fan is worth the money because it lasts for a long time and has many features.
Stand Fan vs Wall Fan
The first thing that is the obvious difference that makes stand fans the better choice is the portability. Because it isn't attached to anything, it is easier just to take the fan and use it wherever a plug is available.
There is less installation required when setting up a stand fan
The disadvantage for a stand fan is that it consumes more space than wall fans
Stand fans are also better to use for smaller rooms or concentrated use as wall fans are the better choice for bigger rooms or shared use.
Because of its portability, stand fans are the perfect choice for those using dorms, boarding houses, and renting spaces as it doesn't require anyone to damage a whole.
Our top Recommended Products:
FAQs
What features should I look for in my Stand fan?
One important feature is the noiseless performance. Stand fans are usually known as noiseless, and when choosing your own fan, make sure it performs quietly.
What is the difference between 3 blade and 4 blade fan?
4 blade are less noisy and more stylish looking than 3 blade fan. However, 3 blade fans move the air faster than 4 blade ones.
This post was brought to you by Kimz House.
Disclaimer: The opinion is solely based on our testing or intensive research with customer feedback around the most popular shopping platform such as Shopee and Lazada. The products/services shown here are available and valid upon the publication date. It may change from time to time. Please email us at [email protected] if there is any discrepancy.