Last Updated on
In the digital age, one of its products that is increasing in popularity is smartwatches. They may tell time, but they can also track your health and fitness, serve as a GPS device, or take calls and texts from others. Smartwatch options abound for customers today, which makes choosing an ideal choice difficult among them all.
There are many different smartwatches out there, and it can be hard to find the right one. So, when you're looking around for what type of watch will suit your needs best, keep in mind a few things: firstly, do you want something that allows communication? Or maybe fitness is more important, or even battery life, as some watches die after only hours. It all depends on how often you plan on wearing your watch and charging/replacing batteries, so make sure those features meet your lifestyle.
Table of Contents
Choosing the Right Smartwatch for You
Top Smartwatch Brands in the Philippines
Conclusion
FAQs
Quick Comparison Table
(scroll right for more)

Listed below are the best smartwatches in the Philippines that you can choose from.
1. realme Watch 3

Clear Bluetooth Calling
The realme Watch 3 is an amazing device with a long list of features. With its high-definition color screen display, you can always be sure that what you see on the watch is accurate and true. You can also use the 110+ sports mode to track your outdoor activity, including floor climbing, cycling, and yoga. The watch even monitors blood oxygen level, heart rate, and sleep quality so you can have an overall understanding of your health status.
Additionally, with Bluetooth calling support built into the watch, you don't need to miss any important calls while running or exercising outdoors! This feature adds an extra layer of convenience and security as it allows for quick access to both incoming and outgoing calls when needed most. Real-time tracking ensures that every step of your workout routine will be accurately documented in order to give you a better idea of how well or not well things are going each day for your fitness goals!
All in all, if you're looking for a reliable fitness tracker with plenty of features included in one package, then the realme Watch 3 is definitely worth checking out. It provides users with tons of benefits, such as monitoring vital signs like heart rate and blood Oxygen Level, as well as offering Bluetooth Calling support, giving users more options than ever before when it comes to staying connected to their physical activities! So don't wait—get the Realme Watch 3 today and start living healthier tomorrow!
Pros:
Blood Oxygen (SpO2) Monitoring
7 Days Battery Life
110+ Sport Modes for Fitness Tracking
Cons:
Not compatible with iOS devices
2. Haylou LS02

24-Hour Real-Time Heart Monitoring
The Haylou LS02 Smart Watch is an excellent fitness companion for anyone looking to track their workouts and monitor their health. Upgraded from its predecessor, the LS01, this smartwatch boasts a larger 1.4-inch LCD screen with 320 PPI resolution that provides a vivid and natural display, making it easy to read your workout stats on the go. With Bluetooth 5.0 technology, you can enjoy a stable connection during your workout sessions and never worry about losing track of your progress.
One of the major benefits of Haylou LS02 is its impressive longer battery life, lasting up to 20 days with heart rate monitoring enabled or even over 30 days without it. This extended usage time allows users to focus more on achieving their fitness goals rather than constantly needing to recharge their devices. The watch also features advanced IP68 waterproofing capabilities, allowing it to withstand rigorous exercise routines and daily use while offering compatibility with various types of sports modes, such as hiking and biking, through its intuitive "Haylou Fit" app.
We have ranked Haylou LS02 as No. 2 in our list due to its remarkable combination of extensive battery life and multiple sport modes tracking abilities for personalized training experience, besides being a cost-effective option in comparison to other similar products available in the market, which makes it a highly accessible choice for those seeking comprehensive smartwatch at affordable price point combined well-rounded feature-set that performs beyond expectations when catering diversified user profiles ranging from athletes professionals alike!
Pros:
24-hour real-time heart monitoring
Low-power dynamic optical heart rate sensor
Supports twelve sports modes
Cons:
3. Xiaomi Mi Band 7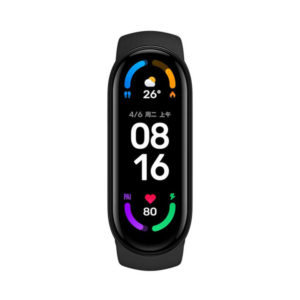 With Smart Reminder
The Xiaomi Mi Band 7 Activity Tracker delivers an impressive user experience with its high-res 1.56″ AMOLED screen, making it easy to track your fitness progress and more. As the No. 3 pick on our list, this smartwatch stands out for its multitude of features, including SpO2 monitoring, 30 sports modes, and a comprehensive sleep monitor that assesses both REM and nap sleep quality. With such well-rounded capabilities in one sleek package, the Mi Band 7 is sure to motivate anyone towards healthier habits.
Designed for individuals with active lifestyles, the Xiaomi Mi Band 7 boasts a sturdy build with a 5ATM water resistance rating, allowing usage during swimming or water sports activities without any worries. The SpO2 sensor and PPG biosensors work seamlessly together to provide accurate readings of oxygen levels and heart rate during intensive workouts. Convenience features such as selfie photo mode, music playback control, call answering, and hands-free phone interaction make this tracker highly functional beyond health and fitness features.
Distinguishing itself from competitors by offering a large selection of over 100 watch faces to choose from coupled with long-lasting battery life (up to two weeks), ensures you look stylish while taking advantage of all the great benefits Xiaomi's Mi Band has to offer – improving overall health goals through detailed daily activity reports available via the Mi Fit or Mi Wear App on your smartphone at all times! Experience what makes Xiaomi the No. 1 wearable brand in the world by trying out their latest innovation – The Xiaomi Mi Band 7 Activity Tracker Smart Watch!
Pros:
Health Monitor
Sleep Monitor
Smart Reminder
Cons:
4. Samsung Galaxy Watch4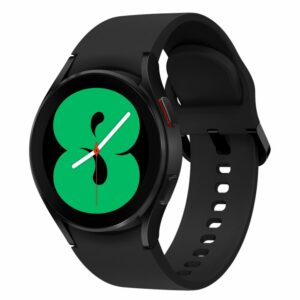 ECG monitoring
The Samsung Galaxy Watch4 is a game-changer in the world of smartwatches. As an innovative device that aims to enhance your daily life and fitness journey, this watch offers a host of features that cater to both health enthusiasts and busy professionals alike. Its sleek design is stylish and packed with advanced technology like ECG monitoring for heart health, body composition analysis for fitness goals, sleep tracking to ensure better rest quality, and VO2 max readings for improved running performance.
One standout feature of the Galaxy Watch4 is its seamless integration with Google services. Accessing apps like Google Maps or paying for coffee using Google Pay has never been easier – all done from your wrist! Moreover, you can stay connected while on the go through calls, texts, and notifications without needing your phone by your side, thanks to LTE connectivity*. Advanced workout tracking automatically recognizes six popular activities within just three minutes and even lets you join group challenges or live coaching sessions via smartphone integration.
The Samsung Galaxy Watch4 exhibits a perfect blend of style and functionality, making it an essential gadget for anyone looking to upgrade their wearable tech game. Whether managing hectic work schedules or striving towards new fitness milestones, this smartwatch ensures maximum convenience without compromising performance, as it delivers everything you need right where you want it. So go ahead; give yourself the gift of streamlined efficiency wrapped around your wrist by choosing the Samsung Galaxy Watch4 today!
Pros
Stay connected and streamline your daily life with select Google services and apps right on your wrist.
Improve your fitness routine with advanced workout tracking that automatically recognizes popular activities, such as running and swimming.
Wake up feeling refreshed and recharged thanks to advanced sleep-tracking technology that monitors your SpO2 levels continuously.
Cons
Limited app selection compared to other smartwatches
5. HUAWEI Watch Smart GT 3

Resilient and Durable
The HUAWEI Watch Smart GT 3 (46mm) is an innovative and stylish smartwatch that is a perfect addition to any fitness enthusiast's arsenal. This GPS-enabled, Bluetooth-compatible timepiece excels in seamlessly integrating functionality with fashion. The comprehensive suite of health-focused features includes an efficient fitness tracker, message reminder, and Bluetooth calling capabilities – ensuring that this watch meets the needs of today's on-the-go smartphone users.
One of the standout features of this smartwatch is its user-friendly interface combined with its impressive AMOLED touchscreen display boasting a screen resolution of 466 x 466 pixels. This ensures vibrant colors and crisp images, making it easier for you to monitor your heart rate, SpO2 levels, body temperature, and exercise progress at a glance. Furthermore, the proprietary HMS operating system offers smooth performance while allowing seamless synchronization with various vital apps.
In conclusion, the HUAWEI Watch Smart GT 3 keeps you connected and acts as a reliable companion throughout your fitness journey without sacrificing style or comfort. Its top-notch build quality, featuring water resistance, swim-proof design, and dust and scratch resistance, confirms Huawei's commitment to durability, which justifies its place among our recommended list of smartwatches for all-around use. Don't miss out on owning this highly sought-after piece of wearable technology!
Pros:
2-WeekBattery Life
Classic Sports Watch Design
Smart Health Assistant
Cons:
A bit hard for non-Huawei device users
6. Garmin Lily
Classic Look
The Garmin Lily is a stylish and highly functional smartwatch designed for those who value both fashion and fitness. This small GPS smartwatch blends seamlessly with your wardrobe, thanks to its unique patterned lens and customizable design options such as rose gold, light tan sport bands, metal accents, and more. With the simple tap of a finger or flick of the wrist, the bright touchscreen display comes alive with intuitive features that support an active lifestyle.
As a comprehensive fitness companion, the Garmin Lily tracks steps, sleep patterns, heart rate, and energy levels while also providing insight into women's health data. It connects effortlessly to compatible smartphones via connectivity technology (GPS) and supports applications like GPS tracking for outdoor activities such as walking or running. The LiveTrack feature provides peace of mind by allowing friends or family members to follow your progress in real time during workouts. Additionally, you receive valuable notifications about calls, texts, and emails right on your wrist.
With up to 5 days of battery life between charges and extensive health-focused features integrated into this attractive accessory – including respiration monitoring (Pulse Ox) and stress management tools – anyone looking for an elegant yet efficient wearable will appreciate the many benefits offered by Garmin's Lily Smartwatch. Stay motivated throughout daily routines without sacrificing style while benefiting from everything this wellness device has to offer at every stage of your journey.
Pros:
Stylish Classic Look
Women's Health Tracking
Great Battery Life
Cons:
7. NORTH EDGE NL02


Multi-sport Mode
The NORTH EDGE NL02 Smart Watch is a great choice for anyone looking to track their fitness and health. It boasts an impressive 28-inch IPS HD display that provides an incredibly crisp image with bright colors, perfect for detecting the tiniest of details in your workouts! The full touch screen design allows you to easily navigate through all of the smart watch's features while being compatible with both IOS and Android devices. Harmony OS means it's suitable for everyone, no matter what type of phone they own.
The NORTH EDGE NL02 Smart Watch provides accurate real-time tracking of your heart rate, blood pressure, and blood oxygen levels using its advanced technology sensors embedded within the watch itself. Furthermore, thanks to its multi-sport mode feature, you can record activities such as running, cycling, or walking – making it ideal for any kind of workout session, regardless if you're heading out on a long run or just going for a leisurely walk around the neighborhood.
This smartwatch offers plenty of features necessary to help bring your fitness game up a notch like never before – so why not grab yourself one today? With robust build quality alongside functional technology core systems – this device is worth taking into consideration when searching the market for new gadgets that offer exceptional performance combined with stylish designs!
Pros:
The compact and comfortable design allows for all-day wear
1.28 inch IPS HD screen provides clear visuals
Features Heart Rate monitor, Blood pressure, and Blood oxygen monitoring to help with health management
Cons:
Slightly limited battery life (220 mAh)
8. SoundPEATS Watch 1

Record Sleep Time
The SoundPEATS Watch 1 is an innovative smartwatch offering a comprehensive fitness tracking experience for iPhone and Android users. With its sleek design, all-day heart rate monitoring, and sleep quality tracking capabilities, this watch combines style with functionality. Its large 1.4-inch touchscreen display makes navigating through the various features easy while offering five different watch faces. The adjustable wristband ensures a comfortable fit for wrists between 6.1 and 9.3 inches in circumference, making it suitable for most people.
Not only is the SoundPEATS Watch IP68 waterproof rated – allowing you to wear it during exercise or even swimming – but its impressive battery life lasts up to 10 days on a single two-hour charge. As an accurate fitness tracker watch, it records your steps, distance walked, calories burned, and heart rate throughout the day. It also supports 12 additional sports modes that help track other exercise patterns, such as yoga or cycling. Additionally, you can map out your exercise routes for further analysis by connecting the watch with your smartphone's GPS via the SOUNDPEATS SPORTS app.
This versatile smartwatch also doubles as a practical everyday tool with features like weather updates, music control, breath training assistance, stopwatch/countdown capabilities, alarm clock functions, find-your-phone options, and sedentary reminders, among others, – making it perfect not just as a reliable fitness companion but also an essential accessory in our increasingly connected lives!
Pros:
Record Sleep Time
Control the music playback
Breathing Training
Cons:
9. Apple Watch Series 7

Premium and Lightweight
The Apple Watch Series 7 offers a perfect blend of form, function, and utility through its impressive features. As an ultimate fitness partner, this smartwatch helps you stay active with advanced sensors to track your movements and measure your favorite workouts, complemented by three months of free access to Apple Fitness+. Furthermore, the variety of health monitoring options, such as Blood Oxygen & ECG Apps, sets this watch apart regarding overall functionality.
Incorporating technology into daily life has never been more seamless or accessible than with the Apple Watch Series 7. With apps like Calendar, Wallet, and Mindfulness right on your wrist from numerous offerings on the App Store – staying organized and connected is effortless. Compatibility with other Apple devices ensures smooth integration for activities like listening to music via AirPods or unlocking Mac computers automatically. Additionally, safety features like fall detection provide peace of mind if emergency assistance is needed.
Apple Watch Series 7 stands out among other smartwatches due to its comprehensive set of powerful tools catering to various aspects of personal wellness and productivity. The combination of innovative health tracking features blended with convenience-enhancing practicality makes it a versatile addition to any user's lifestyle – all enclosed within an eye-catching (Product)RED design that prioritizes durability without compromising style.
Pros:
IP6X dust and water resistance
Faster charging
Heart rhythm notifications
Cons:
10.

Fitbit Sense 2



Best for Stress Management
The Fitbit Sense 2 is an amazing fitness tracker that comes with a bundle of features. With Google Wallet and Maps, you can always access the assistance you need on the go, not to mention it also includes a newly added sensor for tracking signs of stress in your body. Furthermore, the device tracks sleep quality and monitors various health metrics such as SpO2 and heart rate variability, which allows you to gain insight into your overall health status.
With this advanced fitness tracker, you'll be able to make small but significant changes towards leading a healthier lifestyle. By having access to detailed insights about your sleeping patterns, vitals, and stress levels, you'll be able to take proactive steps toward reaching your goals faster than ever before! To top off what is already an outstanding product, Fitbit offers a month's free Premium membership trial when purchased, so you have even more ways of optimizing the usage experience of their products.
All in all, if you're looking for a tool that will help track progress towards bettering yourself physically or reaching target goals – Look no further than the Fitbit Sense 2! This product has everything needed for delivering accurate results and managing them effectively step by step, along with allowing free access to premium resources during its initial purchase period! So don't hesitate – take charge today towards having a happier and healthier tomorrow with this amazing fitness tracker from FitBit!
Pros:
Continuous tracking of your heart rate & activity for overall wellness insights
Learn how to maximize rest with tools that track your sleep quality
Track key health metrics like blood oxygen (SpO2) and Heart Rate Variability for better support of health
Cons:
Pricey compared to other fitness trackers
Choosing the Right Smartwatch for You
Health and Fitness Features – Smartwatches help you monitor your health, fitness levels, and progress as an athlete. Features like pedometers, calorie counting apps, and multi-sports tracking to track how much time you spend exercising in a day can also measure blood pressure or heart rate depending on the watch model – ideal for those with conditions such as hypertension! Steps are counted so that we're hitting our targets each day, too.
Battery Life – A smartwatch needs to have good battery life. Otherwise, you might end up with an empty watch by lunchtime when it was just fully charged at 8:00 AM! Luckily, the average is 12-24 hours of charge time for a smartwatch.
Durability – When choosing a smartwatch, you should definitely consider durability. A good watch is quite expensive, and it's important to know that the product will last for a while before breaking down or needing repair. Some watches boast of their shock-proof abilities, such as being able to endure falls from higher surfaces or even through hitting hard objects while others are water resistant, which means they can be worn during exercise like running in the rain without worrying about damage.
Top Smartwatch Brands in the Philippines
Huawei
Huawei's wearables come with a variety of options to suit every user and their unique requirements. While some devices use round watch faces, others opt for something slightly different such as square or oval-shaped screens instead.
Apple
The Apple Watch is not only the best smartwatch to buy but also for iPhone users. With seamless integration with iOS and tons of features that make your life easier!
Garmin
Garmin watches are great for tracking your steps, sleep patterns, and heart rate. They also sync with the free Garmin Connect app to give you a detailed look at all aspects of wellness from one place on how healthy we're living naturally or even just curious about what type of workout gear someone might need depending on their goals!
Conclusion
So, have you decided on a smartwatch to buy? They are all so different, and it can be hard to pick just one. Hopefully, this article has helped make your decision easier. If not, maybe our other articles about the best smartwatches or how to choose the perfect one will give you what you need. Whichever watch you decide on, we hope that it brings you many happy hours of use!
FAQs
Can I use a smartwatch without a phone?
Yes, you don't need your smartphone nearby in order to make full use out of these devices and enjoy features like receiving notifications or making payments with Google Pay. Wear OS watches (as well as Samsung's Galaxy Watch & Apple Watches) allow for internet connectivity through Wi-Fi which means that provided you have access to one, users will be able to keep on using apps even after leaving behind their mobile device at home!
Can smartwatch make calls?
Smartwatches are available for making calls, and some even work on LTE. Most smartwatches connect to your smartphone's network via Bluetooth, but opting for the LTE version is more expensive as it means being able to make/receive calls without your phone present.
This post was brought to you by Kimz House.
Disclaimer: The opinion is solely based on our testing or intensive research with customer feedback around the most popular shopping platform such as Shopee and Lazada. The products/services shown here are available and valid upon the publication date. It may change from time to time. Please email us at [email protected] if there is any discrepancy.