Last Updated on
It's no secret that having a clean home is one of the most satisfying feelings in life. But sometimes, it can be overwhelming to find all the time and energy to do so.
That's why robot vacuum cleaners are an excellent option for those looking for a little more help around the house! These machines will work hard while you rest, relieved of your dirt-cleaning duties.
There are many different brands on sale these days, but which ones are worth checking out? We break them down below!
Table of Contents
How to Choose a Robotic Vacuum Cleaner in the Philippines
Top Robot Vacuum Cleaner Brands in Philippines
Conclusion
FAQs
Quick Comparison Table
(scroll right for more)
1. Bowai Upgraded Automatic Vacuum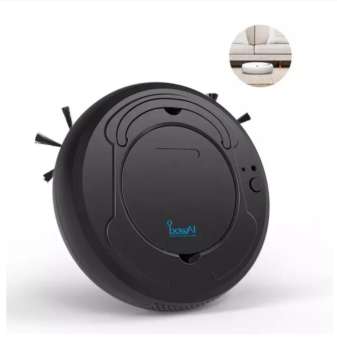 Most Affordable Option
This robot cleaner is the most affordable ones in the market right now, and if you want to get a good deal on a vacuum cleaner, this is it. It allows all types of households to experience the convenience of an automatic vacuum cleaner without the guilt of spending too much. Meet the latest and greatest in vacuum cleaners, upgraded to vacuum like a boss. The Automatic Robot Cleaner is your new best friend. Forget about lifting and pushing a clunky vacuum around – this contraption will do the work for you. With a working time of up to 100 minutes and suction up to 1800Pa, this vacuum cleaner is an absolute must-have for your home.
Pros:
Working time of up to 100 minutes
Vacuum suction up to 1800Pa
HEPA filter keeps air pure
Cons:
A little short operation time.
2. XIAOMI Mi Smart Vacuum Cleaner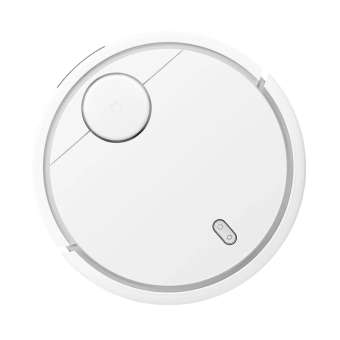 Automatic Charging
Xiaomi is one of the few brands of vacuum cleaners that are easy to trust. They have proven the quality of their cleaning appliances throughout the years, including this intelligent home cleaning device. This vacuum cleaner has 12 different sensors that can recognize your home layout and automatically map out the best cleaning plan, so you never have to worry about cleaning the wrong areas! There is a large suction fan that will suck up dirt from your carpet or the walls of your home! The Xiaomi Mi vacuum cleaner also automatically charges itself so you never have to worry about running out of battery. If you are looking for a vacuum cleaner to invest in, this is the one for you!
Pros:
12 different sensors
Large suction fan
Map generation, cleaning path planning, Automatic chargeback
Cons:
Larger in size compared to other model.
3. Pinph Cleaning Robot 2 In 1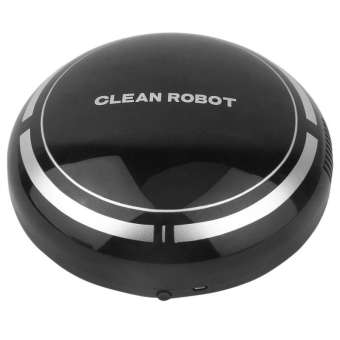 Best for Apartments
This budget-friendly vacuum cleaner is the perfect way for those living in an apartment to experience a robot cleaner. It features a low profile, making it perfect for getting under furniture and into corners. Plus, it comes with a dirt sensor to alert you. No need to do the dreaded chore of vacuuming anymore. The Pinph Cleaning Robot 2 in 1 is a two-in-one device that will work on different surfaces (wood, tile, marble) and is equipped with an automatic sensing device that prevents it from colliding with obstacles. Comes with a large dust garbage can and can be operated with just one button.
Pros:
Works on different surfaces (wood, tile, marble)
Large dust garbage
An automatic sensing device for cleaning path
Cons:
4. Monarc Botbot Pro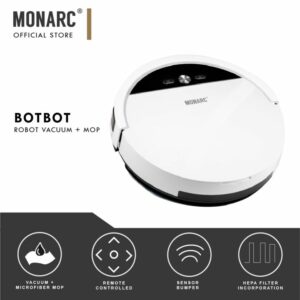 Can be Remote Controlled
Are you looking for a powerful, yet slim and lightweight robot vacuum cleaner? Look no further than the Monarc Botbot Pro! This nifty little machine packs a punch, with automatic cleaning, designated area cleaning, corner and edge cleaning, and easy remote control operation. Plus, you can schedule cleanings in advance so your home is always spick and span.
Pros:
Quality mop cloth
Automatic Bumper Sensors
Slim body design
Cons:
Have some navigation issues
5. KONKA KC-C21
Multiple Cleaning Modes
Looking for a cleaning solution that doesn't require any effort on your part? Look no further than the KONKA KC-C21 Robot Vacuum Cleaner! This innovative product is mainly designed for use on hard floors, but can also be used on short-haired carpets. It features intelligent automatic sweeping and suction, as well as a mopping function, making it ideal for households with pets or children.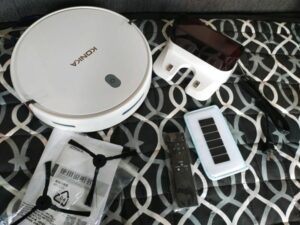 Pros:
Intelligent anti-drop sensor
With a smart remote control
Intelligent automatic sweeping, suction and mopping integrated
Cons:
6. HAN RIVER Vacuum HRSDJ02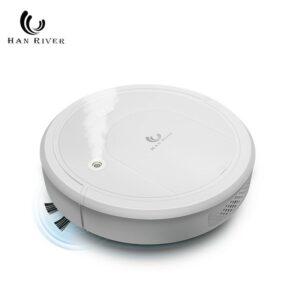 Best for Households with Pets
Looking for an amazing vacuum cleaner that can handle even the most stubborn pet hair? Look no further than the HAN RIVER Vacuum Cleaner HRSDJ02. This powerful and reliable vacuum is specifically designed to make short work of pet hair, fur, and dirt, leaving your home looking and feeling clean and fresh.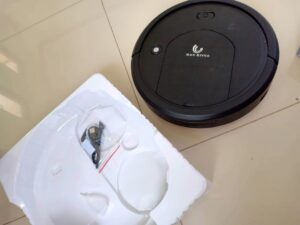 Pros:
Humidification Mode
Large capacity dust box
Multiple working mode
Cons:
7. eufy RoboVac G10 by Anker
Gyro Navigation
Anker has been a reliable brand for a long time, and their robotic vacuum cleaner is doing well in the market. This is because they know what the people want: technology that works with minimal fuss. The Eufy RoboVac G10 is the smartest, most powerful vacuum cleaner on the market. It's equipped with Gyro navigation technology which means it can clean two times faster than standard vacuum cleaners. The G10 is also voice control enabled, allowing you to schedule cleaning time and even tell it to start cleaning whenever you're ready.
Pros:
Dynamic navigation technology
Voice control enabled
Schedule cleaning time
Cons:
A bit complicated to set up
8. Pizore 4-in-1 Robot Sweeper
With Humidifier Mist
Looking for an easy and effective way to keep your floors clean? Look no further than the Pizore 4-in-1 Robot Sweeper! This versatile little machine can handle all different kinds of flooring, from tile and nylon to marble and hardwood, and will make quick work of any dirt or dust. Plus, it's super quiet – you'll barely even notice it's there as it goes about its business. With just a touch of a button, you can have clean floors that stay looking great day after day.
Pros:
Easy 1 touch activation.
With air filter
Quite cleaning
Cons:
Battery life can be an issue
9. XIAOMI Mi Mop 2 Pro
Powerful Stain Removal
Looking for a powerful and efficient way to clean your floors? Look no further than the XIAOMI Mi Mop 2 Pro! This state-of-the-art mopping system is equipped with a full-coverage high-frequency sonic vibration mop, which significantly boosts cleaning power and easily removes tough stains. The LDS laser navigation system efficiently scans and quickly maps the complex environment of the entire home, to quickly plan the robot's cleaning route.
Pros:
Advance Mopping Technology
LDS laser navigation
Long Battery Life
Cons:
10. Onson J10C Robovac
Cleans Sorts of Surfaces
Finally, we have this classic black robot vacuum cleaner that does not only offer reliable cleaning functions but also adds up to the overall aesthetics of your house. This has one of the most powerful suction from the list at 2000Pa. The Onson J10C Intelligent Cleaning System is the must-have this season. Either you live in a large house with many rooms that need to be cleaned, or your house is a modest size, Onson has the perfect cleaner. With a variety of features, you'll love, it's guaranteed to make your life easier.
Pros:
Intelligent Cleaning System
Equipped with infrared sensors
Quiet operation
Cons:
No location awareness of home
How to Choose a Robotic Vacuum Cleaner in the Philippines
Here are some of the considerations for buying a robot vacuum cleaner in the Philippines:
Warranty – unlike your usual home appliances, repair and maintenance of this type of vacuum can be tricky and will thus require a specialized technician. Make sure that your robot vacuum cleaner comes with good warranty coverage and you have a service centre nearby.
Operation Noise – one of the classic problems with the traditional vacuum cleaners is the noise they make during cleaning. This should be something already addressed by a rather more innovative robot vacuum cleaner.
Cleaning time – go for vacuum cleaners with decent cleaning time, because you surely do not want to be spending more time charging than cleaning. The ideal continuous cleaning time is between 45 minutes to two hours.
Top Robot Vacuum Cleaner Brands in Philippines
Xiaomi
The Xiaomi Mi Robot Vacuums are affordable, mid-range robot vacuums that feels well built and has a long lasting battery. Their vacuum cleaners can navigate easily on bare floors or low pile carpets to pick up all dirt particles in its path which makes it perfect for your home!
Anker (eufy)
eufy is an innovative company that strives to enhance your life with smart home devices. From robotic vacuum cleaners and wireless security systems, eufys products are designed for convenience in every way possible!
Conclusion
If you're looking for a little help around the house but don't want to sacrifice your precious free time, robot vacuum cleaners are an excellent option. With so many different brands and models on the market today, it can be tough to decide which one is right for you. But don't worry – we're here to help! Have you chosen your robot vacuum cleaner yet? If not, take a look at our top five picks below and see which one fits your needs best. Happy cleaning!
FAQs
How do robot cleaner work?
It navigates around the house with it's motherboard that helps map the floor plan. They also have a sensor to prevent it from bumping on objects and map out the most efficeint cleaning path. When it is finished with cleaning, it will usually return to it's dock or beep.
How do I clean my vacuum cleaner?
Most of the robot vacuums are bagless and just uses a plastic bin or tub to store the dust. This plastic bin are easy to remove and can be easily cleaned. The filter also needs to be cleaned every three or four cycles to maintain the effectiveness.
What are the advantages of a robot vacuum cleaner?
These cleaners ar efficient, as it reduces how often you need to sweep and clean your floors, you can even schedule it to clean when you are not at home, saving you some time at the same time. They also come in compact designs, taking up very little space in your home.
This post was brought to you by Kimz House.
Disclaimer: The opinion is solely based on our testing or intensive research with customer feedback around the most popular shopping platform such as Shopee and Lazada. The products/services shown here are available and valid upon the publication date. It may change from time to time. Please email us at [email protected] if there is any discrepancy.