Last Updated on
It's scorching hot, and you can't find a way to cool down. What do you do?
One thing you can do is to use an aircon! But not just any kind of aircon. You need a portable one so you can bring it wherever you go and stay cool at all times. These lightweight, portable units make it easy to cool down your bedroom, modest office or condo living room and they're quick to set up with no permanent installation needed!
However, there can be a lot of options when it comes to portable aircon, here, we listed the best portable aircon Philippines that are available in the market today!
Table of Contents
Best Portable Aircon Comparison Table

How to Choose The Right Portable Aircon for You
Conclusion
FAQs
Quick Comparison Table
(scroll right for more)
1. ROWA1.0HP RAC09RCP-P

Low Noise
The ROWA 1HP Portable Air Conditioner is perfect for you if your living area has a smaller volume, or you enjoy taking the A/C with you on trips. The style of this air conditioner falls between low profile and high-rise, making it great to bring around! It's also equipped with two different fan speeds so that you can choose how much cool air your room gets. ROWA AC units are built for portability and power. This 1HP portable air conditioner by ROWA can be used to cool homes as well. It offers plenty of features like water-self evaporation, efficient dehumidification that removes up to 3x more moisture than a passive fan combined with condensation collection convenience, and fast cooling. Plus there's no need to worry about noise pollution–it operates at 59dB so it won't disturb anyone living nearby!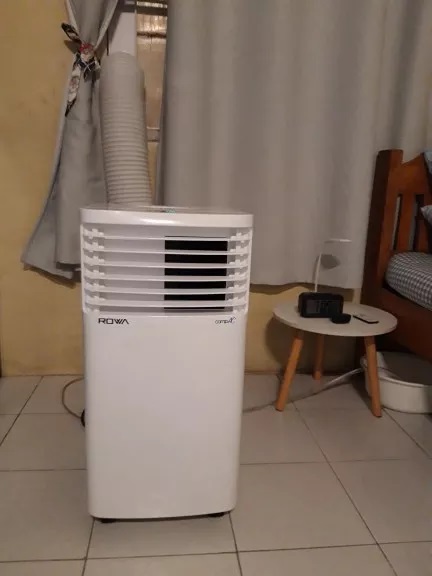 Pros:
Easy Installation
Water-Self Evaporation
Efficient Dehumidification
Cons:
2. Hanabishi HPORTAC-10HP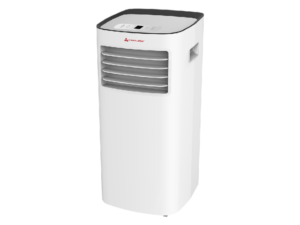 Multiple Cooling Modes
This small, compact air conditioning unit plugs directly into an outlet and provides strong airflow for a little space! Choose from one of three modes to achieve different desired outcomes -cooling your room in warm weather, blowing drying, or simply providing circulation. Never deal with a humid summer again when you have Hanabishi portable AC's on your side! Now living in hot and humid climates can be great. That is because the Hanabishi HPORTAC-10HP Portable Aircon 1HP could provide you with a life of comfort! Proud to have an easy cleaning filter, this product means that it's going to save your time and effort of having to clean the filters all the time by yourself. Moreover, one of its most admirable features are low noise design and manual swing function which make sure that natural rest without disturbances will never go away from you due to any type of disruptions outside. With timer too and LED display, this Hanabishi air conditioner is certainly not missing out on anything!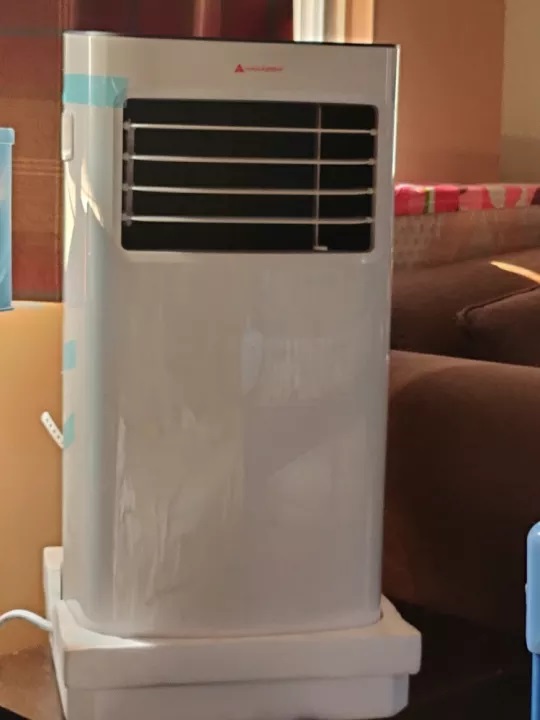 Pros:
Portable | 1 HP
Easy cleaning filter
Temperature sensor clamp
Cons:
3. TCL TAC-09CPA/W 1.0 hp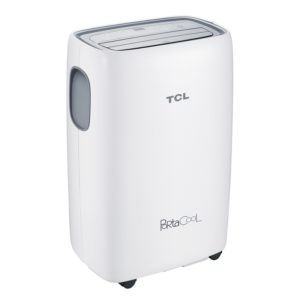 Dual Condenser Technology
With its revolutionary Dual Condenser Technology, convenient functions, user-friendly and sophisticated design, enjoy cool, clean, and fresh air anywhere inside your home! Plus with an easy manual control panel it blends easily with any décor. TCL Dual Condenser technology is a big help in fast cooling and energy saving. Your home comfort has never been more convenient with the addition of an elevated air exhaust for those hot summer days, not to mention your child's room! With it's hydrophilic coated fins that won't trap humidity, you can be sure your experience will be nothing less than pleasant – all without leaving home! You'll also enjoy health filters that keep bacteria, mold codes and pollen out of the air. It's another feature: integrated handle!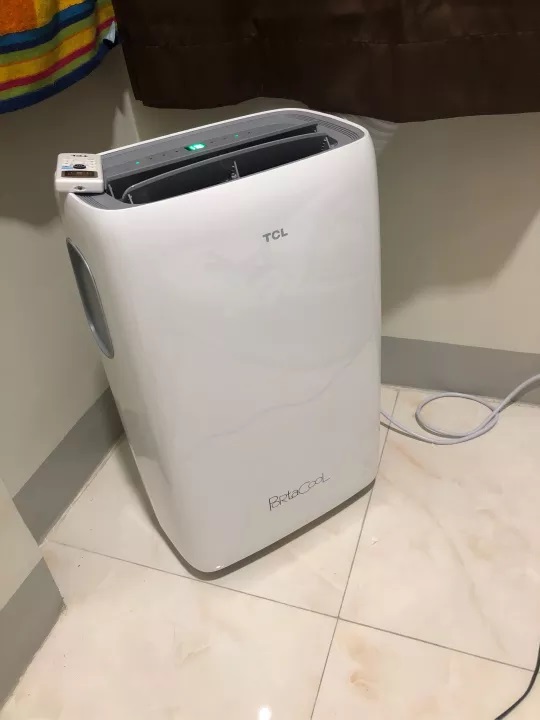 Pros:
Fast Cooling
Energy Saving
Elevated Air Exhaust
Cons:
4. SHANBEN Mobile Air Conditioner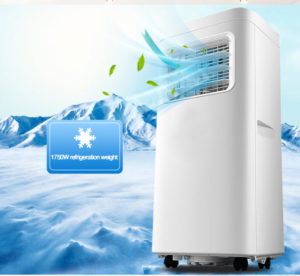 Smart Design
This mobile air conditioner is an all-in-one installation-free machine built for convenience. It's compatible with many spaces and can work on a variety of settings, whether you're at home or out and about. Plus it plugs and plays—switch it on to get started! Follow patented four core technologies make this product the best in its category: full power, high performing motor, smart design that promises simplicity. SHANBEN's mobile air conditioner will be your traveling companion on those hot summer days! Carry it around and enjoy quick cooling. Not only is this air conditioner easy to carry, but also totally portable with its compact design. All you need to do is plug in the unit and forget about it; no installation needed. Besides being handsome when neat, SHANBEN's mobile air conditioners also has multifunctional compatibility for any space. So whether you want a cooler office or a more intimate sleeping area, our small-sized models are just the right size for all your needs!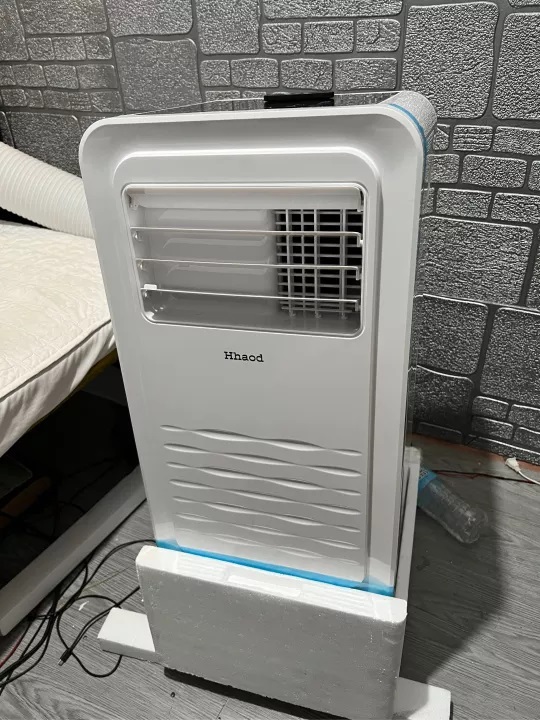 Pros:
Fast cooling, multifunctional mobile air conditioner
All-in-one installation-free, suitable for multiple spaces, plug and play, convenient and worry-free
Powerful dehumidification, four core technologies, full power, high-performance motor, fast cooling
Cons:
5. Ariel AMJ10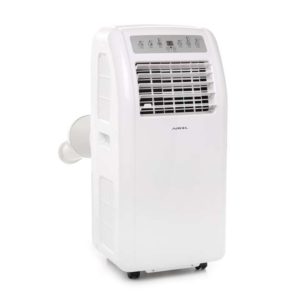 Take the hot, humid summer heat off your back without resorting to ripping open a hole in your wall for an bulky AC unit. For less than what it costs for two cups of fancy coffee, you'll get all the comfort and relaxation you need. The Ariel AMJ10 Portable Air Conditioner is a 1 HP large portable air conditioner which can be utilized as an excellent space cooler in the summer months. The unit's portable design and convenient size allows this unit to be used just about anywhere, with or without power source! Some of its features include a remote control for easy use, dehumidifier capability which helps maintain moisture levels between 30%~50%, and even heating function for those chilly winter days! With a 10K BTU/hr cooling capacity and the ability to cool up to 200 square feet indoors, this product is the perfect time-saving solution for all your needs!
Pros:
1HP portable air conditioner
With heater and dehumidifyer
10,000 BTU/Hr.
Cons:
6. Carrier PDCAR009CO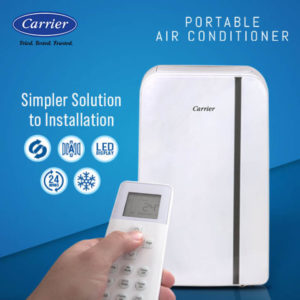 Sleek Design
The 1.0 hp Carrier portable air conditioner is designed to cool any spot at home. It also has a sleek design that'll look great in your room. Fully equipped and self-sufficient, this powerful unit fits anywhere with no installation needed. Carrier's portable aircon is a versatile machine, made for effortless cooling on the go. Equipped with a 24 hour timer and remote control, this unit is ready to unleash the power of easy comfort anywhere you need it. With its elegant design and durable construction, Carrier has thought every detail through to keep cool air flowing at home or work. The flex hose exhaust makes it easy to direct cooled air where you want without interfering with anything else in one room while attracting attention elsewhere because its sleek and stylish look.
Pros:
Flexible hose exhaust
High quality and reliability
24 hour timer
Cons:
7. HAILANG Mobile Air Conditioner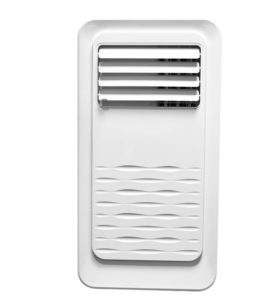 Full Powered, High Performance
You are sure to enjoy the feeling of coolness and comfort instantly from Hailang Portable Mobile Air Conditioner. Its four core technologies make it easy for you to enjoy full power, high-performance cooling at home and on the go. You'll definitely want one for your next summer adventure! The HAILANG Portable Mobile Air Conditioner is a versatile machine that can operate in any setting. It comes with the latest rotary compressor technology and a powerful dehumidification system to keep you cool, dry, and comfortable no matter what environment you're in. Through its four core technologies, it will provide you with full power potential while providing your space with fast cooling capabilities. Use the built-in remote control to effortlessly adjust the settings from up to three meters away after pressing one of three buttons on it. Be sure to give this product a try for yourself if you want top quality portability combined with reliability!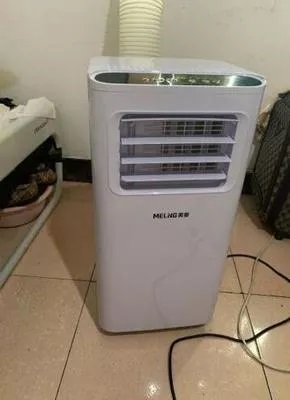 Pros:
Fast cooling, multifunctional mobile air conditioner
Powerful dehumidification, four core technologies, full power, high-performance motor, fast cooling
More detailed design, more convenient to use
Cons:
8. Fujidenzo PAC-100 AIG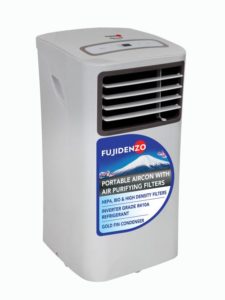 With Hepa Filter
Fujidenzo has created the 1.0 HP Portable Aircon with Air Purifying Filters PAC-100 AIG to help you experience cleaner air and a more comfortable space. The PAC-100 utilizes advanced filtration technology which reports a 97% of particle removal efficiency, making it one of the cleanest air conditioners on the market for improved breathing while being 100% silent in operation. This Fujidenzo portable air conditioner features a 1.0HP powerful and energy efficient compressor and comes with ABS plastic, which is tough and durable, top-of-the line paneling that never needs painting or chipping, a gold fin condenser which ensures the best functioning rate, an auto dehumidifying function to keep your home at a cool dry humidity level of 35%, an instant cooling function for when you need to feel cooler in minutes not hours; Ceiling cassette design gives it style space saving convenience; Built in Hepa Filter – can remove 99.97% of dust, pollen, mold, bacteria and any airborne particles.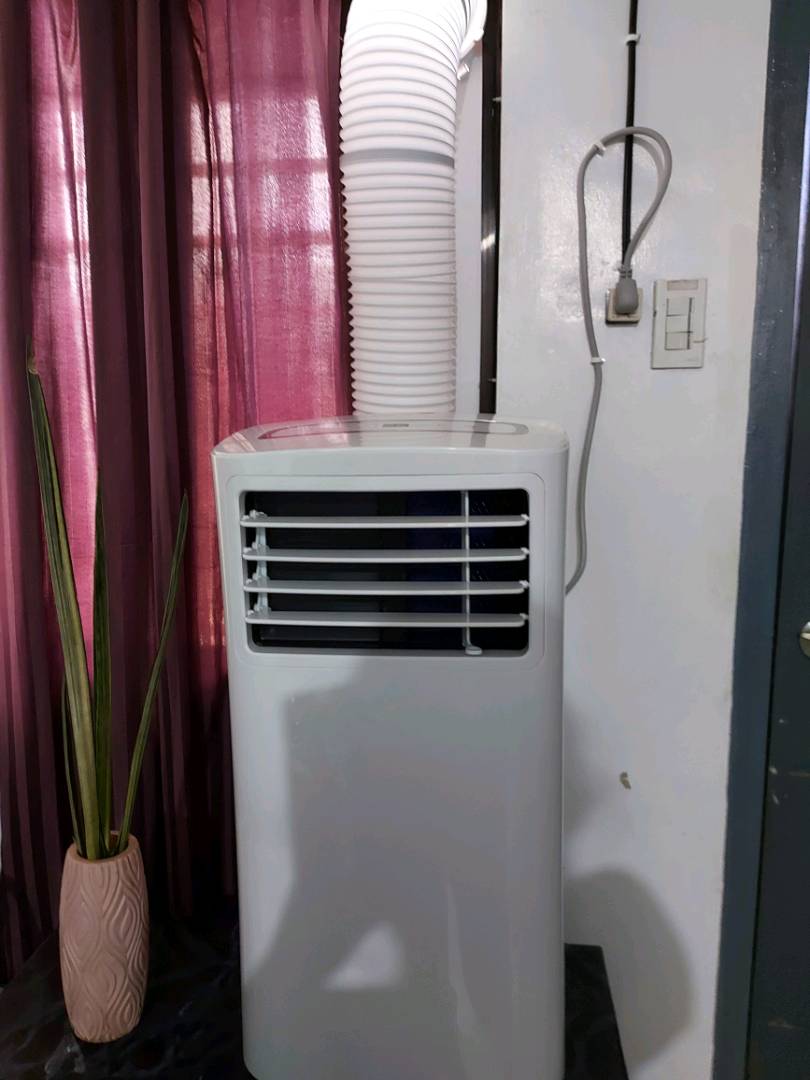 Pros:
Energy Efficient Compressor
Gold Fin Condenser
Hepa Filter
Cons:
9. Fujidenzo 1.5 HP PAC-150 AIG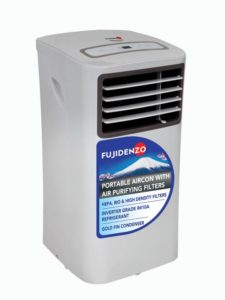 With Bio Filter
This portable air-conditioner is perfect for small spaces without a window like a studio apartment or dorm room. Made to last through baking heat waves, you can be sure this Fujidenzo 1.5 HP Portable Aircon with Air Purifying Filters PAC-150 AIG has enough power to keep cool and refreshing airflow flowing all around your living space. Sturdy and compact design ensures it doesn't take up too much floor space on its own, plus the remote provides easy access so you can make adjustments from anywhere in your environment – leading to better control of temperature every time! Get smoother, fresher air at home with Fujidenzo 1.5 HP portable aircon with Air Purifying Filters PAC-150 AIG. This product is easy to install and includes high density filter that improves filtration by removing dust particles and transforming polluted air into clean energized air. It also works great for areas as large as 400 sq ft using inverter grade – R410a refrigerant for more efficient cooling, it will ensure the running of AC without a hitch.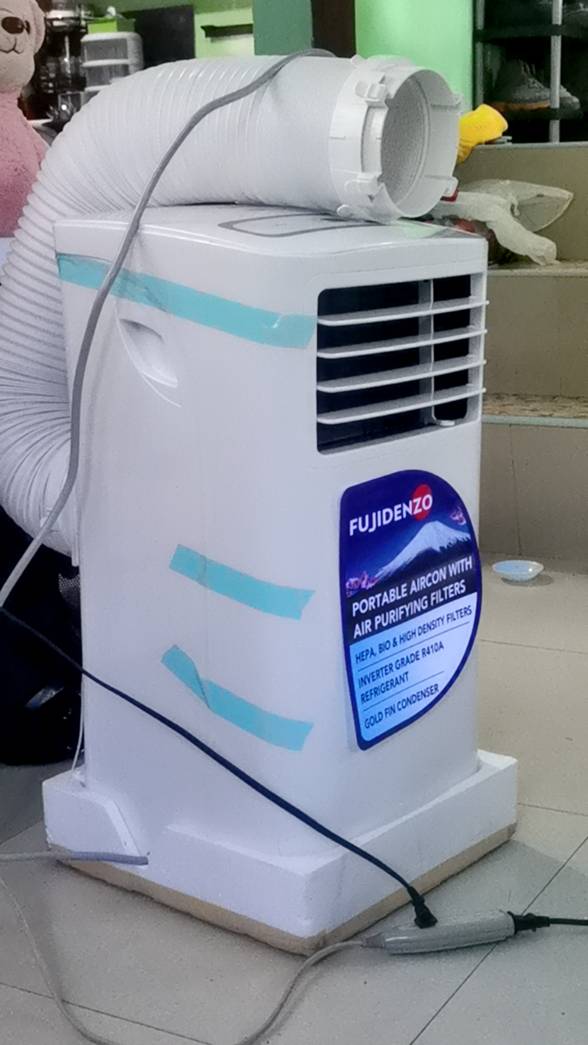 Pros:
Easy to install
High Density Filter – Improved filtration by removing dust particles and transforming polluted air into clean energized air.
Inverter Grade – R410a Refrigerant
Cons:
A bit heavier than other models
10. Dowell PA-29K16 1.0HP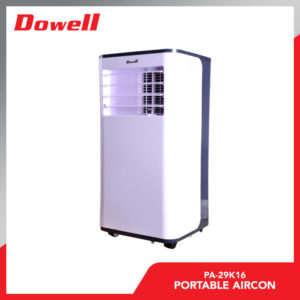 Eco Pro Technology
When looking to stay cool in the heat, there's no better way than with a Dowell MotionAir portable aircon. With reinforced wheels and an easy-install window panel kit, it'll work for any room size up to 10 sqms. This 1 hp cooling capacity gets rooms 16 degrees cooler in just 15 minutes! The Dowell Portable Aircon PA-29K16 is the perfect solution to your home cooling needs. Implement eco-friendly technologies to reduce greenhouse gases and protect the environment with Dowell's Eco Pro Technology. This product is also equipped with a dirt-free filter, so you can be sure that you're not breathing in any dust particles while choosing a more comfortable temperature. The Multi-Breeze technology on this air conditioner allows you to choose from three different cooling functions for the best results!
Pros:
Multi-breeze – enables user to choose his/her desired cooling function
Eco-Pro Technology – Reduces greenhouse gases to protect the environment
Dirt-free filter – Provides clean air for the family
Cons:
How to Choose The Right Portable Aircon for You
Cooling Capacity – The size of your room will dictate how much BTUs you need to cool the area. Small sized rooms with a floor space of about 15-25 square meters, enough for just a bed and some small furniture like an end table or desk chair should have 7,000-11,000 British Thermal Units (BTU) on hand. Larger spaces between 30 and 60 square meter in footprint size such as living room areas require 11 000 -14 000 BTUs for proper cooling.
Energy Efficiency – It is important to consider the energy efficiency rating of your air conditioner. The higher its EER, the more energy-efficient it will be and therefore less costly to run. If you are able, opt for a PAC with a programmable thermostat which allows you set an exact temperature at which the unit should stay while in use; this helps prevent overcooling as well as wasting electricity by cooling an entire room unnecessarily when only part of that space needs refrigeration. Other A/C units also give users power to specify particular hours during specific days where they want their desired ambient temperature – being sure not just on warm summer nights but any time comfort or relief from heat is needed most!
Conclusion
Portable aircons are a lifesaver during the summer heat. If you're looking for a way to cool down quickly and easily, portable airconditioning is the answer. We've listed some of the best models available in the Philippines today, so be sure to check them out before making your purchase. Stay cool!
FAQs
Are Portable Aircons Noisy?
Portable air conditioners are not as noisy as you might think. They produce the same noise levels, on average, that rain does when it falls to earth or a normal conversation in volume. If high decibel ratings bother you then keep an eye out for one of these units with lower dB numbers which will indicate how loud they're likely to be while running (most fall between 48 and 60).
Do Portable Aircons Need Vents?
Portable air conditioners need a place to vent out the warm air and moisture. This is why each portable AC unit we offer includes an easy-to-use window snap kit that allows you to attach your AHU directly through any nearby windows for quick, energy efficient ventilation.
This post was brought to you by Kimz House.
Disclaimer: The opinion is solely based on our testing or intensive research with customer feedback around the most popular shopping platform such as Shopee and Lazada. The products/services shown here are available and valid upon the publication date. It may change from time to time. Please email us at [email protected] if there is any discrepancy.