Last Updated on
Welcome mountain bikers! Are you looking for the best mountain bikes to buy in the Philippines? Well, you've come to the right place. In this blog post, we'll tell you about the top 10 mountain bikes of 2023 and how they can help enhance your riding experience. Whether you're a professional or just starting out on your biking journey, these ten bicycles will help with any terrain and make sure your rides are always safe and exciting. We'll look at several features, including the comfortability, speed, and maneuverability of each bike, before discussing its overall rating according to experienced riders. So read on if you want to find out more about what makes these wheels stand above all others! Continue reading to take your riding game up a notch!
Table of Contents
Top Mountain Bike Brands in the Philippines
Tips on Buying Your First Bike
Conclusion
FAQs
Quick Comparison Table
(scroll right for more.)

But choosing the right mountain bike brands or assembling one can be a tough decision. Here, we list the best mountain bikes in the Philippines that you can buy in the market.
1.
Rover Carbon Steel 26″
Smooth Shifts
I had the opportunity to ride the Rover Carbon Steel 26″ Mountain Bike, and it's truly a versatile option for both novice and experienced cyclists. The high-quality steel frame impressed me with its durability and strength, allowing me to tackle more challenging terrains confidently. The fork suspension made a significant difference in my ride, effectively absorbing shocks on uneven surfaces. This feature kept me balanced and focused on navigating the trails rather than worrying about safety.
One key highlight for me was the bike's 3×7 speed Shimano CLXin shifters and mechanical disc brakes. These components ensured smooth shifts and precise control, even in challenging terrains and slippery conditions. The 26″ tires offered excellent traction, making it easier for beginners to maintain balance while navigating tricky parts of the trail.
Overall, this mountain bike strikes a perfect balance between quality components and advanced features. It's suitable for riders at all skill levels, from beginners to those seeking a reliable and rugged bike for challenging trails. The lightweight yet robust construction, along with the specially designed suspension, makes it an excellent choice for anyone looking to explore nature and tackle the toughest terrains with confidence. Riding the Rover Carbon Steel 26″ Mountain Bike was a thrilling experience that I can wholeheartedly recommend to fellow outdoor enthusiasts.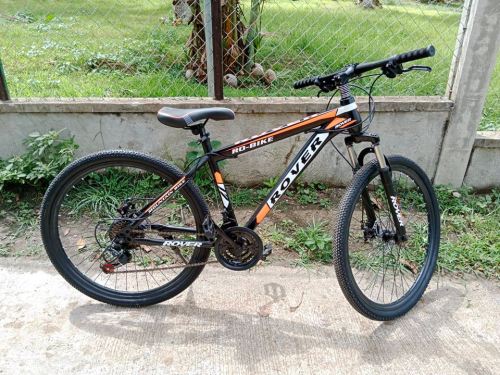 Pros:
26in tire size allows for maximum control over the terrain
The 7-speed gear system provides an optimal range of gears to fit any rider's needs
Mechanical disc brakes provide secure braking power in all conditions
Cons:
2.
Yokohama 880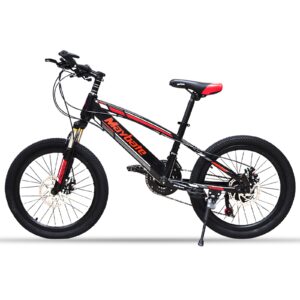 Sturdy and Strong Construction
Having the chance to ride the Yokohama 880, I can say it's an ideal bicycle suitable for both beginners and experienced cyclists alike. The lightweight alloy body frame made maneuvering a breeze, allowing for easy control and handling. What really stood out were the thick rubber tires, which provided excellent durability and grip on a variety of terrains, making this bike incredibly versatile.
Safety is paramount when it comes to cycling, and the Yokohama 880 takes it seriously. The inclusion of front and rear disc brakes, in contrast to the regular caliper brakes found on other bikes, offered superior performance and confidence in braking and acceleration. It was reassuring to have this level of control during my rides. The 6-speed gear shifter was another notable feature, allowing for quick and smooth gear adjustments without the need to slow down. This made it easy to adapt to changing terrains and maintain a consistent pace.
In conclusion, the Yokohama 880 is an excellent choice for anyone in search of a reliable and safe bicycle that can handle various situations. If you're seeking an all-around biking experience that combines durability, safety, and ease of use, I highly recommend considering the Yokohama 880 for your next cycling adventure.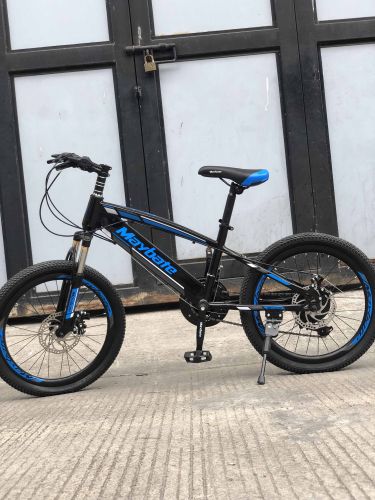 Pros:
Disc brakes offer superior stopping power
The 6-speed gear shifter provides improved efficiency
Reflectors improve visibility and safety during night rides
Cons:
Difficult to assemble without professional help
3. Battle 518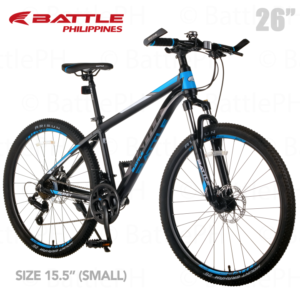 Alloy Build

Nobody wants to pedal into a stop sign or struggle up a hill because the gear that you have never felt right. That is why they equip the bikes with a 21-speed gear set, so your gears work for you every time. Today, give yourself the smoothest and most versatile ride on this Battle 518 26 x 15.5″ 21-speed Alloy Mountain Bike. This bicycle provides a balance of performance and price. The 21-speed mechanical disc brakes and full alloy brake levers are enough to stop you dramatically, while the sealed bearing bottom brackets ensure smooth pedaling.
For those planning on taking this bike off-road or mountain biking, rest assured that we also had your comfort in mind with the triple chainring crank and slim design, so it's easier to ride up steep hills and over rocky terrain.
Pros:
Mechanical Alloy Disc Brakes, Full Alloy Brake Levers
Sealed Bearing Bottom Brackets, Triple Chainring Crankset
Alloy Headset, Alloy Handle Stem
Cons:
A bit lighter than most bikes
4.
Battle Modo 26″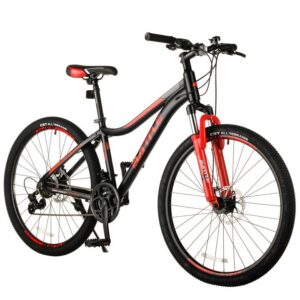 Best for Women
The Battle Modo 26″ mountain bike has been a game-changer for me on the trails. As a female cyclist looking to up my off-road game, the women-specific frame geometry provided me with improved control and comfort. I've taken this bike on some seriously rocky and winding paths, and it handled like a dream. The 6061 aluminum alloy frame makes it impressively lightweight, so I could easily navigate through tough terrain, and it's tough as nails, promising a long lifespan compared to others in its class. This bike not only conquers trails but also conquers my heart.
The Shimano speed drivetrain and brake/shifter combo on the Battle Modo 26″ are like music to my ears. I love having plenty of speeds at my disposal, ensuring that I can maintain a comfortable pace regardless of the challenging terrain I'm tackling. The triple-chainring crankset provides that extra bit of versatility, which is a blessing when you're out there exploring. And let's talk about the mechanical alloy disc brakes – they've given me superior stopping power and peace of mind on the trail, especially when navigating steep descents.
When it comes to value for money, the Battle Modo 26″ is hard to beat. It's a reliable and affordable mountain bike that ticks all the boxes for an avid female cyclist like me. The combination of women-specific frame geometry, the lightweight yet durable aluminum alloy frame, and top-quality Shimano components make it an absolute steal at its price point. This bike has truly elevated my cycling experience, and I'd recommend it to anyone looking to push their limits on the trails. Don't hesitate; get on this fantastic mountain bike and elevate your riding adventures!
Pros:
Suspension fork with lockout for improved efficiency and control on trails
SHIMANO 21 Speed Drivetrain with Shimano Brake/Shifter Combo allows you to tackle any terrain
Mechanical Alloy Disc Brakes offer powerful stopping power in all conditions
Cons:
It may lack the top-end speed that comes with more advanced mountain bikes.
5.
Fusion Forge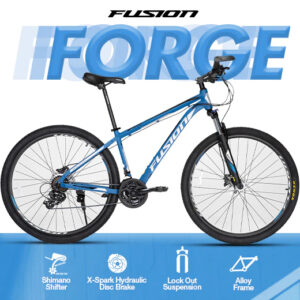 Lightweight
The Fusion Forge is the perfect choice for any rider who wants a reliable and robust bike. This bike has features such as hydraulic disc brakes that provide superior stopping power in any condition and lockout suspension forks to smooth out bumps and shifts that occur smoothly under full power. Additionally, its sealed systems require less maintenance than open-chain systems – making it the perfect option for those who don't want to worry about regular maintenance.
Riding on the Fusion Forge will provide unmatched control over your ride experience thanks to its advanced suspension system and dependable braking power. I recently took this model off-road and was impressed with how well it handled during sharp turns or rocky paths; no matter what terrain I encountered, this bike consistently provided me with an enjoyable ride without sacrificing speed or control!
If you're looking for a high-performance mountain bike that won't let you down – look no further than the Fusion Forge! With its impressive performance capabilities and hassle-free maintenance options, this model offers all of these benefits while keeping your wallet in mind, too! So why not give it a try today?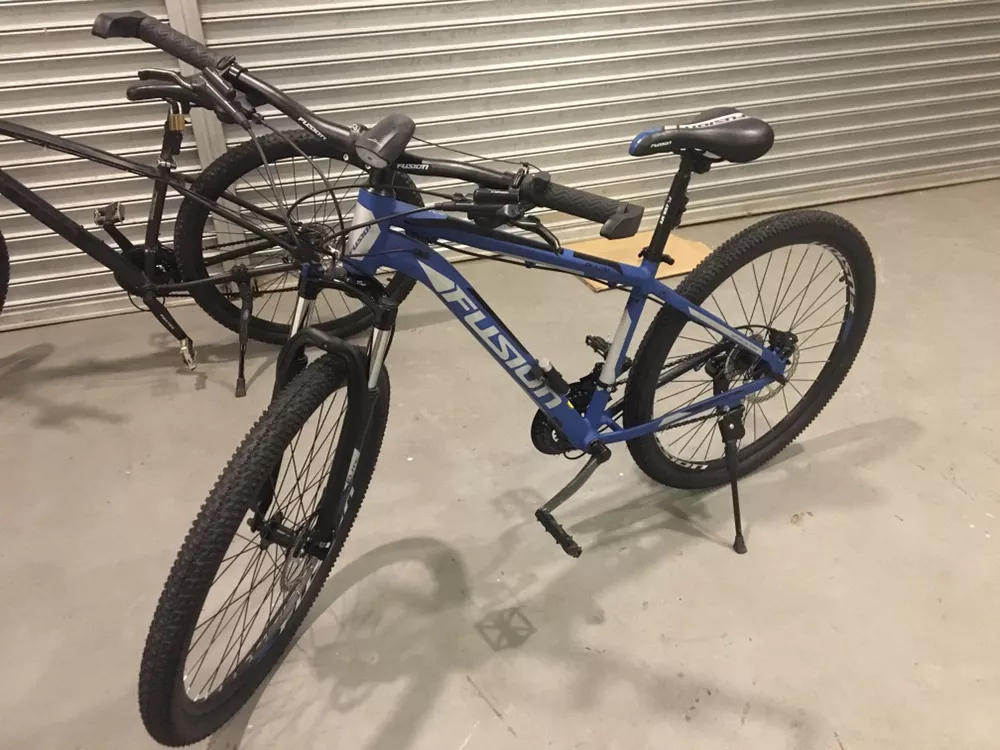 Pros:
Increased stopping power in any weather conditions
Lockout suspension forks to iron out surface bumps
Smooth shifting under full power
Cons:
Hydraulic disc brakes may require more setup and adjustments
6.
Garuda Fixie Steel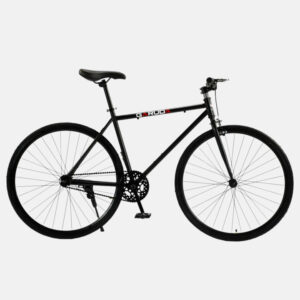 Glossy Paint Design
The Garuda Fixie Steel is the perfect bike for those looking to get around town stylishly and efficiently. It features a lightweight steel frame paired with a single-speed dual sprocket, giving you both fixed gear and freewheel options to adjust your riding style when needed. The 700X23c tires provide smooth handling over urban terrain, while an integrated front brake ensures safety and control. Moreover, its glossy painted design provides an eye-catching look that will turn heads wherever you go.
If you are looking for a reliable ride that performs well yet looks great, the Garuda Fixie Steel is an excellent choice. Not only does it boast exceptional features such as lightweight construction, robust sprockets, comfortable tires, and improved braking power, but its aesthetic value is undeniable, too –– something that many bikers take pride in having at their fingertips!
Overall, the Garuda Fixie Steel proves itself to be a solid urban ride capable of meeting all of your commuting needs with confidence and style; for these reasons alone, I would highly recommend giving this attractive two-wheeler serious consideration if you're in search of your next "get around town" companion! Whether for recreational purposes or daily transportation solutions, trust us – this one won't let you disappoint!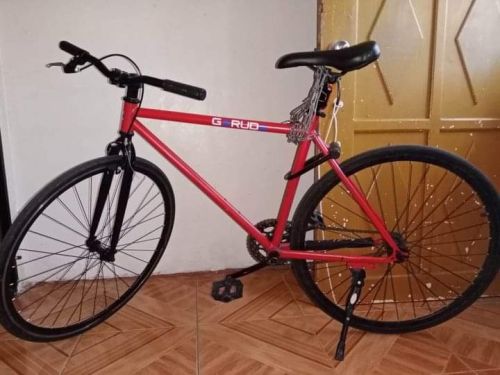 Pros:
Lightweight steel frame for a smooth and comfortable ride
Dual sprockets (18t fixed gear & 16t freewheel) provide riders with multiple speeds
700x23c tires provide excellent traction while riding
Cons:
It cannot easily be upgraded with additional features
7.
GT Avalanche
Internal Cable Routing
The GT Avalanche is the perfect bike for any adventure. Its 6061 T6 Aluminum frame provides an efficient and lightweight ride, while its Tektro M275 Hydraulic Disc Brakes offer superior stopping power even when tackling the roughest terrain. The SR Suntour XCT-DS front fork allows you to easily transition from dirt trails to gravel paths, providing a smooth ride.
What makes this bike stand out, in particular, is its microSHIFT drivetrain components, which allow you to quickly and smoothly shift between gears as needed. Additionally, the Prowheel RAID-501 TT Crankset & KMC Z9 9 Speed Chain provide increased durability that can withstand whatever terrain comes your way. With these features combined together, the GT Avalanche truly lives up to its name – it's an unbeatable combination of performance and reliability no matter what type of riding experience you're looking for!
Don't miss out on this incredible opportunity – get behind the handlebars of a GT Avalanche today and explore all that nature has to offer with style! Whether commuting through city streets or shredding through wooded trails, the GT Avalanche will be your perfect companion every step of the way!
Pros:
Lightweight and durable aluminum frame for reliable performance
Tektro hydraulic disc brakes provide controlled stopping power
100mm front suspension fork with lockout and preload adjust for smooth transition from dirt trails to gravel paths
Cons:
The wide gear range may be too high for some riders
8.
GT Aggressor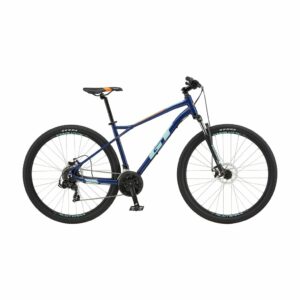 Crisp and Precise Control
The GT Aggressor is renowned for its versatility as a mountain bike, offering riders a smooth and responsive experience. The front suspension boasts up to 75mm of travel, making it adept at handling small obstacles on both roads and trails. The 21-speed configuration, complete with microSHIFT thumb tap shifters, enables swift adjustments for tackling various terrains. Tektro mechanical disc brakes provide maximum control when needed, ensuring safety during rides. WTB tires offer exceptional grip on all surfaces, enhancing acceleration as required. Additionally, low-profile pedals offer clearance from potential obstructions.
What stands out most about this bike is its adaptability. Thanks to its comfortable suspension, versatile gearing, and reliable brakes, it excels in urban settings and thrives on challenging terrains. The intuitive Shimano thumb-tap shifters make gear changes effortless, regardless of the terrain.
The GT Aggressor is an affordable mountain bike that seamlessly handles flat roads and rugged trails. It offers many features tailored for off-road cycling, delivering comfort and exceptional performance. Experience the freedom of two-wheel riding today by ordering your own GT Aggressor!
Pros:
75mm front suspension for a comfortable ride
21 speeds with microSHIFT thumb tap shifters
WTB tires suitable for all conditions, paired with low profile pedals for added clearance
Cons:
Low-profile pedals may result in reduced pedaling efficiency.
9.
Decathlon Btwin ST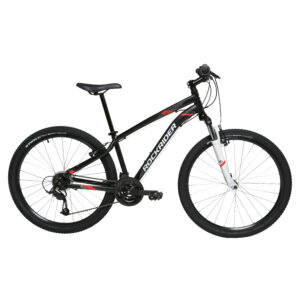 Best for Kids
The Decathlon Btwin ST is a fantastic choice for kids who love the outdoors, and my own experience with it has been nothing short of exceptional. Over the past year, my child has put it to the test, and it has consistently delivered in terms of quality, performance, and durability. The 18-speed Shimano shifter allows for a smooth and comfortable ride, even on rough trails, which has been a game-changer for our family adventures. Its robust steel frame construction has held up remarkably well, showing it can withstand the kind of use and abuse that kids often put their bikes through.
One standout feature of this bike is its suspension fork. It's been a game-changer when it comes to absorbing shocks, especially on uneven surfaces. This not only enhances the riding experience but also reduces the fatigue my child experiences on longer rides. The ergonomic comfort saddle has certainly played a role in making those rides more enjoyable, too. It's been a fantastic investment for us, ensuring that our kid is safe, comfortable, and always eager to explore new trails.
In summary, the Decathlon Btwin ST has proven to be a lightweight yet robust mountain bike that can handle a variety of terrains. It's built with safety and comfort in mind, including reflectors on both wheels. From our experience, it's a bike that can take a beating while providing an enjoyable and secure riding experience. I would highly recommend it to anyone looking for a reliable and adventure-ready bike for their child. Don't wait – this bike is ready to accompany your little explorer on countless memorable journeys!
Pros:
24-inch frame designed for children in the 9- to 12-year age range
Suspension fork helps cater to rough terrain
18 speeds enable easy hill navigation
Cons:
Offers limited maneuverability compared to more expensive models in the same range.
10. Stepdragon Endurance 29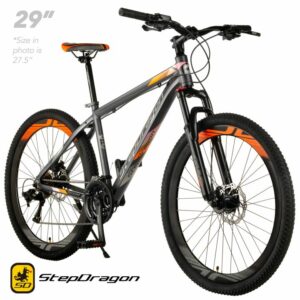 Best for Trails
The Stepdragon Endurance 29 is the perfect combination of speed, performance, and luxury as a trail bike. This bike was designed with comfort, convenience, and durability in mind. The built-in technology allows you to adjust your riding style from leisurely comfort all the way up to full race mode while providing high stability on any terrain.
The Endurance 29 has an extremely lightweight 7075 alloy aluminum frame that ensures exceptional strength without adding extra weight that would impede performance or ride quality. The 290mm suspension fork provides great shock absorption on rough trails yet can be easily locked out when needed for smoother surfaces like paved roads. It's equipped with Shimano Alivio 24-speed gears, allowing you to maintain a comfortable pedaling cadence no matter what kind of terrain you are traveling over at the time.
The Alloy double wall rims feature both good looks and superior rigidity, making them the perfect mountain bike that is reliable even in off-road conditions. Along with Kenda 27×2.35 tires for optimal traction, there's no fear about skidding or slipping when coming across mud or wet patches on the trail. With these features combined together, this makes it a great choice if you want to take part in races but don't want to leave out fun and enjoyable rides as well.
Pros:
Aluminum Alloy Handle
Mechanical Disk Brake
Double Wall Alloy Rims
Cons:
Not an ideal bike for off-road terrain
Top Mountain Bike Brands in the Philippines
Hiland
Hiland's line of bikes is known for their excellent performance, stylish look, and affordable price. With so many models to choose from, it is easy enough to find your perfect bike!
Trinx
If you're looking to buy your first mountain bike, Trinx is one of the great mountain bike brands for beginners. They have affordable bikes and will provide good value of the money spent!
Tips on Buying Your First Bike
Choosing the right mountain bike can be very technical and can depend on the mountain bike brand and the mountain bike price in the Philippines, but here are some beginner tips to guide you:
Right Size – If you are going to be purchasing a bike, it is imperative that the measurements fit your body type. Reach and stack height should not exceed what's comfortable for you so as to avoid fatigue and injury when riding long distances. For those who want more stability on their rides, bikes with longer front triangles will provide these benefits by keeping both wheels planted firmly in place during bumps or while climbing uphill; this also allows riders of such bicycles an easier time steering without fear of toppling over from lack of control.
Wheel Size – Wheel sizes are a tough choice. You have to balance the pros and cons of each size, which can vary depending on what kind of riding you're doing: big hoops last longer but might not be as durable for rough terrain; small ones feel like they glide better across trails but don't last long.
Conclusion
Biking is an incredibly fun and rewarding way to spend your leisure hours, and with the right mountain bike, it can be a breeze tackling rougher terrains. If you're just starting out in cycling or are thinking of giving mountain biking a try, do some research on the different types of bikes available to find the perfect one for you. We hope this article has helped give you a little taste of what's out there and that you'll consider trying out a mountain bike soon!
FAQs
How much does mountain bikes usually cost?
The cost of a mountain bike can vary greatly depending on the brand, style, and materials. Some brands offer bikes for as low as 6k PHP while others go up to 500k PHP! The majority are sold at an average price range from 18-20K which is worth it considering how long you will use your new bicycle in all sorts of terrains before it becomes outdated or broken down.
How do I clean a mountain bike?
Although there are multiple steps on maintaining the mountain bike, the most important one is the way of cleaning it. You can't just hose your bike down with a high-pressure washer. That might work if you're cleaning off dirt, but it could cause damage to the bearings and other parts of the bike that need grease or lubricant. Instead, lather up every inch of metal surface until all traces are gone--including inside moving parts like gears. Rinse thoroughly when done!
This post was brought to you by Kimz House.
Disclaimer: The opinion is solely based on our testing or intensive research with customer feedback around the most popular shopping platform such as Shopee and Lazada. The products/services shown here are available and valid upon the publication date. It may change from time to time. Please email us at [email protected] if there is any discrepancy.