Last Updated on
You're not getting anywhere in life if you don't take the time to treat yourself! One way of doing this is by upgrading your work-from-home setup and buying one of the best PC monitors. The best PC monitor will also be great when it comes down to using them during free time, giving you two amazing benefits while only spending money on a single product.
Whether you work from home or simply enjoy surfing the web on your laptop in bed, a monitor can make all of that more enjoyable. The best computer monitors are generally large and have high-resolution screens for excellent viewing quality. They also come with speakers to improve sound quality while watching videos online!
Table of Contents
Features to Look for in a Monitor
Top Monitor Brands in the Philippines
Conclusion
FAQs
Listed below are the best monitor Philippines that you can purchase right now!
Quick Comparison Table
(scroll right for more)

1.

Nvision N190HD
Wide Range of Connection Ports
The Nvision N190HD Monitor is an excellent choice for any home or office setup. Featuring a screen resolution of up to 1600×900, you're sure to get impressive clarity and detail no matter the media type you're looking at. With a speedy response time of 5ms, you won't have any issues with ghosting or motion blur while gaming or watching movies. The contrast ratio 1000:01:00 ensures that all the dark and light tones in your images are crisp and accurate without over-saturating them. Additionally, this monitor comes with LED backlight technology which significantly improves brightness and clarity overall. It also has both HDMI and VGA connection ports, making it versatile enough to hook up almost any device for total convenience.
Overall, the Nvision N190HD Monitor provides users with great value at an affordable price point. It delivers truly stunning visuals with its high-resolution capabilities while offering excellent responsiveness that works perfectly when playing games or multitasking on multiple applications at once. You can be sure that every image will appear bright and colourful thanks to the improved brightness from its LED backlight technology and its deep contrast ratio settings too! And since it contains both HDMI & VGA connection ports, it's not just limited to PCs either – now HDTVs can easily connect to allowing for even more possibilities such as game consoles, set-top boxes like Roku remote etc.
If you're looking for a reliable yet budget-friendly monitor, then look no further than the Nvision 190HD monitor! Not only does it offer brilliant visuals, but also comes packed full of features that make viewing content hassle free – from quick response times so nothing gets blurred out during intense gaming sessions to convenient connectivity options via either HDMI & VGA jacks – this is one product worth investing in if quality matters most! So why wait? Get your hands on the new Nvision 190HD monitor today!
Pros:
High resolution screen for vivid image quality
Fast response time for smooth and accurate visuals
LED backlight for bright, clear images with reduced power consumption
Cons:
The resolution could be higher on some models
2. Asus VP249QGR 23.8"

Made for Gaming
The Asus VP249QGR Gaming Monitor is the perfect fusion of performance, style and affordability. This 23.8″ Full HD (1920×1080) screen offers a stunning visual experience through its IPS panel with wide 178° viewing angles, guaranteeing a vivid display for gamers and casual users alike. With a lightning-fast refresh rate of up to 144Hz, combined with Adaptive-Sync (FreeSync) technology, this monitor eliminates screen tearing and motion blur to deliver smooth video playback.
Featuring ASUS Extreme Low Motion Blur (ELMB) technology and a remarkable 1ms response time (MPRT), ghosting becomes obsolete in high frame-rate gaming sessions. To ensure comfort during extended use, the VP249QGR integrates ASUS Eye Care technology, including flicker-free backlighting and blue light filters that minimise eye strain even after hours of gaming or work. Connectivity options are ample, with DisplayPort, HDMI and D-sub ports available, plus VESA wall-mount compatibility for those who prefer saving desktop space.
We have chosen the Asus VP249QGR as our No.1 pick due to its exceptional features offered at an attractive price point – truly making it a top choice for gamers looking for maximum functionality without breaking the bank. Furthermore, numerous resources such as first-hand user reviews praise its impeccable balance between design aesthetics and robust performance capabilities while offering great resourcefulness via external links provided within various reviews/articles about the product itself online.
Pros:
144Hz Refresh Rate with Adaptive-Sync
ASUS Shadow Boost Technology
Ultra-low Blue Light technology
Cons:
Stand lacks height adjustment
3.

LG 27GP850-B Ultragear
Vivid Colours
The LG 27GP850-B Ultragear Gaming Monitor is a fantastic choice for gamers and professionals seeking a visually stunning, responsive display that ranks second on our list. This 27-inch QHD (2560 x 1440) Nano IPS Display offers razor-sharp resolution, rich colours with a DCI-P3 98% colour gamut, and HDR10 support to ensure an immersive experience. The combination of its virtually borderless design and tilt/height/pivot adjustable stand allows for versatile monitor placement to suit your gaming or work set-up perfectly.
Performance-wise, the LG Ultragear impresses with its lightning-fast response time of just 1ms (GtG) and a smooth refresh rate of 165 Hz, which keeps up with even the most demanding games without any motion blur or screen tearing. NVIDIA G-SYNC compatibility ensures seamless synchronisation between your GPU and display while AMD FreeSync Premium provides stutter-free gaming sessions.
In conclusion, the LG 27GP850-B Ultragear Gaming Monitor boasts impressive specifications that cater to both avid gamers and creative professionals alike. Its top-notch visuals combined with stellar performance codecs like NVIDIA G-SYNC compatibility make it our number two pick amongst competitor monitors in this category. With excellent ergonomics from its adjustable stand options plus comprehensive connectivity choices available at your disposal, you won't be disappointed investing in this ultimate gaming machine!
Pros:
Immersive Gaming Experience
NVIDIA G-SYNC Compatible technology
Customisable Ergonomics
Cons:
Expensive compared to other gaming monitors
4. Viewsonic XG2405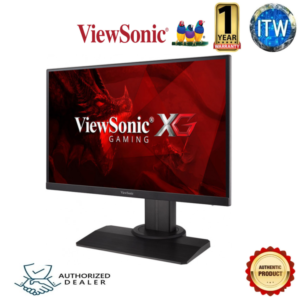 Wide Angle Viewing
The ViewSonic OMNI XG2405 is a highly competitive choice in the gaming monitor market, earning its place as our No. 3 pick. This 24-inch IPS gaming monitor boasts an impressive Full HD 1080p resolution, ultra-responsive 1ms (MPRT) response time, and an incredibly smooth refresh rate of 144Hz. Combined with AMD FreeSync Premium technology, gamers can expect fluid gameplay without any tearing or stuttering.
One of the standout features of this esports-grade monitor is its ergonomics and eye care options. The fully adjustable ergonomic stand ensures that marathon gaming sessions are comfortable while minimising strain on your eyes and body. Additionally, using an IPS panel provides stunning visuals from any angle while reducing ghosting for seamless pixel transitions during fast-paced action sequences.
The XG2405 also delivers flexibility by supporting laptops, PCs, Macs, PlayStation and Xbox consoles via HDMI and DisplayPort inputs – perfect for enthusiasts who appreciate having multiple devices connected to their setup. A comprehensive package that includes excellent performance capabilities along with user-friendly features such as advanced ergonomics and eye care options make it a top contender within the gaming monitor space.
Pros:
Precise Motion Clarity
144Hz Ultimate control
Blue light filter
Cons:
5. ViewSonic VX3276-2K-mhd-2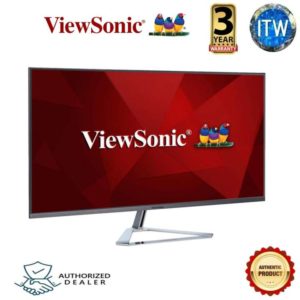 Ultra-slim Frameless Design
The ViewSonic VX3276-2K-mhd-2 is an impressive 32-inch widescreen IPS monitor with a stunning 1440p resolution, making it perfect for professional use or immersive entertainment experiences. One of its most striking features is the ultra-thin bezels, which not only enhance its sleek design but also maximise the screen real estate for seamless multitasking and improved viewing. Equipped with HDMI, DisplayPort and Mini DisplayPort inputs, this versatile monitor offers flexible connectivity options catering to various devices such as laptops, PCs and Macs.
In addition to delivering outstanding visuals, the ViewSonic VX3276-2K-mhd-2 also prioritises user comfort. The inclusion of Flicker-Free technology and Blue Light Filter helps significantly reduce eye strain during extended usage periods, ensuring all-day comfort even in long work sessions or gaming marathons. Furthermore, thanks to the premium IPS panel used in this model, users can enjoy consistent colours and wide viewing angles – making it ideal for collaborative tasks among teams in professional settings. To summarise, if you're looking for a high-performance monitor that combines top-notch visual quality with ergonomic benefits while adding style to your workspace or gaming setup, look no further than the ViewSonic VX3276-2K-MHD 32-inch Widescreen IPS Monitor.
Pros:
Frameless bezel and metallic triangle stand
HDMI, DisplayPort and mini DP inputs
Dual integrated speakers
Cons:
Static stand without adjustable height
6. HKC NB34C 34 Ultra WQHD
Curved Design
HKC's NB34C 34 Ultra WQHD is a fantastic upgrade to any home entertainment system. The display offers gorgeous visuals with its 2K Ultra WQHD resolution and 21:9 aspect ratio. Whether gaming or watching a movie, this monitor will provide an immersive experience with crisp image clarity through VA panel technology. Its curved design adds to the cinematic feel and allows for wider viewing angles to enjoy your shows from anywhere in the room.
Not only does the NB34C look great, but it also provides stable performance without stuttering or lagging, making it perfect for gaming marathons or intense work sessions. With full HD LED lighting you won't have to worry about eye strain from long hours of use as the brightness is evenly distributed across the screen. Plus, there's no need for bulky external speakers thanks to its built-in 3W stereo speaker setup, which gives clear audio output without buzzing interference.
If you are looking for an upgrade that looks stylish while providing excellent performance then look no further than HKC's NB34C Ultra WQHD monitor! Give yourself that much-needed cinematic experience at home without breaking your budget by investing in this top-notch quality product today!
Pros:
VA panel technology delivers excellent image clarity and stability.
Curved screen design for an immersive gaming experience.
Anti-glare screen to reduce glare and reflection.
Cons:
Might be a bit too much for casual users
7. ASUS TUF GAMING VG279QL1A
Highest Refresh Rate
The ASUS TUF Gaming VG279QL1A 27″ HDR monitor is an impressive piece of hardware for avid gamers and professionals. With its 1080P Full HD resolution, ultrafast 165Hz refresh rate (supporting 144Hz), and IPS panel, this gaming monitor delivers stunning visuals and smooth performance. The screen boasts a DisplayHDR 400 certification, providing excellent contrast and colour accuracy that makes in-game environments highly immersive.
One notable advantage of this monitor is the integration of FreeSync Premium technology and Adaptive-Sync compatibility with NVIDIA GeForce graphics cards. These features eliminate screen tearing and choppy frame rates, offering seamless gameplay experiences. Moreover, ASUS has incorporated their Extreme Low Motion Blur (ELMB) technology which reduces ghosting in fast-paced action scenes for sharp visuals at high frame rates. The robust connectivity options include HDMI (v2.0) x2 and DisplayPort 1.2 ports ensuring easy setup with your preferred devices.
In short, the ASUS TUF Gaming VG279QL1A offers exceptional visual quality paired with top-tier performance features designed to cater to every gamer's needs while also providing eye care support to reduce strain during prolonged sessions. This well-rounded gaming monitor will keep you immersed in your favourite titles while maintaining crisp imagery even during the most intense moments making it a fantastic choice for passionate gamers seeking an upgrade or those just starting out wanting premium quality from the get-go.
Pros:
ASUS Extreme Low Motion Blur (ELMB)
FreeSync™ Premium technology
Supports both Adaptive-Sync with NVIDIA GeForce
Cons:
8. Gigabyte M27Q 27″ KVM FreeSync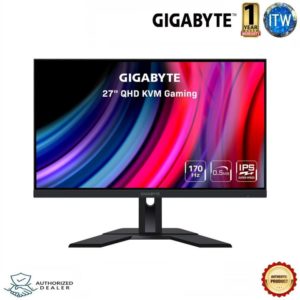 First KVM Monitor
The Gigabyte M27Q is a high-performance gaming monitor that delivers impressive visuals and smooth gameplay for avid gamers. With its 27-inch, 2560 x 1440 SuperSpeed IPS display, the M27Q offers stunning picture quality along with an ultra-fast 170Hz refresh rate and 0.5ms (MPRT) response time, ensuring that every frame is rendered effortlessly even in fast-paced action sequences. Additionally, it supports AMD FreeSync Premium technology to minimise screen tearing and stuttering, providing you with seamless graphics during your gaming sessions.
One standout feature of this monitor is its built-in KVM switch which allows you to control multiple devices with only one set of keyboard and mouse – an indispensable tool for multitaskers or professionals using several computers at once. It also boasts a studio-grade VESA Display HDR400 certification paired with an impressive colour gamut coverage of 92% DCI-P3 (140% sRGB), creating rich and true-to-life images perfect not just for gaming but also for content creation enthusiasts. To top it all off, the ergonomic design of the Gigabyte M27Q provides tilt and height adjustments to ensure maximum comfort during long hours of use.
In conclusion, the Gigabyte M27Q ticks all the boxes when it comes to providing an exceptional gaming experience without sacrificing visual fidelity or user comfort. Its combination of high-end features – including rapid refresh rates, low response times, captivating image quality as well as seamless device control through KVM – make this monitor a worthy investment in elevating your gaming rig or multi-purpose workstation setup.
Pros:
Control multiple devices with KVM
GIGABYTE Classic Tactical Features with OSD Sidekick
Ergonomic Design with Tilt and Height Adjustments
Cons:
9. GIGABYTE G27Q 27″
Reduced Screen Tearing
The GIGABYTE G27Q is a top-notch gaming monitor that delivers an incredible visual experience, thanks to its 27″ 2560×1440 IPS display with a 144Hz refresh rate and 1 ms (MPRT) response time. This elegant monitor boasts a rich colour palette with a remarkable 92% DCI-P3 coverage and support for VESA Display HDR400, ensuring your games look stunningly vivid and lifelike. Plus, the AMD FreeSync Premium technology guarantees smooth gameplay free from screen tearing or stuttering.
One of the standout features of this impressive monitor is GIGABYTE's Classic Tactical Tools combined with OSD Sidekick functionality. These provide convenient on-screen access to essential settings like brightness, contrast, and input source selection and even allow you to create custom shortcuts for your most-used adjustments. The ergonomic design includes tilt and height adjustments so you can find the perfect viewing angle while reducing eye strain due to Low Blue Light & Flicker-Free technologies.
In summary, the GIGABYTE G27Q Gaming Monitor combines cutting-edge technology with user-friendly features making it an ideal choice for both avid gamers and content creators seeking premium performance at an attractive price point. With built-in speakers and multiple connectivity options such as HDMI 2.0 ports and USB 3.0 hubs – not to mention its sleek aesthetics – this versatile gaming powerhouse caters perfectly towards contemporary requirements in today's fast-paced digital world!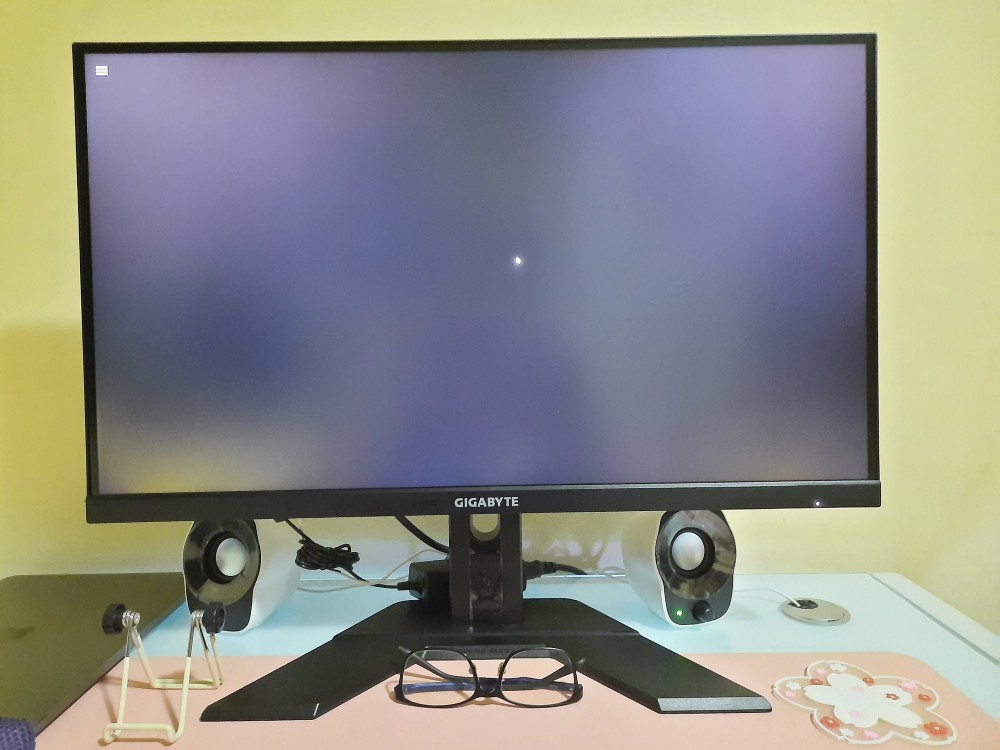 Pros:
144Hz Refresh Rate, 1ms (MPRT) Response Time
Smooth Gameplay with AMD FreeSync Premium
Low Blue Light & Flicker-Free
Cons:
Lacks a local dimming feature.
10. AOC Agon C27G1

Delivers Consistent Colors
The AOC Agon C27G1 is a display designed for gamers that want the highest performance out of their gaming experience. This 27″ monitor, on top of its full HD resolution and a high-speed 144Hz refresh rate, also incorporates AMD FreeSync technology to minimize input lag and stutter while gameplay. As a cherry on top, the curved 1800R panel creates an immersive viewing experience when playing your favorite games or watching movies; all this without any distracting bezels!
FlickerFree Technology incorporated in this curved monitor allows users to play games or work for long periods of time without straining their eyes, making it ideal for marathon sessions. Gamers will also benefit from its low response times, which maximize accuracy during moments where milliseconds make all the difference, plus enjoy contrast-rich visuals assured by HDR Mode Support (HDMI 0) as well as three available color presets: Gamer 1, Gamer 2 and FPS RTS that optimize your settings depending on what type of game you're playing!
Get ready to upgrade your gaming setup with the AOC Agon C27G1 Monitor – if you're looking for stylish design, clear images and smooth frame rates then there's no reason why you shouldn't give this monitor a try! With high quality visual content supported through multiple input options like HDMI 1x 0 + HDMI 1x 1/4a ports, take advantage now of reliable performance combined with great features at an affordable price point – get it today before stocks run out!
Pros:
Minimal bezel distraction
1800r curvature
Flicker free
Cons:
Features to Look for in a Monitor
Display Types:
Liquid-Crystal Display (LCD) – There are millions of pixels sandwiched between two pieces of glass with a liquid in the middle. The cold cathode fluorescent lamp or CCFLs controls what you see on your screen and can last up to 30,000 hours. It is cheaper but heavier and thicker than other types of monitors such as LCD monitors which have colour contrast limitations at full HD resolutions sometimes because they use three layers instead one layer like an LED monitor does, for example.
Light-Emitting Diode (LED) – LEDs are a better choice for you if you want to save on energy costs and have more vibrant colours. LED displays use light-emitting diodes, which can last up to 50,000 hours with less power consumption than CCFLs because they emit their own colour so the display is not lit by an external source like LCD screens are. They also offer faster response time in comparison of when images need updating as there's no backlighting that needs refreshing every second or two unlike what LCDs require.
Panel Type
Twisted-Nematic (TN Panel ) – TN Panels are the best for gaming if you want to have a high refresh rate. When your graphics card and system generate 240 frames per second or fps, TN panels will be able to provide the smoothest gameplay experience possible. Although it has poor colour exhibition and terrible viewing angles because of its translucent nematic liquid crystals within glass plates with two lined filters that create images only when in use by an electric charge passing through them- these factors make this type affordable on any budget!
In-Plane Switching (IPS Panel) – IPS screens provide a crisper, more vivid image from any angle. It is the preferred monitor for graphic design and video editing because of their accurate colors and higher resolution as opposed to TN monitors which only offer one viewing angle with color accuracy in low light conditions.
Vertical-Alignment (VA Panel) – VA panels are a mid-range option when it comes to displaying performance. They do not match the color depth and viewing angles of TN or IPS displays, but they may be worth considering if you mainly use your monitor for office work or online video streaming.
Top Monitor Brands in the Philippines
ViewSonic
The ViewSonic Gaming Monitor is a great way to get your gaming on. This 144Hz refresh rate, combined with the smooth images and low response time makes for some awesome gameplay! It's also affordable enough that you can foot all of those expensive tastes.
Gigabyte
GIGABYTE is a leader in the industry with award-winning products, including motherboards, graphics cards, monitors, and laptops. With expertise encompassing consumer systems as well as business/gaming ones they have established themselves to be an innovative company that offers high quality gear for everyone!
AOC
The company is a global leader in monitor display technology, having delivered an exceptional viewing experience to millions of loyal customers worldwide for over 50 years. Today they offer stylish monitors home offices or gaming that can be found around 120 countries through their wide selection and commitment towards quality craftsmanship
Conclusion
If you're looking to improve your work-from-home setup, or just want a great PC monitor for general use, upgrading to one of the best computer monitors on the market is definitely a step in the right direction. With high resolutions and large sizes, these monitors are sure to give you an amazing viewing experience while also taking your relaxation time up a notch. Have you chosen the right monitor for you?
FAQs
What monitor size should I buy?
For any modern user, a screen size of 24-30 inches is perfect. They let you make the most out of your resolution and color clarity while also allowing for multiple windows at once without having to use two monitors which can be helpful for many professionals.
How do I check the compatibility of my monitor?
One of the first things you'll need to know before hooking up a monitor is what type it needs. It will either be DVI, HDMI, or VGA. You can find out by looking at your computer's ports and seeing which are available (if you have a dedicated graphics card). If they're not compatible with the ones on your screen then there may be an adapter or special cable needed.
This post was brought to you by Kimz House.
Disclaimer: The opinion is solely based on our testing or intensive research with customer feedback around the most popular shopping platform such as Shopee and Lazada. The products/services shown here are available and valid upon the publication date. It may change from time to time. Please email us at [email protected] if there is any discrepancy.