Last Updated on
For those long hours in front of the screen, you will need one thing: a comfy gaming chair. These chairs offer more cushioning and reclining options to help reduce tension on your neck and shoulders, improve blood circulation for better focus during gameplay sessions or workdays alike- plus they keep back pains at bay! For gamers who spend many hours sitting down playing their favorite games or working hard at their desk, there is something that can make it much easier—a comfortable gaming chair.
It's not a new concept that gaming chairs can be expensive. But there are ways to get the most comfortable chair for your needs without having to break the bank – if you know what features and designs you're looking for! Listed below are the top and best gaming chair Philippines that you can choose from.
1. GINZA Gaming Chair Office
Affordable Option
The GINZA Gaming Chair is a multifunctional gaming chair, perfect for gamers who want comfort and style. The 1000 kg weight capacity means that you can sit on it or lie down on it without the product breaking and making your experience uncomfortable.
Why buy this
Thickened chassis, durable.

Soft pillow

Backrest extension, comfortable
The Ginza gaming chair is sleek and easy to store. The roomy seating space comes with a premium, faux-leather cover for comfortable, extended use. Sit back and enjoy the luxury of the high density foam sponge filling that provides ultimate comfort for extended hours of game play! GINZA offers you a unique companion that will never let your gaming sessions get stale anytime soon.
2. Rakk Casap Elite Gaming Chair
Best for Long Continuous Use
The Rakk "Casap" Elite gaming chair has a whole different look and feel. From the soft PU leather to the cold cured full-body foam, this product gives you that elite feeling with all of the features for hardcore game play. The black metal base is not just heavy duty but also stylish; compare it against other dark colors or even wood constructions.
Why buy this
Black high-grade soft PU leather.
Black Matte textured metal base.
Black 3D Armrest.
The ergonomic design is meticulously engineered to let you unleash serious skills depending on what game-worlds are calling your name. The Rakk Casap was designed for long periods of intense gaming or work with 175 degrees of back adjustment for maximum comfort and can even be used for napping.
3. Raidmax Drakon DK-709 Gaming Chair
Wider Back Area Coverage
The Raidmax Drakon DK709 Gaming Chair with its Footrest, wider seat and backrest, multiple colors to choose from as its unique feature compares to other Raidmax gaming chairs, also its high back design cover a wider area for maximum comfort. With the padding on this chair you may never want to get out of it!
Why buy this
Ergonomic Still Curve Design
150 degrees recline
Durable Still Chasis
Built for game sessions and long PC entertainment, the Raidmax Drakon DK709 Gaming Chair is perfect for people looking to lounge in comfort! It features a wider backrest area and thick foam as well as armrests that are covered with foamed material for additional comfort. The 120kgs weight capacity ensures you can match the chair to your body – so you don't have to worry about whether or not it's truly comfortable. The wrap around seat allows you to move freely without any unsightly gaps appearing in-between slits of the chair, giving it an extra level of durability while four wheels on either side help create easy mobility across different surfaces.
4. Novus Gaming Chair CGW-100
Best Smaller Option
The Novus Gaming Chair CGW-100 is a luxurious and aesthetically pleasing gaming chair with armrests. The padded nylon arm rests reduce the fatigue on your arms from sitting in front of the desk.
Why buy this
Soft PU padded nylon painting armrest
Class 2 gas lift tension, 5 nylon caster wheels
20 KG/m3 foam for Backrest
This painting-arm chair is designed for any seat in the house, including your gaming corner. The Novus Gaming Chair is the perfect way to experience life like you have never felt before. It comes with a class 2 gas lift, soft PU padded nylon armrests and a durable 5 caster wheels and 20 KG/m3 foam for lower back support as well as 28 KG/m3 foam for extra comfort of your seat. This ergonomic computer chair also includes lumbar pad and head rest that will make this fantastic enjoyment even better. Enjoy hours on end in this stress free yet highly convenient device at an affordable price!
5. Gamdias Achilles E1L RGB Gaming Chair
Customizable Styles
Get ready for ultimate gaming on the fly! The Gamdias Achilles E1L RGB Gaming Chair has you covered with roomy armrests and supportive backrests, featuring breathable vinyl on top of comfortable high-density foam padding and a plethora of customization options.
Why buy this
Leather Style Vinyl
RGB Customizable Lighting
Lumbar Support Cushion
Enjoy long hours of gaming with your friends in the comfort and style that are just perfect for living the ultimate gamer's lifestyle. With 150 degrees of adjustable headrest, this chair will make all the difference! You no longer have to worry about those sore neck muscles or compression while leaning back against any surfaces. And don't forget how it goes perfectly with your favorite matte black rig setup!
6. TTRacing Duo V3 Gaming Chair
Lighter Option
Whether it's for fun or for work, the TTRacing chair is sure to take you and your company to victory. The PU Leather exterior is both luxurious and easy to clean, ensuring that every day can be spent with a change of clothes without worry. The gentle cloth inner ensures extra comfort while driving for hours at a time on those long campaigns without having to get out of the seat.
Why buy this
Material: PU Leather and Elastic
Cloth Inner
Base: Nylon Base
The TTRacing Duo V3 Gaming Chair has a lightweight frame, breathable high-quality upholstery, and can easily be taken from place to place. Now you can game in style at home! Perforations on the back of the chair allow air to circulate when seated for long periods of time. The level four hydraulic lift provides space efficient and smooth height adjustment options with 100mm SGS certified gas cylinder that's easy to use with either hand
7. COUGAR RANGER 5 Colors Gaming Sofa Computer Chair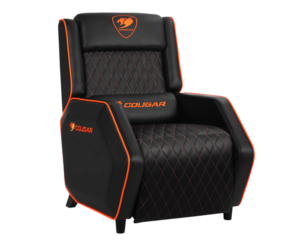 Premium Multipurpose Choice
Looking for a gaming chair with the features and qualities of an office chair? You've found the best multiple hues to meet your demands. The COUGAR Ranger 5 Colors Gaming Sofa Computer Chair, in either red blue, dark green yellow or gray will help you balance comfort with style as you game into night. Supportive padding makes all the difference when waiting patiently for new levels while thrills await instantaneously thereafter
Why buy this
Headrest and Lumbar Design
Breathable Premium PVC Leather
Unparalleled Comfort
Finally, a gaming chair that meets all of your needs with its plush and luxurious design. Whether you're taking a break from the game or zoned in for hours on end, this chair is just what you need to keep playing. The COUGAR RANGER 5 Colors Gaming Sofa Computer Chair comes with a comfortable head rest so you can keep focused on the task at hand while relaxing comfortably. A built-in lumbar provides back support when reclining and movable top armrests heighten comfort for those long play sessions without having to strain your neck!
8. Cougar FUSION Gaming Chair
Powerful Design
The Cougar FUSION is a new and improved gaming chair. With a body-embracing design for an extra-pleasant sitting experience, you'll love how the Fusion's high quality materials make it resistant to wear and tear as well as fading over time. Come find your perfect style with its vibrant colors that will add a burst of energy to your room!
Why buy this
Solid and dependable metal 5-star base
PU Wheels that prevents floor scratches
Smooth and durable height adjustment
The Cougar FUSION gaming chair is the perfect solution for a deep recline in long game sessions. Available in two colors, this ergonomic chair looks and feels great while you're playing your games. The body and armrest of the chair is made from faux leather that can handle all sorts of temperatures to keep them cool and comfortable for hours on end. With 4 gas lift cylinders making it easy to adjust, you'll have no problem finding your most ideal position with just a little effort! It's also been designed so that there's no floor scratches from dragging as it slides smoothly across any surface imaginable. Get ready for the most comfortable experience possible with a Cougar-branded gaming chair today!
9. Cougar ARMOR ONE Gaming Chair
Continuous Reclining
Cougar ARMOR ONE Gaming Chair brings you the comfort you need on long sessions. It features fully adjustable seating, which conforms to each individual's body shape. Made of quality materials and endowed with ergonomic design for a natural fit.
Why buy this
180 degrees reclining
High Quality Piston Lift
Adjustable Tilting Resistance
The Cougar ARMOR ONE Gaming Chair is the ultimate in everyday gaming comfort. With 180 degrees of recline, you can kick back and play games with your friend to watch TV or relax while reading a book. The high-quality pistons provide long lasting support at all times and give you the chance to control how much resistance it will take for you get back up again from an abrupt leaner. Finally the design is fully adjustable with lumbar support and lateral support for extra stiffness
10.

Secretlab TITAN 2020 Series League of Legends Gaming Chair – KDA All Out
Best Luxurious Option
TITAN 2020 Series League of Legends Gaming Chair is the only chair designed for the hardcore gamer. With this chair, you can enjoy your favorite game and take utmost advantage of the improved cushions while also taking advantage of built-in, adjustable lumbar support. The cold-cure foam mix will keep you upright in all positions too!
Why buy this
Secretlab Signature Memory Foam Pillow
Multi-tilt mechanism
Class 4 Hydraulics
The Secretlab TITAN 2020 Series is one of the most durable chairs in the game. It features a class 4 hydraulic base that can withstand up to 1800 lbs., multi-tilt mechanism, and XL PU caster wheels with brake system for supreme stability. The memory foam pillow from our very own line of Signature Memory Foam Pillows has been integrated as an optional accessory on this chair, which provides additional relief to your neck and shoulder during marathon gaming sessions.
Benefits of a Gaming Chair
Comfort – Sitting on the floor or in a desk chair can be uncomfortable, especially if you sit there for hours. These types of chairs weren't designed to make long periods comfortable and it's easy to feel sore after sitting down too much at once. Gaming Chairs are specifically made with gamers in mind so they don't start feeling aches anywhere near as fast because gaming is their main job–not just an occasional hobby like when people used desks back then!
Unique Design – One of the great things about gaming chairs is their variety. Some have fierce and ergonomic designs while others come in unique styles based on your personal preferences.
Health – Your neck, spine and lower back are important to keep healthy while you game or work. For long-term health reasons, it's a good idea for your chair to have lumbar support if you want an optimal gaming experience. Gaming chairs come with this necessary feature that can't be skipped!
Our Top Recommended Products
1-GINZA Gaming Chair Office
2-Rakker Casap Elite Gaming Chair
3-Raidmax Drakon DK-709 Gaming Chair
FAQs
How Do I Choose the Right Gaming Chair for Me?
There are certain factors that come into play when choosing one including your body type and height/weight along with the comfort level you require for long hours of playing or work. You should also consider what budget is available to spend on this purchase since most can have a very wide range.
Do gaming chair actually help with posture?
A gaming chair is a great way to improve your posture in front of the computer. These days, nearly all office style and racing-style chairs you'll find both provide adequate lumbar support and many include additional lumbar pillows; but it's up to you whether or not they will work for YOU! You need an active role while sitting in them so that slouching doesn't become common practice.
This post was brought to you by Kimz House.
Disclaimer: The opinion is solely based on our testing or intensive research with customer feedback around the most popular shopping platform such as Shopee and Lazada. The products/services shown here are available and valid upon the publication date. It may change from time to time. Please email us at [email protected] if there is any discrepancy.