Last Updated on
Nothing spells convenience in the kitchen better than a food processor. We daresay that it is one of the best innovations ever. While there is still a sense of achievement in preparing meals manually, there are times when best food processors just give us the ease and time that we need.
This is especially true when preparing multiple recipes at once.
Table of Contents
Advantages of Using A Food Processor
Top Food Processor Brands in Philippines
Conclusion
FAQs
Quick Comparison Table
(scroll right for more)

our top picks of best food processors in the Philippines:
1. PHILIPS HR7320/00
Best for Heavy Use
Looking for a food processor that can handle anything you throw at it? Check out the PHILIPS HR7320/00. This powerful machine has a 700 W motor, making light work of even the most challenging tasks. Whether you're kneading dough, whipping up a meringue, or shredding cheese, the PHILIPS HR7320/00 will get the job done quickly and easily. Plus, with its large feeding tube, you won't have to waste time pre-cutting your ingredients.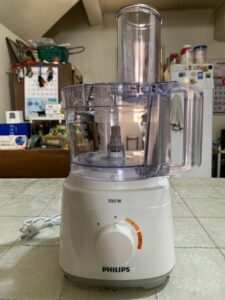 Pros:
Powerful 700 W motor
2-in-1 double-sided stainless steel discs
Durable 1.5 L blender jar
Cons:
2 . Sonifer Home Processor
Easy to clean
The Sonifer Home Processor is a versatile and powerful kitchen appliance that can make quick work of a variety of food prep tasks. With two speed settings and a pulse function, it can handle a range of applications from chopping and slicing to grating and shredding. And cleanup is a breeze thanks to the easy-to-clean design. Whether you're whipping up a quick meal or preparing for a party, the Sonifer Home Processor is the perfect kitchen sidekick.
Pros:
Safety lock system
Easy to clean
2 speed setting with pulse functio
Cons:
A bit space taker on your kitchen counter
3. Kyowa Food Chopper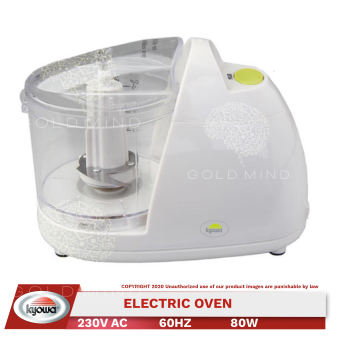 Easy to Use
This innovative food processor will revolutionize your kitchen, making it one of the best food processor in the Philippines. The design of the blades is different from those on a conventional one. The Kyowa Food Chopper has a large size 0.375L capacity transparent bowl. It can chop, mince and mix various foods in seconds. The controls are also easy to use with a simple on and off button.
Pros:
0.375 L capacity
Quicker food preparation
Detachable stainless steel blade
Cons:
4. Trudeau Manual Processor
Best for Big Batches of Food
If you need the best food processors that doesn't require electricity, this Trudeau Manual Food Processor is a great option. It has a powerful coarse blade that can cut through anything. A kitchen essential, the Trudeau Manual Food Processor is designed to make the most of every ingredient and every meal. With its sharp three-dimensional stainless blades for efficient chopping and pureeing, this best food processors makes preparing meals in no time.
Pros:
Sharp 3-dimensional stainless blade for efficient chopping and pureeing
Integrated funnel that makes it easier to add ingredients mid-way
Easy to clean and dishwasher safe
Cons:
Manual food processor takes more preparation time
5. Imarflex IFP-300S
Secured Placement
The Imarflex IFP-300S Food Chopper is the perfect kitchen appliance for those who love to cook. With a 500cc capacity and food grade stainless steel chopping blades, this chopper can handle all your chopping needs. It also features two speed settings and a stainless steel body for durability. Plus, the safety lock and suction footing make it safe and easy to use.
Pros
2 Speed Settings
Stainless Steel Body
Safety Lock
Cons
6. Kyowa KW-4605 Food Chopper
Affordable and Easy to Use
Kyowa is a widely trusted brand when it comes to kitchen electronics so it's no surprise this product made it to the list. It's affordable and easy to use. It's also compact enough to fit a smaller kitchen space. But, do not be deceived by its size, because it can process your ingredients fast, but with lesser electricity consumption.
Pros:
375 litres durable and transparent bowl capacity
Detachable stainless steel blade
ON/OFF press-button control
Cons:
Smallest capacity among the choices
7. Russell Hobbs Desire Matte Black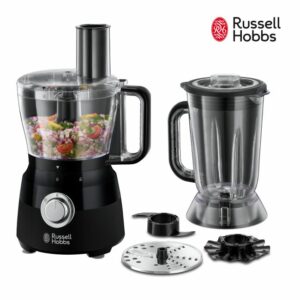 Best for Multi-Tasking
For those who are constantly busy in the kitchen, you will love this multifunctional food processor Philippines. It can do everything from chop vegetables to knead dough, and it's so easy to use! The attachment system is great because it opens up tons of options for you. You can do everything from chopping to dicing to slicing and more. It's the perfect tool for any kitchen. Since it includes different containers, it also saves you time to wash your mixer right away after using it for a single set of ingredient. You can choose from 2 speed, aside from its pulse setting.
Pros:
5 Litre Food Mixer
5 Chopping, Slicing and Dough Attachments
600W
Cons:
8. Russell Hobbs Desire Matte Black Mini Chopper
One-touch Operation and Compact
The Russell food processor is compact and perfect for anyone who doesn't have a lot of space. It's as powerful and precise as the larger model, with one-touch operation to make it easy to use. The Russell Hobbs Desire Mini Chopper is perfect for mincing, chopping, and grinding all your ingredients for your favourite meals. The adjustable blade settings allow you to chop and grind any ingredient you desire, from vegetables to onions with ease.
Pros:
Vegetable and Onion Chopper
500 ml Capacity Glass Bowl
Universal steel blades
Cons:
Not ideal for large batches
9. Allen Multi-Functional Processor
Cyclonic Cutting Zone and Portable
We love anything multi-functional, and we'll love it even more if it is portable like this Allen food processor. You can use it as your usual smoothie maker, but it also works like your traditional food processor. Allen food processor is an innovative take on blenders and mixers. It's a cyclonic cutting zone process that cuts up to 10 times faster than a traditional blender and also has the power to grind up to 3 times more. It also has an easy-to-use handle that makes food preparation and cleanup simple and convenient.
Pros:
An innovative take on blenders/mixers
Cyclonic cutting zone process works in 10 seconds or less
Easy to use, easy to clean
Cons:
10. Philips Chopper HR1396
Affordable Price Range
If you are a fan of Philips products like us, then you should not miss this food processor. It is relatively cheap given the Philips price-range as a food processor Philippines, yet offers the same quality and performance that the brand is known for. Food choppers are one of those kitchen appliances that can really help you save time and get the job done quicker. But most of them use that old-fashioned crank-style shaft to push down the blade. It takes time, sucks up a lot of energy, and doesn't give you much control over the chopping process. Philips HR1396 has been developed for the modern chef who wants more than just a manual chopper. With its one-button operation, it allows you to chop and pulse ingredients with the touch of a button, making it perfect for chopping vegetables without burning your fingertips or mixing herbs without clogging up the works with fibrous stems.
Pros:
One button-operation
Dishwasher safe
Versatile chopping options
Cons:
Not ideal for cooking big batches
Advantages of Using A Food Processor
Best Food processors are great ways to make the most out of your time in the kitchen. Much of the cooking time is actually spent preparing the ingredients, and by having a reliable food processor, you get to cut this process into minutes and even seconds.
The chopping is also more consistent, and will thus look neater for food preparation. Most best food processors are also multi-functional, which means that they come with other functions apart from chopping.
You can also make purees using the best food processors, giving you more reasons to create meals from fresh ingredients.
Top Food Processor Brands in Philippines
Imarflex
Imarflex is a well-established company that has evolved to meet the needs of consumers. They provide high quality appliances at affordable prices with innovative products, which have made it one of their leading industries within this country
Kyowa has been a trusted name in the Philippines for generations for your appliances, and this popularity is continuing with Filipino families across different generations.
Conclusion
Food processors come in all shapes and sizes. There are mini food processors for the single person, or the large capacity ones that can take on a family's worth of cooking. The best food processor for you depends on your needs. If you want something small and versatile, then a mini food processor is perfect. If you need to do some heavy-duty chopping and blending, then go for a larger model. Once you have decided on the size of your food processor, it's time to choose the features that are important to you. Do you need a pulse button? A reversible shredding disc? Make sure to pick the features that will make your life in the kitchen easier.
FAQs
What can I use a food processor for?
Food processors are usually used for preparing ingridients for your meal more efficiently. Usually, they are used for slicing vegetables or preparing purees. Food processors are very versatile and the possibilities are almost endless.
What should I look for in a food processor?
First is the bow capacity, if you are plaaning to use it regualrly for large batches, you might want to get a bigger bow. Usually, for four servings, around 10 cups would be enough. Next is the blades, depending on what you will use it for, food processors have different blades for different functions, such as chopping, grinding, and pureeing. Lastly, look for a processor that has dish washer safe parts for easy cleaning.
This post was brought to you by Kimz House.
Disclaimer: The opinion is solely based on our testing or intensive research with customer feedback around the most popular shopping platform such as Shopee and Lazada. The products/services shown here are available and valid upon the publication date. It may change from time to time. Please email us at [email protected] if there is any discrepancy.