Last Updated on
Under-eye care is a crucial step in many people's everyday beauty routine. Fine lines, wrinkles and dark circles can plague one of the most sensitive parts of our face: the under eyes. The skin around them is known to be more delicate than other areas on your body because it harbors so much fluid that surrounds blood vessels; this makes early signs age show up faster there as well!
There are certain ingredients in eye creams that help. These include retinol, hyaluronic acid, ceramides, peptides, vitamin C and antioxidants to name a few. Look for these things when choosing an anti-aging cream or serum and you'll be on your way towards younger looking skin.
Table of Contents
Top Eye Cream Brands in Philippines
Targets to Consider When Choosing the Right Cream
Conclusion
Eye Cream Comparison Table
(scroll right for more)
Eye creams are a must-have for anyone who doesn't want to look tired or suffer from dark circles. There is something out there that will work best with your skin type, and it can all be found in one spot! Listed below are the best eye cream Philippines that you can purchase
1. Cetaphil Hydrating Cream Serum

Powerful but lightweight
Cetaphil Hydrating Eye Cream Serum is a gentle formula that is suitable for sensitive and delicate skin, hypoallergenic, fragrance-free, filled with Hyaluronic Acid which hydrates the under eye area and Licorice extract that reduces the appearance of dark under eye circles. With Cetaphil Hydrating Eye Cream Serum you never have to worry about breakouts or irritation as well as develop an allergy to fragrances because it's fragrance-free. Buyers see increased definition in their eyes due to hydration with moisturizer beneath the eye while reducing dark shadows from under your eyes caused by dehydration in this product designed specifically for those specific needs!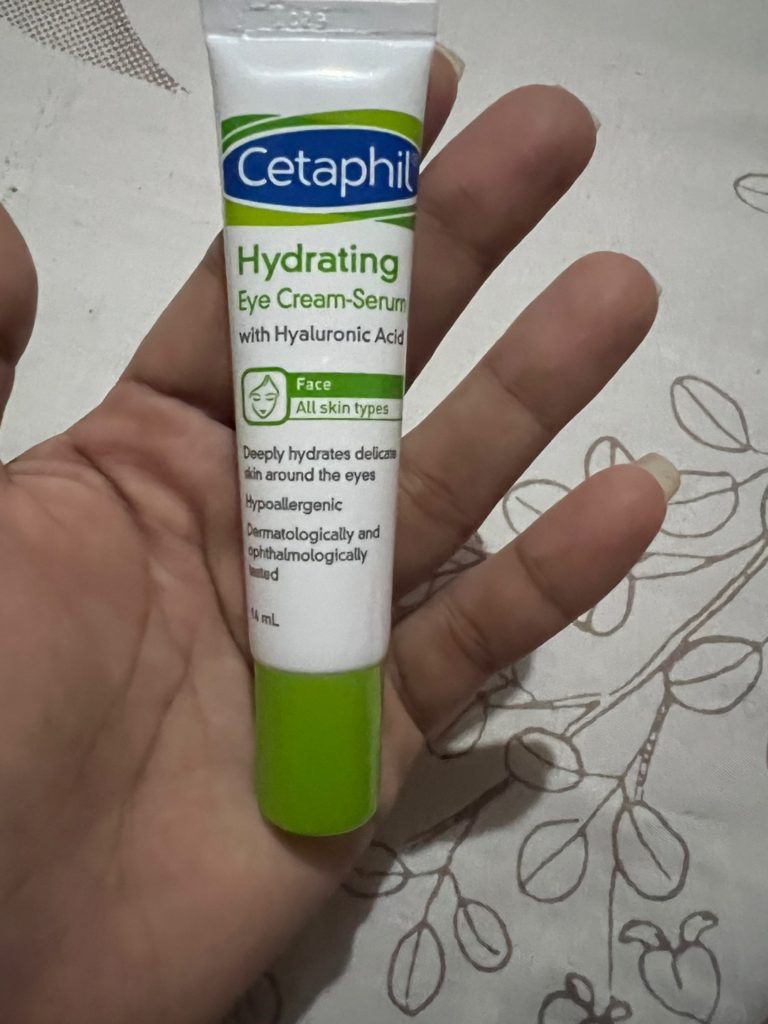 Pros:
Suitable for sensitive/delicate skin
Hypoallergenic
Frangrance-free
Cons:
A bit slow in showing results
2. Olay Ultimate Eye Cream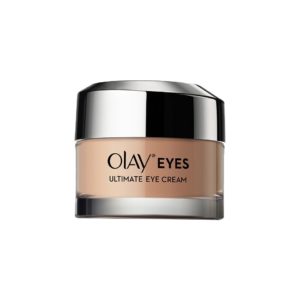 Matches Most Skin Tones
Looking for an eye cream that does it all? Olay Ultimate Eye Cream is your solution! This powerful formula is packed with peptides and Vit-B3 to help renew skin's surface over time, reduce puffiness, and correct color. You'll love the way this cream instantly brightens and smooths skin, giving you a youthful look.
Pros:
Helps reduce appearance of dark circles, wrinkles, and puffiness to reflect the beauty of younger looking eyes.
Acts as a touch of concealer that matches most skin tones.
Hydrates skin to smoothen and brighten the tone around the eye area.
Cons:
Not all user liked the colored eye cream
3. COSRX Advanced Snail Peptide Cream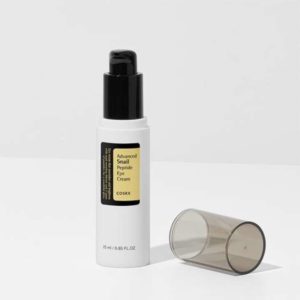 Rejuvenates the Eye Area
This eye cream by COSRX is lightweight and non-greasy. Formulated with snail extract and peptides, it visibly brightens up the eye area in just 8 weeks with noticeable weight loss of dark circles and puffiness. It's also formulated with niacinamide, which helps prevent inflammation-causing agents such as prostaglandins from triggering allergic reactions like redness or itchiness. The product contains 72% of snail secretion filtrate for a moisturizing effect that works on both fine lines and wrinkles around your eyes to show an improvement after twice daily use.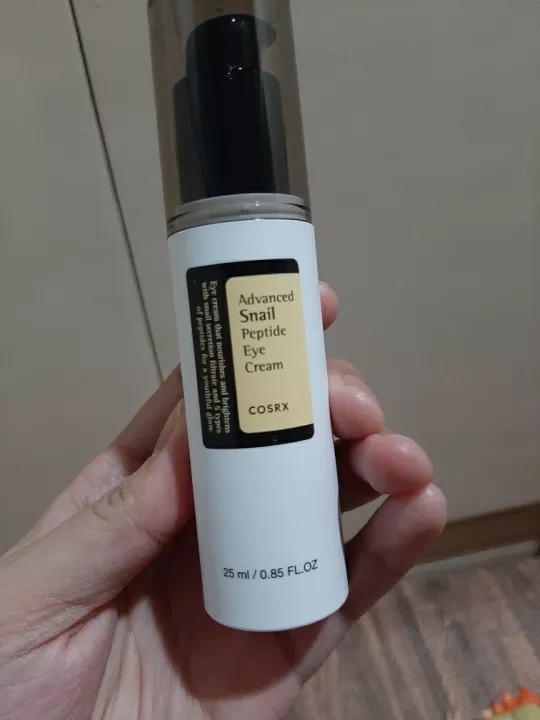 Pros:
Non- heavy, double-functioning eye cream
Moisturizing & Refreshing & Rejuvenating the skin
Peptide helps strengthening the recovery & elasticity ability
Cons:
Some users can find it a bit tedious to use.
4. Luxe Organix Bright Eyes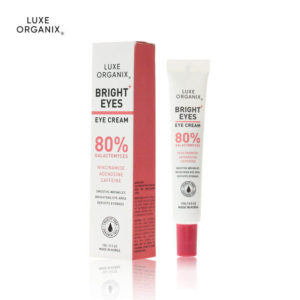 Can be Used In Laugh Lines
Looking for a eye cream that really packs a punch? Look no further than Luxe Organix Bright Eyes! With 80% Galactomyces Ferment Filtrate, this cream helps reduce dark circles and puffiness while providing intense moisture to help fight off wrinkles. Niacinamide, adenosine and bidfida ferment lysate also help to brighten and tone the delicate skin around your eyes. Use it daily to achieve younger, brighter looking eyes.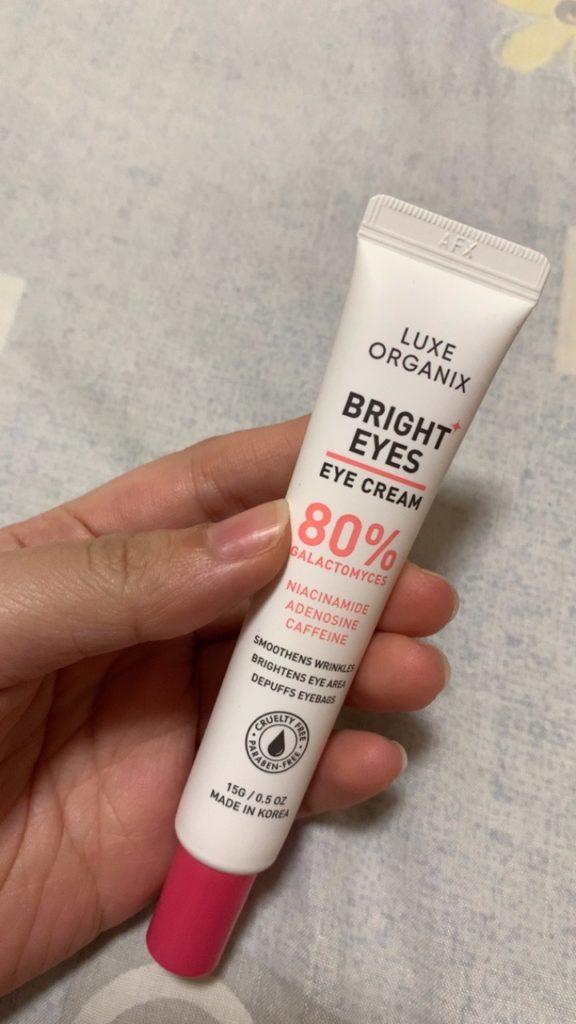 Pros:
Helps reduce dark circles and puffiness while providing intense moisture to fight off wrinkles
With Niacinamide, adenosine and bidfida ferment lysate
May be used for smile / laugh lines
Cons:
Niacinamide % not indicated
5. Pond's Age Miracle Cream
Younger Looking Eyes
Pond's Age Miracle Eye Cream consistently outsells its competition because it offers a variety of benefits in one easy-to-use product. It firms like Retinol does, plumps and lightens like vitamin B3 can, and brightens the eye area as quickly as glycerin can. And that's just for starters! Get your youthful look back with this rich wrinkle reducer that is also free from paraben preservatives. Pond's Age Miracle Eye Cream will revitalize your tired looking eyes so they look energized again!
Pros
A firming eye cream that offers relief from premature aging
Provides powerful wrinkle reduction with Retinol-C Complex
Helps fade crow's feet and prevent pigmentation
Cons:
Retinol can cause sun sensitivity
6. Mistine Invisible Cream
With Marine Collagen
This must-have eye cream from Mistine instantly firms and nourishes fine lines around the delicate skin under your eyes. Fade away dark circles with its brightening effects to leave you looking refreshed and wide-eyed all day long. Look and feel years younger with this Invisible Eye Cream that reduces the appearance of those pesky eye bags in a matter of seconds. Marine collagen locks in moisture while pearl extract helps make your skin look radiant and lines less noticeable. The whole family can enjoy more youthful looking skin, try it today!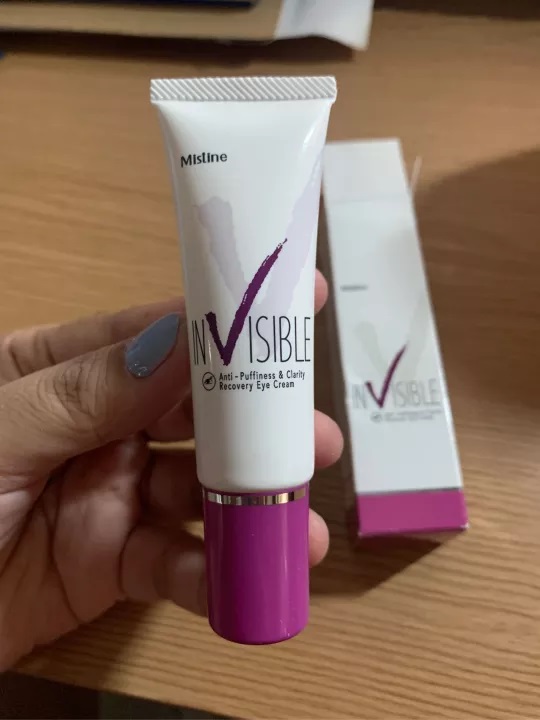 Pros:
Immediately reduces appearance of eye bags.
With marine collagen that helps tighten skin around the eyes.
Helps prevent skin sagging around eye area.
Cons:
A bit small for it's price
7. The Inkey List Retinol Cream
Reduces Fine Lines
Dramatically reduce your fine lines and wrinkles, while improving the quality of skin. This retinol eye cream is formulated specially to work where it's needed most – apply this nighttime eye serum under your eyes for maximum anti-aging power. Professional retinols don't have to be strictly a mature skin care ritual anymore – even your vital, youthful twenty-something skin can benefit from some TLC. The Inkey List Retinol Eye Cream with increased concentration of the active ingredient in sensitive eye area helps to reduce facial puffiness and bags by bringing fresh oxygen, nutrients, and hydration back to congested areas.
Pros
Reduces wrinkles
Youthful skin
For sensitive skin
Cons:
Retinol can cause irritation for sensitive skin
8. Himalaya Under Cream
Environmentally friendly
Himalaya Under Eye Cream is a gentle yet effective product, with Dermatologically tested ingredients Environmentally friendly and No Animal Testing. Some of its key features are: an antioxidant rich formula to help wake up tired eyes; contains gelatin derived from turnip, potato, wheat or other vegetables that doesn't contain harmful preservatives and has the ability to ensure your skin maintains moisture levels for longer periods of time; soothes as well as lubricates dry under eye area gently – creating a protective barrier that blocks irritants such as dust following disturbed sleep.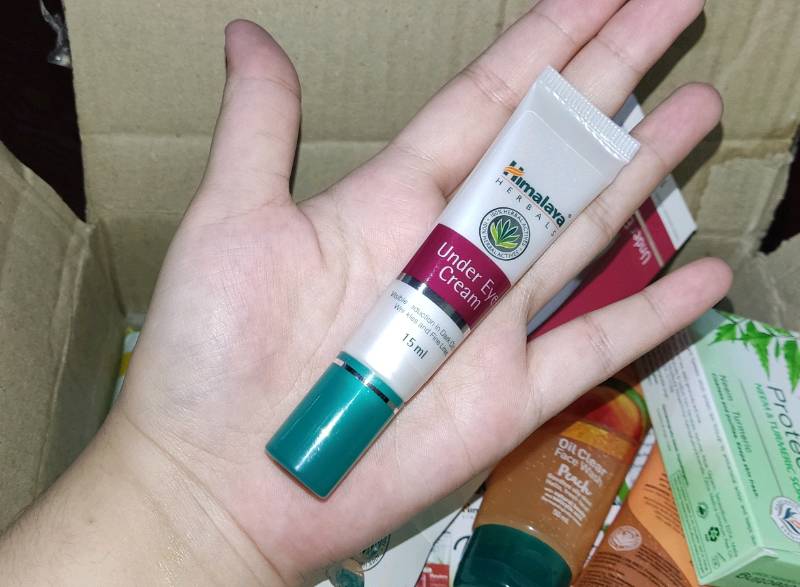 Pros:
Dermatologically tested
Environmentally friendly
No animal testing
Cons:
Takes a bit longer to notice changes
9. CeraVe Eye Repair Cream
Helps Protect the Skin
Clean and hydrate those tired eyes this winter with CeraVe Eye Repair Cream. This cream is clinically proven to visibly reduce the look of dark circles, puffiness and fine lines around your eye contour area. It's formulated with 3 essential ceramides that protect skin from the elements—even as they help restore its natural barrier function. And all without any icky, harsh synthetic preservatives or fragrance!
Pros:
With ceramides 1,3 and 6-II
Hyaluronic acid to help retain skin's moisture

Fragrance-free
Cons:
One of the more expensive choice
10. L'Oreal Dermo-Expertise Eye Defense Cream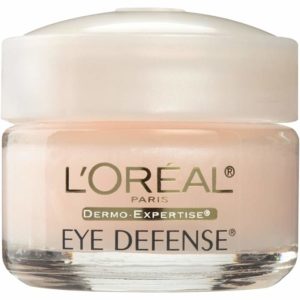 Light-weight
L'Oreal Dermo-Expertise Eye Defense Eye Cream with Caffeine and Hyaluronic Acid is formulated to defend against signs of pre-mature aging around the eyes. The rich texture moisturizes dry skin, reduces the appearance of fine lines, provides essential hydration 24 hours a day for all skin types. Key ingredients are caffeine and hyaluronic acid which improve firmness & elasticity – making your eye zone less vulnerable to puffiness and shine. For best results use after cleansing in morning or evening just before bedtime.
Pros:
Caffeine and Hyaluronic Acid
Light-weight, non-greasy
Daily dose of hydration
Cons:
Top Eye Cream Brands in Philippines
Olay
Olay has an innovative and varied range of products that can be tailored to your needs. The brand is passionate about making a difference in skin care, which you'll feel when they're on your face!
Cetaphil
Dermatologists recommend Cetaphil because it's not too harsh or irritating like other products on shelves today. This brand has a 70+ year history of being trusted by dermatological professionals to keep their sensitive skin happy and healthy!
Luxe Organix
Luxe Organix is a skincare company in the Philippines that has been producing products formulated with plant-based ingredients since 2014. They make sure to provide budget friendly, high quality beauty goods for those looking to achieve "glass skin" effect
Targets to Consider When Choosing the Right Cream
Sagging Under the Eyes – There are lots of ways to prevent sagging under the eyes. One way is by using eye creams that contain ingredients such as peptides and topical caffeine, which will hydrate your skin or stimulate collagen production in it respectively. Eye creams with retinol can also be used for renewal purposes because they promote new skin growth around the eyes while bringing back firmness too!
Reddish Circles Around the Eyes- If you have dark circles that won't go away no matter how hard you try, then it's possible they're caused by hyperpigmentation. These reddish-brown rings are due to an excess in melanin production or clogged pores from dirt and bacteria on your face. It can be tough covering them up with makeup alone; the best way is to get a cream containing ingredients such as vitamin C derivatives, arbutin, placenta – these help remove pigments that cause discoloration!
Bluish Circles – The best way to reduce the appearance of bluish circles around your eyes is by using products that contain arginine, retinol and vitamins K and E. These ingredients promote good blood circulation which in turn reduces blue tones under our eye area.
Conclusion
Have you chosen the right eye cream for your needs? If not, hopefully this article has armed you with enough information to make an informed decision the next time you're shopping for anti-aging skincare. We've outlined some of the best ingredients to look for as well as a few tips on how to apply them for maximum benefit. Thanks for reading!
FAQs
When should I apply the eye cream?
Applying eye cream should be the final step in your skin care routine every day, both in the morning and at night. This will help you feel refreshed each time you wake up as well as sleep better through out the entire night.
How do I apply the eye cream?
Eye cream should be applied a few inches away from your eyes. The best practice is to apply it around the orbital bone, then gently tap on this area with your ring finger and finally smooth out any excess product for an even finish.
This post was brought to you by Kimz House.
Disclaimer: The opinion is solely based on our testing or intensive research with customer feedback around the most popular shopping platform such as Shopee and Lazada. The products/services shown here are available and valid upon the publication date. It may change from time to time. Please email us at [email protected] if there is any discrepancy.