Last Updated on
Dry shampoo is essential for anyone living in a hot and humid country like the Philippines. We often feel we have no choice but to wash our hair daily, but studies show this isn't always the best. Thankfully, dry shampoos came into fashion around 10 years ago- they eliminate sebum on your scalp's natural oil, making you look greasy after just one (or two or three) days of not washing it!
The latest dry shampoo formulations do much more than absorb oil and sweat in the scalp; they also provide volume to thinning locks, create a healthier look for coloured hair by removing brassiness and yellow tones from grey strands, and eliminate odours caused by dirty or greasy roots. The benefits don't stop there! Modern-day formulas protect against humidity that can lead to frizz with its silky formula, which is excellent for those who suffer from oily skin or dandruff problems which cause flakes on the head, leading the way to "grease". This trendsetter could be your new favourite thing!
There can be a lot of choices. Here, we list the best dry shampoo in the Philippines for you!
Table of Contents
Choosing the Right Shampoo for You
Top Dry Shampoo Brands in the Philippines
Conclusion
Quick Comparison Table
(scroll right for more)

1.

Bench Fix Professional Shampoo & Dash Dry Shampoo
Absorbs Excess Oil
Bench Fix Professional Shampoo & Dash Dry Shampoo is a product that offers several benefits for all hair types. It is paraben and toxin-free, absorbs excess oil, and rinses easily. It also adds volume and texture to the hair while keeping it soft. There is no oily residue left after use, as is sometimes the case with other shampoos.
In addition to the features mentioned above, what sets this product apart is its long-lasting 'clean' results. The naturally derived ingredients maintain their effectiveness throughout styling, reducing the need for frequent shampoo or dry shampoo usage. This product doesn't contain harsh chemicals that could potentially harm your scalp, thanks to its natural ingredients.
In conclusion, if you're seeking a shampoo and dry shampoo combo that delivers excellent results without compromising your hair's health, Bench Fix Professional Shampoo & Dash Dry Shampoo is a great choice. It draws its power from natural sources, ensuring your scalp remains free from damaging residues or additives found in lower-quality brands. Don't hesitate; get yours today!
Pros:
Cleanses and conditions hair, promoting a healthy shine.
Strengthens hair follicles for thicker, fuller locks.
Adds texture and volume for stylish looks.
Cons:
May not be suitable for people with sensitivities to certain ingredients
2. Palmolive Naturals Dry Shampoo Fresh & Volume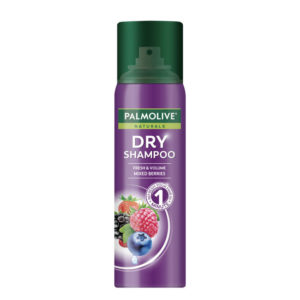 For Great Hair Volume
Palmolive Naturals Dry Shampoo Fresh & Volume is a great way to refresh your hair without having to wash it. Unlike other products, this one is free of toxins and parabens, making it a safe choice for everyday use. It helps absorb excess oil while adding volume and texture, which makes it perfect for people with all kinds of hair types.
This product doesn't leave any residue behind after washing off, making your locks look fresh and voluminous in no time! Furthermore, the scent is very pleasant and long-lasting; leaving you feeling confident throughout the day. My favorite thing about this dry shampoo is that even though I use it daily my hair still looks healthy and gets nourished without being over-dried or damaged by harsh chemicals.
If you are looking for a convenient way to instantly revive your hair then try Palmolive Naturals Dry Shampoo Fresh & Volume! It not only provides an instant boost in volume but also cleanses out oils at the same time keeping your locks clean and refreshed as ever before. So why wait? Go ahead give it a try today – you won't be disappointed!
Pros:
Inspired by the scent of Mixed Berries
The lightweight formula instantly absorbs oil with just a few quick sprays
Enjoy naturally beautiful hair
Cons:
3. Palmolive Naturals Dry Shampoo Fresh & Fragrant
Fresh and Fragrant
Palmolive Naturals Dry Shampoo Fresh & Fragrant is a remarkable product that can quickly revitalize your hair's appearance. It absorbs oil with a few sprays and leaves your hair naturally beautiful and pleasantly scented with its unique geranium-infused formula. It's a lightweight product won't make your hair feel heavy or leave any unwanted residue.
This powder dry shampoo is a favourite because it recreates that salon-fresh feeling right at home. It provides volume to your hair and eliminates excess oils and greasiness, allowing you to extend the time between washes without appearing oily or untidy. The subtle and invigorating geranium scent keeps your hair smelling delightful throughout the day.
If you're searching for a quick and convenient way to refresh your hairstyle between washes, Palmolive Naturals Dry Shampoo Fresh & Fragrant is worth a try – it won't disappoint! Its compact size makes it ideal for on-the-go use, fitting perfectly even in small purses, which is perfect for people with busy lifestyles. So, don't hesitate – get some for yourself today and enjoy beautifully clean hair wherever you are!
Pros:
Infused with Natural Geranium
The lightweight formula instantly absorbs oil with just a few quick sprays
Enjoy naturally beautiful hair
Cons:
The flowery fragrance is not for everyone
4.

Beachborn Dry Shampoo

No Artificial Fragrance
Beachborn Dry Shampoo is a must-have for busy days or quick touch-ups. It effectively absorbs excess grease, adds volume, and gives hair a freshly washed appearance without water or traditional washing. This makes it ideal for rushed moments or when minimizing product usage is preferred. Its fine mist, containing natural ingredients such as arrowroot and lavender essential oil, ensures it won't harm the hair, even if it's coloured or treated. Additionally, it has unexpected benefits for pets with matted fur.
The product refreshes roots and boosts volume while eliminating the need for a full wash. The aerosol can application method eliminates any mess – simply spray it from about 8 inches away, wait for 30 seconds, and then style as usual. This hassle-free process is enhanced by the soothing scent of lavender. Nobody wants greasy, unpleasant-smelling hair throughout the day, and Beachborn Dry Shampoo effectively prevents this while remaining gentle on the hair.
In summary, Beachborn Dry Shampoo is thoroughly impressive and highly recommended, especially when time is limited, but appearance remains important. If you're seeking a solution to remove excess grease without using a full wash every time, this innovative product is worth a try – it won't disappoint!
Pros:
Instantly refreshes and volumizes hair
It gets rid of excess grease without leaving a residue
Easy-to-use powder spray produces a fine mist
Cons:
May leave a white residue behind if not properly blended in the hair
5.

Batiste Tropical
Great Fragrance
Batiste Tropical Dry Shampoo is a fantastic addition to your hairstyling routine. Its lightweight, non-greasy formula effectively absorbs excess oil, grease, and odors while prolonging the life of your blowout. It simplifies the styling process by adding texture for voluminous styles and leaves a clean finish without any powdery residue or visible white cast.
This product plays a crucial role in maintaining the health and vibrancy of my hair between washes. It eliminates dirt, oil, and sweat from the scalp, preventing them from weighing down even the most voluminous looks. Additionally, the tropical scent is invigorating and refreshing, making it a pleasant choice throughout the day.
In conclusion, if you're seeking an effortless way to achieve longer-lasting hairstyles with added volume, Batiste Tropical Dry Shampoo deserves a top spot on your list. Not only does it expedite the styling process, but it also ensures a polished appearance without the concerns of greasiness or unpleasant odors detracting from your look. Give it a try today – you won't be disappointed!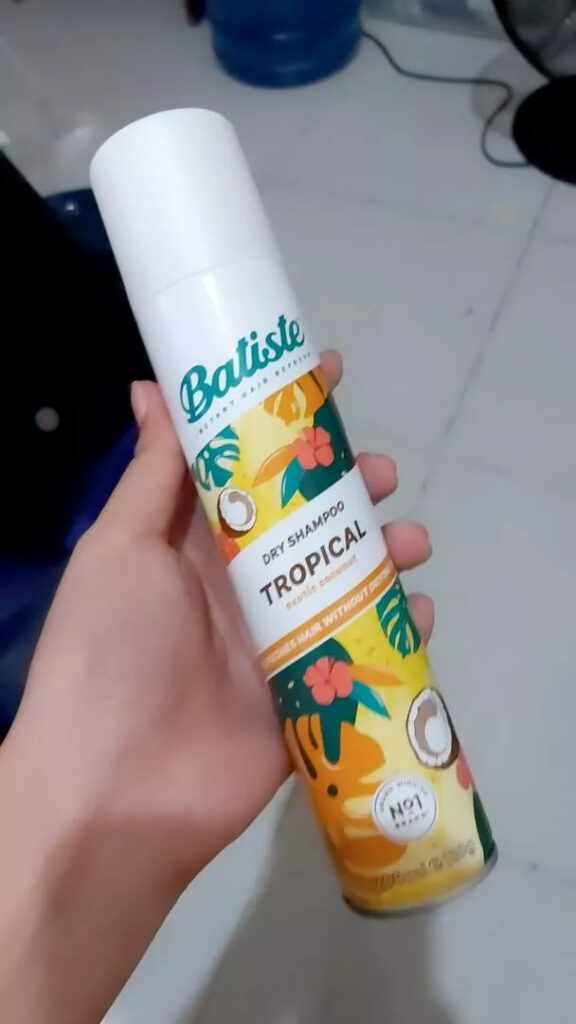 Pros:
Refresh and revitalize hair in-between washes
Reduce excess oil on the scalp
Create great volume to instantly transform dull, lifeless hair
Cons:
Not suitable for people with allergies to certain fragrances
6.

Choice Beauty Dry Shampoo
Contains Nourishing Ingredients
Choice Beauty Dry Shampoo is the perfect choice for busy women who want to maintain their healthy hair without spending hours on washing, drying and styling. It quickly removes excess oil from the scalp while maintaining its natural moisture balance. This product will give you bouncy, voluminous looks with a pleasant light floral scent that lasts all day long. The 200ml size ensures you have just enough to use, but not too much so you don't overdo it.
Choice Beauty Dry Shampoo provides nourishment for your hair as well as control of unwanted oiliness which can weigh down your locks and make them look greasy and unkempt. With regular use, this product can keep your mane looking soft and healthy despite having limited time to wash it regularly—you'll no longer need to worry about bad-hair days! Plus, there's no residue left behind after using this dry shampoo since it dries up almost instantly making sure that all you see are happy tresses full of life and bounce.
If you want lightweight volume on-the-go or an easy way to freshen up the hair between washes then Choice Beauty Dry Shampoo is just what you need! No more oily frizzy locks that spoil your hairstyle; instead enjoy beautiful volumized styles in minutes with a hint of floral aroma wafting in the air around you throughout the day! Try out Choice Beauty Dry Shampoo today and get ready to awaken your inner beauty goddess every day without any hassle or stress!
Pros:
Quickly cleans and refreshes hair without the need for water
Gives a bouncy, volumized look to hair
Has a pleasant light floral fragrance that lasts throughout the day
Cons:
Can dry out hair if used excessively
7. Organic Care Perm/Dry (Moisture) Shampoo
Cruelty-Free and No Parabens
Organic Care Perm/Dry (Moisture) Shampoo is a great choice for anyone who wants to have healthier, shinier hair. With this shampoo, you will be able to nourish your hair with its natural ingredients containing Olive Leaf Extract. This helps to restore moisture and reduce split ends that can cause damage if left unchecked. It also contains plant based ingredients which are known to be gentle on the scalp and promote healthy hair growth.
Not only does this product take care of your hair but it also takes care of the planet! The bottles are 100% recycled High Density Polyethylene which ensures that it is completely safe for grey water applications while maintaining a sleek design at the same time! In addition, no animal testing or any animal derived products were used in making this product – as it bears the CCF accreditation – so you can rest assured knowing that both you and our earth are taken care of through sustainable practices.
When using Organic Care Perm/Dry (Moisture) Shampoo, feel confident knowing your environmental footprint is minimized while achieving maximum results when it comes to restoring its natural luster and shine! So why hesitate? Give yourself the best possible treatment by treating your locks with an organic solution like Organic Care Perm/Dry (Moisture) Shampoo today!
Pros:
Grey water safe
No animal testing or ingredients – CCF accredited
No parabens or petrochemical cleanser
Cons:
8. Dove Refresh + Care

Cleanses Hair
Dove Refresh + Care Dry Shampoo is an impressive product that lives up to its claims. It instantly absorbs excess oil, leaving hair feeling refreshed and clean without causing over-drying. Formulated with hydrolyzed silk protein, it not only cleanses but also nourishes and repairs hair. The addition of Niacinamide (Vitamin B3) provides texture definition and leaves a long-lasting soft floral scent. Overall, this dry shampoo delivers salon-quality results that endure throughout the day.
With Dove Refresh + Care Dry Shampoo, you can bid farewell to greasy roots and limp locks. The lightweight formula not only absorbs excess oil but also provides volume, maintaining a natural appearance. Furthermore, it maintains your scalp's natural moisture balance, making it a suitable option for individuals with damaged hair or sensitive scalps.
In summary, if you're in search of a gentle dry shampoo that offers salon-quality performance at home, Dove Refresh + Care Dry Shampoo is an excellent choice. Give it a try and experience the difference for yourself – you won't be disappointed!
Pros:
Leaves hair looking and feeling refreshed without washing
Absorbs excess oil from the hair to revive between washes
Works with just a few quick sprays and brush strokes
Cons:
9. Bed Head OH BEE HIVE Matte Dry Shampoo

Best for Fixing Greasy Hair
Bed Head OH BEE HIVE Matte Dry Shampoo is a valuable addition to any hair care routine. It incorporates Refractive Index Matching Technology, ensuring even light refraction across the hair's surface for a natural finish. Additionally, hydrophobically modified cornstarch is used to absorb oil, leaving the hair feeling clean without causing any heaviness.
This product is known for its ease of application, thanks to the fine powder formula that prevents clumping. After use, hair consistently looks refreshed, and the scalp feels cleaner, with styles lasting longer.
For those seeking a solution to maintain clean and fresh-looking hair between washes, Bed Head OH BEE HIVE Matte Dry Shampoo is a recommended choice. Its unique features, including oil absorption and an even finish, can provide salon-quality results with every use. Give this fantastic dry shampoo a try – it won't disappoint!
Pros:
Hydrophobically modified cornstarch
Refractive Index Matching Technology
Fixes Greasy Hair
Cons:
More expensive than other brands
10. Batiste Dry Shampoo Clean & Classic Spray
Removes Oil
Batiste Dry Shampoo Clean & Classic Spray is an amazing product that gives hair an instant lift. It removes excess oil and grease, leaving hair feeling fresh and voluminous. The scent of this dry shampoo is light and subtle, eliminating concerns about overpowering fragrances. This makes it perfect for on-the-go use, eliminating the need to carry a large bottle of shampoo while traveling or going about town. And, importantly, it's not tested on animals, making it an ideal choice for those seeking cruelty-free products in their daily routines.
The benefits of using Batiste Dry Shampoo are numerous; it delivers beautiful hair in seconds and eliminates the need for frequent hair washing. This conserves both time and money, as it reduces water usage during regular washes and the amount of shampoo required. Additionally, like many other Batiste products, this dry shampoo infuses the scalp with vitamins that promote scalp health.
For those in search of a quality dry shampoo free from harmful chemicals, Batiste Dry Shampoo Clean & Classic Spray comes highly recommended. With its natural ingredients and light fragrance, hair will look refreshed in no time at all. Having such an affordable option available simplifies life. So, why wait? Start your journey toward beautiful locks with this incredible product today!
Pros:
The waterless formula absorbs dirt and grease
Removes oils for added texture and volume
A clean and classic fragrance with subtle hints of powder, lavender, and musk
Cons:
Choosing the Right Shampoo for You
For Fine Hair – The thing about having fine hair is that you most likely have locks of gorgeousness, which can end up looking greasy and limp after a day or two without washing. The solution? Dry shampoo! Be aware, as some dry shampoos contain ingredients such as talc and alcohol that will weigh your beautiful tresses down. Look for volumizing products with properties like silica or clay to bring life back into those lifeless strands while absorbing oil at the same time, all so they are ready to take on another day in style!
Flat Hair – Texturizing dry shampoos are designed to give your hair structure and make it look more matte without adding grease. They contain a certain type of starch that soaks up excess oil, making the rest of your day much easier! Powder formulas work best when applied sparingly or sprinkled on a braid for fullness.
Dry and Damaged Hair – Look for moisturizing ingredients like Vitamin B12 and proteins that add lustre and shine to your otherwise dull or damaged strands. Stay away from talc which will suck the natural oils from your scalp when applied as a powder onto wet hair after washing it with water.
Top Dry Shampoo Brands in the Philippines
Batiste
Batiste Dry Shampoo is a revolutionary product that cleanses and conditions your hair without the need for water. Made from an innovative starch-based no-rinse formula, it targets excess oil to eliminate dullness at its roots while boosting the body in dry areas of natural or styled tresses– giving you salon-quality results right in minutes!
Palmolive
Palmolive has been the number one personal care brand in the Philippines for years, with a wide range of high-quality products that address all your hair and body needs. With its expertise from natural ingredients to years' experience, you are not only able but also give incentive on how best possible transformation can happen at home!
Dove
If you want a product that does more than just smell good, Dove is the brand for you. They have products from hair care and facial treatments to body wash in every scent under sun!
Conclusion
If you're looking for an alternative to washing your hair every day, dry shampoo is a great option. It can help you extend the time between washes, and it also helps absorb sebum on your scalp's natural oil. We've provided some of our favourite options for dry shampoos, so be sure to check them out and see which one works best for you. Have you tried using a dry shampoo? What was your experience like?
FAQs
How Often Should I Use Dry Shampoos?
Dry shampoos are great for giving your scalp a break between washes, but you don't want to over do it. Our experts recommend only using them one-to-two times per week and just make sure they're sprayed into the roots of your hair - not on top!
How Do I Use Dry Shampoos?
Here are the steps: shake vigorously, section off hair into 12-inch sections, spray about 6 inches away from roots with nozzle at arms length. Leave it be for about 3 minutes before you massage scalp evenly through fingertips for smooth application without clumps on scalp or hairspray residue left behind! Style as desired when dry - no need to spend time using hot appliances!
This post was brought to you by Kimz House.
Disclaimer: The opinion is solely based on our testing or intensive research with customer feedback around the most popular shopping platform such as Shopee and Lazada. The products/services shown here are available and valid upon the publication date. It may change from time to time. Please email us at [email protected] if there is any discrepancy.