Last Updated on
More people are now starting to explore making their coffee from the comforts of their home. Aside from it being a more cost-efficient option, it also allows you to brew the perfect cup for yourself. The whole process of selecting the best beans to try different methods of brewing is also an emerging trend among coffee lovers.
However, for those who like to have access to freshly brewed coffee but do not have the time for manual brewing, these best coffee machine philippines are the best choices for you:
Table of Contents
How to Choose a Coffee Maker For You
Top Recommended Coffee Makers in the Philippines:
FAQs
Quick Comparison Table
(scroll right for more)
1. Hanabishi HGRCM2IN1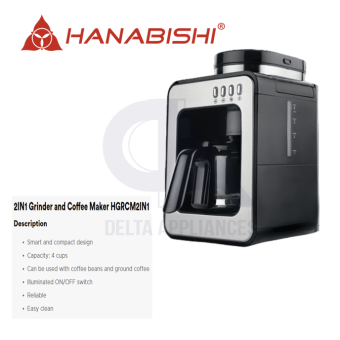 User Friendly
The Hanabishi HGRCM2IN1 2IN1 Grinder and Coffee Maker is an incredibly convenient, compact grinder and coffee maker. The 4-cup capacity makes it perfect for smaller or medium-sized households without taking up too much space in your kitchen. With the ability to grind freshly roasted coffee beans or use pre-grounded espresso, this machine offers convenience on a whole new level. Plus, its illuminated ON/OFF switch ensures safety when using the device – especially great for homes with children!
Cleaning and maintaining this product is exceptionally easy because of its smart design as all parts can be quickly disassembled allowing you access to all interior parts so you can clean any residue before each use. Additionally, there are no complicated settings; just add freshly ground beans into the miller chamber section, adjust grind size according to taste preference, and enjoy the aroma of delicious fresh brewed coffee right at home!
With amazing features like these that make everyday tasks easier, it's hard not to say enough good things about this product! Make sure to get yours now so you don't miss out – your mornings will never be the same with Hanabishi HGRCM2IN1 2IN1 Grinder and Coffee Maker!
Pros:
Can create up to 4 cups of coffee
One can use either ground or whole coffee beans
Illuminated on and off switch for easier identification
Cons:
Needs to be cleaned after every use
2. Cuppa CEM-101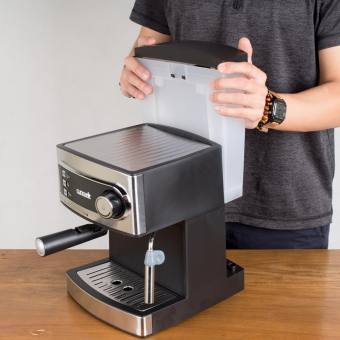 Best for Bigger Batches
The Cuppa CEM-101 is an incredibly versatile and convenient coffee maker that allows you to enjoy espresso like professional baristas. With 20 bar pump pressure to extract full flavor from the coffee grounds, you can get a consistently great cup of espresso every time. This machine also automatically switches off after 15 minutes of inactivity making it extremely energy efficient.
One of the best features of this machine is its detachable 6L water reservoir which makes refilling much easier for users as compared to other machines. In addition, the temperature control system ensures accuracy in preparation for a perfectly balanced cup each and every time! The compatibility with different brands of capsules and ground coffee makes this machine even more desirable as it can cater to any kind of preference without sacrificing quality or convenience.
For anyone who loves their morning cup of joe but enjoys some variety now and then – the Cuppa CEM-101 is definitely worth considering! With so many features packed into one appliance, not only will you be able to save space on your countertop, but also save money on having multiple appliances dedicated for just one item – all without compromising on taste or crafting speciality items such as lattes and macchiatos from home! Why wait? Get yours today!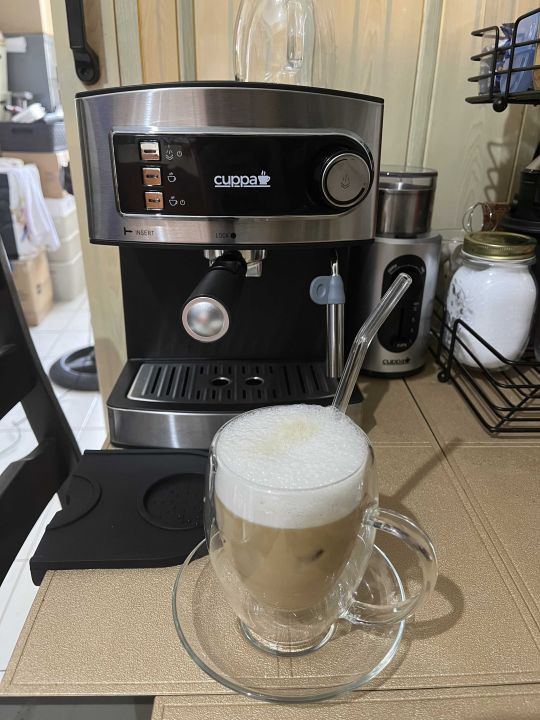 Pros:
Comes with a built-in steam wand to froth milk to create a variety of coffee styles.
20″ bar pressure pump
Detachable 1.6L water reservoir
Cons:
3. DeLonghi Magnifica S ECAM 22.110.B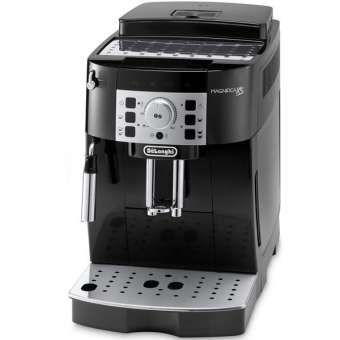 Best for Snack Bars
The DeLonghi Magnifica S ECAM 2110. B is a great choice for coffee lovers who want to enjoy quality espresso drinks – from decadent cappuccinos to classic espressos – at home. It stands out from the competition due to its comprehensive range of features, such as the intuitive control panel with icons that let you adjust and customize each setting, the Cappuccino System that produces an unbelievably creamy froth for your favourite Italian-style beverages, and adjustable coffee dispenser that can be adjusted anywhere between 86 up to 142 mm in height depending on your preferred cup size.
On top of these impressive features, this machine takes it one step further by also featuring programmable automatic shut-off so you don't have to worry about turning it off after every use; adding convenience and peace of mind as well as saving energy costs over time. That means all you need do is fill the water tank once then leave it alone until it shuts off automatically – perfect if you're in a hurry or don't need a strong brew like after dinner when guests are just visiting for dessert!
So if premium espresso drinks made easily yet affordably are what you seek, look no further than the DeLonghi Magnifica S ECAM 2110. B – unbeatable value for money with many useful features and settings thrown into this powerhouse machine! So why not take advantage today and treat yourself or your loved ones with a delightful home-brewed experience!
Pros:
Cappuccino System: it combines steam, air, and milk, producing a rich, creamy froth for great cappuccinos
New Thermoblock: to grant the espresso at the ideal and constant temperature
Choose from short, medium, or long, try a strong or extra mild aroma, enjoy it piping hot, medium, or low temperature.
Cons:
4. Delonghi Dedica Pump Espresso Maker – EC 685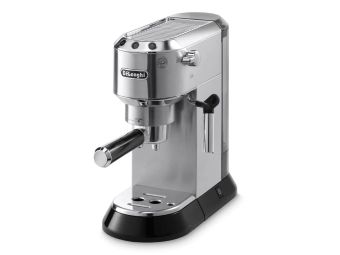 Power Saver and Easy to Clean Up
The Delonghi Dedica Pump Espresso Maker EC 685 is a great choice for anyone who loves their caffeine hit. With features like Thermo block technology, you can be sure that your espresso will have the optimal brewing temperature and a rich aroma every time. The 15 bar pressure ensures the perfect crema with each cup and you can even froth milk or steam it up for great cappuccino or flat white drinks. Not only is this machine easy to use but also practical as its removable drip tray allows mugs and glasses up to 12 cm tall! Plus, the Barista Pack accessories (Stainless Steel Metal Tamper & Steaming Pitcher) are included in the purchase so you won't need to buy additional tools separately.
This premium espresso maker provides maximum convenience right from the start – no need for tedious calibration! With adjustable settings, you can customize your drink according to your preference without any hassle at all. Thanks to its slim design, it fits perfectly on any counter top making storage just as effortless too! It also comes with an energy saving feature which means that after 9 minutes of inactivity, it will automatically switch off ensuring that unnecessary electricity costs do not occur when not being used – environmentally friendly indeed!
If café-style coffee is what you desire then look no further than this amazing Delonghi Dedica Pump Espresso Maker EC 685. Take advantage of its incredible features today by ordering yours now – ideal for both home baristas and coffee-passionate individuals alike!
Pros:
Adjustable cappuccino coffee system – Very suitable for making hot milk, milk froth for cappuccino, and hot water for tea and brewing.
A self-Priming feature that enables that coffee maker to always be ready to be used anytime.
15-bar professional pump coffee program.
Cons:
Espresso is a bit lighter side
5. Grato Primo Automatic Espresso Maker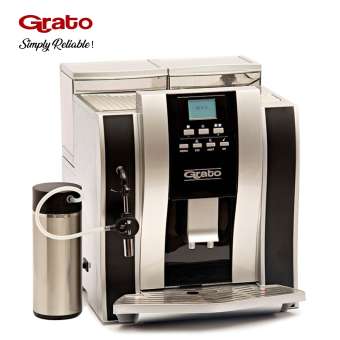 Automatic Cleaning
The Grato Primo Automatic Espresso Maker provides barista-quality espresso at the push of a button. With its patented Advanced Thermoblock Dual Boiler System, you can get the perfect espresso every time with minimal effort. This system heats water quickly and effectively so you don't have to wait for your espresso – it will be ready in no time!
Moreover, this machine includes a High-Performance 19-bar ARS Italian Pump, Digmesa Switzerland/Aweco German Flow Sensors, and a Built-In Stainless Steel Cup Warmer that ensures consistent temperature control for a perfectly smooth cup of coffee each and every time. Its programmable startup timer feature is great for busy mornings as it allows you to set up the machine ahead of time while its automatic energy-saving mode on idle makes sure that you save on electricity bills when not in use.
If you are looking for an amazing good quality espresso maker with features like these then look no further than Grato Primo Automatic Espresso Maker! Experience café quality drinks and enjoy barista-style convenience right from home today by getting one now!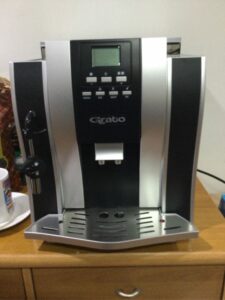 Pros:
Patented advanced Thermoblock dual boiler system
Removable drip tray and also water level indicator.
Programmable Startup Timer, Automatic Energy-saving Mode on Idle
Cons:
6. Breville Barista Express
Hands-Free Operation
The Breville Barista Express is an all-in-one coffee maker that helps you craft cafe-quality espresso drinks from the comfort of your own home. It features a conical burr grinder and dose control to ensure the perfect grind every time, offering adjustable grind size and dose settings so you can customize your beverage to taste. With its patented Razor™ dosing tool for consistent extraction, you can brew a delicious cup of espresso in under a minute. Additionally, this machine comes with a dedicated hot water outlet for impressive steam pressure so you can easily make creamy cappuccinos or lattes at the same time!
In short, the Breville Barista Express makes it easy to craft barista-level coffee drinks from home – no expensive restaurant visits necessary! The convenience of having everything you need in one device saves time and money while ensuring consistently great results each and every time. Plus, since it's made with durable stainless steel materials, this espresso machine is sure to last for years to come without becoming outdated or obsolete like many other models on the market today.
If you're looking for an all-in-one solution that produces beautiful cafe-quality beverages conveniently from home then look no further than Breville's Barista Express! Investing in one of these machines will be well worth it once you experience how effortless making homemade espressos have become with its impressive features. So why not give yourself a break this morning—brew up some delicious coffees right at home with ease using your very own Breville Barista Express!
Pros:
Dose control grinding
With grind size dial
Precise espresso extraction
Cons:
A bit more complicated to use
7. HiBREW 20 Bar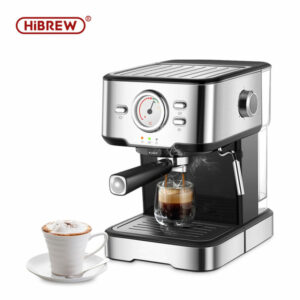 Double Temperature Control
The Breville Barista Express offers the perfect combination of performance and convenience for coffee aficionados. Its 20 BAR pressure ensures optimal flavour extraction, while an 850W powerful motor guarantees consistent results. This product also includes a professional milk frothing wand to get your desired levels of milk foam, with temperature control settings to adjust the taste as you like it.
Not only is this machine designed to make great-tasting coffee, but its user experience is top-notch as well – with a highly clear display and intuitive buttons, making use simple even for beginners! Its water tank features a transparent window so you can easily keep track of water level; plus it's made out of SUS304 stainless steel nipple for hygienic cleaning maintenance.
If you're looking for a reliable espresso maker that won't let you down on freshness or flavour, then look no further than the Breville Barista Express! With all these professional features and advanced capabilities, make your home brewing dreams come true today by getting yourself one now!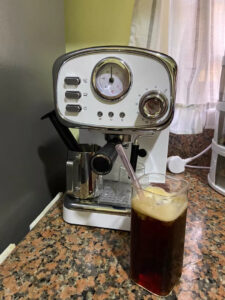 Pros:
20 Bar ensures the best flavours and a smooth taste
Professional Milk Frothing Wand for cappuccinos and lattes
Highly Clear Control with a bright display and intuitive functional buttons
Cons:
Limited in size, may not fit larger cups or mugs
8. Nespresso Pixie Coffee Maker
Accessible and Compact
The Nespresso Pixie Coffee Maker is the perfect choice for coffee connoisseurs who don't have time to wait for their morning cup. Thanks to its fast heat-up time and compact design, it will be ready in no time while taking up minimal counter space. Its folding drip tray also provides extra convenience by allowing you to fit a Latte Macchiato glass underneath the pile-up quickly when needed. With a 0.7-litre water tank capacity and 11 used capsule container capacity, this machine can help you make many cups of your favourite espresso blend in an efficient manner.
Using the Nespresso Pixie Coffee Maker will allow you to enjoy barista-style coffee at home without having to spend time or money on expensive trips out every day for a caffeine fix! It's quick, and easy-to-use yet produces amazing-tasting coffee quickly with very little effort from you – just like using a barista machine would do but without all the mess! Plus, its incredibly small size helps it fit into any kitchen area and makes it super convenient when making multiple drinks as there is room for several cups on top due to its clever design!
If you're looking for an affordable yet high-quality espresso maker that fits both your lifestyle and budget then take a good look at the Nespresso Pixie Coffee Maker today! With its range of features combined with a great value price tag this could be the perfect addition to your kitchen appliance collection – so why not give it one try now? You won't regret it if great-tasting coffee is what you're after!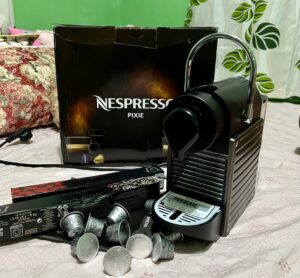 Pros:
Fast heat-up
Compact size: efficient design with compact technology
Folding drip tray for Latte Macchiato glass
Cons:
No extra features for a normal cup of coffee
9. DeLonghi Dinamica ECAM 350.35
Minimal Effort Preparing
The DeLonghi Dinamica ECAM 350.35 makes brewing coffee and espresso drinks simple, with its intuitive control panel and touch buttons. It offers traditional beverages at the touch of a button: Espresso, Coffee, LONG and Doppio+. With the "MY" function you can even personalize each beverage adjusting aroma and coffee/milk quantities; perfect for those who are picky about their espresso. Cleaning is made easy as it has a removable brewing unit so all that needs to be done is just rinse off the parts in warm water!
With the adjustable milk frother on this machine, you don't have to worry about heating up your milk separately anymore! You can both warm up your milk or prepare creamy foam with no hassle at all- such a time saver! If you're an avid coffee drinker and want to make sure that every cup tastes great there's no better solution than this machine; it allows for precise customization according to your palate preferences.
If you're looking for an excellent home espresso maker look no further than the DeLonghi Dinamica ECAM 350.35 – not only has it got plenty of features but cleaning is simplicity itself too if we take into account its removable brewing unit. All these plus adjustable milk frother adds up making this one of the best choices available in terms of quality vs cost ratio today – go ahead, make yourself a delicious cup of espresso without leaving your house!
Pros:
Cappuccino system for the perfect milk layers
Touch control panel
Personalized menu
Cons:
10. Asahi CM 039 Espresso Machine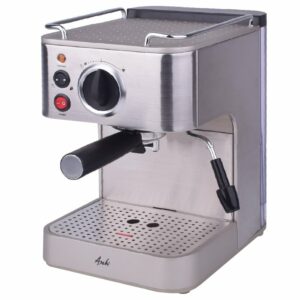 All Necessary Tools Included
The Asahi CM 039 Espresso Machine is an excellent choice for coffee lovers looking to make barista-quality espresso from the comfort of their own kitchen. Its 19-bar pressure and 1,000W heating power create smooth and flavorful espressos with a perfect crema on top. And with a warming plate that can hold up to 9 espresso cups, you can entertain friends and family without needing to constantly make fresh drinks. Plus, its removable 6L water reservoir makes it easy to make multiple drinks with just one fill-up!
On top of all these features that contribute to the great taste of your espresso beverages, the Asahi CM 039 also has a steam/hot water selector operated by dial so you can quickly switch between different types of drink settings each time you use it. This ensures your drinks are always brewed perfectly according to what setting you choose every time – no more guesswork or additional steps needed!
For anyone who loves espresso but doesn't want either shelling out a fortune at cafes or having tons of gadgets cluttering up their countertop space – the Asahi CM 039 is ideal! With its quality engineering and user-friendly design, this machine will help bring barista cafe coffee right into your kitchen in no time – if this sounds like something worth trying then why not get yourself an Asahi CM 039 today?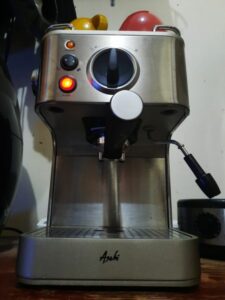 Pros:
19-bar pressure delivers a smooth and delicious espresso
1,000W provides fast brewing time
Easy to use with the operating dial feature
Cons:
Limited frothing capabilities
How to Choose a Coffee Maker For You
We featured here diverse coffee making machines for every type of coffee lover. It is important to know first what kind of coffee you want to have access to on a regular basis, particularly at home where you will be using your coffee machine.
For those who want to get serious about creating different coffee recipes, including macchiatos, lattes, and cappuccinos, we highly recommend going for more high-end machines like Delonghi. However, if you still enjoy getting your more sophisticated coffee from your favourite cafes and just want your good old brewed coffee, then you can go for the more affordable but reliable drip coffee makers.
Top Coffee Machine Brands in the Philippines
DeLonghi
Delonghi is a household name in the world of coffee machines, grinders and accessories. The brand has been around for over 30 years but it still manages to remain at top form with its range spanning budgets from all walks-of life as well tastes so there's something here perfect no matter your preferences.
Breville
Breville is a household name in appliances, and it's not hard to see why. The company understands their audience perfectly – reflecting an intuitive knowledge of what consumers want within the industry they serve worldwide!
FAQs
How do you unclog coffee makers?
It depends on the issue that caused the clog in the first place. If it runs slower than usual, you can try descaling it with water and white vineral.
The issue is that the water is not leaving the tank, then you can check the drain hole and poke the opening to check for clogs.
What does tamping mean and does that matter?
Tamping is the act of tamping down or compacting the coffee on the filter of the coffee machine. If you tam too hard, it may restrict the water flow through the cofee, resulting in a bitter taste. If you also dont tamp it enough, then it would not pick up the flavors properly
How long does it take for a coffee machine to heat up?
Usually, it can take minutes for coffee makers to heat up, depending to the size and capacity.
This post was brought to you by Kimz House.
Disclaimer: The opinion is solely based on our testing or intensive research with customer feedback around the most popular shopping platform such as Shopee and Lazada. The products/services shown here are available and valid upon the publication date. It may change from time to time. Please email us at [email protected] if there is any discrepancy.