Last Updated on
For those living in tropical climates, like the Philippines for example, summers can be brutal especially when you don't have an air conditioner. That is why some people might say that it's a lifesaver to invest in one if you want to not only keep your house cool and comfortable but also work from home without too much trouble as well!
However, then can be a lot of options and choices when it comes to air conditioners, so we listed the best Aircon Philippines that you can buy.
1-Kolin KAG80HRE4 0.75HP Window Type Air Conditioner

Powerful Motor
This quiet, efficient and affordable AC unit is perfect for your home! It contains a high quality motor that lasts longer than other motors which makes the air conditioner work smoother. Not only are its cooling performance and efficiency in energy higher, but this AC unit is also really quiet!
Why buy this
Energy Efficient
Anti-Bacterial Filter
Rapid Cooling
The KAG80HRE4 from Kolin is the quickest way to make your home feel like a cool mountain retreat. With it's high quality motor and rapid cooling features, this air conditioner will have you feeling good in no time! Sleep Mode ensures that this unit won't disrupt your sleep during the night. It's energy-efficient design means the best performance for less money. It even have an anti-bacterial filter so you know it's clean! Choose Kolin and take your home's comfort to new levels with the fastest air conditioning system on the market, plus all of these great features!
2-Kolin KAG60HME4 0.6HP Window Type Air Conditioner
Best for Small Rooms
Don't sweat it this hot summer, keep your cool with our new KAG80HRE4 air conditioning system. Featuring an advanced rapid cooling feature and pre-set temperature ranges to adjust for every kind of room, it's like having your own personal winter wonderland in the comfort of your own home!
Why buy this
Mechanical Control
Cooling Capacity: 6680 Kj/Hr
EER: 11.3
Chill out with the KAG80HRE4. This sleek and slim-framed window air conditioner is perfect for cooling down a room that's not too large. At 0.6HP, this unit has an EER of 11.3, meaning it will not only keep your space cool but also save on electricity while doing so! And because it requires no installation, you can enjoy comfortable temperatures in just minutes without breaking a sweat.
3-Carrier WCARZ006EE1 0.5hp iCool Green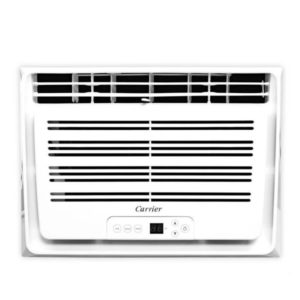 With Clean Air Filter
Keep your house the perfect cool temp year-round with our elegantly designed AC systems! The Carrier iCool Green has a patented Multi Pore Filter which filters out dirt and fine particles, ensuring only clean air blows across your home. Stay comfortable and save money all year-long!
Why buy this
0.5hp Window Type Air Conditioner
Remote Control, Top Discharge
R410a Refrigerant
At 0.5 horsepower, this air conditioner is a great fit for small homes and living spaces. It has the ability to cool an area up to 250 sq ft with its efficient dual-motor system, and features a remote control which makes it easy to adjust without ever having to leave your couch!
4-Kolin KAG150HRE4 1.5hp Window Type Aircon
Energy Efficient
The KAG150HRE4 window type airconditioner is a high efficiency product. The all-round protection filter and electronic control functions help it achieve an high EER, making this unit more energy efficient than the competition. Furthermore, its design is fantastic for people who live in hot areas that need to cool off during the summer season!
Why buy this
1.5HP Window Type Air Conditioner, Remote
Cooling Capacity: 13000 Kj/Hr, EER: 11.2
R410a Refrigerant, High Quality Motor, Rapid Cooling
Kolin KAG150HRE4 1.5hp Window type aircon is designed for cooling comfort and helping you save on your power bills! Easily mounted outside there's no need for an expensive installation indoors, just connect it up to the piping and voila- its done! Besides being energy efficient this window type air conditioner has all the features needed by home owners: sleep mode, timer function, anti-bacterial filters and true white LED lights too making it perfect for any family who wants their home always feeling cool in warm weather
5-Daikin 1.5HP Cooling King Standard Split Type Non-Inverter Aircon FTNE35AXVL9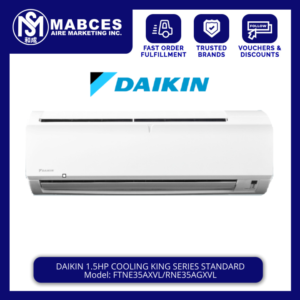 Cools the Whole Room
Relax and enjoy cool, cozy air in every room of your home. Daikin's Cooling King series with the revolutionary Turbo Mode is the most powerful model thanks to a 1.5 HP motor on this high-efficiency outdoor unit that will help you beat the heat any time of day or night!
Why buy this
Peaceful and Quiet – Sound level of 23dBA
Pleasant Dreams – Sleep Mode
Cooling in Every Corner – Auto Swing in Five selectable fan Speed
Living without fan sounds might sound too good to be true, but with Daikin 1.5HP Cooling King you'll never have to experience it. It's cooling system is easy on your budget and spare parts costs, but tough on heat and noise pollution. Sleep Mode guarantees a peaceful night of rest every night – plus enduring all-day operation means cooler temperatures when the late afternoon sun strikes close to home. Don't worry about where that chilly air will go in your room either! Auto Swing in Five selectable fan Speed makes sure cool air reaches every corner without effort or hassle
6-Midea FP-51ARA006HMNV-N5 0.6 HP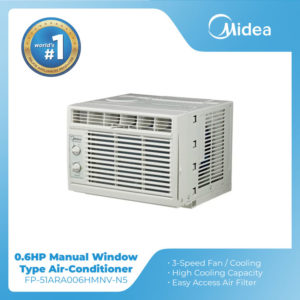 Efficient Cooling
When you're living with friends, family, or roommates and you're looking for a way to keep cool on those warm summer nights in your space without cranking up the AC all day long, get this great Midea Air Conditioner. Imagine being able to get an efficient cooling system that will be perfect for anyone who lives in a home where limiting space is important!
Why buy this
Control: Manual
Speed Cooling: 2
Indoor Side Noise Level dB(A): 52.4
With Midea Air Conditioning, you'll be able to finally cool off with the coolest temperatures. The Speed rpm on this unit is 1450/1310/1210 to give you more versatility during those warmer months. Indoor Side Noise Level dB(A) is 52.4 which means that if you're working or trying to relax, then these specs will not stand in your way! Add some life to your summer days and start cooling it down with this state of the art model!
7-Fujidenzo 1.5 HP Premium Inverter Window Aircon IWAR120G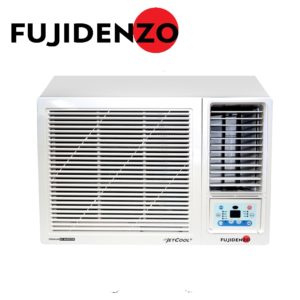 Energy Saving
Fujidenzo is a leader in high-efficiency window air conditioning units. This premium inverter model saves up to 60% energy and reaches the desired room temperature quicker, making it one of the best-energy saving ACs on the market today!
Why buy this
Premium Inverter Technology
Highest EER (11.5)
R32 eco-friendly refrigerant
As the world leader in comfort, Fujidenzo is proud to present this innovative multiport aircon that will cool both your room and urban jungle. Not only does it have the highest EER of any premium inverter aircon on the market (11.5), but what's more important is how do you feel about saving money? This unit has a low load capacity so your monthly kWh usage fee won't go anywhere! And as an added bonus, it saves natural resources by using R32 eco-friendly refrigerant for lower global warming potential than most other products on the market!
8-Xtreme Cool 1.5HP Inverter
Clean Air
With Xtreme Cool, you don't have to settle for that second-hand air anymore! With a patented 1.5HP Inverter and Air Cleaning System, this is the only real way to cut down on emissions and stay cool at the same time.
Why buy this
Auto-restart Function
Refrigerant Leakage Protection
Easy Maintenance
The Xtreme Cool 1.5HP Inverter is an air cooler that provides maximum cooling and energy efficiency. It comes with a high-density filter to trap bacteria, moisture and other debris out of the cooled air, which also improves airflow and boosts performance. The two ways draining system ensures you can empty any excess water without opening up your machine; giving it a longer life span! Another important feature is the auto-restart function – in case anything goes wrong, like a power cut for example – your machine will automatically revive itself as if nothing happened! Don't worry about refrigerant leaks either -the Xtreme Cool has protection against all types of releases.
9-Panasonic CWXS108VPH 1.0HP
With Multiple Modes
Soundly sleep with the CWXS108VPH. This sophisticated unit is able to toggle effortlessly between modes for energy-saving Sleep Mode and powerful Mode. It intelligently regulates its speed based on room temperature, making this A/C an effortless investment for your home's comfort.
Why buy this
Auto Condensate Removal
Wireless Remote Control
Soft Touch Control Panel
The Panasonic CWXS108VPH 1.0HP is a powerful, Eco-friendly air conditioner that is durable and energy efficient with filters and features for comfort. With blue fins condenser coils, the internal cooling system quiet, so you can enjoy your environment without disrupting it. The last thing to worry about is bacterial growth in this efficiently designed unit because it sends bacteria into particles in just 30 minutes by filtering every cubic inch of air passing through the dehumidifier. Soft touch control panel lets you stay cool from head to toe!
10-Koppel 1.5HP Window Type Inverter Aircon KV12WR-ARF31
With Inverter Technology
With the newest advance 3DC Inverter technology, life just got cooler with Koppel's latest window type inverter model. With its renewable R32 refrigerant, and greater power saving features, this AC unit is right for those who are looking for neat and clean solutions in homes with newer constructions or air-tight designs.
Why buy this
Electronic Timer & Wireless Remote Control
Eco-Saving, R32 Refrigerant
With Silver Ion Filter, Gold Fins Condenser
Good for small spaces or rooms, the Koppel 1.5HP Window Type Inverter Aircon is an excellent choice for any office space! With its modern design and high performance, this window type inverter aircon is perfect for those who are looking to save a little extra money by not relying on electricity from outside sources as it uses energy generated from R-32 refrigerant gas to cool your room up faster.
Choosing the Right Aircon For You
Size – The size of the air conditioner should depend on how much space you want to cool. You need a unit that's large enough to cover an area, but not too big for it. This is because if your AC isn't powerful enough and doesn't take up all the room, then some areas will be colder than others.
Energy Saving – The decision to buy an air conditioning unit can be made easier by examining two values – the cost of the unit and the monthly electric bill. Higher EER means lower power consumption, with every point in EER saving you 10% on your electricity costs.
Price – When it comes to buying air conditioners, most people are looking for a good value. That means getting the best bang for your buck! Whether you buy an expensive or cheap machine doesn't really matter if they both have high maintenance and usage costs in order maintain their quality of operation. There are two important factors that determine whether a brand is worth purchasing from: (1) If its product offers good value at purchase time; and (2) If their products offer long-term cost efficiency such as low energy consumption with little effort on behalf of the consumer when using them frequently over many years
Top Recommended Aircon in the Philippines
1-Kolin KAG80HRE4 0.75HP Window Type Air Conditioner
2-Kolin KAG60HME4 0.6HP Window Type Air Conditioner
3-Carrier WCARZ006EE1 0.5hp iCool Green
FAQs
How often should I clean my Aircon?
In order to keep your air conditioner in good working order, it is important that you clean the outside of the unit at least once a year. Regular preventative maintenance can help improve efficiency and save money on monthly energy bills too!
Can an aircon run 24/7?
You can keep your window air conditioner running 24/7 without fear of overheating. The inside parts will never get hot enough to melt, even if you leave it on all day long! It won't affect the performance either; no matter how often you forget and turn off your AC unit for a few hours in between use. However, your energy consumption may suffer and can hurt the environment, so it is still advisable to only turn it on when needed
This post was brought to you by Kimz House.
Disclaimer: The opinion is solely based on our testing or intensive research with customer feedback around the most popular shopping platform such as Shopee and Lazada. The products/services shown here are available and valid upon the publication date. It may change from time to time. Please email us at [email protected] if there is any discrepancy.