Last Updated on
Currently, there is a wave of people opting to purchase an air fryer, but what exactly does this do? Air fryer works like your conventional countertop oven as it roasts and bakes, the mere difference is the way the heat gets distributed results to a crispy product ultimately replacing a deep fryer, giving you deep fried goods without the huge amount of oil.
As air fryers are still emerging in the Philippines, it won't be easy to choose the best one that can accommodate your needs. Below, we have our top 12 best air fryer Philippines.
Table of Contents
Why Should You Use An Air Fryer?
Our Top Recommended Best Air Fryers in The Philippines:
FAQs
Quick Comparison Table
(scroll right for more)
1. Kyowa KW-3815 7L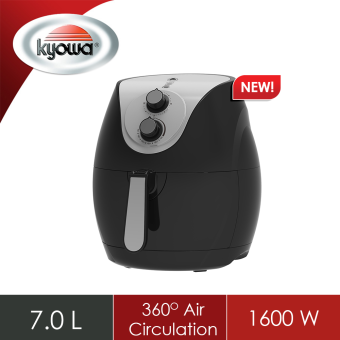 Space Saving
Get your deep-fried faves without the guilt of the oil as with this air fryer; there is little to oil that is required for cooking because of the non stick coating on the tray with a residue collector to avoid the mess.
Why buy this
7L food basket that can cater a whole chicken.
1600 watts with up to 200° temperature rotation for any type of recipes
Auto- shut off safety feature
Not only does this provide a healthier way of cooking, it is also quicker and very space-saving and creates less mess than any other cooking method making it one of the best air fryers.
2. Kaisa villa USA heavy-duty 5.5 litres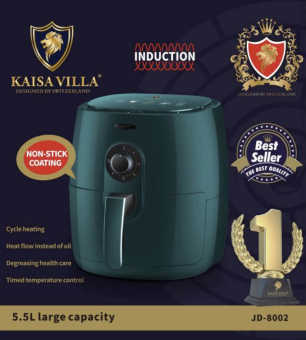 Multipurpose
With a 5.5L capacity, get cooking for any event right in your countertop with just a single appliance, roast, bake grill you name it. The tray is also coated with silicone making it non-stick; therefore, there is no need for any additional fat.
Why buy this
A cold to touch housing and handle to avoid any burns when cooking.
Dishwasher safe, therefore, is very easy to clean up.
A 30 minutes timer to automatic shut off
Start a healthier living for your family by reducing unnecessary additional oil intake. A simple addition of the best air-fryer in your kitchen appliances can make such a big difference. This is also one of the cheapest air fryer price in Philippines.
3. Caribbean CAF-3200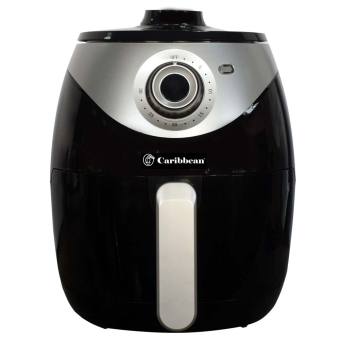 Quick Cooking
The tray of this air fryer is non-stick, so you'll be able to satisfy your deep fried cravings without the guilt of all the excess oil involved. With a 4L capacity, this air fryer is made for simple households, making it one of the best air fryers you can buy.
Why buy this
Temperature ranges from 90° to 200° perfect for any recipe
Steam automatically vaporizes that creates the same effect as a deep fryer
Washable drawer type tray
This Caribbean Air Fryer is the perfect appliance for fry-heavy recipes. The dishwasher safe tray and drawer ensures that your air fryer stays spotless, even when you want to go a little crazy with the oil. The temperature ranges from 90° to 200°, and the thirty-minute maximum timer ensures everything is cooked to perfection.
4. Kyowa KW-3810 3.0L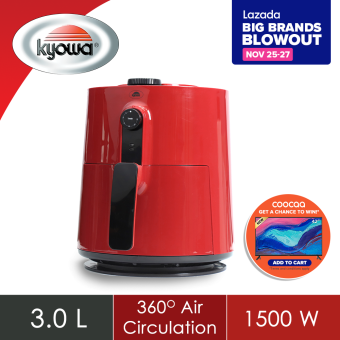 Best for Small Quantity
Get your deep-fried faves without the guilt of the oil as with oneof the best air fryer brand Philippines; there is little to oil that is required for cooking because of the non-stick coating on the tray with a residue collector to avoid the mess.
Why buy this
3L food basket perfect for a smaller quantity of cooking
1600 watts with up to 200° temperature rotation for any type of recipes
Auto- shut off safety feature
This 3L food basket is perfect for a smaller quantity of cooking. You can do a stir fry or a soup. With up to 200° temperature rotation, you can cook any type of recipe. The Auto-shut off safety feature ensures that when it's done cooking, it turns off automatically.
5. Xiaomi Nathome Special fryer machine
Accurate Temperature Knob
With an accurate temperature knob and timer that is designed so that you can cook food quicker, it is easier to and faster to get the food you are craving for, plus it is healthier because the entire process is oil free.
Why buy this
Double knob control with intelligent temperature and time control, making the cooking process more convenient.
1000W of power and 360° hot air rotation to ensure the perfect cook
4L capacity
The model offers a double knob control with intelligent temperature and time control, making the cooking process more convenient. It features a 4L capacity, which is enough for big families or for those who often have guests over.
6. Boston Home Heavy Duty Advance Electric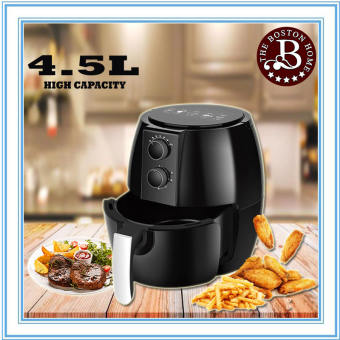 Hand Held Design
Cook anything from simple french fries to fried chicken with a single appliance. With this Boston Home air fryer, it is very possible. Making your life so much easier with the 360° rotation of hot air.
Why buy this
With options for 2L, 4.5L or 5L to choose the perfect size for your needs.
Temperature and timer control for efficient cooking
Hand-held design so that it is very portable and also not portable
Air fryers are a sleek and modern way to get your favorite fried foods without the added grease. With 2L, 4.5L or 5L of space, you can decide which size is best for your needs. The hand-held design makes it easy to carry the fryer wherever you go.
7. Fryers Electric Fryers – Air circulation 360
Large Capacity
With a 5.5L capacity, it is enough to accommodate a huge amount of food for big events and for a huge amount of people. There is also a 360° rotation for the heat to distribute the heat evenly resulting in the perfect cook.
Why buy this
Air duct in the bottom turbine
A hidden heating pipe creating an equal heat distribution
9-blade fan high-speed cycling degreasing.
Get the best from the two styles to choose from, whether that'd be a mechanical style with dual knob control or a touchscreen style.
8. Philips HD9238
Patented Rapid Air
For a crispy on the outside, tender on the inside fried food, this Philip air fryer Philippines is for you. It needs little or no oil and can have up to 80% less fat. It also has a unique design that circulates the air and optimal heating profile, giving you the ability to fry whatever food you'd like.
Why buy this
Patented Rapid Air
Recipe book & App
Up to 60 minutes
Automatic shut-off
Air frying is the best way to crisp up food while using a fraction of the oil. The Philips HD9238 Air fryer features a patented Rapid Air Technology, which circulates hot air around food, cooking evenly and quickly. It also has an exclusive pan coating that is non-stick and non-toxic, making it really easy to clean and dishwasher safe.
9. Tefal Fry Delight – Meca White (FX1000)
Compact Design
Do you love preparing meals? Well, this is the right air fryer for your needs. You can use it to prepare your favourite fried meals or desserts effortlessly.
Why buy this
Sleek and compact design
Adjustable timer and temperature
Controlled cooking
Dishwasher safe
The Tefal Fry Delight Air Fryer is a multi-function, compact air fryer that prepares delicious fried food, and healthy dishes in less time. The fryer cooks up to four people's worth of your favourite fried foods in just minutes. With 3 innovative cooking modes for frying, baking and grilling, you can make restaurant-quality dishes at home with no oil and less fat.
10. Philips HD9220
Less Smell
The air fryer's adjustable temperature would let the users pre-set the cooking temperature for your foods up to 200 degrees. The rapid air technology creates less smell, which makes it easier and safer to use and is much easier to clean. It also has a cooking capacity of 0.8 kilograms, perfect for your meals.
Why buy this
Ready signal
Temperature control
Time control
Recipe book & App
A breakthrough in the best air fryer technology, the Philips HD9220 Air Fryer combines rapid air technology and a digital control panel to deliver the ultimate in healthy cooking. With a cooking capacity of 0.8 kilograms, the HD9220 Air Fryer can effortlessly fry, roast and grill your favourite foods with minimal amounts of oil. Fry anything from french fries to fried chicken, all without any oil or butter
11. Morrison AF30 3.8L Large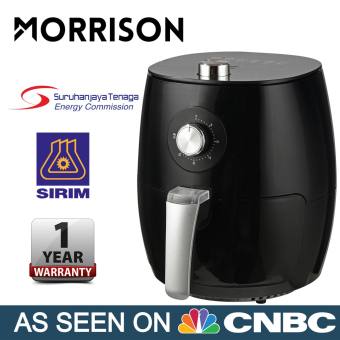 Cool Housing Features
If you want to prepare healthy meals at home, you can use this air fryer for the best results. You can prepare any meal and serve up to 3 people with this air fryer manufactured by Morrison.
Why buy this
Rapid air technology
Timer and temperature control
Heats up to 390 degrees
Multicooker
It has a cool housing feature that prevents burns, so it's safe to use in your kitchen. It also produces fewer smells when preparing food.
12. Birkeshire XL (Large 4.2L Pan) AF 420 M
\
Odorless Cooking
It is an efficient air fryer and has all the necessary safety features for easy use. One of the amazing features of this air fryer is odourless cooking. That way, you can remove all the food smells in your home by using this air fryer.
Why buy this
Adjustable temperature up to 200 degrees Celsius
Cool touch body/housing
Removes up to 50% of fat from the regular recipes
Malaysia SIRIM plug ready
It is very versatile, and you can choose the grill, roast and bake settings.
Why Should You Use An Air Fryer?
Most people lead busy lives and it is very easy to eat fast food because it is conveniently available. However, most of these foods are unhealthy because they contain bad cholesterol, fat and a lot of calories because of the method of preparation that involves a lot of oil.
Air fryers offer a convenient alternative to prepare food without any health risks. They use electric heat and fans to fry the food. You can enjoy the crispy outside and the juicy insides of your favourite food without any worries.Best air fryers are capable of frying, baking, roasting and a lot more. There are so many possibilities for recipes to create.
For Example:
Baked Potatoes
Fried Chicken
Chocolate Chip Cookies
Calzones
Donuts
Try out any of the air frying mentioned above and enjoy the most amazing healthy meals and snacks right from your own kitchen!
Our Top Recommended Products in The Philippines:
FAQs
What is an air fryer?
Airfryers are countertop kitchen appliance that uses very little hot oil, which is just about a tablespoon, to perfectly fry food. Air fryers are more of a convection oven than a fryer, as it circulates hot air to cook the food.
How do I clean an airfryer?
Most removable parts of an airfryer are dishwasher-safe, but always make sure to consult your manual to be safe. Also make sure that the air fryer is completely cool before cleaning it with mild detergent. After cleaning, you can briefly run it to dry out.
Is airfryer healthier than deep frying?
When air frying, you use minimal oil to cook, making it your food healthier than deep frying. Food cooked in an air fryers also tastes a lot leaner compared to deep fried.
How much can an air fryer hold?
Depending on the food being prepared, the best air fryers can hold 2 - 4 servings. If you are planning on preparing multiple batches, make sure that the second batch is checked earlier because the air fryer will already be hot.
This post was brought to you by Kimz House.
Disclaimer: The opinion is solely based on our testing or intensive research with customer feedback around the most popular shopping platform such as Shopee and Lazada. The products/services shown here are available and valid upon the publication date. It may change from time to time. Please email us at [email protected] if there is any discrepancy.