Last Updated on
As temperatures continue to soar around the world, air coolers have become a necessity in many households. Whether you're looking for an economical way of cooling your home or want to save on energy bills with eco-friendly options, air coolers serve as cost-effective and reliable solutions compared to traditional air conditioners. But with so many brands available in the market today, it can be quite overwhelming trying to find the right one that best suits your needs. To make things easier for shoppers who are looking to purchase an air cooler this year, we will review some of the Best Air Cooler Philippines – 2023 offering efficiency and convenience at great prices. Read on as we give insights into these top models plus which factors you should consider before making a purchase decision. So let's get started!
Table of Contents
Best Air Cooler Comparison Table
Top Air Cooler Brands in the Philippines
What are the Benefits of Air Coolers?
Conclusion
FAQs
Air Cooler Comparison Table
(scroll right for more)
Here are the 7 best air cooler Philippines that we deem ideal for our tropical weather:
1. Iwata Aircool Z16 Aircooler
Best for Longer Cooling Time
The Iwata Aircool Z16 Portable Air cooler is a great product for effectively cooling any room. With 65 watts of cooling power, it can easily cool an area up to 10-12 sqm and its 8-litre water tank capacity ensures that it has enough supply for the entire duration. It also comes with three different fan speeds so you can adjust the air cooler to your exact needs and comfort level. Conveniently, there is also a sturdy manual control knob so you can make quick adjustments while keeping total control over your environment. And last but not least, this air cooler features a topwater/ice pack chamber which enables you to get quick cooling even on hot summer days when supplied with four ice packs included in the box.
All these features make the Iwata Aircool Z16 Aircooler a reliable product for both home and office use as it helps keep temperatures balanced throughout the day regardless of extreme warmth conditions outside or inside your building – something really important during work hours when concentration levels should be kept high at all times! Thanks to its adjustable speed settings and top chamber, users are able to easily customize their room temperatures according to their individual preferences without having to worry about maintenance issues too much either since this device is quite easy to clean after usage."
So if you're looking for an efficient yet simple solution for regulating temperatures within any room size – whether indoors or outdoors – then we highly recommend checking out what IWATA AirCool Z16 Aircoolers have in store just for you! Its powerful capabilities combined with user-friendly design will undoubtedly provide perfect temperature levels under all circumstances; all while keeping things cool at all times even on those scorching hot days!
Pros:
65 watts
Covers 10-12 square meters
Ice pack chamber for faster cooling
Cons:
2. Iwata Aircool Z18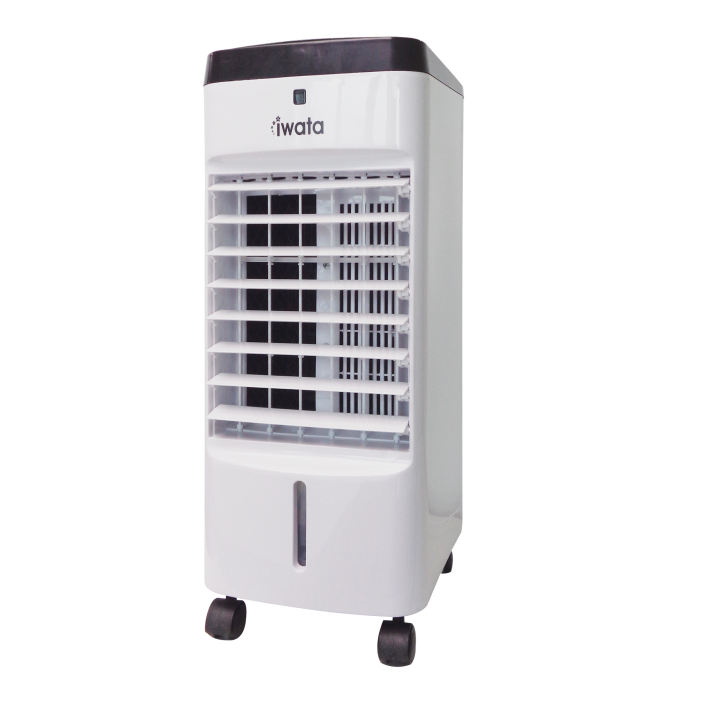 Environment Friendly
The Iwata Aircool Z18 is an ideal choice for those who are looking to maintain a comfortable room temperature with minimal hassle. Its powerful 60 watts cooling power offers fast and effective cooling in any room size, while its 4-litre water tank capacity ensures that your air cooler runs uninterrupted for hours at a time. Plus, the three-speed settings allow you to customize the airflow according to your preferences.
Additionally, this portable air cooler comes with an intuitive remote control (no battery required) which makes it incredibly easy to operate the fan from across the room without having to get up! Moreover, its softly-lit LED display coupled with a soft-touch control panel makes sure you can easily select your desired settings in just a few clicks.
All in all, if you're searching for an energy-efficient and user-friendly air cooler that will keep your home cool even on hot summer days – look no further than Iwata's Aircool Z18! With its impressive features, reliable performance and competitive price tag – this device is definitely worth considering if you want comfortable temperatures during extreme weather conditions.
Pros:
3 fan speed
With remote control
Soft touch control panel w/ LED
Cons:
Airflow can be a bit noisy
3. Iwata Jet S10
Fast Cooling
The Iwata Jet S10 is a powerful and efficient cooling solution for small to medium-sized rooms. Its 80 Watts of power makes it the perfect choice for larger spaces, while the 15-20 sqm coverage area provides plenty of space to cool down in bigger areas. With 3,000 cubic meters/hour airflow capacity, you can ensure that your room gets cooled quickly and evenly. The noise level is only 55 dB max, ensuring quiet operation during use. The 18-liter water tank capacity comes with a top water/ice chamber so you don't need to wait long for quick cooling or replenishment.
On top of offering powerful cooling solutions with its features, the Iwata Jet S10 also offers convenience as it's easy to install and operate due to its user-friendly design. With its wide range of settings, you can easily adjust the temperature according to your needs at any time without having to worry about overworking the device or making too much noise during operation hours – guaranteed satisfaction!
All in all, if you're looking for an economical yet reliable cooling solution that won't break the bank and require tons of maintenance then look no further than Iwata Jet S10! Its combination of power and convenience makes this air cooler one worth considering – why not give it a try today?
Pros:
18-liter water tank capacity
3 sides cooling pad
With top water/ice chamber for fast cooling and water replenishment
Cons:
4. Hanabishi Air HAC – 2100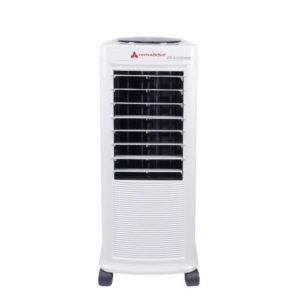 Best for Office Use
The Hanabishi Air HAC – 2100 is an incredibly user-friendly product that will make your home's cooling system much more convenient. With a 7-litre water tank capacity, the Hanabishi has you covered for long periods of use without needing to worry about refilling it. Not only do you have complete control over the wind speed and swing mode with its fashion touch electronic control and remote control system but also enjoy other features like an ionizer, low water alarm, LED lighting, a 12-hour timer and a digital tube that displays ambient temperatures as well.
With this air cooler in your home, you can rest assured that every corner of your house is cooled off quickly and efficiently due to its separate vertical horizontal blades which provide an even distribution of cool air across all directions. Furthermore, because it uses evaporative cooling technology instead of traditional ACs or refrigerants-based systems there are no worries about excessive energy consumption either –saving money on electricity bills in the long run too!
All these great benefits make the Hanabishi Air HAC -2100 an absolute must-have for any household looking for a simple yet effective way to keep their space cool during hot days! So don't miss out on this fantastic opportunity and get one today at an amazing price –you won't regret it!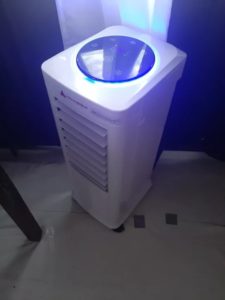 Pros:
Automatically swing the separate vertical horizontal blades
7-liter water tank capacity
12-hour timer
Cons:
A bit on the expensive side
5. Dowell Air Cooler ARC-10P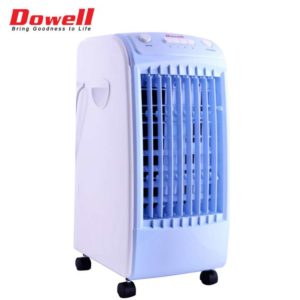 Easy to Move
The Dowell Air Cooler ARC-10P is the perfect solution to beat the summer heat! With a 3-litre water tank, it circulates cold air efficiently, delivering cooling relief in no time. Its direct blow drive ensures an even distribution of air throughout the room, making sure everyone stays comfortable. Plus, its honeycomb filter captures dust and other particles for cleaner air. It also comes with adjustable speed functions along with a swing function for enhanced circulation and coverage.
Best of all, this cooler doesn't require any complicated maintenance procedures – just fill up the tank and you're good to go! Even if you need to clean out the tank or check on its levels, this cooler has got you covered – it comes with a water level indicator as well as a drain plug at the bottom for easy draining and cleaning. You can also transport it easily using its four set of wheels and side handles.
If you want to stay cool during summer without compromising your comfort or undergoing complex maintenance procedures then look no further than Dowell Air CoolerARC-10P! Get yours today for optimal cooling performance in a breeze!
Pros:
Uses honeycomb filter in humidifying
Water level indicator
With side handle
Cons:
They may not be able to cool large spaces
6. Hanabishi Air Cooler HAC-400
Best for Living Room
The Hanabishi Air Cooler HAC-400 is a great choice for people who need to cool their home or office quickly and efficiently. This air cooler features a 7.5-litre tank capacity, making it perfect for spaces of all sizes. It also has a honeycomb filter that provides clean air when cooling your space, and the ionizer helps reduce dust and bacteria in the atmosphere.
The remote control operation makes it very easy to use, so you can just sit back and relax while controlling the temperature from any room in your house or workplace! Plus, the 24-hour timer with 3 modes means you can set it up according to your schedule for added convenience.
All in all, this air cooler from Hanabishi is an excellent choice if you're looking for a reliable way to keep your environment cool and fresh without too much effort on your part! If you're interested in trying this product, don't hesitate to take advantage of its many convenient features today!
Pros:
Provides effective cooling with a 7.5-litre water tank capacity
Keeps the air clean with a honeycomb filter
Convenient with remote controller and 24-hour timer
Cons:
It needs to be refilled frequently
7. Dowell ARC-80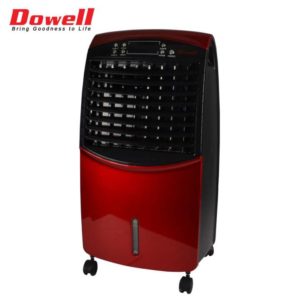 Large Capacity
The Dowell ARC-80 is an excellent choice when it comes to humidifiers. It has a 9-litre water capacity, making it perfect for larger rooms. Additionally, the honeycomb filter adds an extra layer of filtration that helps keep your room clean and free of dust and allergens. That's why I highly recommend this product!
Another great feature is the 3-speed function which allows you to customize the humidity level in your home or office easily, according to your preferences. Moreover, there's a LED Display & Remote control so you can manage all settings without having to get off your couch!
Finally, the Detachable water tank, Negative ion generator and Water level indicator make this product incredibly user-friendly while also helping you save time cleaning up after use. Not only that but with its Up to 7 hours off-timer setting – this device makes for a truly efficient way of maintaining optimal humidity levels throughout the day or night – no matter where you are! If you're looking for a reliable humidifier with all these great features then look no further than Dowell ARC-80!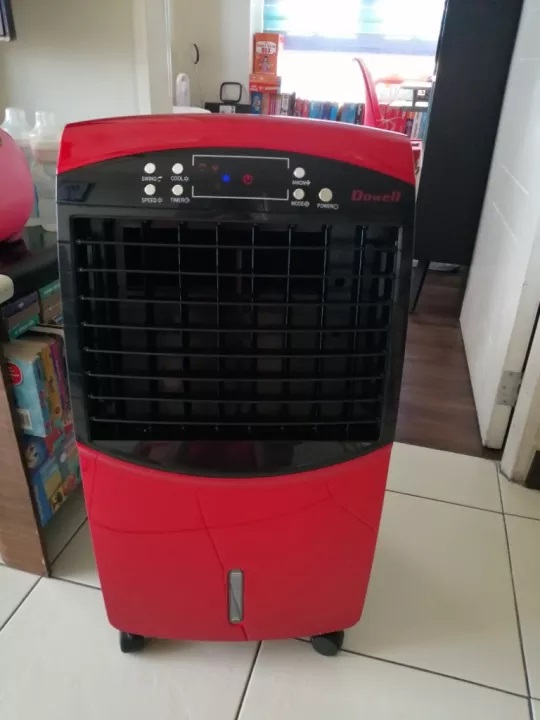 Pros:
Detachable water tank
Negative ion generator
Water level indicator
Cons:
Advantages of Using an Air Cooler
Using a personal air cooler to combat summer heat waves has several benefits, such as being cost-efficient, eco-friendly, and highly portable. Keep reading for more information about the best air coolers in the Philippines 2023 Review that you can buy this summer!
Cost-efficient
Air coolers are considered to be a cost-efficient cooling solution. Unlike air conditioners that require heavy upfront costs, air coolers are relatively affordable and more energy efficient. Air cooler prices range from as low as $50 for mini desk coolers to several hundred dollars for larger models. They also generally consume much less electricity than an equivalent AC unit, making them ideal for those on a budget who need quick relief from the heat.
Eco-friendly
Using an air cooler is a great way to stay cool while also being eco-friendly. Air coolers are designed with energy-efficient components and systems so it consumes much less electricity than other cooling methods. This means that you can enjoy the same level of comfort without contributing to global warming, pollution or putting strain on your electricity bills. Furthermore, since air coolers only need water for operation, they don't release any harmful substances into the environment as there are no working parts like in ACs which require chemicals for their functioning. They also do not generate noise and operate at low speeds so you won't have to worry about disturbing noises when trying to relax in your home.
Portable
Portable air coolers are one of the most convenient and easy-to-access cooling solutions available in the market today. They come with wheels or a carrying handle, making them easy to transport from room to room, which is ideal for those who want versatile cooling that can move rapidly with their needs. Portable air coolers also tend to be lightweight and require minimal setup, so they are perfect for small spaces and short-term cooling purposes like workshops or guest bedrooms. Furthermore, most portable air coolers utilize evaporative technology which eliminates the need for messier water refills – something extra helpful when you're on the go!
Top Air Cooler Brands in the Philippines
Iwata
Iwata's Line of Air Coolers is the perfect solution for any room in your house. With three different speeds, you can find one that suits all needs! It also comes with automatic oscillation control and weighs lightly so it won't be too heavy on an arm during use either.
Dowell
Dowell is a household appliance brand that aims to bring convenience and care using well-designed products for the Filipino way of living. They have brought their mission statement of "elevating" homes through high quality, value pricing options into reality with an array or attractive designs not only in appearance but also function as well!
Hanabishi
Hanabishi appliances are a great choice for those who want durability and affordability. They last longer than most other brands, while still being able to provide easy living at lower costs!
Conclusion
So, if you're finding that this summer is a little too hot for your comfort and an air conditioner isn't an option, don't worry – an air cooler may be a great alternative for you. In fact, depending on your specific needs and budget, air coolers can sometimes even be better than air conditioners. Have you chosen the right one for your home?
FAQs
How long can use an air cooler?
Your personal air cooler can last for roughly 4-6 hours before it needs to be refilled, but you should consider replacing your pad cartridge between 2-6 months depending on usage and humidity conditions.
Should windows be closed when using an air cooler?
Air coolers are actually less effective if they're placed in closed spaces because the air blowing through them needs to be fairly open, not blocked. If there's anything blocking that breeze then it won't have as much of an effect on evaporation cooling your hot room down.
This post was brought to you by Kimz House.
Disclaimer: The opinion is solely based on our testing or intensive research with customer feedback around the most popular shopping platform such as Shopee and Lazada. The products/services shown here are available and valid upon the publication date. It may change from time to time. Please email us at [email protected] if there is any discrepancy.