Last Updated on
If your current living set-up is limiting you to install an air conditioner, buying an air cooler is your next best option to stay comfortable in the hotter days in the country. In fact, air coolers can sometimes be better than air conditioners because of their portability and affordability.
Here are the 7 best air cooler Philippines that we deem ideal for our tropical weather:
1. Iwata Aircool Z16 Aircooler
Best for Longer Cooling Time
Iwata is one of the brands that we can easily trust when it comes to cooling appliances. This manual-controlled air control is all about durability and energy efficiency.
Why buy this
65 watts
Covers 10-12 square meters
Ice pack chamber for faster cooling
The Iwata Aircool Z16 Air Cooler is a cooling system that was made to provide greater coverage for any average-sized room. It delivers the power of 65 watts and has an ice pack chamber option to help you cool down your space about three times as fast as before. From now on you'll never have to struggle with carrying around those old, heavy schoolbags again.
2. Iwata Aircool Z18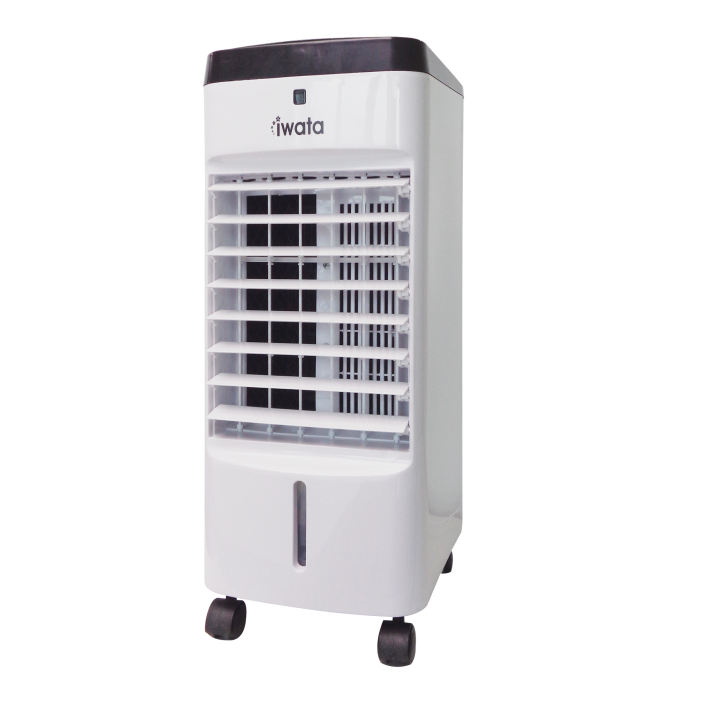 Environment Friendly
An energy-efficient cooler perfect for giving you a personal cooling zone, wherever you are in the house. It's one of the few coolers with low energy consumption, so there's no guilt about using it all day.
Why buy this
60 watts
4 liters water tank capacity
3 fan speed
With remote control
Soft touch control panel w/ LED
The Iwata Aircool Z18 Air Cooler was created to combat the growing need for cooling our planet. Saving you time and money on electricity costs, the air cooler is designed to be used both indoors during summer months or out in environments where there are insects or other pests. The product features a soft touch control panel which allows people to easily modify their settings as well as LED technology so that users can see what they're doing more clearly, even at night!
3. Iwata Jet S10
Fast Cooling
One of the larger units from Iwata, this air cooler can cool the whole room in no time.
Why buy this
18-liter water tank capacity
3 sides cooling pad
With top water/ice chamber for fast cooling and water replenishment
The Jet S10 is a durable and high capacity 18-liter water tank cooling system with 3 sides of cooling pads and an ice chamber. It's powerful enough for areas up to 650 square feet, and with it you can beat the heat and stay comfortable in any living space or office building.
4. Iwata Turbo Air X100M Aircooler
Best for Office Use
The compact design of this air cooler makes sure that you can easily place it in your office without taking up much space
Why buy this
3 Fan speed
3 sides cooling pad
Automatic swing function
35 liters water tank capacity
The Turbo Air X100M has an innovative 3-sided cooling pad that circulates constant cooler air along your body. The internal fan can be adjusted to a smooth range of speeds, depending on what you need at the moment. As if the comfort and convenience weren't enough, it also brings moisture to your skin without having to move outside or sweat in a hot room.
5. TYLEX XM33 Portable Mini Air Cooling
Portable for Tabletop
One of the latest trends we've seen lately is people bringing their own humidifiers to work. But, what's even better is having an air cooler and humidifier in one like Tylex.
Why buy this
300 ml water tank capacity
2000mAH
Comes with ice cooler
The Tylex XM33 Air Cooler cools the air without any need for a big and heavy unit. 300ml water tank capacity, 2000mAH battery and ice cooler make this little portable cooler the perfect companion to take with you. 12 hours of continuous operation at room temperature, 2400 degrees Fahrenheit equipment housing temperature enables maximum cooling up to 40F below ambient temperature. Ideal for work desk or bedside tables that have no plug situation!
6. AFT A-901
Best for Living Room
This one is highly recommended for home or family use though. This will suit well in your living room or kitchen to keep the rest of the family comfortably cool.
Why buy this
Air outlet size:10x28cm*
High/medium/low three sections of the wind choice
Application area:10-12m²
The AFT A-901 is an indoor air purifier that fits in the palm of your hand. This portable, easy to carry device can get rid of dust and other detrimental substances from the air around you quickly. It has three settings depending on what type of air quality you are looking for. Made with a 10x28cm filter, it lasts up to 12 square meters or larger rooms. The filter detaches easily so you can change it without too much trouble while keeping fresh, clean air inside your home!
7. TYLEX XM32 Portable Lemon Air Cooling
Compact for Work Desk
This cute air cooler is your new office, best friend. It cools and humidifies you at the same time. It's small enough to take anywhere, and we particularly love to bring it during dining al fresco on a summer day.
Why buy this
200 ml water tank capacity
2000mAH
Comes with ice cooler
The TYLEX Portable Air Cooler is your ideal item to use on those hot summer days, as it only needs the power from a battery bank. It has an ice cooler and can run up to 18 hours continuously. To operate this product, simply fill the water tank with clean water and leave in the freezer for at least 12 hours before first usage.
What are the Benefits of Air Coolers?
Air coolers are no doubt one of the easiest ways to cool down an area, and they are especially useful for countries like the Philippines that can have extended hot days. Even commercial spaces use air coolers to complement their air conditioners.
Most coolers are portable and easy to install. There is no need to create permanent in your existing house or apartment to install this.
Although it cools a limited area, compared to air conditioners, its portability will make it easier to keep you cool, wherever you are in the house.
FAQs
How long can use an air cooler?
Your personal air cooler can last for roughly 4-6 hours before it needs to be refilled, but you should consider replacing your pad cartridge between 2-6 months depending on usage and humidity conditions.
Should windows be closed when using an air cooler?
Air coolers are actually less effective if they're placed in closed spaces because the air blowing through them needs to be fairly open, not blocked. If there's anything blocking that breeze then it won't have as much of an effect on evaporation cooling your hot room down.
This post was brought to you by Kimz House.
Disclaimer: The opinion is solely based on our testing or intensive research with customer feedback around the most popular shopping platform such as Shopee and Lazada. The products/services shown here are available and valid upon the publication date. It may change from time to time. Please email us at [email protected] if there is any discrepancy.