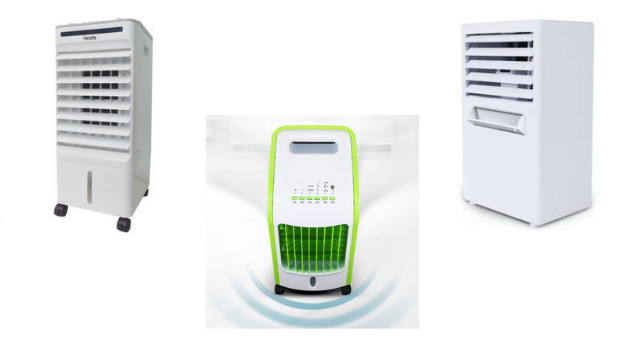 If your current living set-up is limiting you to install an air conditioner, buying an air cooler is your next best option to stay comfortable in the hotter days in the country. In fact, air coolers can sometimes be better than air conditioners because of their portability and affordability.
Here are the 6 best air coolers that we deem ideal for our tropical weather:
1. Iwata Aircool Z16 Air Cooler
Iwata is one of the brands that we can easily trust when it comes to cooling appliances. This manual-controlled air control is all about durability and energy efficiency.
65 watts
Covers 10-12 square meters
Ice pack chamber for faster cooling
It comes with a large 8-litre tank capacity for longer cooling time. If you want your room to cool faster, you may also opt to use ice packs.
2. Portable Air Conditioner Versatile Air Cooler Air Conditioning Fan Support Fast Cooling System
An affordable and energy-efficient air cooler perfect for giving you a personal cooling zone, wherever you are in the house. It's one of the few air coolers with low energy consumption, so there's no guilt about using it all day.
Strong fan, but quiet operation
Can be used as plain fan or humidifier
4-wheeled for easier mobility
It can cool your area within a few minutes. You no need to worry about air quality, too, because it comes with layers of filters to keep the blown air clean and safe.
3. Tower fan Mobile evaporation fan Mobile Air Conditioning
Another emerging trend in the Philippines now is portable air conditioners. They basically look like your typical air cooler, except the cooling mechanism mimics that of an aircon.
Multi-functional (fan, cooler, humidifier)
4L water tank
Rapid cold wind
The innovation in this product addresses all our concerns about different cooling appliances. You get to avoid the dry air from too much air conditioning and or the inconvenience of things flying off from your fan. It comfortably cools while filtering the air.
4. Best Sales Personal Use Air Conditioner Air Cooler Home Office Desk Cooler Bladeless Fan
Is your office getting too humid, especially when people start to gather? You can easily set up your own personal air cooler with this product.
Water shortage protection
420 ML tank capacity
Can also work as a humidifier
It consumes minimal space, so you are sure to have no problem securing clearance from your office to have this near your desk. Apart from keeping you cool, it also helps add moisture to your skin despite being in an air-conditioned room.
5. TYLEX XM33 Portable Mini Multi-Function Water Air Cooling
One of the latest trends we've seen lately is people bringing their own humidifiers to work. But, what's even better is having an air cooler and humidifier in one like Tylex.
300 ml water tank capacity
2000mAH
Comes with ice cooler
You can use your power bank as a power source of this air cooler, making this ideal for your work desks or bedside tables.
6. AFT A-901 Aircon Fan Air Conditioning Fan Evaporative Air Cooler
This one is highly recommended for home or family use though. This will suit well in your living room or kitchen to keep the rest of the family comfortably cool.
Air outlet size:10x28cm*
High/medium/low three sections of the wind choice
Application area:10-12m²
This is also portable enough to transfer anywhere inside the house, without consuming too much space. The filter can be easily removed to ensure you are still getting fresh, clean air.
7. TYLEX XM32 Portable Lemon Air Cooling Mini Fan 200mL Tank Capacity
This cute air cooler is your new office, best friend. It cools and humidifies you at the same time. It's small enough to take anywhere, and we particularly love to bring it during dining al fresco on a summer day.
200 ml water tank capacity
2000mAH
Comes with ice cooler
You can use your power bank as a power source of this air cooler, making this ideal for your work desks or bedside tables.
What are the Benefits of Air Coolers?
Air coolers are no doubt one of the easiest ways to cool down an area, and they are especially useful for countries like the Philippines that can have extended hot days. Even commercial spaces use air coolers to complement their air conditioners.
Most air coolers are portable and easy to install. There is no need to create permanent in your existing house or apartment to install this. Although it cools a limited area, compared to air conditioners, its portability will make it easier to keep you cool, wherever you are in the house.
Our top-rated air coolers in the Philippines
This post was brought to you by Kimz House.
Disclaimer: The opinion is solely based on our testing or intensive research with customer feedback around the most popular shopping platform such as Shopee and Lazada. The products/services shown here are available and valid upon the publication date. It may change from time to time. Please email us at hello@kimzhouse.com if there is any discrepancy.