Last Updated on
Looking for a new oven? Whether you're in the market for your first oven or are just looking to upgrade, we've got you covered! In this post, we'll take a look at 8 of the best ovens on the market right now. We'll cover everything from budget-friendly models to high-end options, so you can find the perfect one for your needs. Ready to get started? Let's get started!
Quick Comparison Table
(scroll right for more)

Best Ovens in Singapore
Panasonic NN-CD565BYPQ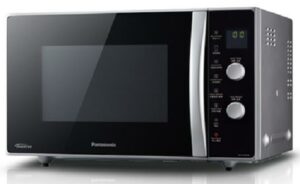 Space saver
Panasonic NN-CD565BYPQ Microwave Oven is perfect for small kitchens! This compact oven has a 20% smaller footprint than conventional models, but still packs all the features and power you need. With a fan-on-top design, this oven disperses heat more efficiently for delicious, consistent results. Plus, the increased cooking space and 25 preset auto menus make it easy to cook your favorite foods.
Pros:
Innovative design makes it both space and energy efficient
25 Auto Menu for more easy-bake recipes
Durable with great warranty coverage
Cons:
Due to its features, this oven is relatively expensive.
2. Mayer Digital Air Oven MMAO1450
Multiple cooking methods
This Mayer 14.5L Digital Air Oven is the perfect choice for the modern home cook. With 16 preset functions, you can easily prepare your favorite dishes with the touch of a button. The top and bottom stainless steel heating elements ensure even cooking, while the double glass door keeps heat in and lets you check on your food without opening the oven door.
Further, the sensor touch control panel makes it easy to adjust the temperature and timer, and the automatic cut-off switch and overheating protection make this oven safe to use.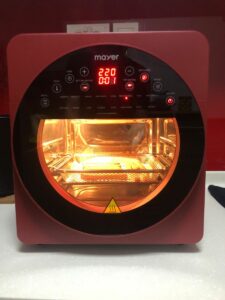 Pros:
Choose to bake, fry, or grill using this same oven
Rapid fire technology reduces cooking time
Larger capacity than air fryers
Cons:
Limited capacity compared to traditional ovens
3. Iona Halogen Grill / Fryer – GLTB112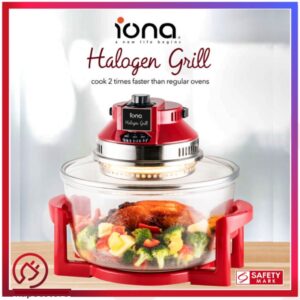 Fast cooking
Want a less tradition oven? Iona Halogen Grill / Fryer is a versatile appliance that can be used for roasting, steaming, grilling, barbecuing, frying, reheating and baking. It is equipped with the halogen technology that cooks food 2 times faster than regular ovens, while the temperature settings allow you to cook at a healthy 70 – 250°C.
Like any oven, you can also set the timer for up to 60 minutes. It may look bulky but the cover is actually light, durable and easy to clean. Despite cooking greasy recipes, you can still keep this glass oven looking like new. Finally, the glass bowl and cover also allow you to monitor your food as it cooks, so you can be sure that it's coming out exactly the way you want it.
Pros:
Versatile and large capacity
Better and easier way to prepare healthy meals
Clear viewing glass
Cons:
4. LG MS2595DIS Smart Inverter
Easy clean
Looking for a high-quality and easy-to-use microwave oven? Check out the LG Smart Inverter Microwave Oven. This incredible appliance features Smart Inverter Technology for quick, even cooking, as well as an Easy Clean Coating that helps keep it bacteria-free.
It's every beginner's ideal oven, which also comes with a turntable to ensure that your food cooks evenly, while the LED lamp provides clear, bright illumination.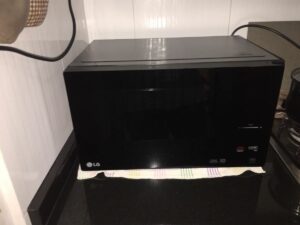 Pros:
Energy-efficient
Anti-bacterial coating
Easy to maintain
Cons:
5. Samsung MS30T5018AP/SP
Preppy designs
This oven has a modern design with a full glass touch panel that makes it easy to use. The sleek and easy-to-clean design is perfect for busy families who don't have time to waste.
Need to thaw your next meal fast? You can count on the fast defrosting feature that will have your food thawed quickly and evenly, while the power defrost function makes sure that tough frozen items are quickly defrosted.
Moreover, this Samsung oven is packed with a triple distribution system for even cooking, so you can enjoy perfectly cooked meals every time. Plus, the home dessert function means that you can enjoy homemade desserts using your oven.
Pros:
Can be used to make fast desserts
Power defrost option
Ceramic design
Low power consumption
Cons:
Not the most ideal to use for large batches of meat (ie whole chicken)
6. EuropAce Digital Microwave
With grill function
Introducing the EuropAce Digital Retro Microwave Oven! This stylish and practical appliance is perfect for any kitchen. With a 20L capacity, it's great for cooking larger meals. The digital control panel makes it easy to select the correct settings, while the 12 preset cooking programs make it even easier to prepare your favorite dishes. The defrost function is ideal for thawing frozen food, and the grill function is perfect for browning and crisping.
Pros:
Ideal size for small kitchens/servings
Retro design adds more personality to your kitchen
Affordable for a digital microwave
Cons:
7. Electrolux EMM2022MK
Best value for money
This versatile oven comes with 5 power levels, so you can choose the right setting for whatever you're cooking. Plus, the quick defrost and simple defrost features make it easy to cook frozen food. The free-standing design makes it easy to find a spot for this oven in your kitchen, and the rotary knob makes it easy to control the settings.
Pros:
Affordable oven for basic recipes
Light and space saver
Easy to use
Cons:
Not suitable for heavy cooking
8. Toshiba MM-EM25P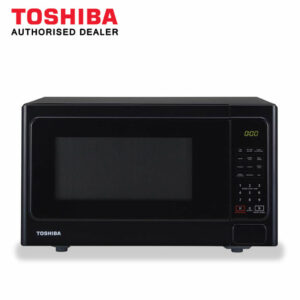 Easy to operate
The Toshiba MM-EM25P Oven is the perfect kitchen appliance for anyone who needs a little extra help with their cooking. This microwave oven has 850-900 watts of power and 11 power levels to help you cook your food just the way you like it. It has 8 auto programs to make it easy to cook a variety of different foods, and the cooking timer ensures that your food will be cooked perfectly every time.
The defrost function is great for those times when you forget to take your food out of the freezer, and the child lock feature keeps your little ones safe from harm.
Pros:
Great value for money
Easy to operation with its touch function
Safety guaranteed
Cons:
Takes longer time to cook some recipes
Difference Between Oven and Air Fryer
Both appliances can be used to cook food, but they have some key differences. Ovens work by using heat to cook food. This can be done through the use of an element, or with convection. Air fryers, on the other hand, use hot air to cook food.
This is done with the help of a fan, which circulates hot air around the food. As a result, air fryers can cook food quicker than ovens. They also tend to be more energy-efficient. When it comes to deciding which appliance to use, it really depends on what you are looking to achieve.
If you want to quickly cook small items, then an air fryer is a good option. If you need to cook larger items or you want more control over the cooking process, then an oven is a better choice.
Best Brands of Oven in Singapore
Mayer
Mayer is a leading oven brand that has been helping home cooks create delicious meals for over 100 years. Their ovens are known for their even cooking results, thanks to Mayer's innovative technology.
Europace
Europace is a popular oven brand that is known for its affordability and quality. Their ovens are available in a variety of sizes and colors to suit any kitchen, and they come with a variety of features that make cooking simple and fun. Other products from the brand also have a reputation for being durable and reliable, and they are backed by a comprehensive warranty.
Toshiba
Toshiba is a Japanese multinational conglomerate corporation headquartered in Tokyo, Japan. The company's main business is in infrastructure, consumer electronics, and electronic devices and components. Toshiba ovens are known for their quality, durability, and innovative features. Some of the unique features of Toshiba ovens include self-cleaning modes, convection cooking, and steam cleaning.