Last Updated on
Best Vacuum Cleaners in Malaysia – 2023 Review
It's no secret that being a homeowner can be challenging. Luckily for all those harried homeowners out there with too much on their plate who need an easy way to clean up without having to research what vacuum is best suited for them – we've done our homework already so that you don't have to do yours today! We scoured Malaysia looking specifically at 10 different models in order to find which one would suit every busy household better than any other option available in stores and can even be easily purchased online!
Table of Contents
Top Vacuum Cleaner Malaysia Brands
Conclusion
FAQs
Quick Comparison Table
(scroll right for more)

1. PerySmith Kaden Series Pro K2 Max
With LED Lights
The PerySmith Kaden Series Pro K2 Max vacuum cleaner is an amazing and innovative product to have in your home, easily the best cordless vacuum cleaner. It features Dual-Filter technology, which offers powerful and efficient suction power that easily cleans up dirt, dust, and debris from your hardwood floors everywhere. This dual filtration system also has a pre-filter that captures larger particles and a 0.25 Micron HEPA filter for capturing smaller specks. Additionally, the battery is powered by HD lithium-ion with an impressive 22V level of power, so you can enjoy extended cleaning sessions without any worries about running out of charge!
This vacuum cleaner provides great suction. It includes LED lights for illuminating your cleaning area for better visibility while easily vacuuming even dark corners or hard-to-reach places! Moreover, the cordless models, this vacuum has swivel steering, so you don't have to strain yourself when manoeuvring these bagless vacuums around furniture or tight spaces. Plus, its lightweight design makes it easier and more convenient to carry around while doing housework activities like stair cleaning or car detailing tasks with no hassle!
The PerySmith Kaden Series Pro K2 Max vacuum cleaner is one of the best choices today when you need something powerful yet compact enough to be portable when going outdoors! With all its impressive features, such as a dual filtration system, LED light illumination, and swivel steering technology, this top-notch product provides excellent performance without leaving any mess or dust residue! So if you're looking for a reliable yet cost-effective way of keeping your place neat, then buying this one would be worth investing in – do check it out now before stocks run out fast!
Pros:
Agile design
22.2V HD Lithium-Ion Battery
Latest Core Technology
Cons:
2. Dyson Cyclone V10
Hygienic Bin Emptying
The Dyson Cyclone V10 Vacuum Cleaner is the perfect choice for anyone looking to clean their home efficiently and effectively. Not only does it feature up to 60 minutes of fade-free runtime, but its hygienic bin-emptying system, with just a push of a button, canister vacuum cleaner makes vacuuming even easier. Additionally, its progressive cleaning power allows for up to 150% more powerful suction than the Dyson Cyclone V8 vacuum, ensuring no speck of dirt remains wet dry vacuum after use.
On top of this, the 14 concentric cyclones generate forces greater than 79,000 grams, ensuring that even the smallest particles are easily captured and removed from your home space. One of my favourite features of this product has got to be its lightweight design which makes manoeuvring around furniture and other obstacles a breeze! Its sleek handle also adds extra convenience when carrying it up or down stairs – truly extraordinary!
All these amazing features make this machine stand out above all others on the market today. I wholeheartedly recommend purchasing one if you're serious about keeping your home clean and dust-free every season – especially during springtime when allergies can flare up! Don't wait any longer: get yourself a Dyson Cyclone V10 Vacuum Cleaner today – you won't regret it!
Pros:
Whole system filtration
14 Cyclones
Aerodynamic motor
Cons:
3. Midea MVC-SC861R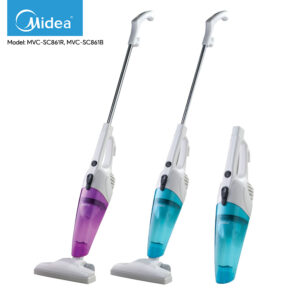 Can be Handheld
The Midea MVC-SC861R Vacuum Cleaner is the perfect choice for a powerful, light, ergonomic handheld vacuum or cleaner. Its 2-in-1 design makes switching between a stick vacuum and handheld cleaning modes easy, allowing you to clean hard surfaces, corners and furniture quickly and efficiently. The powerful suction capacity ensures carpets and rugs are deeply cleaned every time. Additionally, its transparent dust cup lets you see dirt accumulation easily – this helps you avoid overfilling the chamber so that your stick vacuum also does not clog or become inefficient. Finally, it has a convenient quick-release cord hook that saves your home's storage space!
In terms of performance, the Midea MVC-SC861R Vacuum Cleaner certainly delivers top-notch results every time. Thanks to its strong suction power, the lightweight design makes it easy to manoeuvre around tight spaces while efficiently extracting dirt from even thicker carpet piles. Plus, if there's ever an unexpected mess on your floor or upholstery? Just switch to hand vac mode, which can easily tackle any surface – no job is too big or small for this powerhouse!
Pros:
Light And User-Friendly Design
Transparent Dust Cup
Quick Release Cord Hook
Cons:
4. Khind VC9691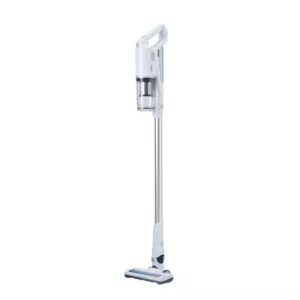 Easy Assemble Unit
If you're looking for a vacuum cleaner that is powerful, efficient and easy to use, the Khind VC9691 Vacuum Cleaner is an excellent choice. With 8KPa of suction power, this upright vacuum cleaner can easily tackle even the most stubborn dirt, and debris stuck deep in carpets or hard floors. Besides its suction capabilities, it also features a LED power brush, allowing you to clean your carpets more effectively than ever.
Thanks to its HEPA filtration system incorporated into the design of this vacuum cleaner, you don't have to worry about dirt or dust particles escaping upright vacuum and back into your home as it captures 99% of allergen-causing dusting brush particles and locks them within the filter so they won't escape back out again. Setting up the vacuum is a breeze thanks to its simple one-press POWER button control that makes assembly simpler than ever before!
As if those features weren't enough already, the Khind VC9691 Vacuum Cleaner also comes with a full battery life indicator light, making monitoring your battery life easier so you always get maximum performance no matter how many times you use it! With these amazing features combined in one product, why wait any longer? Get yourself a Khind VC9691 Vacuum Cleaner today for an efficient and effective cleaning experience every time!
Pros:
Single Press POWER Button
HEPA Filtration
Battery Indicator Light
Cons:
Could use more battery time
5. Morgan MVC-25
Low Noise Level
The Morgan MVC-25 Vacuum Cleaner is great for quick and thorough home cleaning. Its 2 stages of filtration help greatly improve cleaning results, while its bagless design makes disposing of dust an easy task. It's also compact, which allows for easy storage and portability. Additionally, the 5-meter power cord grants you access to hard-to-reach areas that traditional cordless vacuum cleaners often can't reach easily due to limited cable length. Finally, the detachable and extendable handle gives you incredible manoeuvrability so that no corner or crevice remains untouched during your cleaning sessions.
All these great features make the Morgan MVC-25 Vacuum Cleaner one of the best options for keeping your home spotless with minimal effort! With its powerful suction capabilities and convenient design features, such as its bag design and adjustable handle, this vacuum cleaner offers unlimited cleaning potential within any space – large or small!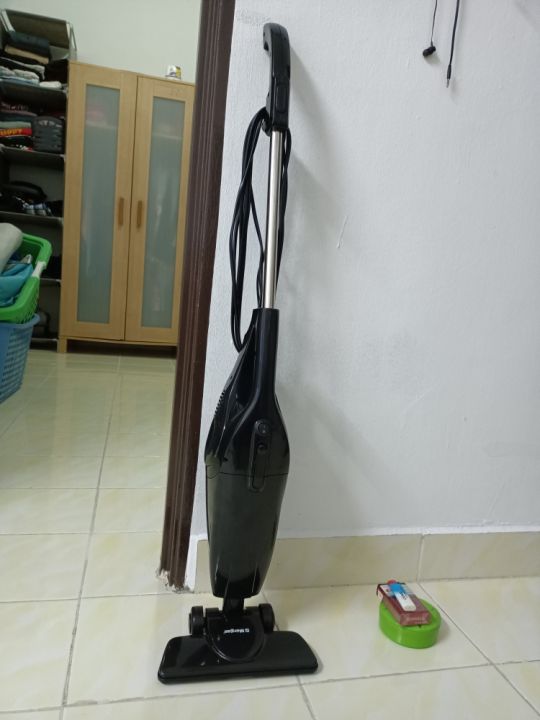 To top it all off, buying from Morgan means investing in quality, time-tested and reliable spot cleaning products – giving you peace of mind when consistently achieving a deep clean on every surface in your house! So don't he don't – grab yourself a Morgan MVC-25 Vacuum Cleaner today and start experiencing stress-free cleaning sessions, knowing that all dirt will be removed in just one go!
Pros:
With 2 stages filtering system
Bagless design, simple dust disposal
Compact size
Cons:
6. Khind VC9692
3 Speed Mode
The Khind VC9692 Vacuum Cleaner is a must-have for any home. Its detachable lithium battery can be used to clean almost any area of the house. It has three speed modes – high, mid and low – so you can set the intensity of your cleaning according to what works best for you. Plus, a handy battery indicator light lets you know when it's time to charge up or replace the battery.
One of its greatest features is the latest VSHAPED brush head which allows for an enhanced cleaning experience and superior suction power compared to traditional vacuum cleaners. Additionally, with its metal mesh and HEPA filtration system, all impurities, such as fine dust particles, will be removed from the air without fail each time you use it.
In conclusion, if you are looking for a powerful yet accurate tool for spotless flooring in your home, look no further than the Khind VC9692 Vacuum Cleaner! Its combination of great features makes this one an unbeatable choice, so experience better results today by getting yours now!
Pros:
Battery Indicator Light
Latest V-SHAPED Brush Head
Metal Mesh and HEPA Filtration
Cons:
7. Electrolux Cyclone Series E17
3-Stage HEPA filtration
The Electrolux Cyclone Series E17 Vacuum Cleaner is a must-have for any home. It makes cleaning quick and easy, with powerful 3-Stage HEPA Filtration to ensure the air quality in your home stays fresh and healthy. With its lightweight design at 4kg and replaceable Li-ion Battery Pack, you will have no problem taking it anywhere around the house or outside during those times that require extra effort to clean up! Plus, it uses an advanced dust separation cyclone system, so all the debris can be captured without worrying about clogging filters.
For convenience and efficiency, this vacuum cleaner includes 4 cleaning heads that let you easily tackle any task, from hard floors to carpets; upholstery; car interiors bare floors; stairs; corners; baseboards etc… With such versatile tools combined with superior technology within this unit, I was truly impressed by how quickly dirt was removed from my living space after only one use of cylinder vacuum. On top of that, one charge lasted for 30 minutes, providing more than enough time for me to do a thorough job across multiple surfaces.
The Electrolux Cyclone Series E17 Vacuum Cleaner is a great, affordable product – making it ideal for anyone looking to upgrade their existing vacuum cleaner setup or wanting an impressive performance on demand! The features packed into this device make it worth every penny, as they will not only help keep your home dust free but also save you time and energy along the way, too – what more could you want? So if you need something reliable yet cost-effective, check out this amazing product today!
Pros:
Long lasting Li-ion battery
Low noise, no vibration
4 cleaning head
Cons:
Could use more suction power
8. Dyson V11 ™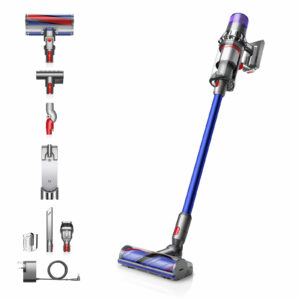 14 cyclones
The Dyson V11™ Vacuum Cleaner is one of the best vacuum cleaners today. It has a powerful motor can pick up even the most stubborn dirt, dust, and pet hair. Its integrated power management system can last up to 60 minutes of runtime on a single charge — making deep cleaning an absolute breeze!
On top of that, there is also an LCD screen that reports real-time performance, so you know exactly how well your vacuum cleaner works. Moreover, its whole-machine filtration captures 99% of particles as small as 0.3 microns while removing harmful allergens from your home — giving you peace of mind knowing your family's health won't be compromised during vacuuming sessions!
If you're looking for a reliable and efficient vacuum cleaner, the Dyson V11™ Vacuum Cleaner should be at the top of your list! Its impressive features make it practical and economical – great value for money! So take advantage now and get yours today before stocks run out!
Pros:
Integrated power management system
Whole-machine filtration
Drop-in docking
Cons:
9. PerySmith XTREME Series X10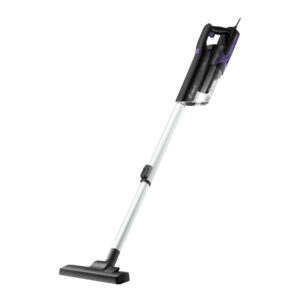 Smart Overheat Protection
If you're looking for a powerful and efficient way to clean up messes around your home, the PerySmith XTREME Series X10 Vacuum Cleaner is an ideal choice. Featuring a 1000W BOOST motor that delivers 19,500PA of maximum suction power, this vacuum has enough muscle to tackle any mess. And with its 4-Way floor brush and multi-stage filtration system can easily take care of dust particles on multiple types of surfaces.
In addition to being powerful and effective at cleaning messes quickly and effectively, the PerySmith XTREME Series X10 Vacuum Cleaner is also incredibly easy to use. Its lightweight design ensures effortless manoeuvrability throughout your house. At the same time, its insulated cord offers an extended reach of up to 8 meters so that you don't have to plug in repeatedly as you move from room to room. And not only does this help keep your chores quick, but it also gives you more time for other activities like spending quality time with family or friends instead!
Are you tired of clunky old vacuums that fail just as much as they succeed? Then upgrade yourself to best robot vacuum cleaner today with the PerySmith XTREME Series X10 Vacuum Cleaner! Its powerful yet highly portable design makes using it easier than ever before while maximising cleaning performance all around the house – now, what's not appealing about that? Get yours today and experience how great a good vacuum cleaner can be!
Pros:
4-Way floor brush
Unmatched suction power
The multi-stage filtration system
Cons:
10. PHILIPS Speed Pro Aqua 5000 series
Wet and Dry Cleaning
The PHILIPS Speed Pro Aqua 5000 series Vacuum Cleaner is the perfect choice for any home. Its 180° suction nozzle helps to accurately pick up dirt, leaving no stone unturned when deep cleaning your carpets and hard floors. Additionally, its LED Nozzle increases the efficiency of the clean, resulting in a better finish every time you use it. Furthermore, it has a washable filter that optimizes performance without replacing parts regularly.
Another great feature of this vacuum cleaner is its Powerblade Motor, which allows for fast and powerful operation with minimal effort! Also, with 0.4L dust capacity, there's no need to constantly empty the bagless vacuum as it can be easily stored away until needed again – making life easier all around!
If you're looking for an efficient and easy-to-use vacuum that won't disappoint you, look no further than the PHILIPS Speed Pro Aqua 5000 series Vacuum Cleaner – guaranteed satisfaction every time! So don't delay – thoroughly clean your home today and see how amazing this machine is!
Pros:
LED Nozzle
Washable filter
Powerblade motor
Cons:
Top Vacuum Cleaner Brands in Malaysia
PerySmith
PerySmith is revolutionizing the way we live with their unparalleled product development team. By expanding in assortment to identify and fulfill market needs, they make sure you can get quality products that will simplify your lifestyle!
Dyson
Dyson stands out among the crowd of vacuum cleaner brands as one of the most recognizable and innovative companies in its field. They continually push boundaries with their intelligently designed vacuums, fans, and hair dryers – creating products to make lives easier!
Conclusion
Finding a vacuum cleaner that suits your needs can be tough. Choosing the best vacuum for your home can get confusing. That's why we looked through to find 12 different models. Hopefully, this helps you find the perfect, upright vacuum cleaners for your home! If you need an easy way of cleaning up without having to research what vacuum is right for you.
FAQs
What is a vacuum cleaner and what does it do?
A vacuum cleaner, otherwise known as an electric carpet sweeper or floor sweeper, depending on where you are in the world. Every household needs at least one! Whether you live in an apartment with hardwood floors or a house with thick carpets - there's no kind of flooring that can't benefit from some good dependable sweeping to help keep them looking clean.
How do I know what vacuum cleaner is right for me?
If you have pets, hard floors or just lots of carpet in your house - it becomes tricky to find a vacuum that can excel on both. Luckily there are specific machines for each type of floor and even purpose-build ones with attachments to help out with other tasks like clean upholstery! You should consider what kind of power you want your machine to have as well - suction is crucial but so is the ability to clear away debris.
What do all those extra tools and attachments do? Where can I get them?
When cleaning carpets you'll need something strong with hard suction power to really pick up everything that's lying around on top of it. However, if you have hard floors or lots of different surfaces throughout your home then it becomes crucial that the vacuum you choose can be versatile. You'll want to find a vacuum that has pet hair cleaning tools, brush attachments and even little handheld vacuums for stairs or other specific surfaces
What kind of bags/filters will I need?
All vacuum cleaners require some sort of bags or filters in order to operate properly. The most common way is through the use of bag-in-bag technology that doesn't require any additional maintenance without sacrificing space in your home.
This post was brought to you by Kimz House.
Disclaimer: The opinion is solely based on our testing or intensive research with customer feedback around the most popular shopping platform such as Shopee and Lazada. The products/services shown here are available and valid upon the publication date. It may change from time to time. Please email us at [email protected] if there is any discrepancy.