Last Updated on
Exercising from the comfort of home is becoming increasingly popular in Malaysia. With space and noise constraints, treadmills are an ideal choice for those who want to start their fitness journey without leaving their house. If you're looking for the best treadmill in Malaysia, read on as we review our top 10 picks of the year!
Which one will be best for me? We're here to help! The first thing you should do is determine what type of workout routine you'll want on this machine. Do you want something low-impact or high-impact? Low impact means more walking while the high impact will mean jogging or running.
What's next? You need to find out how much space can fit in your home and garage – there are some treadmills that don't fold up so they take up a lot of room when not in use and go with your fitness concept.
Today, many have gravitated towards investing in the exercise equipment that they can use in the comfort and convenience of their own homes – especially now during times when it's not always easy to get out and go to the gym. The best treadmills offer one of the most effective ways to keep fit while avoiding any compromises on safety and hygiene standards. In this blog post, we will review our top 10 picks of the year for treadmills in Malaysia.
Table of Contents
Top Treadmill Brands in Malaysia
Conclusion
FAQs
Quick Comparison Table
(scroll right for more)

10 Best Treadmills in Malaysia
1. DQUE Moon Walker Treadmill
Space-saving

The D'Que Moonwalker Treadmill is the ideal choice for those looking to stay active and have a healthy lifestyle without compromising on space. It is designed with a 3-step folding system that makes it easy to put away and store in tight spaces, such as under your bed or sofa. The solid running deck also adds extra stability to maintain safety while exercising. The 2 stability bars reduce vibration during even the most intense runs, making it durable enough for anyone who wants to use it regularly and intensely.
To help you burn more calories and achieve your fitness goals faster, the treadmill comes preloaded with a range of preset programs so that you can choose one specific to your needs or try out different ones each time you work out. You won't get bored either; this treadmill has Bluetooth speaker connectivity allowing users to listen to their own music as they exercise for an added touch of entertainment!
Pros:
LCD panel that can help you track your progress.

Easy to Store
With Bluetooth connection
Cons:
Not ideal for fast running
2. Johnson Fitness Tempo T82

Ergonomic and comfortable
The ability to adjust your speed and incline settings based on your exercise intensity is just one way this treadmill makes it easy for you to meet whatever fitness goal you've set. With over 20 seating positions, a built-in heart rate test, optional BMI integration and the Energy Saver Mode that works in concert with an internal generator to reduce electricity consumption, we can help you achieve sustainable weight loss without sacrificing power or quality.
Whatever your fitness goals may be-from weight loss to getting into shape-the Johnson Fitness Tempo T82 treadmill running machine is built especially with you in mind. With its many different programs and heavy-duty design, this extreme home workout routine will get you the body you've always wanted! Whether it's a brisk jog or light jogging that gets your heart pumping, the Johnson Fitness Tempo T82 has got you covered. It also comes with MP3 compatibility!
Pros:
The 1.6mm belt makes sure that there will be a very comfortable feeling during running.

There is a soft cushioning specifically designed to avoid joint stress when using the treadmill.

With the easy lift system, it is now easy to set the treadmill up.
Cons:
3. Reebok Astroride 2.0 Runner

User-friendly and convenient
The Reebok Astroride 2.0 Runner running treadmill has many exciting features such as a 1.5 HP motor, 36 pre-programmed workouts, and an integrated hand pulse sensor to keep you stay on track! The choice is yours with this cutting edge tread deck because it offers 2 manual incline levels for different intensity routines!
All the information you need at your fingertips with an innovative LCD display that changes colours based on user preference and includes 3 window LED displays for monitoring Heart Rate Variability (HRV), calories burned in session, distance travelled in meters or kilometres and more. A perfect gift for the active family who are looking to set up their own home exercise space without sacrificing quality products guaranteed to last them well into their retirement.
Pros:
A2.0 ASTRO Ride treadmill cushioning enhances the spring back of the feet


There is a large LED screen for easy monitoring.

There is a tablet holder to watch anything you want while working out!
Cons:
4. BEDL 510 SPORTS

Easy to track progress

This treadmill also features a 3.0HP Peak Silent Energy Saving Motor and 45CM Wide platform, giving you superior strength and power no matter your goal. With 30CM Wide Running Belt, you also get a comfortable running surface as you adjust the speed from 1.0 to 10.0 KM / Hour according to your work out intensity. The 100KG Load support ensures safety even during intensive workouts, while the elegant curved front panel design adds to the overall aesthetic of your living space.
You'll also find several functions such as Single Function or Multi Function selection and MP3+AUX In Functions along with Stereo Sound Speakers which provide hours of entertainment while exercise. The Hight Strength Alloy Steel Body further strengthens its construction making it durable and long-lasting so that it can handle all your workout needs for years to come! Plus, there are easy moving wheels that make it convenient for storage or transportation if needed! Finally, this comes complete with an English Panel + English Manual and Malaysia 3 pin plug – ready for immediate use!
Pros:
With the top speed of 10mph, you can run within your level of comfort, whether that be a casual run or a full sprint.

The display screen will show time, distance and speed.

You can even use the treadmill for up to 2hrs.

Cons:
Running deck is a bit narrow
5. Johnson Fitness Horizon T101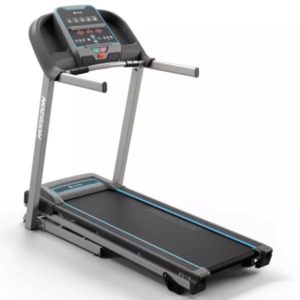 Customizable

With the Johnson Fitness Horizon T101 Treadmill, you can finally take your workout on the road. This innovative machine includes a durable, 2.5 CHP motor that runs at lower RPMs to minimize noise and increase efficiency, with a fully integrated Bluetooth speaker system to stream uninterrupted media content while you're away from the TV or audio device. The Johnson Fitness Horizon T101 provides instant access to speeds and inclines within one touch of a button for tracking precise stats or modifying workouts based on your fitness level without deviating from your routine plans.
With this lovely machine by your side, it became effortless to manage those couch potato dreams – because we know how important being active is for success both inside and outside of battle!
Pros:
Three zones of cushioning that can easily accommodate walking, running and chill jogging.

The elevation design is easy to increase elevation to your preference

Can be folded for easy storage and transport.
Cons:
The running track is a bit short
6. OGAWA Trek Pro T7.2 Lite

Double Cushion System
The OGAWA Trek is perfect for personal training or as a home treadmill. The unit has an easy-to-use interface and multiple program offerings with 12 pre-set workouts, including Variable Incline modes. It also includes the Gfit app which enables you to connect your body harness sensors!
The tension control system allows runners to feel balanced during their workouts while the double cushion system reduces vibration. Maintenance is needed when using this belt drive trainer and there are instructions available in the manual on how to address any issues that may arise. Its additional features allow one to have an MP3 player with speakers attached via Bluetooth technology so they can listen along with their walks, jogs, runs, or sprints! Enjoy a fun cardio session in the comfort of your own home!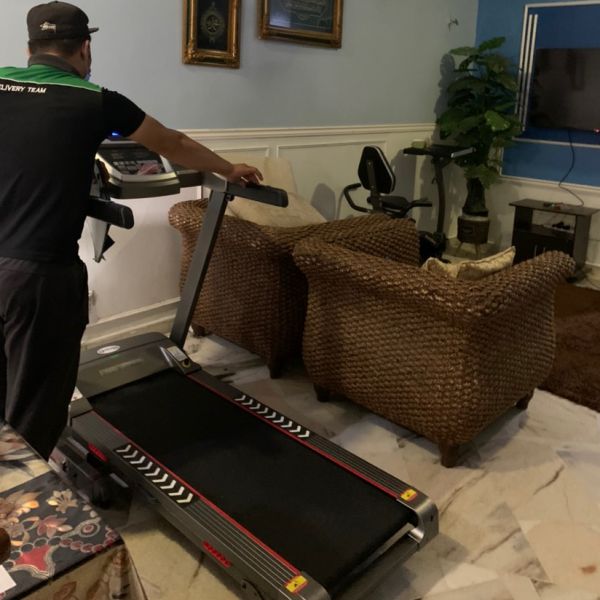 Pros:
Double cushioning making it very comfortable to run

Friendly design with a clear console display

12 Built-in pre-set workout program
Cons:
Limited Inclination Angles
7. LEXCON FITNESS 3.0HP


Wide Running Belt
Are you ready to take your fitness to the next level? With the LEXCON FITNESS 3.0HP, your running time just got a lot more convenient and enjoyable! This treadmill features an impressive 43 cm wide belt that will give you a simulated outdoor experience without having to step out of doors. The improved floor cushioning keeps your feet from feeling any tiny vibration from the ground. So you can rest assured knowing your workouts are worry-free!
Running on this machine will also feel incredibly smooth due to its wider running belt. You don't have to worry about taking missteps on the side of the track. And with its increased width, you can comfortably stretch out and run confidently with ease.
Forget spending extra for a larger, comfortable running experience outside–LEXCON FITNESS 3.0HP has everything you need for an enjoyable and successful workout! Get yours today and start reaching those peak levels of fitness!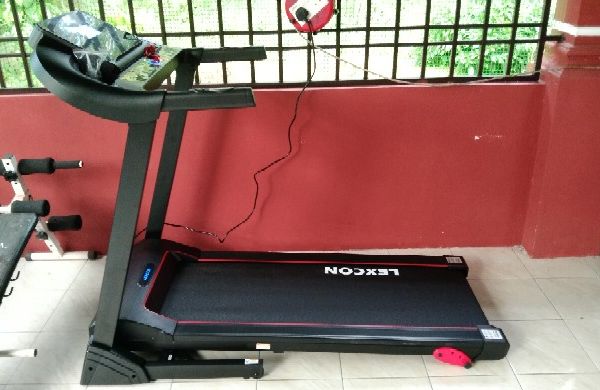 Pros:
Built-in Bluetooth speaker.

Keeping storing is made so much easier with a hydraulic pump to store it upwards.

There are wheels to make it so portable!
Cons:
Built in speaker could be better
8. Johnson Fitness Horizon TR3.0

Comes with Extra Features
The new Horizon TR3.0 from Johnson Fitness Treadmill provides everything you need to have a safe, comfortable, and energizing workout whether you're looking for a quick walk or an all-out run. Improving on the original Horizon's technology, this treadmill comes equipped with distance, calories burned, time, speed and heart rate monitors to track your workout progress. Combine it with a heart rate monitor as well as popular fitness apps like the fitDisplay App (available on Google Play and the Apple app store), giving yourself some competitive motivation or encouraging programming reminders.
Your smartphone can keep your favourite tunes seamlessly in sync so that every workout is more fun and interactive than ever before; plus it allows you to stay connected without taking up space in your at-home gym by storing them securely folded.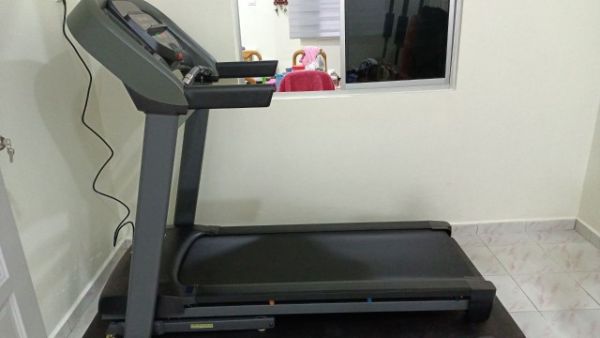 Pros:
You can easily connect your favourite apps through Bluetooth.

The console is very easy to use making setup every time a breeze.

Foldable and easy to store
Cons:
The running deck is a bit slim.
9. AD Sports AD928

Multilayer Running Belt
Experience the latest innovation in luxury fitness equipment and now it's available in your home at an affordable price. Packed with features, ADSports pedals all offer intuitive design, quality craftsmanship, and unmatched versatility to bring you a new level of comfort no other competitor has ever achieved before.
An ultra-smooth treadmill belt engineered to give support when you need it most is wide enough for some space easing your workouts even more. Decline or incline the treadmill anytime with the smooth 15 levels of electric auto inclines also featuring luxurious massaging belts and several types of dumbbells that can be attached to any point on the running platform from the front or back side along with twisting plates.
Pros:
This treadmill's design enables you to have so many other workout options.

With just one purchase, you can have all the essential gym equipment at home.

With a 43 cm wide running belt, you have ample space to run comfortably.
Cons:
The structure of this treadmill is bigger in comparison to most
10. KEMILNG Fitness VELOCITY A5 Treadmill
Affordable Option
Introducing the KEMILNG Fitness VELOCITY A5 Treadmill—the perfect multifunctional exercise machine to help you power through your fitness goals! With a weight of only 31 kilograms, carrying it around is a breeze. Its practical foldable treadmill design saves you the trouble of finding a huge storage space, as all you have to do is flex and fold—simple, easy, and no room hassles! It fits comfortably in a car trunk so you can even take it out for outdoor exercise if that's your thing!
This fantastic treadmill doesn't just make it easy for you to move around; it also comes with a console which tracks important workout data like time, speed, distance, and even calories. Now there's no excuse to skip those runs! But that's not all: with its remote START/STOP feature and Bluetooth capabilities so you never miss out on your favorite jams, this treadmill from KEMILNG Fitness gives you an all-round awesome workout experience.
If your fitness routine needs some sprucing up without burdening yourself with excessive equipment—say hello to the KEMILNG Fitness VELOCITY A5 Treadmill. Let's get ready to sweat our way fit today!
Why buy it:
This treadmill is very efficient in being easily portable.

This would be the perfect choice of treadmill for smaller spaces

The design is very petite and can be stored easily.
Cons:
Lacks the extra features other models have
Top Treadmill Brands in Malaysia
Johnson
Johnson is your go-to destination for all of your fitness needs. With a wide range of top-notch products like treadmills, ellipticals, indoor cycles and more – as well as wellness innovations such as muscle percussion guns and massage chairs – you'll have everything you need to reach peak performance.
Ogawa
Ogawa's fitness equipment offers both a modern and practical approach to assist in reaching your goals. Designed for optimal comfort, these tools will help you maximize caloric burn during each workout session!
Conclusion
In conclusion, choosing the best treadmill for your needs can be a challenging task. Make sure to consider all the factors outlined above, such as terrain simulation, features and price before making a purchase. With this guide in hand, you are now ready to begin your search for the perfect treadmill! From budget-friendly models to feature-laden machines, there is something for everyone looking for the best treadmills in Malaysia this year.
Now that we've explored some of the top 10 picks of treadmills available in Malaysia today, why not go ahead and get yourself one? Investing in good quality exercise equipment can make it so much easier to stay fit and healthy while staying safe at home – so don't wait any longer to get your hands on one of these
FAQs
Do treadmills at the gym look like home treadmills?
Treadmills at the gym will have a different appearance to them, but it's a good thing because they'll give you more mobility and freedom when working out on top of being able to perform some strength training without having to worry about stability issues.
Are folding treadmills sturdy? How are they different from non-folding treadmills?
Folding treadmills are the perfect choice for those with a very limited workout space. When opting for folding treadmills, the motor power will be something you need to compromise. However, nowadays, folding treadmills are now on par with non-folding once.
Can I lose weight by walking or running on a treadmill in my home?
Yes! Although running and jogging can be dangerous if you're not capable of doing them, studies show that exercising for 30 minutes per day using the treadmill will help burn fat at a faster rate than just performing aerobic exercise without this machine!
This post was brought to you by Kimz House.
Disclaimer: The opinion is solely based on our testing or intensive research with customer feedback around the most popular shopping platform such as Shopee and Lazada. The products/services shown here are available and valid upon the publication date. It may change from time to time. Please email us at [email protected] if there is any discrepancy.