Last Updated on
As work from home and remote learning is becoming the new normal because of the current pandemic, each and everyone needs to be on the lookout for their ergonomic health. Sitting down for hours needs to be accompanied by a comfortable office chair that will make productivity easier. An ergonomic Office chair will limit the back pains that you are experiencing after an entire day of sitting down.
If you are planning on improving your workspace and working conditions, we have listed down the 12 best office chairs in Malaysia you can now purchase online!
Best Office Chair Malaysia
1. Cassa Monza Executive Office Chair
Perfect for long workdays
Comfortable, durable and easy to operate, the Cassa Monza Executive Office Chair will have you feeling relaxed and inviting with its plush memory foam seat that supports your back no matter how bad the day has been. This is the best choice if you are looking for ergonomic office chairs. As a bonus it includes casters so rolling from one project space to another is as effortless as possible. You can also easily adjust the seat height to best match your computer table.
Put your feet up and enjoy the ride with this executive office chair that comes complete with built-in lumbar support and leg rest. Comes in Black, Burgundy, Brown, Gray, Green, Red so you can choose exactly what best suits your needs. Whether you need a chair for yourself or for colleagues Cassa Monza offers the perfect answer!
Why buy it:
Reclines from 90 degrees to 180 degrees, find your perfect comfort!

Chrome chair leg for optimum sturdiness

Breathable material

Comes with leg rest, comfort level close to gaming chairs
2. Kitchen Z Mesh Office Chair HMZ-OC-HB-905-BK
Best ergonomic office chair
The Kitchen Z Office Chair takes its design inspiration from the kitchen chair, yet it has all of the features you would need for an office setting, making it one of the best office chairs in Malaysia. The back office chair (backrest) has 3-point flexure strength while durable mesh fabric is breathable and comfortable. All your hours of sitting won't seem so bad while resting on a high-density sponge cushion made to fit your lumbar spine!
There is even included strong metal legs that are more resistant to wear and tear in conjunction with rotating castors wheels that scream "silent" when rolling. We highly recommend this for its outstanding build quality for office chairs.
Why buy it:
Designed to support the waist

Modern and elegant look

Solid armrest for more comfort

Adjustable seat height
3. NaVa Mesh Office Chair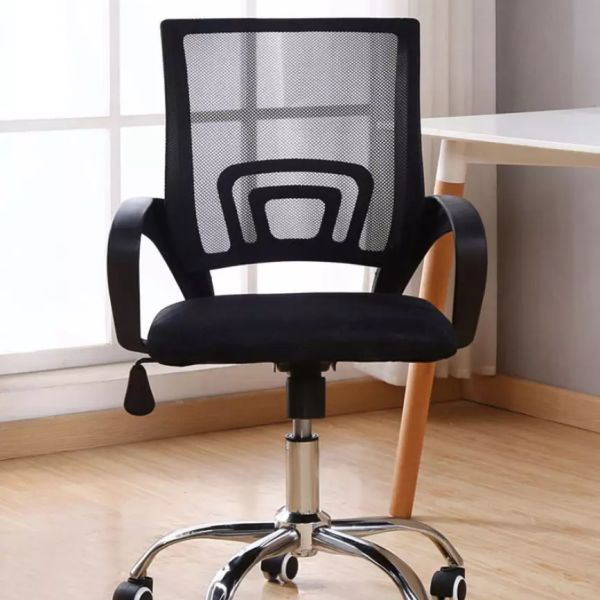 Perfect for smaller simpler spaces
Your back deserves the best support it can get, which is why this office chair was made with you in mind. The mesh material will contour to your body so you can sit comfortably for hours on end. While sitting inside of this highly durable and adjustable design, you will feel the weight unflinchingly low thanks to its sturdy base construction. You'll also be able to relieve some stress off your arms by leaning on one of its armrests that's equipped with pads for extra comfort!
And if worst comes to worst, this product has a universal wheel that still runs smoothly despite any type of flooring underneath it. What more could you want for your workspace? Get this NaVa Mesh Office Chair today!
Why buy it:
Provides the best back support

Sturdy armrest

Sturdy base support
4. HOME PRIME OC011 Sakura Style Office Chair
Increased comfort
The Sakura Style Ergonomic Office Chair from HOME PRIME OC011 is perfect for long days at the office. It offers a mesh back for maximum comfort and breathability, as well as strong support to protect your lumber even during those marathon conference calls. In addition to this back fabric, it also features an ergonomic curve that will keep your spine in alignment while you're sitting (and after!).
There's no need to worry about neck pain with this chair either because it has an extra-wide synthetic latex adjustable headrest that also includes precise curvature for optimal head and neck support. In addition, it features a height-adjustable gas lift so you can adjust the chair to suit your needs.
Plus, this office chair includes a pneumatic gas lifter with adjustable tension for enhanced comfort and performance. You'll be glad you made this important purchase.
Why buy it:
Strongback support

Breathable material

Precise curve design that supports your lumbar

High back office chair, with adjustable seat height
5. Homez Mesh Office Chair HMZ-OC-HB-905-BK
The Homez Office Chair is inspired by a kitchen chair, yet it has all of the characteristics you'd expect in an office environment. The backrest boasts 3-point flexure strength, and the breathable and comfy mesh fabric is durable. When you're resting on a high-density sponge cushion designed to accommodate your lumbar spine, all those hours of sitting won't seem so horrible!
Strong metal legs are also included, which are more resistant to wear and tear, as well as 360 degree rotating castors wheels that scream "silent" when rolling.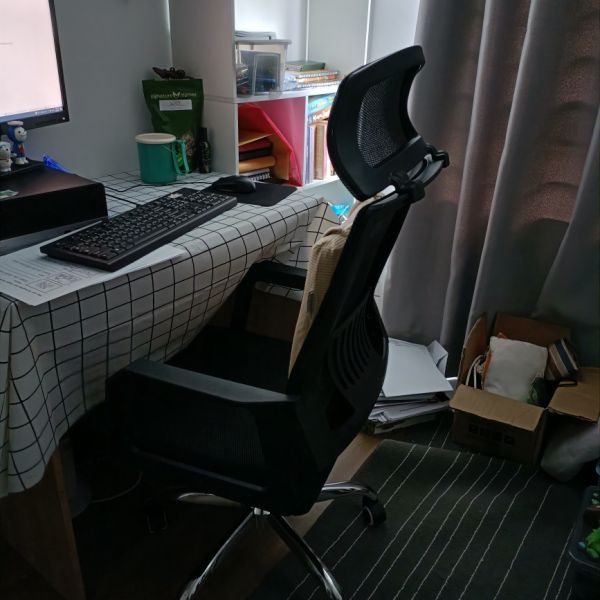 Why buy it:
Designed with curves for ergonomic support

Smooth and sturdy armrest

Mixed material for peeking comfort
6. Cassa Milan 360 Degree Swivel Office Chair
Sitting all day long makes you stiff! And this office chair takes care of that problem perfectly because not only does it provide amazing support to your back, but the breathable mesh on the back keeps you sweat-free as well. The ergonomic backrest will be perfect for anyone who spends hours sitting, and also comes with a headrest. Breathable mesh backing will keep your skin cool and reduce sweating. It can roll around so it goes easily to any place you need it to.
You can rest assured that this one won't break after a year or two either, thanks to its durable frame that stands up under pressure–what's
Why buy it:
The curved headrest that perfectly supports the neck

Designed according to the human vertebrae

Wide chair seat to provide enough space
7. FOREVER Basic Office Chair
Best budget office chair
If you are looking for a simple start for an office chair, this is the perfect purchase for you! It's a budget office chair with 5 different designs to choose from, you can surely find the one suited for your room or study area. This office chair does not have wheels like the previous, however, it is still fully equipped with the perfect ergonomic support as well as a comfortable seating area.
Given its great reviews and price point, this easily makes it one of the best office chairs in Malaysia that you can buy online.
Why buy it:
Cheaper option without compromising comfort

Takes up smaller space for smaller rooms

Professional and sleek look
What we don't like:
This chair doesn't have wheels to move around

The backrest incline can not be adjusted.
8. LIKE BUG: Adjustable Swivel Med-Back Mesh Office Chair
Introducing the revolutionary new Like Bug adjustable mesh office chair. The first-ever ergonomic office chair that supports prolonged hours of work without impacting your health.
Lightweight and comfortable, the Like Bug features an advanced tilt control system to help maintain a healthy posture, breathable mesh back for higher air ventilation – perfect for those extended periods of time spent working on long manuscripts or making your academic requirements.
Why buy it:
Curvy backrest for ergonomic design

Breathable mesh design for comfort during warm weathers

Thick foam cushion that will not deform easily
9. KitchenZ Mesh Office Chair HMZ-OC-MB-9011
You spend your days on the go. Between keeping up with meetings, cooking meals, and dreaming of lunchtime lattes, you shouldn't have to deal with an uncomfortable desk chair. That's why this mesh office chair is perfect for spinning in circles all day long without any back pains.
With breathable fabric, ergonomic design, linkage armrests, high-density sponge cushions–soft enough to lay down comfortably on! Rotate smoothly 360 degrees with noiseless castors wheels that glide around effortlessly under the lightest touch. Perfect for uninterrupted flow during creative sessions too!
The swinging function imitates some plucked strings of a guitar making it great for background music while working.
Why buy it:
Adaptive lumbar support

Comfortable soft elastic cushion

Noiseless wheel rotating
10. ARCTIC Office Chair
The LIKE BUG Adjustable Swivel Mid-Back Mesh Office Chair has the features you need. Padded with mesh that provides breathability and comfort, this chair is versatile enough to work in any setting. The l-shape armrest offers added functionality so you can work, read, or relax while maintaining an optimal working position for your back. It is a very comfortable chair and it comes at a great price for this type of product. Plus, the pneumatic gas lifter with adjustable tension gives your back that extra support you'll need after hours in front of the computer.
With adjustable height lift and 360-degree swivel rotation capability, it's no wonder why an adjustable chair should be your choice when hunting for new seating!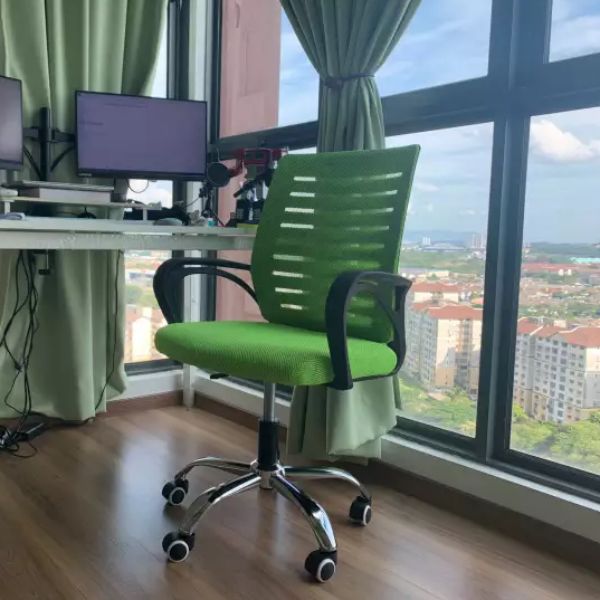 Why buy it:
It will keep you comfortable and stable the entire time you are working

Adjustable height design with tilt tension control

Optimum ergonomic design
11. Winner Chair Office Chair 9408B-GRY
This stylish chair features modern sleek seating, perfect for any office or workspace. The Winner Chair Office Chair 9408B-GRY is made of nylon fibre, with a lightweight and strong frame. It is adjustable with a lumbar center back support and an armrest height which swivels up to 90 degrees.
This chair also has a gas lift tested to hold 120 kgs to 150kg which ensures your comfort throughout long hours at the workplace! Built with sleek styling, this chair will be sure to bring out colors in your workplace decor while providing a luxurious sitting experience.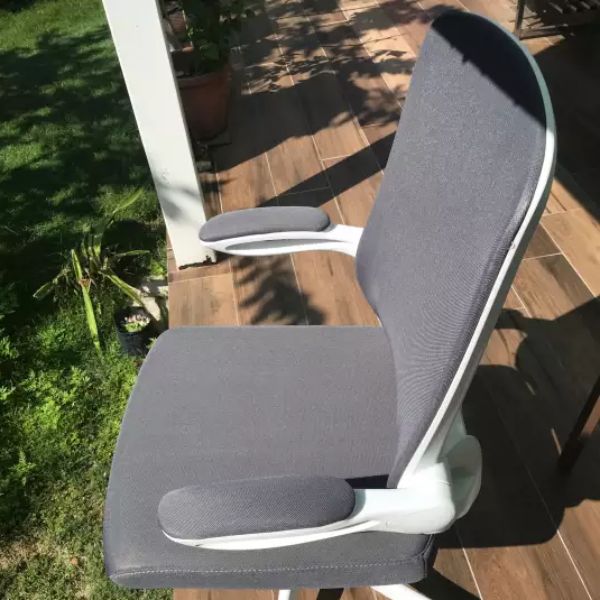 Why buy it:
Smaller chair perfect for smaller rooms or spaces

Armrest can be moved around for more convenience

Improved ventilation with the breathable material
12. Office Chair 033-3D-BLK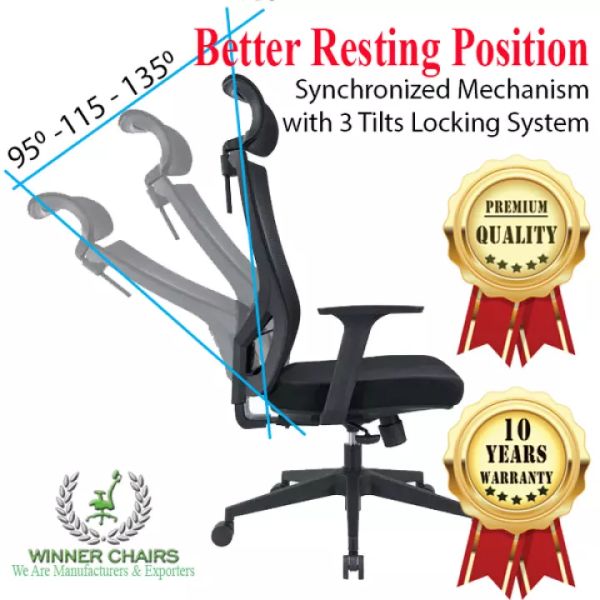 It's not petty, it's personal. You deserve the highest quality and state-of-the-art innovation when you shop for your office chair. That is why we created our 033-3D Black Office Chair. With features like a tilt of low recline that supports the head of the user, 2 adjustable arm rests with soft padding to give ultimate comfort and support at any desk height, and an easy adjustment system to change all these extra perks with just one hand motion— it can't get more awesome than this!
Go ahead, treat yourself better; try out this new office chair now!
Why buy it:
3 tilt locking system for better resting position

Sturdy nylon 5 prolonged star chair base
What to look for in an office chair:
Always check for lumbar support as this is the top reason why you need an office chair.
Ensure that your chair has sufficient chair space for optimum comfort
Find a chair with an armrest as a good armrest provides better ergonomic support.
FAQs
How much does an ergonomic chair cost?
For a standard ergonomic office chair, the prices range from RM800 to RM3500+ for high end chairs. The more expensive chairs are typically made of quality materials and have better designs which will add up to your comfort.
What is the difference between a gaming/computer chair and a normal office chair?
A gaming/computer chair has a higher back support compared to a regular office chair since they are designed to give you optimal lumbar support.
Why is it important to invest in an ergonomic chair?
As office chairs are designed for 8 hours of sitting down per day, they help with decreasing the risks of developing back pain and even heart diseases as you age. Ergonomically designed office chairs provide support for your lower back by allowing the correct curvatures of the spine which will promote proper posture during work hours!
Conclusion
Office chairs are the perfect and even an important addition to your work or study space. Finding the right one is important as it plays a big part in your lumbar support and overall posture especially on long workdays.
The perfect office chair will allow you to stay comfortable and focused even after hours of work. Whether your day is long or short, there's nothing better than a good office chair that makes the room feel like home. Investing in an ergonomic office chair keeps the back healthy and aligned. Consequently, proper posture reduces stress on muscles and joints resulting to overall improved health, as well as increased productivity. Many models, offer lumbar support pillows for those with spinal problems.
Hopefully, this best office chair in Malaysia list helps you decide on the perfect office chair for you!
This post was brought to you by Kimz House.
Disclaimer: The opinion is solely based on our testing or intensive research with customer feedback around the most popular shopping platform such as Shopee and Lazada. The products/services shown here are available and valid upon the publication date. It may change from time to time. Please email us at [email protected] if there is any discrepancy.