Last Updated on
There is nothing like cooking a great meal, and doing so with ease. Cooking becomes a little less daunting when you have the right tools in your hands to do your work well. One tool that every good cook should always have at their disposal is their nonstick pan. Made of durable materials, these pans help food slide off with ease, making cooking mess-free. But, one of the best advantages of owning a non-stick pan is getting rid of excess oil in almost all our food. No need to invest in air fryer to make our food less greasy, a reliable non-stick pan is already a good start to cooking healthier.
Here are the best non-stick pan in Malaysia today:
12 Best Non-Stick Pans in Malaysia
1. Korean Non Stick High Quality Cooking Pan fry Pan
Best heat distribution
The popularity of Kdrama has introduced us to so many aesthetically pleasing Korean kitchenware, too. So it's no accident that we found this Korean non-stick pan online. Made of aluminium with a 3mm thick aluminium base, this pan is more than capable to withstand the heat generated from your stovetop. The edge of this non-stick frying pan also features an elevated design so that you can easily scoop up food with ease. This Korean non-stick pan is easy to clean and maintain, too. Cleansing it only requires a little bit of water and dishwashing soap or sponge, and then wipe dry with a kitchen towel.
Why buy this:
Made from long-lasting coating
Even heat distribution with aluminum base
Comes with hanging hole
2. Lowenthal 28cm 5pcs Titanium Stone Coated Non-Stick Stir-Fry Pans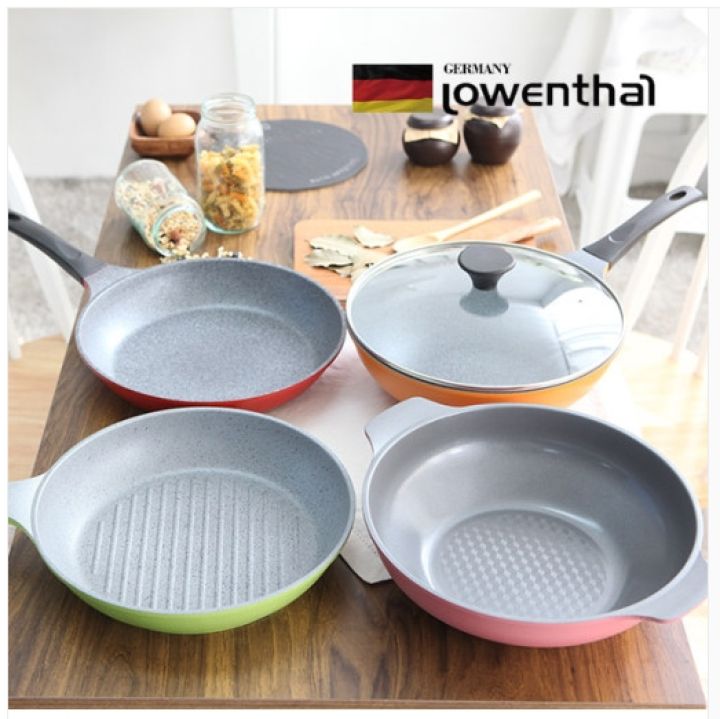 Best wok pan
With their ergonomically more convenient glass lid, they're all the cooking utensils you'll need. The pastel colours make these pans fashionable and fun to cook with! The non-stick feature of these pans means that your food will slide right off without effort, making cleanup a breeze! These lightweight but durable pans are perfect for every home.
Why buy this:
Easy to store
Adds to your kitchen aesthetic
Lightweight to use
3. Tefal Cook Easy Wokpan
Best premium wok pan
The Tefal Cook Easy Wokpan is perfect for stir-frying, deep-frying and even steaming. Careful attention has been paid to design this wok for wonderful, even heating and no hot spots – because nobody wants a burnt bottom! And another added benefit: the convenient lid doubles as a frying pan.
The THERMO SIGNAL® technology features bright colour coding to indicate the ideal starting cooking temperature to guarantee perfect texture, colour and taste for delicious full-flavoured meals. The titanium nonstick interior coating makes this wok pan a breeze to clean without ever leaving a surface scratch or residue on your food you can't see with the human eye. And the fully even heat distribution allows good and homogeneous cooking results every time – you'll love it!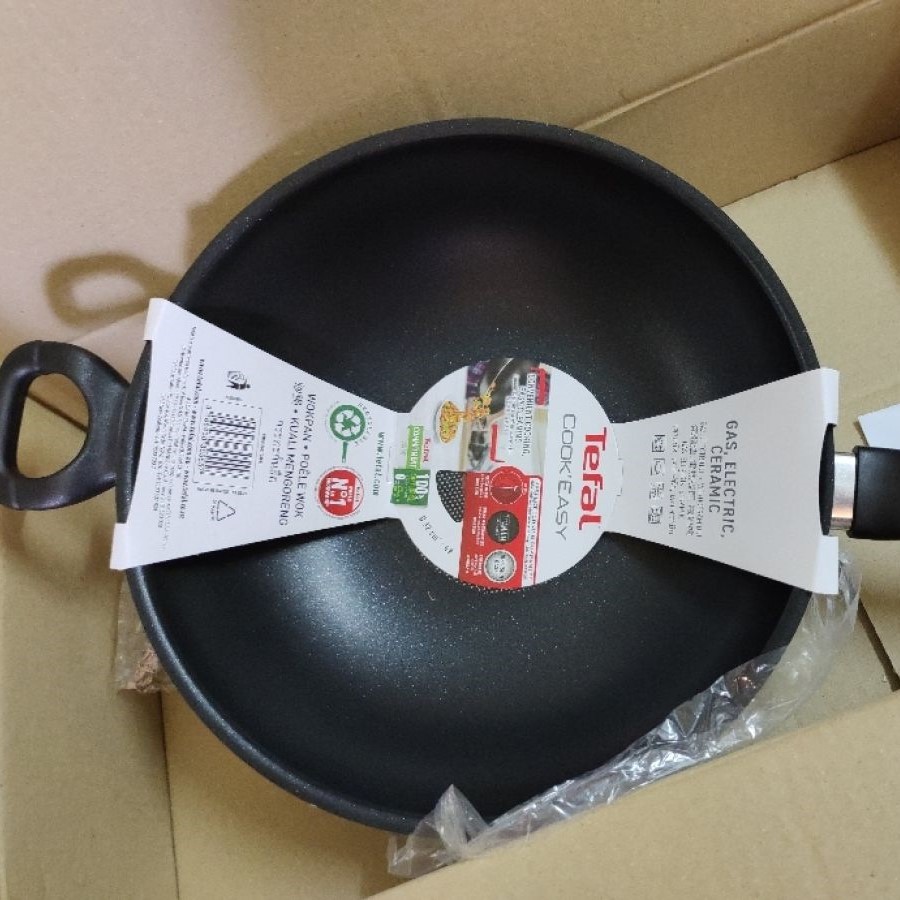 Why buy this:
Titanium materials ensures durability
Non-stick external coating
Low-maintenance
4. Worthbuy SUS 316 Stainless Steel Non-Stick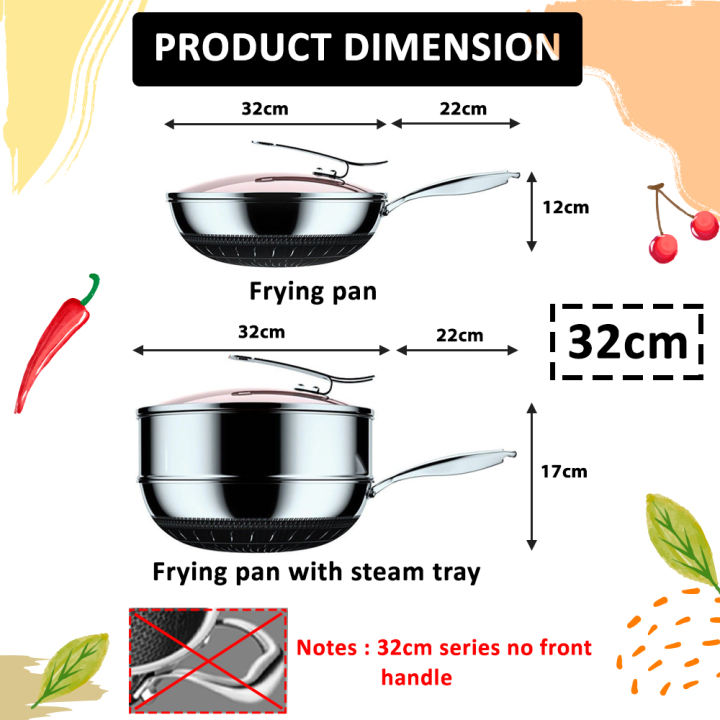 Best scratch-resistant pan
No need to buy different sets of utensils and ladles for your non-stick pan with this one. Durable and anti-scratch, it is safe for metal utensils and perfect for all cooking methods: induction, gas or electric. We go a step further in innovating our products by adding a glass lid that stands on its own to seal flavours in when you are cooking indoors.
Compare the Worthbuy Non-Stick Pan tenacity against any other pan out there which usually have been riveted from within–you will see how innovative our product is with its glass lid standing relatively unconsciously on one's kitchen countertop!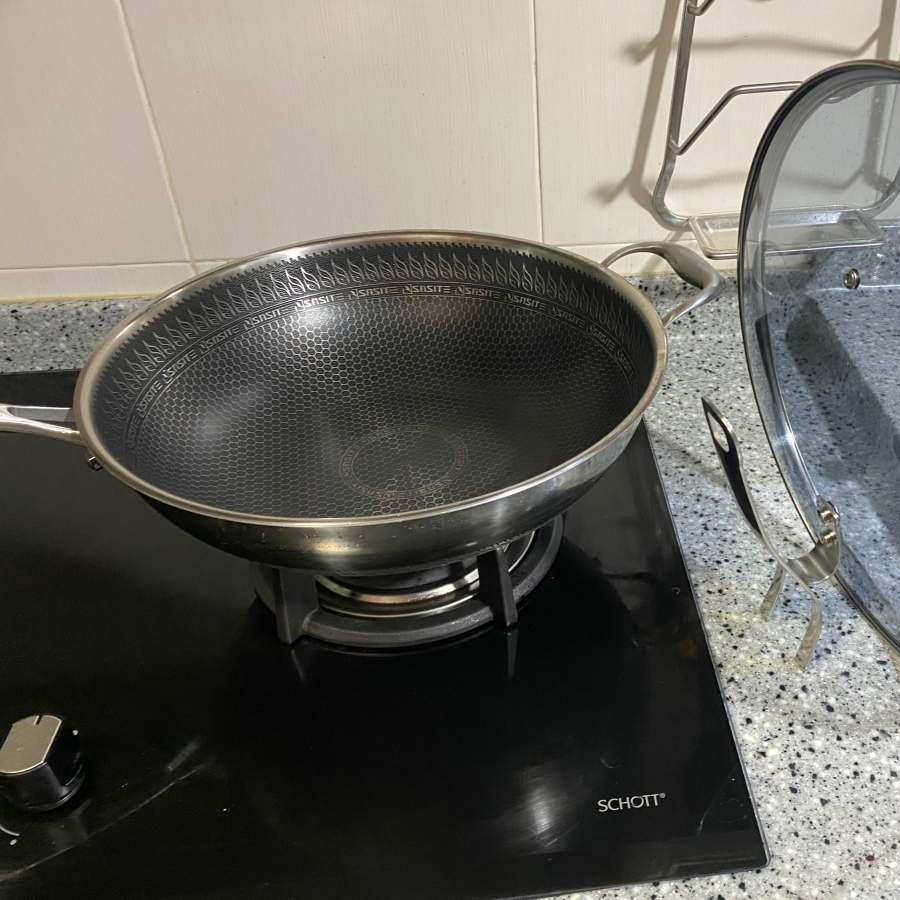 Why buy this:
Scratch-resistant
Non-rusting base
Enhanced features like glass lid and stand on its own
5. Carote 90s Collection Non-Stick Frying Pan
Best for large servings
Improve your kitchen with this pot's heavy-duty construction and innovative design. It's great for eggs, fried rice, and more!
Non-stick surface will never get grimy or sticky because it is dishwasher safe. Get the pan that lasts you a lifetime without discolouration or warping from typical use. The Carote 90s Collection Non-Stick Frying Pan is ready to start frying the bacon then pour pancakes with ease. This titanium pot wall pan has 5 layers, which include PP non-stick coating, aluminium, PTFE 98% mineral oil, high-density polyethylene plastic foam insulation and stainless steel. With this much innovation behind it you can be sure your food will not stick.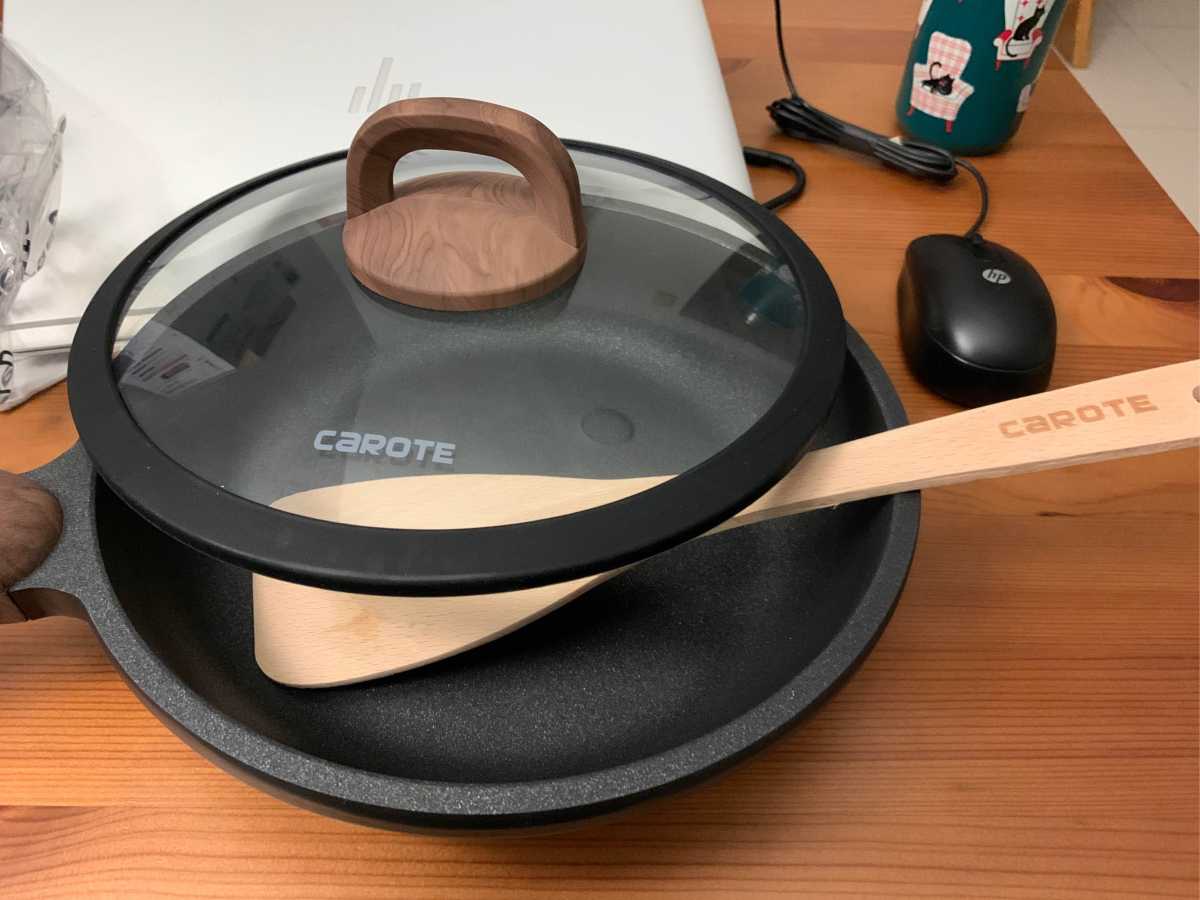 Why buy this:
Large capacity, great for large batches of cooking
Multiple layers assure durability and longevity of the pan
Works for gas and induction stoves
6. 40 CM 304/316 Stainless Steel Wok non Stick Honey Comb Health
Best for high-heat cooking
A new way to cook with the boldness of stainless steel on your stovetop! Non-stick, non-toxic honeycomb technology allows for uniform distribution of heat. It comes with a durable steel lid and funnel-shaped spoon to ensure sauces won't spill while pouring, plus other features like nonstick coats on pots (for healthy cooking). Built for blazing high temps and heavy-duty use! Use it on any type of stove – the universal size is 9.5cm deep with a 40cm diameter.
Why buy this:
Works with any stove
Can cook for large servings
Stainless steel ensures durability
Comes with a steamer
7. Non-Stick Frying Pan Sunny Egg Breakfast Mini Pancake Kuali
Best non-toxic pan
This frying pan has a non-stick and anti-scratch coating so every delicious bit of eggs, eggs with vegetables or greens, or just slices of pineapple can be eaten without requiring extra utensils to clean afterwards. Its sturdy and durable body enables it to withstand frequent usage by you and your family. It will last through any meal you would like to try making!
The long plastic handle offers a heat-safe comfort grip for handling convenience as well as ensuring safety from burns from the oven surface. This frying pan comes in handy when cooking fries katsu chicken, garlic pieces of bread, cheesecakes, and all your homecooked comfort food.
Why buy this:
Non-stick surface for easy cleaning
Durable and sturdy material
Comes in more than one color to choose from
Heat-resistant handle
8. Tefal Cookware Natura Frypan 28cm Non
Best nonstick coating
If you want good quality and a durable frying pan that can help you cook the perfect omelette, then the Tefal Cookware Natura Frypan 28cm Non-Stick Frying Pan is for you. Its ceramic not only makes it healthier to use (no harmful chemicals) but also safe for metal utensils. The Tefal Cookware Natura Frypan 28cm Non-Stick Frying Pan features a stirring spoon, spatula holder, plastic lid, tempered glass lid with steam vent holes and anti-drip edges so no more spillage! It works with almost all types of the stove (except induction) and also comes with the signature Tefal Thermo Signal Technology.
Why buy this:
Scratch-resistant coating
Proven durability for a long time
Even heat distribution regardless of stove used .
9. HOMEKING | Korea high Quality 32CM Non Stick Deep Frying Wok Pan
Best budget-friendly wok
A 32cm deep frying pan for your kitchen! Made with a non-stick exterior to make it easy to clean as you cook all of those delicious recipes, and three layers of steel so that the pan is ergonomic and stays cool even during long cooking sessions. Plus, the magnetized bottom will provide rapid heat transfer on the inside with uniform embossing. It's about time someone made a high-quality frying pan that would last a lifetime.
All these nifty features make this skillet perfect not only as a standard frying pan but also as a healthier alternative for stir fry cooking!
Why buy this:
Great value for money
Easy to clean and maintain
Cooks food evenly
10. Non Stick Marble Stone Stir Fry Cooking Wok Pan 26cm
Best for advanced cooking techniques
Want a more heavy-duty pan that can catch up with your cooking skills?
This 26cm wok pan is great for catching up with your cooking skills! The non-stick coating helps you flip, toss and turn all of your veggies to ensure they are evenly cooked.
It's also great for searing meats or frying your favorite foods making it a good choice for those who like to use a little more oil when cooking their food. The marble stone blend ensures the heat is spread out evenly and quickly throughout the entire pan so that every single morsel comes out crispy tasty. Why buy this:
Cooks food even in low temperature
High-abrasion resistant
Energy efficient wok
11. Uakeen Original Stone Earth Deep Frying Pan
Best stone wok pan
The Uakeen Original Forged Granite Cookware is perfect for all your frying needs. Our pots are excellent and long-lasting non-stick performance, so you keep the fat out of your food! We hope to bring some healthier options on your table with these pots. You can start cooking up anything with this unique cookware.
Their nonstick layers are sure to give your dishes clean, easy ways so you can get back to what really matters: creating tasty meals for loved ones. The Uakeen Original Stone Earth Deep Frying Pan features three-layer non-stick coating reinforced with titanium particles and long-lasting ceramic coating for cooking healthier foods while eliminating oil, grease, and fats in your diet.
Why buy this:
Thick wok pan, so you are sure for it to last for years
Can withstand daily use
Prepare more meals in one wok
12. DAFEIKE Non Stick Maifan Stone Frying Wok Korean Style Fry Pan 32cm Marble Coating
Best for its fast heating feature
This maifan stone frying wok is an essential tool for anyone who loves to cook. With its food-grade marble coating, the DAFEIKE Maifan Stone Frying Wok won't leave any fragments of burnt-on food after cooking, making it easier to clean afterwards. The machine-connected handle also makes it easy to manoeuvre without slipping and sliding all over the place.
The heat conduction on this wok ensures even distribution of heat, meaning your meat will be cooked evenly without over-browning or burning! And with its comfortable grip that stays cool at all times during use, you'll never lose control either!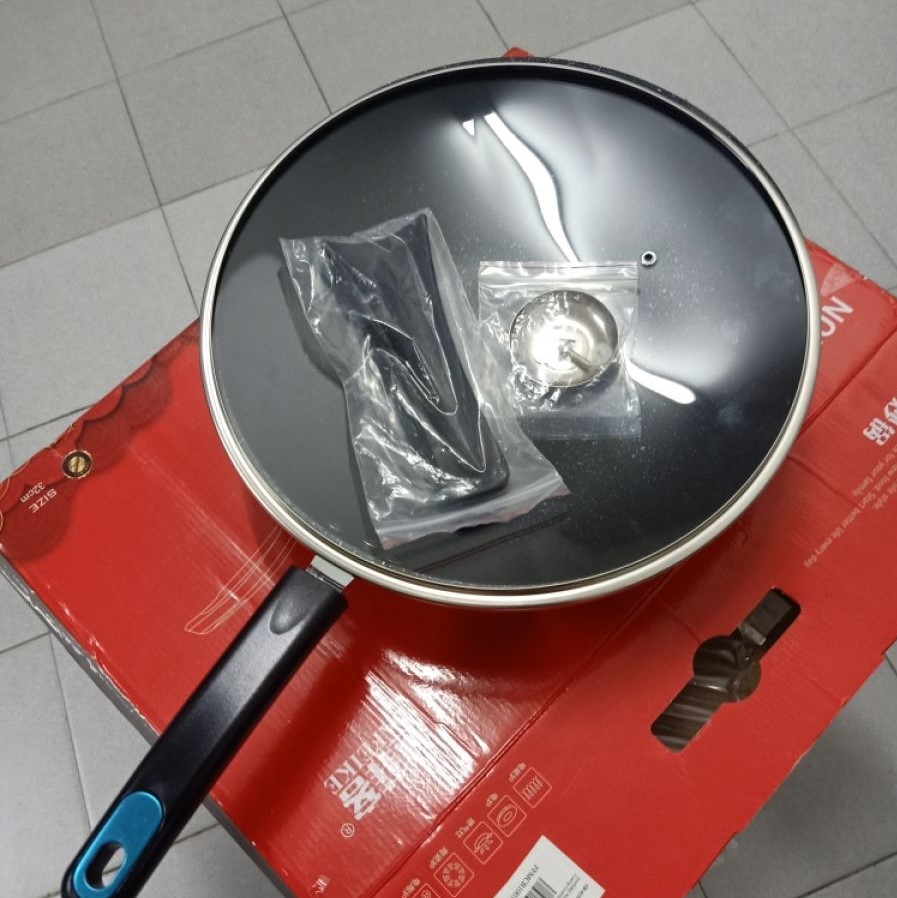 Why buy this:
Promotes even heat distribution
Fast heating feature ensures quick cooking time
Easy to clean and maintain
Benefits of Using Non-stick Pan
Most of us are used to cooking using stainless steel woks, and this is a great choice for most people. However, non-stick frying pans offer many benefits over the traditional ones:
Healthier alternative
Low chance of burning or sticking
Allow for low oil cooking which can ensure your food does not become greasy
Allows you to cook on lower heat settings while ensuring food will still be cooked evenly without burning it like in stainless steel woks
Non-stick coating ensures easy cleanup after cooking without any residue left behind
Check out our best choices for wok pan below:
Korean Non Stick High Quality Cooking Pan fry Pan
Lowenthal 28cm 5pcs Titanium Stone Coated Non-Stick Stir-Fry Pans
FAQs
What is a wok pan? 🤨
A wok, also known as a chinese frying pan or chinese pan, is a traditional earthenware stir-frying pan originating in China. It has many uses, including cooking and deep frying foods. The main feature of the wok is its shape, which is similar to that of an upside-down bowl and made from metal with flat base for stability on the stove top while cooking.
Why are non-stick pans better than stainless steel ones?
Stainless steel pans have been used for generations because of their durability and affordability. A non-stick coating can help food be cooked healthier by not having to add too much grease or butter.
How can I protect the coating of my non-stick pan?
The non-stick coating is the most delicate part of your wok, so you must take good care not to scratch or chip it off. Avoid using metal utensils as they can easily damage the surface.
What are good ways to clean a wok?
You should avoid washing your wok with soap because it will strip away the non-stick coating which means food will get stuck onto the surface while cooking. Instead, use a sponge and hot water to scrub off excess food after cooking. After rinsing, dry the wok by heating on high heat for a few seconds before storing away.
This post was brought to you by Kimz House.
Disclaimer: The opinion is solely based on our testing or intensive research with customer feedback around the most popular shopping platform such as Shopee and Lazada. The products/services shown here are available and valid upon the publication date. It may change from time to time. Please email us at [email protected] if there is any discrepancy.