Last Updated on
Hair tonic is a hair care product that helps to make your scalp healthier and thus, improves the health of your hair. It usually contains ingredients such as moisturizing agents, vitamins, botanical extracts, among others. All these help in improving the texture and volume of your hair, while also maintaining proper grooming.
It makes your hair look shiny and strong. With regular use, it helps to fight the signs of aging including grey hairs and limp or thinning hair. Hair tonics contain ingredients that deliver nutrients deep into your follicles, something that regular shampoos may not be able to do.
Interested to start your hair care journey? Here are the best 15 hair tonics in Malaysia today.
15 Best Hair Tonic in Malaysia
1. SCHWARZKOPF SEBORIN AKTIV Hair Tonic

Best for hair maintenance
Recognize that hair can take a beating and by giving it some TLC, you will be able to maintain its beauty. Now here is what SCHWARZKOPF SEBORIN AKTIV HAIR TONIC 300ML brings to the table: it repairs damaged hair from roots right up through the tip; strengthens the scalp for healthier-looking hair; reduces build-up which might contain products or styling aids.
Is this tonic safe for use in daily life? Yes, of course! Think of all of your steps towards unbeatable beauty. You deserve nothing less than beautiful healthy locks too.
Why buy this:
Revitalizes scalp and hair

Easy on the pocket, large packaging

Holistic hair treatment
2. YANAGIYA Hair Tonic

Best for daily use
Discover a healthier scalp through YANAGIYA Hair Tonic, the expert of all hair products. The refreshing cool touch and light feel will leave you feeling rejuvenated and refreshed after use. Get your problem areas back in check with this healthy must-have!
A revolutionary formula that stimulates new hair growth. Yogurt has proven for centuries to be a natural conditioner and can help provide moisture to the scalp, leaving your face smelling lovely all day long. This extra probiotic is taken from raw milk and never pasteurized or thermalized so it really packs in vitamins like A, B & E which stimulate cell renewal in the scalp.
Why buy this:
Can be used as a daily hair tonic

Non-greasy, lightweight and refreshing formula

Tones up oily scalp, dandruff & other scalps issues
3. Select Argan Oil Reconstruct Treatment
Best moisturizing tonic
When you think of hair care, it can feel like a never-ending wishlist. Every day we're faced with the latest advances in colour preservation and the newest shampoos on the market.
The Select Argan Oil Reconstruct Treatment is your new best friend for everything from reconstructing weak, damaged or colour-treated hair to infusing protein back into weakened shafts so that soon enough your locks will be stronger than ever before—no expensive salon treatments needed! Simply add product as directed after cleansing (layered on thickly!) for long-lasting results–and beautiful looking hair!
Why buy this:
Argan oil infuses much needed moisture for the hair

Great for reversing hair damage

Advanced hair repair technology
4. LOreal Paris Elseve Extraordinary Oil Gold
Best lightweight tonic
The LOreal Paris Extraordinary Gold Mask is light enough to use every day, but packing a punch with its formula made of the Olive Oil derivative. If you're looking for an alternative to your normal shampoo and conditioner routine, this product will help tame unruly hair.
You won't need to use a lot with this oil-based formula that'll help tame your wild hair! A little goes a long way because it's lightweight and concentrated enriched with intensive nutrients. Addresses frizzy hair tames flyaways and is the perfect product for flat-ironing. It's also amped up with our Double Riche Complex meaning less weighing down on you're curls or waves – which equals extra room for volume!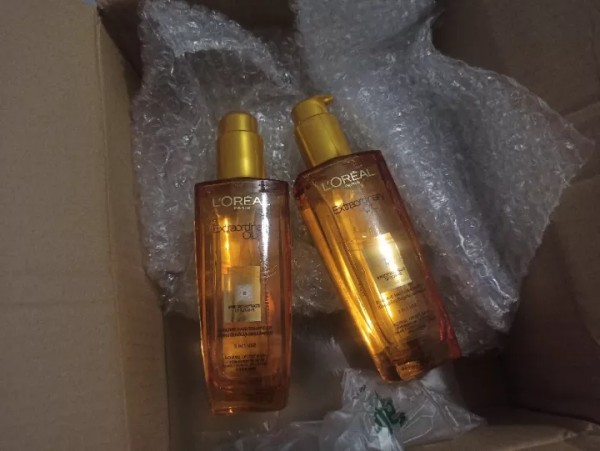 Why buy this:
Non-greasy formula, light on the hair

Adds shine and moisture to your hair

Dense packaging for more product usage
5. ARGAN DELUXE Argan Oil Hair & Body Serum
Best for dry scalp and skin
ARGAN DELUXE Argan Oil Hair & Body Serum is the argan oil formulation you need. Our special blend of 100% pure Moroccan argan oil gives your hair and skin what they need to stay healthy, prevent dryness, and fight ageing.
The ingredients have essential fatty acids that nourish hair roots, revitalize scalp health for rapid results, penetrate deeply-penetrating vitamin E protection against lipid oxidization, new active therapy complex with 5 plant oils for cell rejuvenation and restructuring of the molecular structure in order to preserve a vibrant youthfulness out of true beauty care.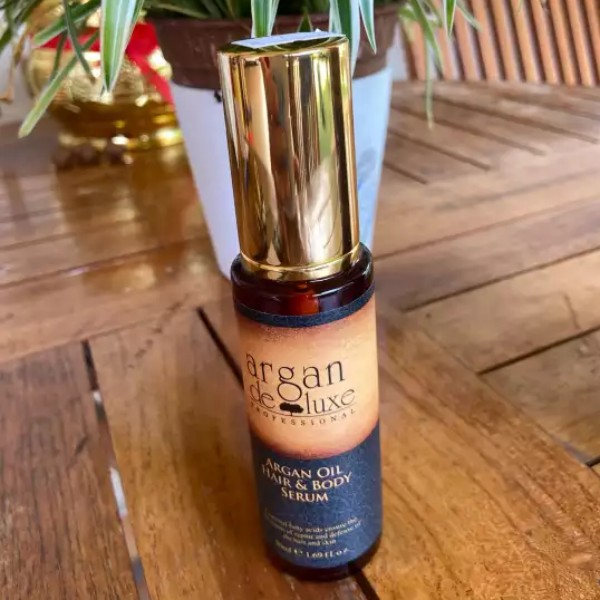 Why buy this:
Nutrient-filled tonic and body serum

Made from naturally sourced ingredients

Best for dry scalp and skin
6. Kerastase Elixir Ultime Original Hair Oil for Dull Hair
Best pharmacy brand
For hair that needs a boost, this tonic is perfect for you. The Kerastase Elixir Ultime Original Hair Oil nourishes and moisturizes to keep your hair strong, supple, and looking healthy. Extra heat protection makes it the perfect tool when fighting against environmental threats that can damage your locks. It's also an excellent emollient to use before styling or washing your hair in order to fight frizziness – just one product that does it all!
Kaastase Elixir Ultime Original Hair Oil is triple oil that nourishes dry hair, leaving it smooth and supple. It's also 98% naturally sourced so you can feel secure in the knowledge that your locks aren't being harmed in any way with this premium product.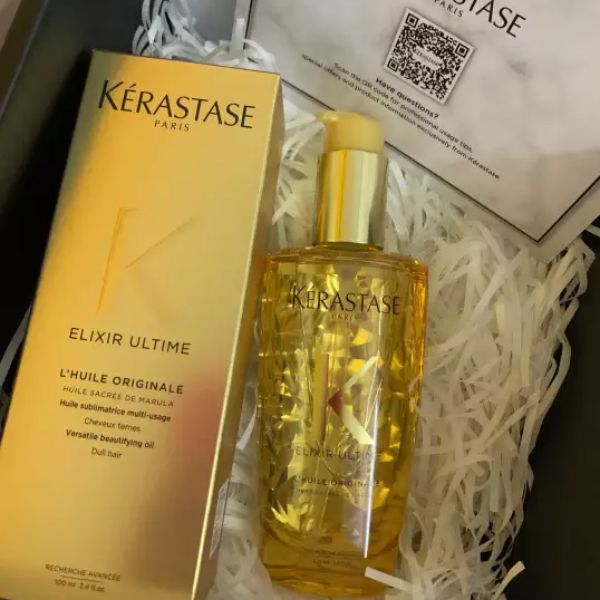 Why buy this:
Perfect for dull hair

Repairs damage and protects from environmental threats

Adds shine, moisture, and leaves locks strong and supple
7. Hair Serum Crystal Oil Hair Care
Best budget-friendly hair serum
A breakthrough in hair care, Hair Serum Crystal Oil is specially formulated with silk amino acid, vitamin E oils, and grapefruit essential oil. Its powerful ingredients will help nourish your hair while giving it the look of youthfulness and renewed vibrancy.
Start by removing the product from its bottle, then comb through evenly to make sure to coat every strand before you let go. You'll be amazed at how quickly your hair becomes softer thanks to these healthy nutrients that feel like a weightless serum on contact. And just as a bonus perk you may notice increased volume or shine!
Why buy this:
Great local product

Budget friendly

Comes in different fragrances
8. Ginger Germinal Oil Hair Growth Essential Oil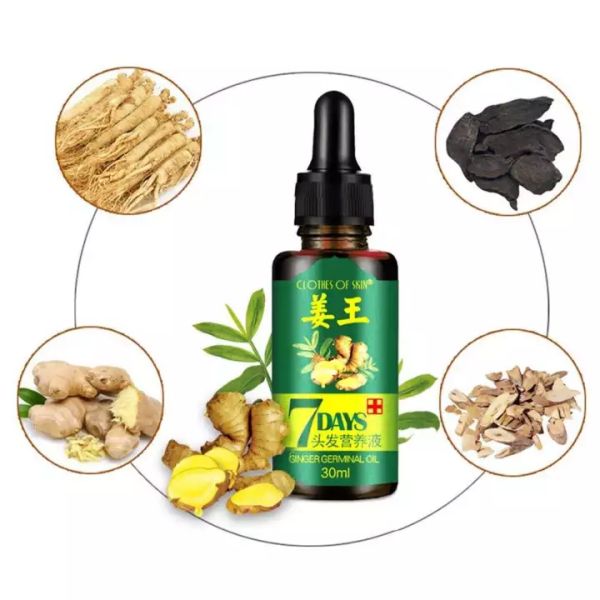 Best for bald spots
Get your hair back and stop the cycle of root-falling with a time-tested miracle oil. The Ginger Germinal Oil Hair Growth Essential Oil put to use ancient Chinese herbal medicines like Polygonum multiflorum, Angelica, ginseng, and Chuanxiong for nourishing the capillary in time.
These ingredients thicken the capillary and prevent roots from falling out again by strengthening hair roots. This product is perfect for people with dry scalp or thinning hair problems such as hair loss during menopause, young sparse hairs that show early breakage.
Ginger Germinal Oil has been formulated for hair growth but is also good to use for more general conditioning.
It contains ingredients like Ginseng, Angelica, and Polygonum multiflorum that are essential minerals needed by the scalp in order to grow a healthy head of hair.
Why buy this:
Best for bald spots

Good for thinning hair

Made of all-natural ingredients
9. GROWELL Hair and Beard Tonic Oil
Best hair tonic for men
You know, your hair really isn't the only thing that matters. Men are judged by their hair and beard too- but that doesn't mean they can just let all of those follicles go to waste when a little bit of TLC could turn things around. GROWELL Beard & Hair Tonic Oil provides the boost you need for thicker, fuller hairs with fewer fallouts so you'll never have to worry about running late because it won't take as long to style your locks in the morning or worrying if someone might run their fingers through it after shaking your hand.
You don't even have to wait for other people's judgments before taking action! It's made with all-natural ingredients and helps promote hair growth and thickness, as well as to soften the skin on your face. It is oil-based which makes it very easy to use for both your beard and hair.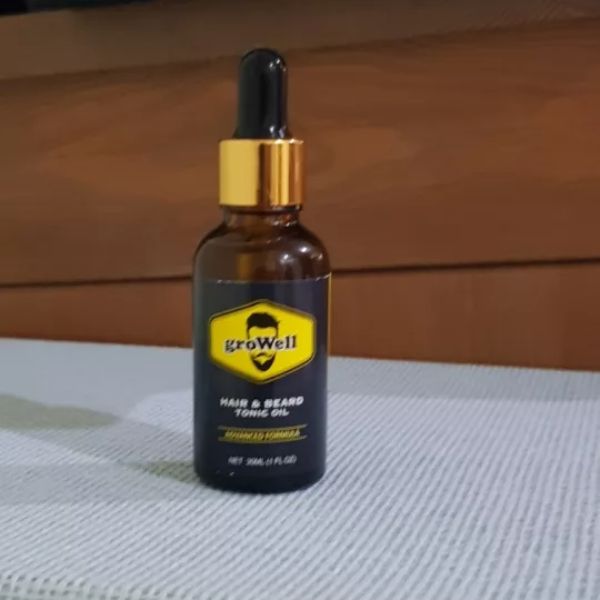 Why buy this:
No fuss formulation for hair loss

Easy to apply, quick results

Comes in travel-friendly packaging
10. Halal Morocco Argan Oil

Best oil-based hair treatment
"What's the secret to healthy, youthful skin? One word – argan! Rich in omega 7 and fatty acids, this wonder oil is great for moisturizing dry hands, ick-busting face creams, and even delectable cooking.
If you want the health benefits of this Moroccan argan oil without having to travel, we have the right one for you! It protects and moisturizes dry skin, promotes cell rejuvenation, and is sourced only from Morocco. Get creative with your hair and nails by using Halal Morocco Argan Oil as well. In just six weeks hair become fuller and stronger while nails are healthier than ever before.
Why buy this:
Mild smell, can be applied daily

Can be used on all parts of the body

Great for hair and nails with rich anti-oxidants, vitamins and minerals
11. Blondee Hair Serum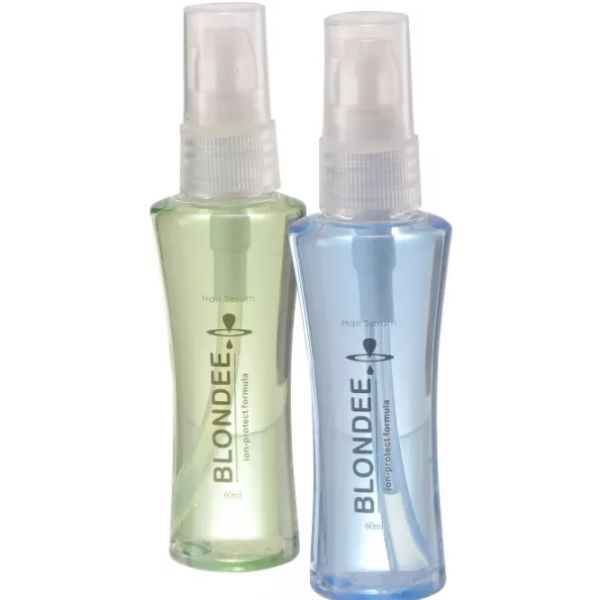 Best budget-friendly hair serum
Blondee Hair Serum is the answer to people who want healthy, beautiful hair! This ion-protect formula is perfect for those who need lasting protection and increased resistance to damage. It comes in a convenient pump bottle with a fresh mint scent that doesn't irritate your senses. The nutrition hair repair serum provides flowing goodness to help you stay looking sharp at work or on the dance floor all night long. Apply some Blondee with an easy pump action!
Why buy this:
Affordable at less than RM5.00 per bottle

Great, clean scent suitable for men and women

Makes hair more shiny and bouncy
12. Aily Hair Tonic Anti Dandruff Scalp Care
Best for dandruff-prone scalp
Aily Hair Tonic Anti Dandruff Scalp Care is the shampoo-free solution to a good scalp. Unlike traditional hair washes, this hair tonic contains no filler ingredients like sulphates or parabens. Ingredients like cinnamon bark extract and neem leaf oil have been used since ancient times as natural remedies for skin irritation and all sorts of other ailments.
The refreshing scent promises smooth and moisturized locks, but it's not just about your tresses—healthy hair starts at the roots. This tonic also offers essential nutrients that help strengthen up those follicles (a fancy term for what you call a root). This hair tonic increases scalp health by cleansing your pores and removing excess oil, which helps strengthen up your hair roots to prevent flaky scalp and painful itchy scalps. For maximum effectiveness use this award-winning formula after shampooing for a squeaky clean head of hair!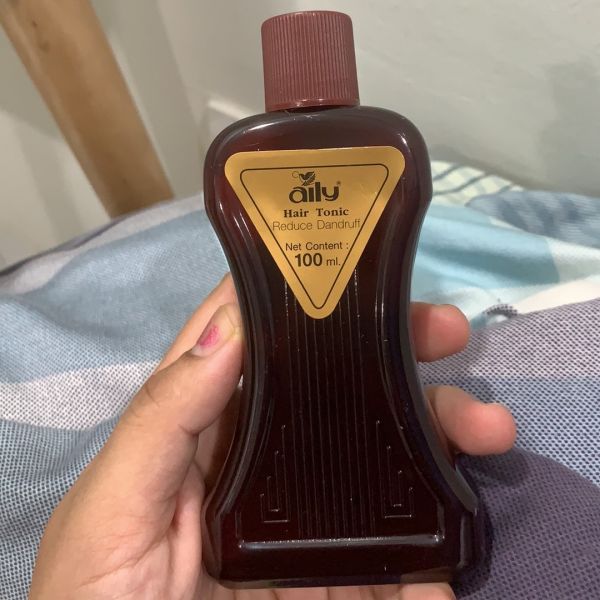 Why buy this:
Natural and 100% safe with no side effects

Fresh, clean smell makes it easy to apply frequently

Rich in botanical extracts that strengthen the hair roots and moisturize dry scalp and hair
13. [GRAFEN] Root Booster Tonic
Best for revitalizing hair
This is a perfect tonic to use when you want to add some moisture back into your head! You can spray this unique one-time application on your hands and massage it throughout the scalp. The oil-free, alcohol-free formula will make sure that this doesn't leave behind any buildup as well which offers instant relief from itchiness–from dandruff or psoriasis, for instance–along with reduced inflammation and dryness. It's important because these are just some of the things that cause hair greasiness in general. So why not have a go at keeping it healthy?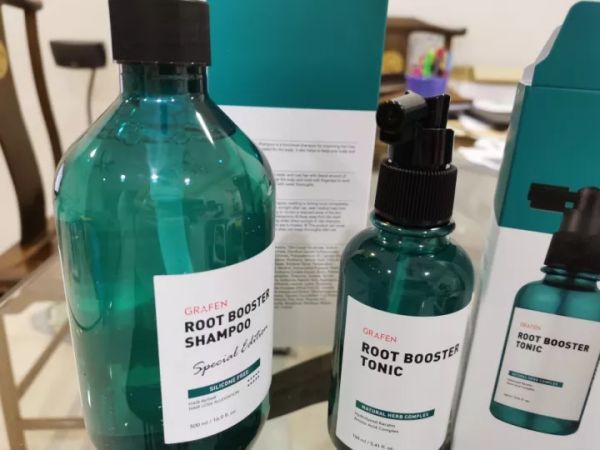 Why buy this:
Light and refreshing feel after application

Moisturizing without the greasy feel

Prevents hair fall
14. LAIKOU Morocco Argan Oil Hair Essential Oil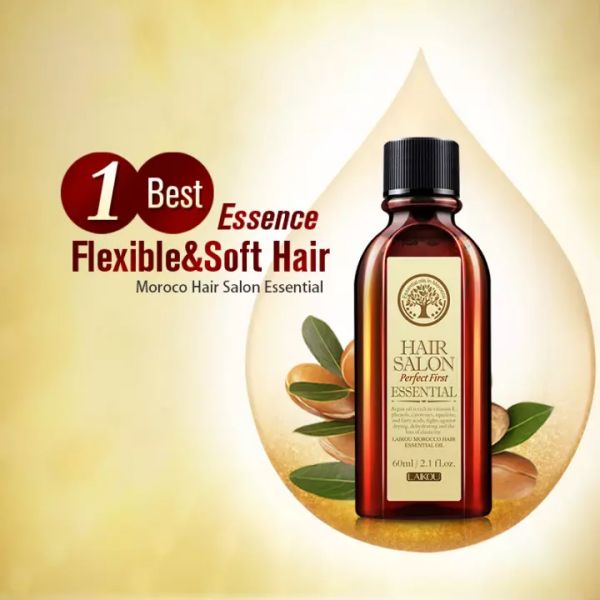 Best affordable hair oil
Energize your hair with LAIKOU Morocco Argan Oil Hair Essential Oil! This product is made from high-quality ingredients including Australian Argan oil, Moroccan nut oil and British sea kale oil. It will repair perm hair make it supple for easier combing, nourish the scalp and improve the overall health of your hair.
If your hair is too dry, but you don't have the time or money to get it done at the salon, leave it up to LAIKOU. Made with Australian Argan oil from Morocco and British sea kale oil, this rich product provides all of the moisture needed for a healthy head of locks. One downside: The Moroccan nut oils in this blend can cause those who are allergic to nuts some discomfort. But for everyone else with thirsty strands that need TLC? This one's a keeper!
Why buy this:
Rich in Moroccan Argan oil and British Sea Kale oil

Moisturizes your hair, making it soft instead of dry/rough

Great scent! Smells heavenly.
15. HAIRDEPOT Silky & Smooth Hair Repair Serum
Best for colored hair
It's every girl's dream to have the long, high-shine, and healthy hair they see in their favourite shampoo commercials – but not all of us are lucky enough. Thankfully this product will give you just that with its non-destructive formula guaranteed to leave your locks looking smooth and silky. From delicate fragrance perfected just for women to UV filter protection, there is no downside!
Whether you have constantly frizzy hair, dry or dull-looking locks, it is time to give your strands the attention they deserve by adding HAIRDEPOT Silky & Smooth Hair Repair Serum. This gentle formula will rapidly repair and seal all of the cutaneous scales for a sleek keep that epitomizes polished professionalism from root to tip. Get instant non-greasy shine with UV inhibitors that also prevent split ends–perfect for anyone who finds their hair unmanageable during humid months or after intense workouts at the gym!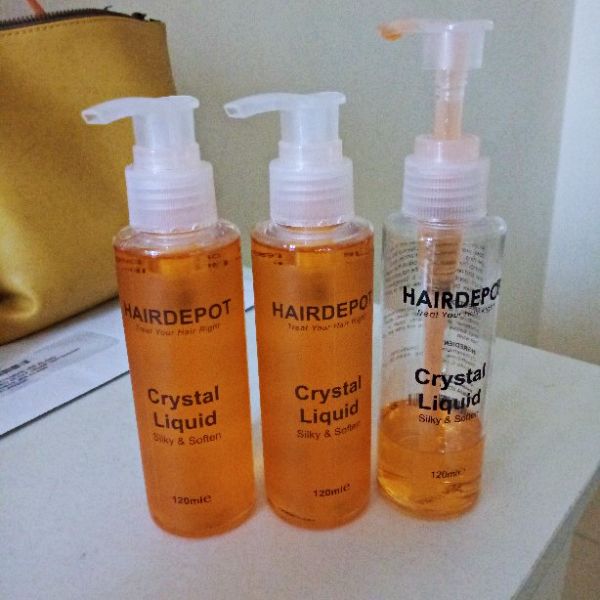 Why buy this:
Repairs damaged hair and seals the cuticle to prevent frizz

Adds shine and prevents dryness, sun damage and split ends

Perfect for women with colored hair as it is designed for all
Others Guide
What to look for in a hair tonic
Before you go out to buy a hair tonic, it's best to have an idea of what you are looking for. Some of the things that we usually look at include:
Type – Hair tonics come in two major types namely astringent and restorative. Astringent formulas are those that tighten your scalp and hair and may not be the best choice for those with dry, damaged hair. If you want to bring back your hair's moisture and volume, then restorative hair tonics are for you.

Ingredient list – Ingredients in hair tonics vary, as some contain natural ingredients like jojoba oil and nettle extract while others contain synthetic ones such as Diazolidinyl urea. Choose a formula that has all-natural ingredients so that you will have healthy-looking locks.

Fragrance – Some people are particular about fragrance. Although we're so used to fragrant shampoos, you do not need this from hair tonics in order to get the most out of its effects. However, if you want a hair tonic that can also double as your hair perfume, you can always go for the sceneted ones.
FAQs
What is a Hair Tonic and How Does it Work?
A hair tonic is a type of product that can be used to cleanse, moisturize, condition and/or nourish your hair. It usually comes in the form of an oil-based liquid. Unlike shampoos which are made to remove unwanted residue from sweat and oil, hair tonics are meant to replenish the lost nutrients from the hair.
Can men use hair tonic?
Yes. Some hair tonics are specifically formulated for men to promote hair growth and maintain hair strength.
Should I rinse hair tonic?
Most hair tonic have leave-on formula in order to get the best results.
Conclusion
If you're looking to improve the health of your hair, then using a hair tonic is one way to go. Hair tonics contain different ingredients that make up for what our scalps lack in order for us to maintain healthy and shiny locks. The best part? You can find these products at affordable prices here in Malaysia. So browse through this list of 15 hair tonics available today – we guarantee you won't be disappointed!
This post was brought to you by Kimz House.
Disclaimer: The opinion is solely based on our testing or intensive research with customer feedback around the most popular shopping platform such as Shopee and Lazada. The products/services shown here are available and valid upon the publication date. It may change from time to time. Please email us at [email protected] if there is any discrepancy.