Last Updated on
As various esports professional leagues are starting their respective tournaments and qualifying rounds, some of you might be thinking of taking up gaming again or more seriously. Gaming can be unergonomic especially since it involves seating down in front of the computers for long periods of time. Finding the perfect gaming chair for your needs can be a real challenge.
Whether it is gaming or even just working at your desks as work from home continues, you can for sure benefit from a good gaming chair, although they can be pricey. Do you want something that is ergonomic, comfortable or stylish? We have listed down 7 best gaming chairs in Malaysia that you can easily purchase even online and get the value for your money!
Table of Contents
Top Gaming Chair Brands in Malaysia
Conclusion
FAQs
Quick Comparison Table
(scroll right for more)

1. TTRacing Duo V3
Best Entry Level Option
Are you looking for the perfect entry-level gaming chair? Well, search no more. The Duo V3 Gaming Chair is by far the best you will find. It's equipped with nothing but top quality and reliable parts to provide ultimate comfort and a superior sitting experience. Made from breathable Italian elastic cloth in order to dissipate heat faster this Carbon Fibre PU leather chair was made specifically for most people who need a wider and taller body seat grip, so it can accommodate them all! The 155-degree tilting feature on the side means that there's absolutely nothing stopping your view of the screen while ever believing possible! For those gamers out there who are yet to try upholstery then make sure not to waste another minute before getting one today. Don't let the subtle and stylish design fool you. This gaming chair features a butterfly mechanism that will not only keep you stable, but it's also smart too, adjusting to your movements as they happen so you don't have to worry about fumbling with buttons in-game while getting tripped up by every little thing.
Pros:
SGS certified hydraulics

Heavy Duty
135-Degree tilt
Cons:
A bit complicated to install
2. TTRacing Swift X
Best Ergonomic Design
This ergonomic chair provides unparalleled comfort. The roomy seat makes it suitable for gamers of any size while two cold cure foam backrests ensure complete support and comfort. Even better, the high-quality faux leather coverings come in multiple colours so you can easily find one to match your home décor. The elegantly stitched headrest detailing and unrivalled craftsmanship give the chair a contemporary design that makes it stand out from the rest.
With its superior build quality and impressive features, this chair offers exceptional value for money when compared with other similar products on the market today. Whether used as part of a gaming setup or simply as an addition to your living space, this product will offer incredible levels of comfort every time you sit down. Plus, due to its durable construction, it should last for years without showing signs of wear and tear – making a great investment too!
If you're looking for an ergonomically designed chair with great features at an affordable price then look no further than Best Ergonomic Design! Not only does it look fantastic but its robust materials make sure that it'll stand up to everyday use effortlessly – perfect for anyone who wants to game or lounge in supreme comfort without having to worry about compromising their posture in any way whatsoever! Head over now to get yours today before stocks run out
Pros:
Comes with a 165 degree recline

High density cold cure foam

Height Adjustable Armrest
Cons:
The faux leather coverings may not be suitable for some people with allergies.
Some reviewers have found the armrests to be slightly too low and narrow.
High back rests may prevent shorter individuals from comfortably leaning against it while gaming.
3. Musso Navigator Fabric
Skin Friendly Fabric
As a homeowner, having the best setup for your gaming and computer activities can be daunting. That's why I highly recommend the Musso Navigator Fabric chair. This chair provides exceptional and luxurious comfort with its extra padding, 0 fabric material, adjustable height control, 360-degree swivel, and tilt feature, and included lumbar support pillow all in one! The thick padding ensures maximum comfort even during long hours of gaming or work while the breathable fabric keeps you cool so you don't overheat. Moreover, its built-in pillow provides additional support to reduce strain on your back after being stationary for extended periods of time.
With every feature that it offers, this is truly an ideal choice if you are looking to invest in a gaming chair at home or for office use! It offers convenience with quick adjustments from elevated heights to angles according to your preferences anytime – whether it be changing small details during play or for greater postural support when working intensely at the desk studying or playing games for longer durations of time. Overall this product guarantees convenience as well as stability which makes it perfect for home use when engaging in computer-related tasks such as gaming and work sessions alike!
So make sure to check out the Musso Navigator Fabric Chair today and experience firsthand why this is truly one amazing investment piece that will last through many years' worth of daily intense usage – both by gamers and non-gamers alike! This high-quality product even comes with a 1-year warranty so make sure to invest now while supplies are still available!
Pros:
Made with 2.0 fabric material for superior breathability and comfort
Ergonomic design, with adjustable armrests and backrest height to adjust to fit your body
Large seating area ensures plenty of room for all sizes of users, perfect for long gaming sessions
Cons:
Does not come with adjustable armrests
No built-in lumbar support
Can be a bit pricey for some people
4. Musso Blazer Series
With Rocking Function
Introducing the Musso Blazer Series – the perfect gaming chair to provide you with maximum comfort and a high-end experience.
It features premium PU leather upholstery that will have you relaxing in comfort whilst the 360-degree swivel wheels offer effortless movement. This, coupled with its rocking function, provides an incredibly intuitive gaming experience that takes your enjoyment to the next level.
Furthermore, cleaning is simple and hassle-free as all it requires is a quick wipe of a soft towel when needed – making maintenance minimal and straightforward. Additionally, its ergonomic design offers additional support for both your back and neck – helping to decrease overall fatigue so you can focus on enjoying your gaming sessions without worrying about physical discomfort or pain building up over time.
In summary, homeowners searching for an exceptional gaming chair should strongly consider the Musso Blazer Series – it combines comfort with practicality and convenience, allowing you to experience true relaxation without compromising on performance or quality control measures such as cleanliness or body posture improvements. Make sure to check out this series today – your gaming setup won't be complete without one!
Pros:
360-degree Swivel Wheels
High-density sponge
Premium PU leather
Cons:
Some users may find the backrest of the chair to be too short
Does not come with a lumbar pillow for added support
5. TTRacing Surge
Heavy Duty Wheelbase
The TTRacing Surge is designed with ergonomics in mind and has just the right curves from shoulder to waist to help provide even weight distribution. It also offers soft seat cushions so that you not only stay comfortable but keep your back correctly aligned as well.
Along with the optimal seating experience, this chair includes a high backrest which adds extra lumbar support so that it can better fit your body's natural curvature and posture when seated. Additionally, its mesh material used in both the arm and shoulder area ensures maximum breathability to prevent discomfort during extended sessions of gaming or working at home.
Put simply, if you are looking for an affordable chair option that provides comfort while also supporting good posture, then look no further than the TTRacing Surge! Not only does it offer exceptional ergonomic design features but its breathable mesh material will ensure you don't overheat during those long periods of work or play!
Pros:
180 degrees recline

4D adjustable armrest .

Chrome aluminum base
Cons:
Limited color options
Does not come with any accessories such as a gaming tray or headrest
Not suitable for tall individuals due to the size of the chair
6. SOKANO OC04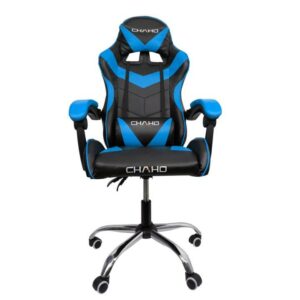 Affordable Option
SOKANO's adjustable headrest and armrests make it easy to customize the chair to fit your specific shape and size so you can remain comfortable even during long hours of gaming. The breathable mesh material ensures adequate air circulation, thus preventing discomfort from excessive sweating during your intense gaming sessions.
The sturdy steel frame construction coupled with high density foam padding makes this SOKANO OC04 a reliable product that supports up to 120kg weight limit. This means that not only is it suitable for people of all sizes but also provides superior comfort and support as you sit in the chair while playing games or doing other activities like working or studying at home. In addition, its swivel base helps you move around smoothly without having to worry about any jerks or disruptions due to unstable legs or wheels which often cause fatigue over extended periods of use.
All in all, if you are looking for an ergonomic and comfy solution for prolonged periods of sitting at home, then the SOKANO OC04 is just perfect for your needs! So what are you waiting for? Get yourself one today, relax on its smooth cushioning and enjoy a comfortable yet enjoyable time while indulging in your favorite activity – be it gaming, streaming movies/TV shows etc., or even working from home!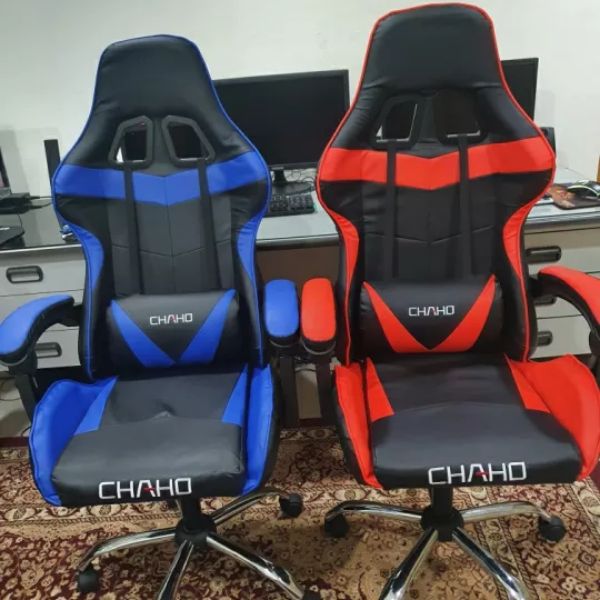 Pros:
Multi-directional wheels

PVC leather provides durability

Full-length Backrest Recline
Cons:
The chair's armrest is not adjustable
7. Cooler Master Caliber R2
Made with Premium Material
Caliber R2 is the best racing style gaming chair on the market because of its durability and ergonomic design. It will comfortably hold up to 150 kg reliably for long periods of time, making it perfect for gamers who are more than slim. We have fitted it with a class 4 gas lift that smoothly elevates you in an instant when your back needs a breather mid-flight or you just need to rest after winning first place.
On top of being comfortable, Caliber R2 can provide competitive players with all the right tools they need for success, like this fully cast steel base with 5 casters that ensure even movement on even surfaces without tipping over. There are also two armrests waiting to be raised and rotated whichever way.
Pros:
Ergonomic design that ensures comfort and reliability for up to 150 kg
Class 4 adjustable gas lift for easy elevation
Fully cast steel base with 5 casters for smooth and balanced movement
Cons:
No lumbar support
Limited color options
Chair is not adjustable for height
Top Gaming Chair Brands in Malaysia
TTRacing
TTRacing is dedicated to creating gaming chairs that provide optimal comfort and performance. Their ergonomic designs focus on long hours of maximum productivity, providing a seamless seating experience for gamers from all backgrounds!
Musso
MUSSO is an enterprising gaming chair brand, revolutionizing the home office experience since 2017. With a strong presence in North America and Southeast Asia, MUSSO chairs are celebrated for their superior comfort, safety and ergonomic design – delivering optimal relaxation to busy households around the world!
Conclusion
With the rise of esports and gaming, it's important to have a comfortable chair that will help you stay in shape even after hours spent sitting down. Finding the perfect gaming chair for your needs can be a real challenge. But don't worry! We've got an article on how to find one right here. Let us know some of your favourite ceiling fan brands in the comments below so we can share them with our readers too!
We hope you enjoyed our list of the best gaming chairs in Malaysia. If you have a favourite brand, let us know! And if there is any other information on this topic that we haven't covered here, please share it with us and others by commenting below.
FAQs
Why should I get a gaming chair?
Gaming chairs are ergonomically designed to assist gamers in playing their favourite games for longer hours without pain or fatigue. It is also likely to help prevent your back problems.
How can a gaming chair help me?
Gaming chairs are specially designed for gamers to provide proper support for your back and it also supports your spine with the right posture and allows you to play for a longer period of time without pain. It is also designed to be ergonomic so that it will give you comfort while playing games on PC, Laptop or Console as well as helps in preventing backache
Do I need a chair with an adjustable backrest?
Many gaming chairs come with adjustable backrests and arm rests. This allows gamers to customize the chair according to their preference as well as comfort levels, allowing them to sit up straight in the chair while they are playing or working on their computer.
How do I know which chair is the best?
Most important thing about choosing a gaming chair is to check that it has good back support. Lumbar support is particularly important because this helps in the prevention of pain and musculoskeletal disorders caused by long periods of sitting down. It should also offer a variety of features so you can sit up straight while playing or working on your PC or computer.
This post was brought to you by Kimz House.
Disclaimer: The opinion is solely based on our testing or intensive research with customer feedback around the most popular shopping platform such as Shopee and Lazada. The products/services shown here are available and valid upon the publication date. It may change from time to time. Please email us at [email protected] if there is any discrepancy.