Last Updated on
The Best Freezer is one of the most important appliances in a home. It is used for storing food and products to keep them fresh, such as meat and drinks. Some people prefer buying a new freezer if their old ones are not functioning well anymore so they can store their food properly.
Freezers are usually available in many various sizes, shapes, and features to meet different customer's needs such as a chest freezer or upright freezers. The size of the freezer will determine how much storage space it has while its shape decides on what kind of design it will have. Although these are commonly found in commercial establishments, you will also find the convenience of having your own freezer at home especially if you are from a large household.
If you need a new freezer for your store or home, here are our best finds for this month:
12 Best Freezers in Malaysia
1. Morgan MCF-0958L Dual Mode Chest Freezer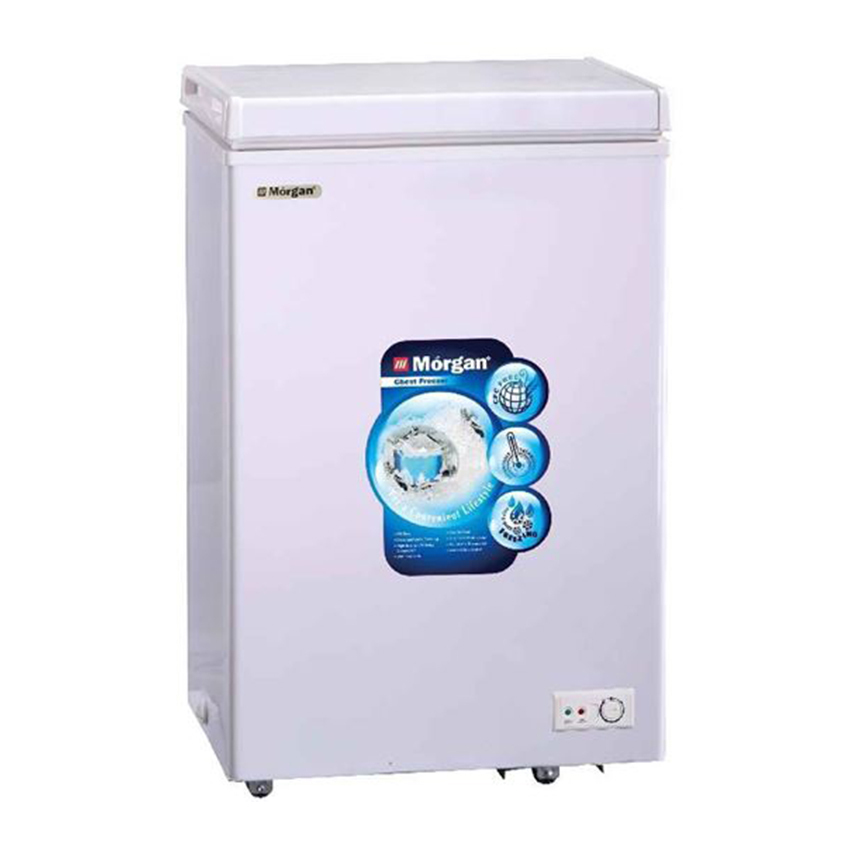 Best dual-mode freezer
The Morgan MCF-0958L Dual Mode Chest Freezer has a total storage of up to 320 litres. It has a lockable door to ensure that the food in it will be well protected. This freezer also has an electronic thermostat and humidity control so you can set the desired temperature inside it and have it maintained automatically as well.
This product is made from high-quality materials so you know that it's durable and can last for years without experiencing any problem at all. You'll notice how convenient this freezer is once you've tried it out yourself because of its features, such as anti-frost technology, defrost drainage system, adjustable feet to fit your flooring and hot gas discharge vent.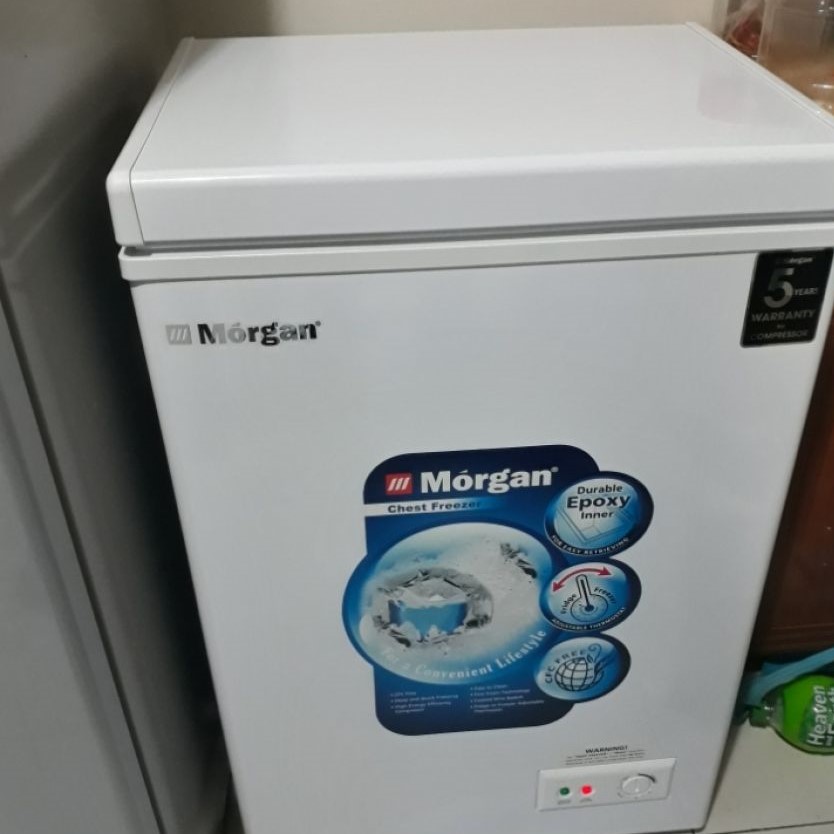 Why buy this:
Deep and quick freezing, great for ice creams and red meat
CFC Free
Adjustable thermostat
2. Hisense Mini Chest Freezer 128L FC125D4BW
Best for keep cool function
Hisense is one of the trusted brands when it comes to refrigerants and coolers, which is why you can feel free to get this mini deep freezer. This model comes with an automatic defrost system, a large capacity to fit up to 108 cans of drinks and food for a total of 128 liters, as well an adjustable thermostat so you can set the temperature inside. It has an interior light that lets you see what's inside better and a door alarm that goes off when there is a power failure or if the door is left open for too long.
The exterior is made from stainless steel finish while the inner part consists of 6mm polyurethane insulation foam which ensures your food will be kept fresh and cool in spite of the hot weather outside your home. Its thermoelectric cooling system also contributes on how it maintains the temperature inside the freezer.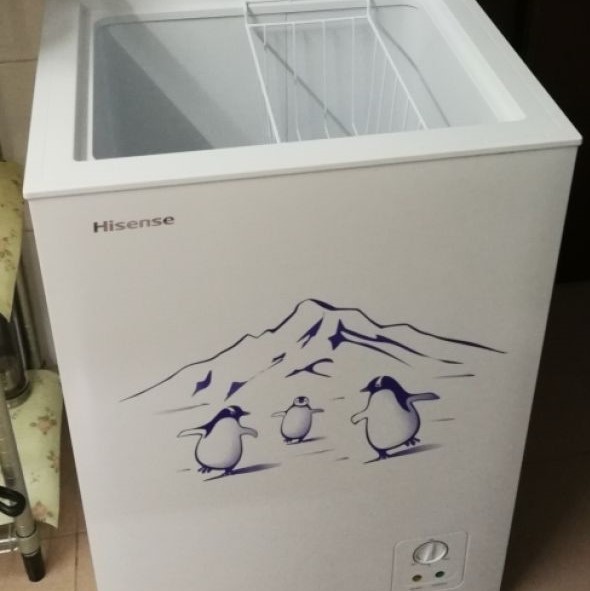 Why buy this:
Maintains 0 degrees for up to 135 hours even after power cut
No need to hold door manually while getting something
Below zero temperature can be achieved quickly
3. Midea Dual Function WD-260W
Best Portable Model
If you have a tight budget and need the freezer to store more meat than your minifridge can handle, look no further! This dual function chest freezer is versatile in that it is not only capable of being used as a standard, upright freezer – but twisting its feet allows it to change shape into something wider for convenient storage. These are just some reasons why this white Midea chest freezer has many satisfied customers.
Features like an adjustable thermostat, key lock, roller with easy movement, and silent hinges make this product an attractive choice for most consumers while having the added bonus of keeping food fresh and frozen for great retention time.
Why buy this:
Durable wall and easy to clean body
Comes with a removable storage basket for easy access to your frozen goods
Quiet operation
4. Faber FZ128 Dual Mode 100L 2 IN 1
Best for its durable body
Come home to find fresh, chilled food at the bottom of your chest freezer with manual defrosting and mechanical temperature control. Freezers with self-defrosting features are great for storage during winter, but in warmer months you'll have to manually defrost when it starts getting warmer.
Next time slightly cool temperatures hit your kitchen or living area, don't worry about having leftovers sitting out on the counter or in the garage fridge gone bad! Let this free-standing chest freezer be your trusty year-round appliance where preserving meal quality is easy and convenient. Upgrade from chilly exterior temperatures that hover over freezing into interior cooling measures below 10 degrees Celsius which keep every inch of insulated storage ice cold.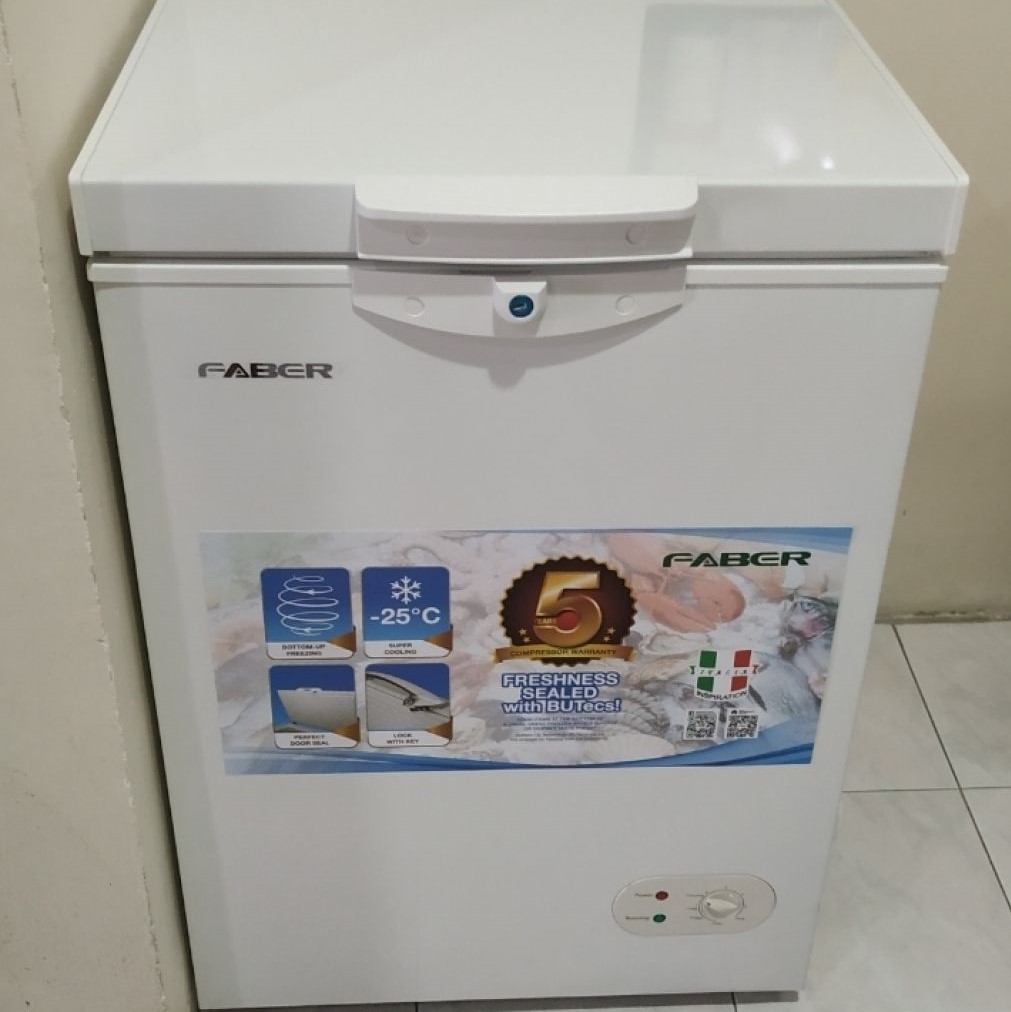 Why buy this:
Last long enough for a family with 5 kids and 3 adults
Door lock to prevent children from opening the door
Anti-corrosion and anti-rust
5. Morgan MCF-1178L DUAL FUNCTION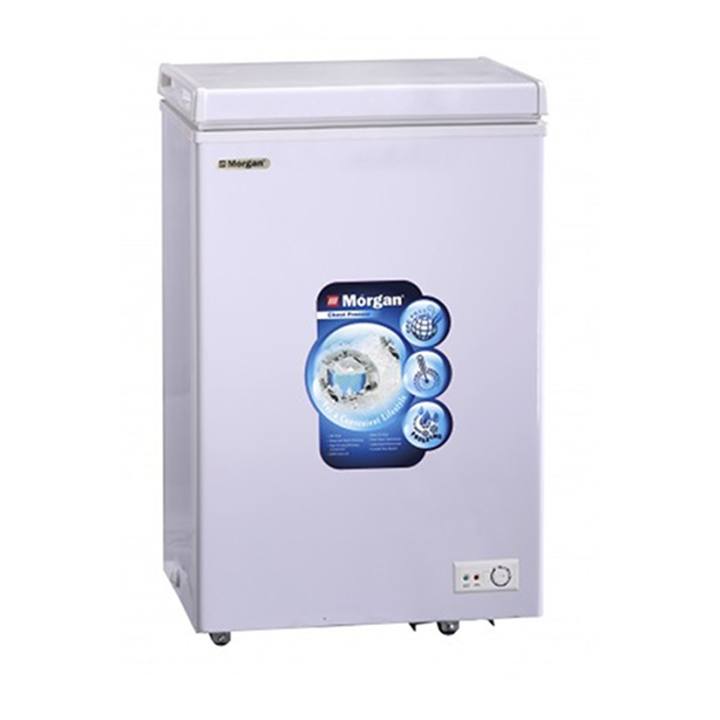 Best for energy-efficient
The Morgan MCF-1178L DUAL FUNCTION CHEST FREEZER offers a versatile and efficient option for your kitchen. CFC free, the MCF-1178L allows you to adjust both fridge and freezer settings independently.
The deep freeze capacity means that you can stock up on favourite frozen goods in bulk, while the quick freezing system ensures that separating out food items is quick and easy – taking just 13 hours for an entire day's worth of fresh foods to completely freeze (compared to 33 hours). The best part? With power consumption at just 273 watts, this popular appliance won't burn through your electric bill like most other brands.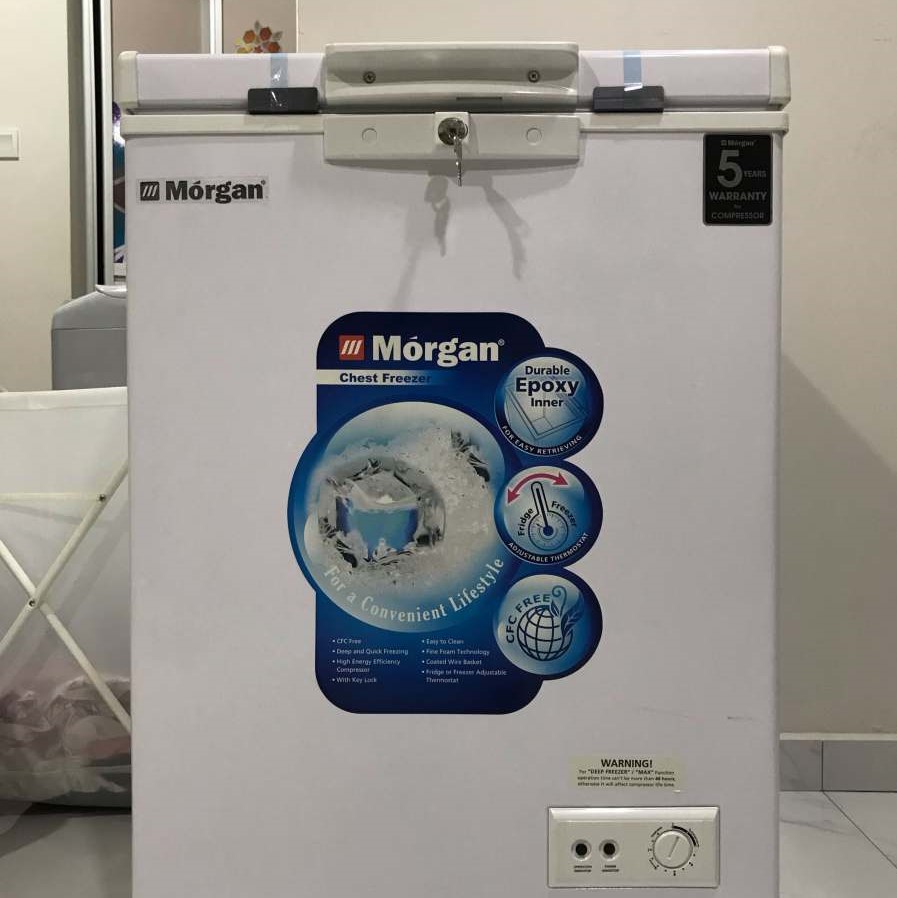 Why buy this:
Energy-efficient despite its fast cooling mechanism
Best for bulk storage
Can be both a fridge and freezer
6. Berjaya Premium BJY-CFSD100A-R6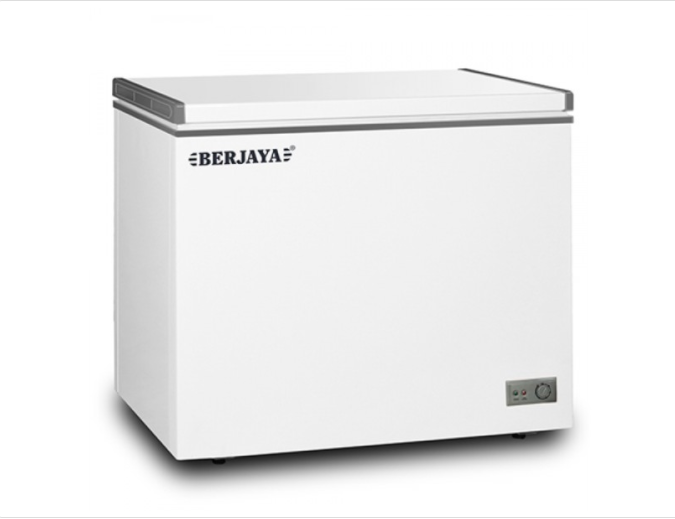 Best for household use
When it comes to freezing food, quality design and durability are key. The Berjaya Premium Chest Freezer series is the perfect solution.
Though designed for commercial applications, these chest freezers easily transition into household use; from auxiliary fridge to a freezer with room for extra supplies! With a secure locking mechanism and advanced insulation resistant foam, you can be sure your things will stay cold no matter how long they're inside.
Enhanced airflow ensures that this appliance uses energy-efficient technology in combination with increased capacity for efficiency too! Added features include an installed humidifier system, which protects against frosting on the walls as well as Anti-Pinch Protection which means doors won't slam shut unexpectedly when cleaning around.
Why buy this:
Durable and long-lasting
Low energy consumption
Adjustable thermostat with a locking system to prevent children from opening the door
7. Toshiba 142L 2 IN 1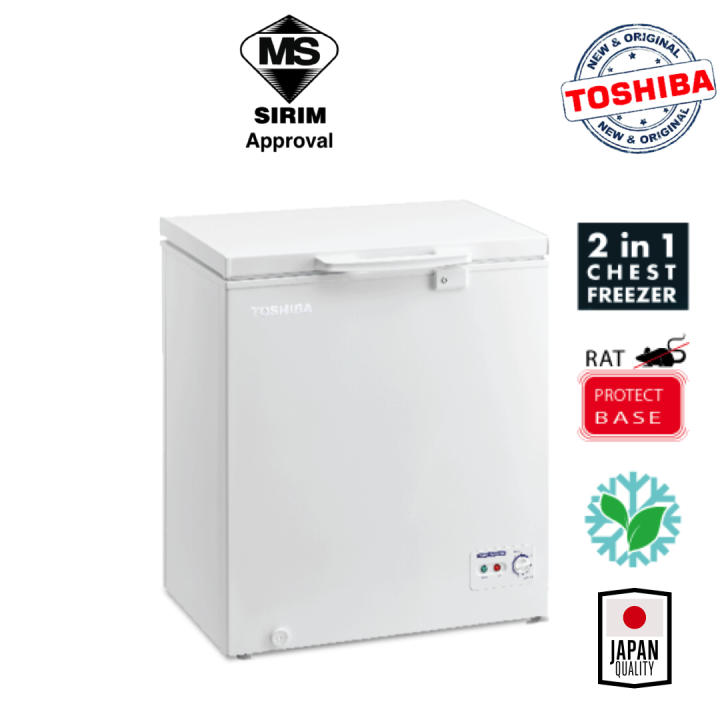 Toshiba's 142L Chest Freezer ties function and style with full integration into your kitchen. This 2-in-1 unit acts as both a chest freezer for stocking up on the best of the meat aisle, and when needed can change over to refrigeration mode so that the family always has cold drinks on hand. And thanks to D shaped pipe refrigeration you keep everything cool and icy while using less energy. With easy-to-use features like gripping handles on the inside of the unit – accessing is easier than ever before!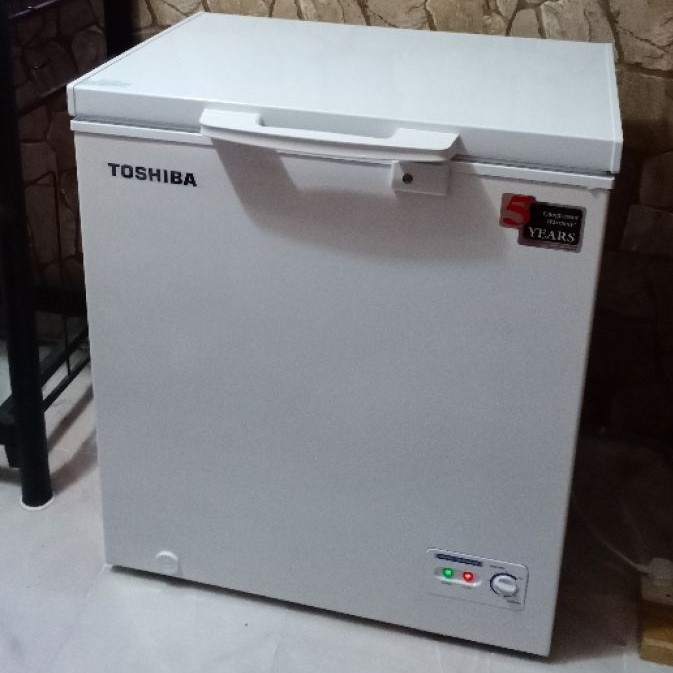 Why buy this:
Can be both a fridge and freezer in one
All your food and beverages can be easily arranged inside
Neat and functional design
8. SHARP (SJC118) 110L DUAL FUNCTION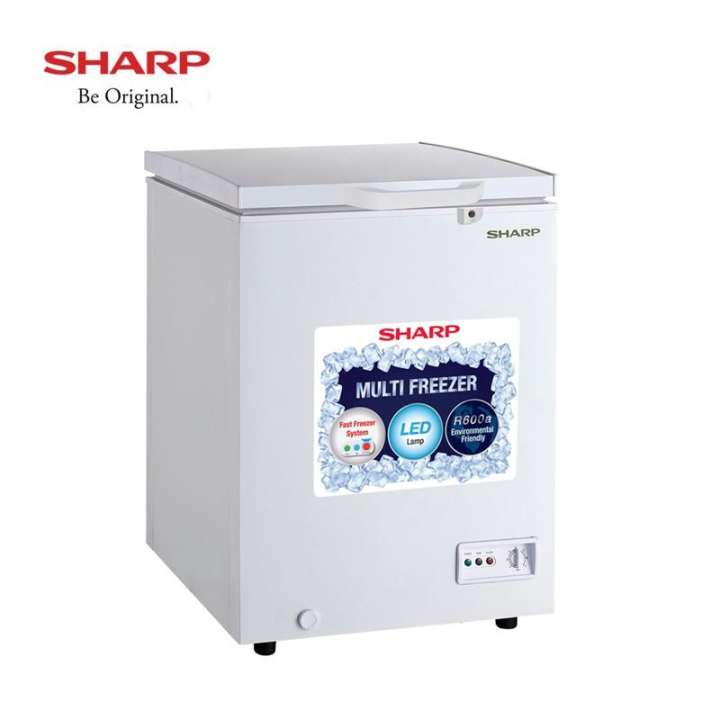 The best way to freeze your favourite food is with a top-quality freezer like the Sharp SJC118 110L Chest Freezer. Achieving freezing temperatures from 10ºC/-15ºC, it's also perfect for keeping your produce fresh in its wide range of 0°/+10° temperatures. The Sharp Chest Freezer 110L doesn't waste energy due to coolant evaporation like traditional freezers do, making it the most efficient machine you can get on the market right now!
With Sharp's innovative dual cooling system, you get the choice between icebox-type food preservation (express freeze) and alternative methods like vapor cooling where foods are chilled faster than before without losing their flavour.
Why buy this:
No energy-waste in its cooling mechanism
Best for storing all types of food
Ice-box type food preservation
9. Elba EF-E1915 190L 2 in 1
Best for storage features
The Elba EF-E1915 household 2 in 1 Chest Freezer gives people sorted storage for their food with its removable storage basket as well as an inner that's long-lasting.
It can be converted to a fridge and will keep all your groceries nice and cool no matter how many you have. With its sturdy white interior and a D-shaped pipe refrigeration, this appliance comes with everything you need for it to work effectively in the kitchen. The best part? It has five years of warranty on the compressor, so this machine is totally reliable when what you want most is reliability.
Why buy this:
Its easy-to-use features
Five years warranty on the compressor for added security
Freedom of choice between being a freezer or a fridge
10. Hitec 133L HFZ-C130 with Quick Freezing Function
Best quick-freeze feature
This particular freezer is unique in that it has a Quick Freezing Function which is perfect for perfectly freezing fresh seafood. This freezer also comes with 100 hours of freezing retention meaning you don't have to worry about the priceless dinners and lunches you stored inside of it spoiling quickly. The Hitec HFZ-C130 Chest Freezer can hold up to 133L of space, making room for all your daily needs (who doesn't need more space?).
This freezer features the latest supercooling capacity so you'll never get angry over having to defrost again!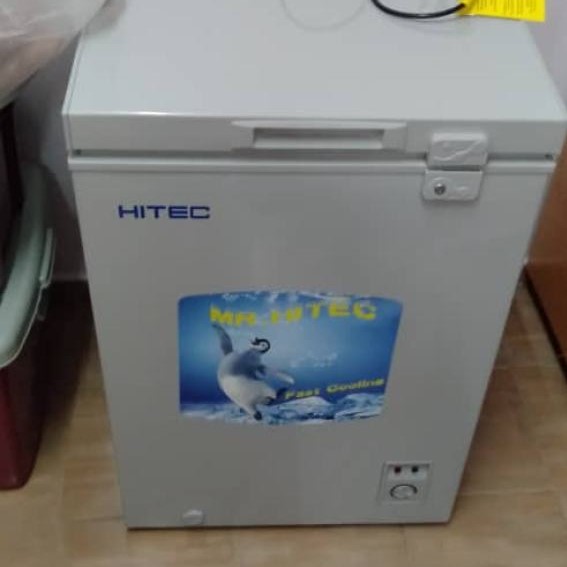 Why buy this:
Quick freezing function
100 hours of super cooling capacity for your convenience and peace of mind when your food is stored inside
Store whatever you want in a whopping 133L space!
11. Butterfly Dual Function BCF-W15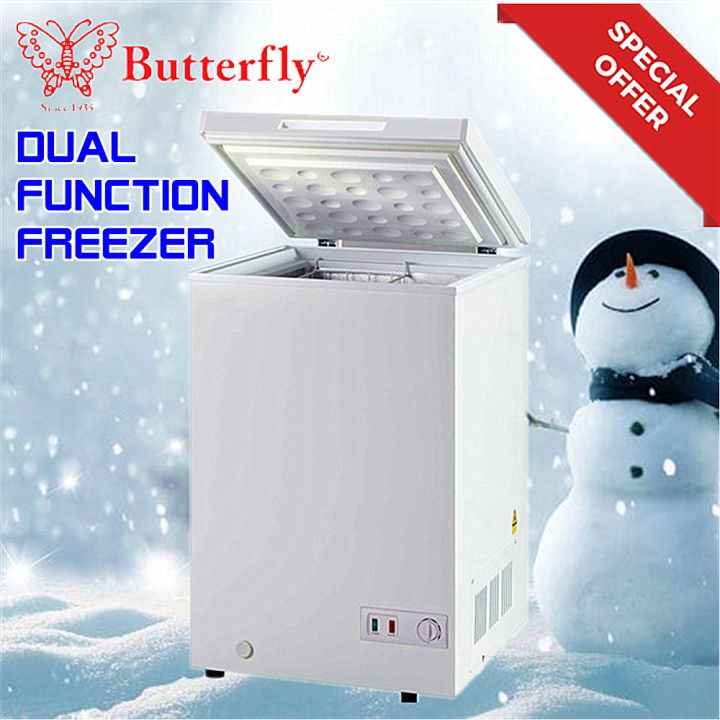 Best for small spaces
This energy-efficient freezer from Butterfly offers 80 liters of space for your perishable goods and can be converted to a fridge when running short on storage. The upright design is perfect for maximizing usage of limited space in the home. This freezer provides family members peace of mind that their perishables will keep fresh as it boasts features such as shelf heights adaptable to fit all needs, locking doors with child safety lock feature, telescopic feet to support uneven surfaces, and an automatic defrosting system.
Why buy this:
Simple to use design
Energy-efficient
Low-noise operation
12. Khind UF163 1 Door Upright Freezer 182L Single Door UF-163
Best upright freezer
The Khind UF 163 1 Door Freezer is a perfect appliance for commercial and domestic kitchens. It's made from 360° steel walls, coated in an anti-rust coating. The 6 drawers allow you to store every item perfectly in its own space, but there are also 5 foam panels that protect your food items even more so. Not only can this freezer be used as a fridge, it has cooling technology that maintains the same low temperature necessary for storing meat or ice cream.
Plus, nothing will beat 6 drawers stacked high with tasty treats all year round including breakfasts such as granolas or cereals; lunches fit for packed picnics like chopped salads.
Why buy this:
6 drawers for better food storage and easy access to stored items all year round (no need to dig from the top)
5 foam panels that protect your food items even more so.
No rips or tears will affect the taste of any of your food, especially ice cream!
The Benefits
Should you buy a regular fridge or freezer?
No matter how often we hear of the benefits of owning a freezer, many people are still hesitant in buying one due to the high cost. However, if you're looking for a way to save time and money, then you should definitely consider getting your own freezer.
One of the benefits is saving money while also reducing waste. Freezers are one of the best ways to store your food longer, so you can use them for longer or at a later time. This way, you won't have to throw away any food that went bad before it was ready to be eaten. Most freezers now have a dual function so you can easily switch from using them as a fridge or as below 0-degrees freezer.
Check out these best freezers in Malaysia today:
1. Morgan MCF-0958L Dual Mode Chest Freezer
2. Hisense Chest Freezer mini deep freezer 128L FC125D4BW
3. Midea Dual Function Chest Freezer WD-260W
FAQs
What is the difference between a refrigerator and freezer? 🤨
A fridge is used to preserve food at a temperature that eliminates the growth of bacteria, fungi, and other microorganisms. A freezer lowers the temperature of the stored food down to 0 degrees Celsius (32 degrees Fahrenheit), which prevents these micro-organisms from thriving.
How much doest it cost in Malaysia?
Freezers can cost between RM400.00-RM1000.00 in Malaysia. However, prices will vary depending on the make and model.
How do I store food in a freezer?
It is recommended to put perishable items at the back and meat items towards the front of your freezer as it retains coldest temperature.
This post was brought to you by Kimz House.
Disclaimer: The opinion is solely based on our testing or intensive research with customer feedback around the most popular shopping platform such as Shopee and Lazada. The products/services shown here are available and valid upon the publication date. It may change from time to time. Please email us at [email protected] if there is any discrepancy.