Last Updated on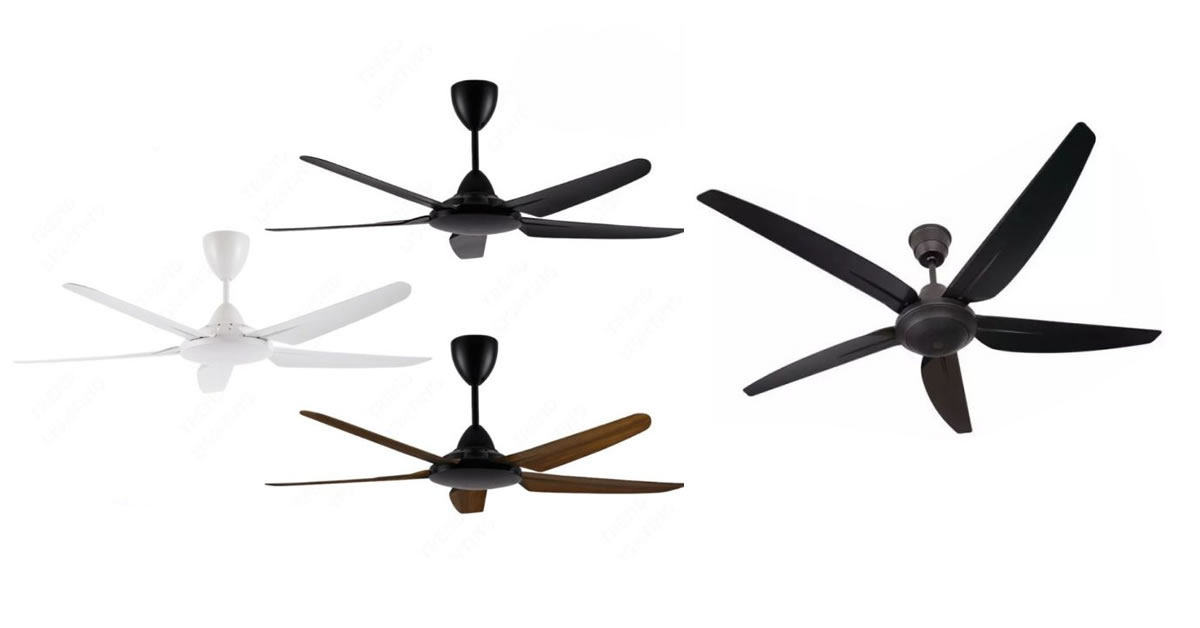 Most of us are not blessed with the luxury of living in a climate where air conditioning is always necessary. The best way to beat the heat is by using a ceiling fan, which can save you up to 30% on your monthly electricity bill. If you're looking for one that's well-made and affordable, here are 12 top choices from Malaysia.
12 Best Ceiling Fans in Malaysia
1. Khind CF615 Ceiling Fan with Regulator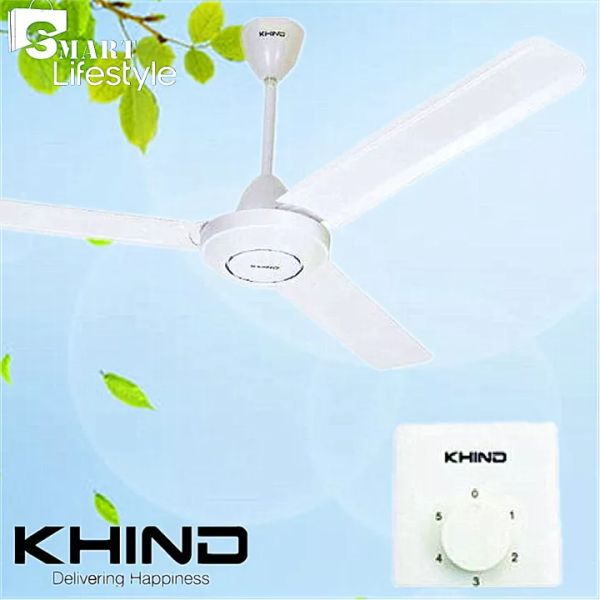 Silently provides cool breeze
Blowing air down on the hot summer days is as refreshing as being dashed by a wave of cool water. A Khind will keep you cool enough for those moments when there's no breeze and turn your home into your personal ice cream stand all season long. This Khind CF615 Ceiling Fan not only looks good with its sleek, low-profile design and short blades but also meets energy efficiency standards so you don't have to worry about adding extra expenses or having it running constantly like other fans. It has safety thermal fuse protection built in and heavy duty wiring that gives added security from electrical malfunctions that might cause fire hazards to spread quickly during warm weather months, plus corrosion resistant fan blades which keep this product looking fresh for years while lasting through the heat.
Why buy it:
The noise level of the fan is only up to ≤62dB making the fan work very silently which would be easy to sleep with.
2. Deka Kronos Ceiling Fan F5P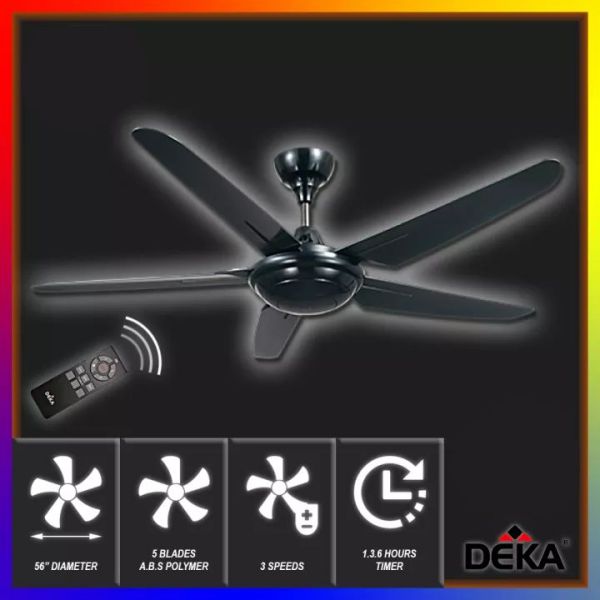 Most durable and safe
The Deka Kronos Ceiling Fan F5P is no doubt a perfect addition to your home. With three speeds available, this 56" fan can be as gentle and cooling, or powerful and air-moving for any situation you prefer. Durable blades are designed with A.B.S polymer design to offer not only durability but flexibility of use from childproof operation to maintenance free gripping surfaces, all the while never corroding on humidity or rusting on corrosion! The sleek remote control features an easy grip surface that makes it simple to quickly jump between settings to get the climate just right in virtually every room in a house while being both durable and sleek enough to rest comfortably in your hand or be hung inconspicuously among others!
Why buy it:
Because the fan has a timer it is very convenient to start up when going to sleep, if you don't prefer having the ceiling fan turned on overnight.

For an easier way to control the fan speed and turn it on and off, there is also a remote control.
3. ALPHA COSA XPRESS 54 REMOTE CEILING FAN
Provides the best ventilation
It's time to forget about the old, outdated ceiling beat with wires and matchboxes on the wall. With this beautifully crafted model wirelessly activated by a remote control, you can indulge in new-age luxury at home. It comes equipped with three wind delivery speeds and an aerodynamic motor for high efficiency ventilation that guarantees you'll never be too hot or cold in your living spaces again.
The aesthetic Cos Xpress 54 Remote Ceiling Fan is one of our most popular picks thanks to its propeller diameter of 184 cm (72″) – which means your size wingspan! With the average savings rating available on the market, it delivers just right when paired up with convenient wireless controls so all you have to do is sit back and enjoy.
Why buy it:
There is a remote control feature to easily change fan speed and turn it on or off.

With the timer options for 1, 3 and 6 hours, you can just turn the fan off and not worry about forgetting to turn it back off.
4. Khind Ceiling Fan 60 inch CF-618
Energy efficient
If you need to get your room cooled down quickly, then the Khind Ceiling Fan is what you want. This efficient product leaves no stone unturned in offering reliability and performance for its users. Along with being able to choose from five fan speeds, the CF-618 has a built-in safety thermal fuse that protects over curling power cords, as well as durable blades coated with powder paint. It's a must buy!
What are its main features? Its sturdy frame doesn't give or bend even under heavy winds; The high quality PU material completes durability; Plug it in and feel how powerful this gives off cooling breeze through side windows and open doors; weather resistant double insulated glass cover keeps everything outside! What else could you ask for?
Why buy it:
The coated fan blades are ensured to be corrosion resistant making it much more durable.

The ball bearing motor also contributes to the long lasting durability of the fan.

W

ith this fan, your energy will also be used efficiently if the standard 5 star energy efficiency rating.
5. Rezo Ventus Ceiling Fan MY56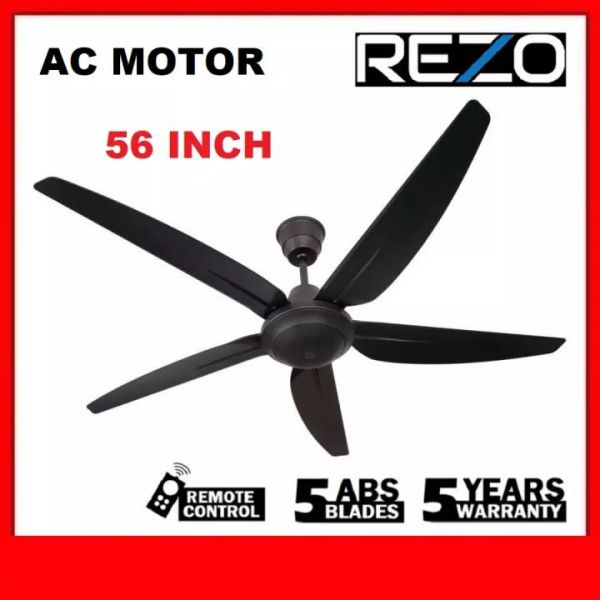 Easiest to customize settings
The Rezo Ventus Ceiling Fan MY56 is our best ceiling fan yet, delivering a symphony of wind right where you want it when you need it. The sleek black blades and curves will add elegance to any room while quiet tones bring mood and comfort. With five speeds at your fingertips and remote control operation, this fanciful ceiling fan can serve as either an elegant centerpiece in formal spaces or a functional interior designer for those with no time to waste.
Two-hour timer settings allow the ultimate in lighting uniformity over any occasion: one setting for dinner hours and the other for after-dinner relaxation. From sensual low features on low speeds to stylized white-noise humming on high speed, this symmetrically balanced ceiling fan.
Why buy it:
Unlike the previous fans, the timer has four options; 1 hour, 2 hours, 4 hours and 8 hours, this way, you can have the fan working overnight without the worry.

With the 5 speed selections, you can surely find the fan speed you prefer.
6. ALKOVA (ALPHA) AXIS/3B 56 INCHES
Get the sleek, precision performance of a modern racer with Axis. 3 blades meet effortlessly in one point for optimal air-flow. Its natural wind function provides airflow without creating noise and leaves you to admire just how smoothly it moves thanks to its forward and reverse options. The 56″ blade span makes it a perfect choice wherever space is limited yet desired – an office or bedroom perhaps? Designated Speed Memory allows adjustment of speeds as you need them with 8 different settings to choose from that are easy on the eye while yielding sensible power consumption; meanwhile remote control means no need to get up if you'd rather sit back and take in your surroundings – or adjust other ceiling fans – comfortably seated at your work desk. Built for 21st century living.
Why buy it:
Because the fan has 8 different speeds, it will serve the purpose, whether that be for a smaller room or even for bigger gatherings.

The reverse function will help you circulate the air around your household better.
7. Panasonic F-M14CZ BAYU 4-Blade Ceiling Fan.

The Panasonic F-M14CZ BAYU ceiling fan has an astounding four blades which provides for optimum, effective air circulation. With safety in mind, this model features a reverse bladed design to keep fingers from getting sliced by the blade. Also included is a remote control that offers three preset speeds as well as 1, 3 and 6 hour off timers (so you don't have to remember). Plus it includes sleep mode settings at 3 or 6 hours so you can fall asleep with your favorite on without worrying about being woken up before its time!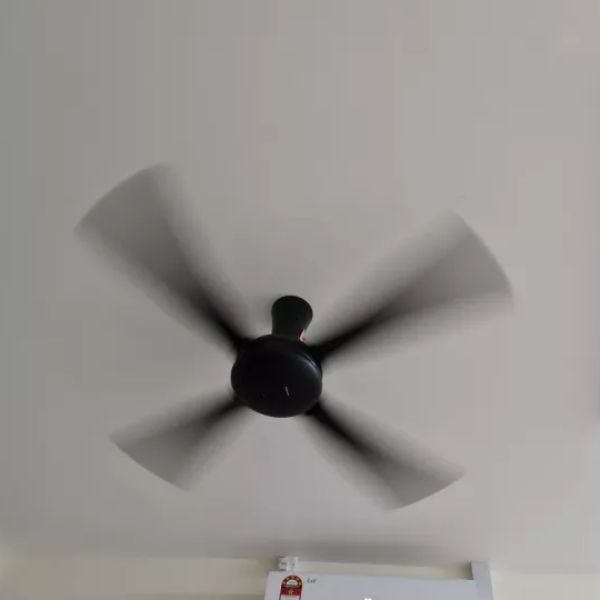 Why buy it:
The sleep mode allows the fan to slowly reduce its speed as the timer ends allowing a more comfortable sleep.

You can easily cancel any timer or mode setting with the cancel button in the remote.

With its safety features, you are surely safe with this ceiling fan installed in your household.
8. Deka Remote Control Ceiling Fan DK338
This huge ceiling fan will cool down the whole house at once. The 65-inch diameter blade span makes this the perfect product for homes with more than one story, as it can move air from room to room. Featuring 5 blades and a bold aerodynamic design, this is one quiet appliance that does not make any sort of noise whatsoever when in use. With height adjustable oscillating speeds and 4 different settings there's always the perfect option – take it nice and slow or reach max speed with just a quick flick of your wrist on remote control to suit the mood. This powerhouse also features a 1,3,6 hour timer function so you never have to think about wasting time before walking away from your home again!
Why buy it:
The ceiling fan operates silently, which will provide you the cooling breeze you need without any distracting buzzing noises.
9. MAVA TROCA 58″ DC CEILING FAN
When air conditioning and electric fans just can't provide the relief you need, then it's time to rely on the power of Troca. The Troca is designed for convenience both in installation and daily use – large switches make them easy to operate, while a remote control makes adjustments even less strenuous. A powerful DC motor guarantees durability (10 years warranty) and strength behind each breeze created by this appliance. Choice materials like polyester blades ensure long-lasting efficiency after continuous use without having to worry about any wear or tear your ceiling fan may encounter over its lifetime with regular usage; TROCA are the first of their kind so feel free to explore all that they have available.
Why buy it:
This fan is 70% energy efficient in comparison to an AC fan.

MOVA TORCA ceiling fan can serve as the room's light fixtures as well.
10. REZO AX42 Baby Fan 42″
Introducing MAVA TROCA the 58″ DC ceiling fan that you can rely on for efficacy, design and performance. This seemingly simple invention will add peace to your room with its loftiness, as well as vitalizing the air from its five blades made of ABS plastics. The versatility of this product is so multifarious that it includes a remote control operated by Infrared (IR). Style has never been an issue with these modern fans because they come in different colours like Matt black or Matt white.
The energy consumption is also low which means more convenience for you who wants to feel refreshed without having to worry about wasting too much money on electricity bills or changing expensive batteries all the time.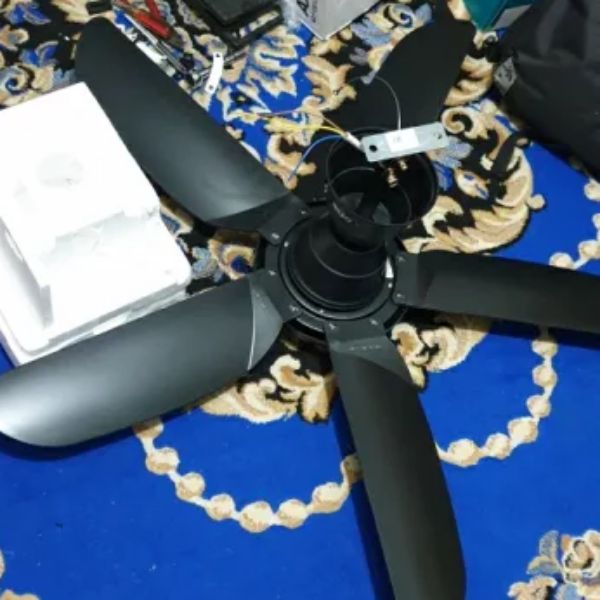 Why buy it:
With the matte look, this ceiling fan will add a sophisticated touch to your household!

The 5 speed selections for sure will give you the perfect cooling and air circulation you need!
11. Pensonic 60″ Ceiling Fan PCF-6001B
A glossy, white 60-inch ceiling fan with a contemporary design that adds to the ambience of any room, whether you need to cool off or want some atmospheric lighting. Built for speed and efficiency, this motor runs at 279 RPM while emitting less than 58 decibels of sound. Sleek and stylish in a 5-star energy rated component package, it features five settings for natural cooling options so that everyone wins.
Air velocity is 170 m/s with an air circulation area of 1210 square meters on high wind power setting making it perfect as an overhead light or a moving head task light depending on where you are doing work or playing games. Featuring three permanent speeds and two intermittent speeds for flexibility every day from morning sleep to evening relaxation.
Why buy it:
Safety wire is incorporated for maximum protection and assurance, to up the level of safety, there is also a safety thermal fuse.

The level of sound decibel ensures a silent operation.
12. KDK K15V0 Ceiling Fan 60 Inch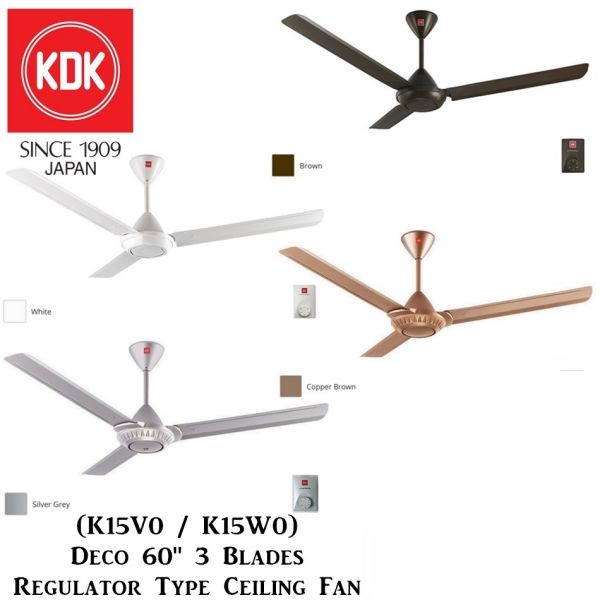 Air circulation and energy efficiency are two of the leading concerns in living spaces- especially during warm summer days. Combine that with modern-day dangers such as a power outage or electrical malfunction, and you can be left vulnerable to disaster if your home doesn't have proper protection. That's where the KDK K15V0 Ceiling Fan comes into play.
This basic fan measures 60 inches wide to save space without sacrificing airflow, shining cool air from every angle from 150 cm up for better coverage in large rooms. The retractable safety grill safeguards any curious little hands while still allowing enough light through for visual appeal at night by letting just one quarter inch between blades and grills! And with this KDK product, you'll never worry about dust accumulation
Why buy it:
You don't have to worry about the electricity bill with this fan's energy saving condenser motor. The wider sweeping plates makes the air circulation more efficient.
FAQs
Why do I need a ceiling fan in my home?
Yes. It makes your frying a whole lot healthier and faster, with less oil. Ceiling fans are a more affordable and practical solution for cooling homes rather than air conditioners. They're great during the wet season (monsoon) when it rains almost every day because they help cool off your home just by turning on the ceiling fan on low to medium speed.
Are Ceiling Fans Energy Efficient?
Yes, ceiling fans are energy efficient because they use less electricity than other air conditioning systems. The fan blades move air around creating a cooler temperature at your eye level. This helps circulate the cool air throughout the whole room which keeps you cool and comfortable on hot days. If you have central A/C it still doesn't hurt having a working ceiling fan in each room because all it does is help keep that cool air moving around the space.
Which type of ceiling fan is best suited for my home?
There are two types of ceiling fans available in Malaysia:
Airflow (Swinging) Ceiling Fan promotes an even airflow throughout your home and can help cool off rooms in the hot humid months.
Mixed Flow (Swinging & Whispering) Ceiling Fan produces a gentle breeze during warm weather conditions while requiring less energy when compared to other fan types due to their unique aerodynamic design.
What Are The Advantages Of Using A Ceiling Fan?
They can be used to complement the cooling power of an air-conditioning with the fan moving cool and circulating air around your home or office, especially in a large open space.
Conclusion
Ceiling fans have been around since the early 1900s and are still popular today. They offer homeowners a cost-effective way to keep their house cooler when there is no A/C running or just as an additional measure if you need extra cooling power due to high temperatures outside. If you're looking for a new ceiling fan, we recommend checking out these brands that make some of our favourite models on the market right now!
In the wet season, Malaysia's climate can be hot and humid. Ceiling fans are an affordable way to cool your home during these months. As a practical solution for cooling homes in Malaysian climates, ceiling fans have been proven time and time again to save money on air conditioning bills! We hope this article has given you some new ideas about how best to use ceiling fan brands in Malaysia. What's your favourite brand of a ceiling fan?
Related Read: Best ceiling fans in the Philippines
This post was brought to you by Kimz House.
Disclaimer: The opinion is solely based on our testing or intensive research with customer feedback around the most popular shopping platform such as Shopee and Lazada. The products/services shown here are available and valid upon the publication date. It may change from time to time. Please email us at [email protected] if there is any discrepancy.