Last Updated on
Are you looking for a reliable aircon servicing Singapore company to service air-con units in your company or at home? Then look no further! Professional aircon companies that are professional and reliable are not easy to find.
You may come across loads of aircon servicing Singapore providers advertising their services online and offline, however, you can't just call any company and trust that they will provide you with reliable and professional service.
The first step in selecting the right air conditioner service provider for your company's aircon servicing requirements is to do your homework and research to establish which companies consistently provide the best and most reliable services in your area.
Below we recommend 11 of the best aircon servicing companies in Singapore for you to choose the best one near your home. These air conditioners companies can be found in various locations throughout Singapore to make it easier for you to choose one closest to your home or office.
1. Billy Aircon Servicing & Repair Singapore
Billy Aircon was established almost 25 years ago during which time they have catered to the needs of more than 900 customers. They maintain a team of 12 air-conditioning technicians that are trained to execute their services according to the highest quality and professional standards in the industry, ensuring that each client receives the best quality delivery of service with every job.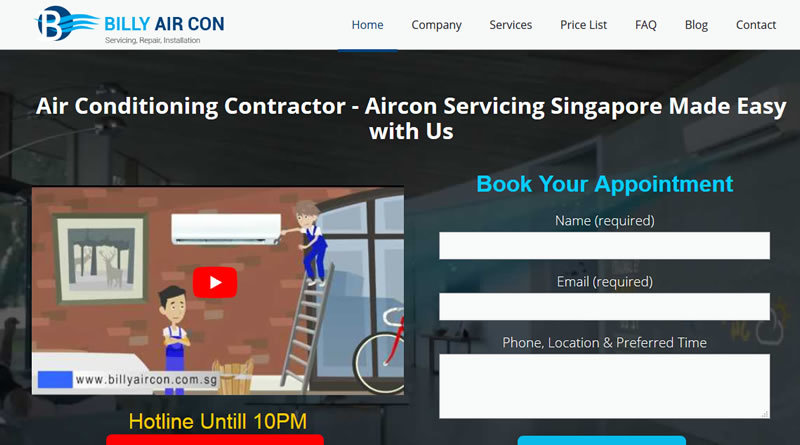 Their service areas include Bedok, Tampines, Toa Payoh, Jurong West, Woodlands, and Ang Mo Kio. If you live in one of these areas you can rest assured that Billy Aircon will deliver the best quality aircon service.
They provide standard commercial air con services including repairs and aircon gas top-up as well as aircon chemical cleaning services to solve your aircon problems.
In addition, they are also able to install various type of aircon brands such as Daikin, Mitsubishi, Toshiba, LG, Panasonic brands for your home or office.
They provide quality aircon servicing experience at an affordable price and is a great choice since they are accredited by the Singaporean government which ensures that you will receive top-notch aircon maintenance, repairs, and installation services. All works come with 90 days workmanship warranty.
Billy Aircon Servicing and Repair Singapore can be contacted by telephone at +65 9456 0875 or +65 6846 4587. To learn more about Billy Aircon and the customer service they offer, you can visit their website at ww.billyaircon.com.sg
They are located at 35 Circuit Road, Singapore 370035
2. Cool Earth Aircon Services
Avoid suffering from the heat and humid environment in Singapore when your air conditioner breaks down by hiring the professional services of Cool Earth. Their technicians will get your aircon issue fixed, cleaned and operating at optimum levels again in no time.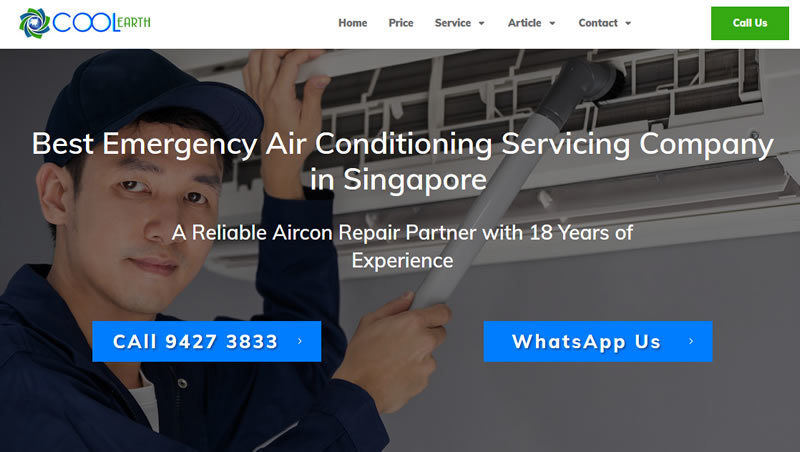 Cool Earth offers standard air-con service that includes gas top-ups as well as repairs, maintenance, and troubleshooting to detect problems. You can also trust them to install new air conditioning units for your home or office.
Visit their website to find out more about their service packages and the going rates for each one. Cool Earth operates in the following areas: Ang Mo Kio, Woodlands, Bedok, Sengkang, Toa Payoh, Pasir Ris, Bukit Batok, Jurong West, Hougang, and Yishun. If you live in any of these areas give them a call today to avail of their professional aircon cleaning service and enjoy their great customer service. Find out more at https://www.coolearth.com.sg/
3. Great Aircon
Great Aircon relies on premium quality service to gain the trust of their valued clients. The company has an expert team of professional aircon technicians who are responsible for providing clients with exceptional aircon maintenance services in order to give them greater air quality.
Their service process includes thorough diagnostics to assess the situation and detect any problems. This allows them to provide you with the most appropriate solution for your AC requirements before you are presented with a fair quotation. The number of repeat customers who make use of their services is a testament to the type of excellent service this company provides.
Great Aircon offers a range of different service packages from a once-off service to contract servicing and annual aircon maintenance and repair packages. The company also specializes in chemical overhaul cleaning.
This a complex cleaning service that years of experience with this method have allowed them to earn the trust of their large client base. All their technicians are trained in-house so there is no risk of problems arising when dealing with sub-contractors.
Great Aircon is a registered air conditioners service company located at Midview City on Sing Ming Lane. They hire only professional air conditioning experts to carry out their work. You can contact them by visiting their website where you will find their details and more information on their services.
You can also make use of their online booking service where you can advise them about any issues you may be experiencing with your AC. In this way, it is easier for them to address the problems and advise you correctly.
Very few aircon servicing Singapore companies will value the comfort and quality of the air inside your home like Great Aircon. An expert aircon servicing provider for maintenance, repair, and air conditioner installation, there is no better aircon servicing company in Singapore to take care of your air conditioning needs.
4. Coolbest Aircon Servicing
Coolbest Aircon is on a mission to become the most reliable aircon servicing Singapore company. In addition to delivering reliable, high-quality services they strive to do so at an affordable price that allows anyone in the country to afford their services.
They also provide a full range of air-con services that include repair and service on all types of aircon units as well as installation of various type of aircon brands from window-type units to large AC systems.
You can trust them to take care of all your indoor and outdoor cleaning, repairs, and installations as well as aircon chemical cleaning which is the best way to aircon chemical wash an AC to get it back to full operation.
Coolbest Aircon Servicing has been providing aircon servicing in communities in Singapore for more than 18 years and every year they add more and more customers to their client base. You can visit their website to read testimonials from highly satisfied customers in your area.
On the website, you can also learn more about the company, their schedule of operations, and handy guides and tips related to air conditioner maintenance and problems. You can also book an appointment directly on the website.
Coolbest Aircon is located at Block 540 #03-1108, Jurong West Avenue 1, Singapore 640540
If you wish to call them their telephone number is +65 9182 5233
5. AS Aircon Servicing
Whether it is catering to the needs of a small flat in the Woodlands or a large office in the central business district of Singapore, AS Aircon Servicing stands out as a top-notch aircon servicing Singapore company. No matter how big or small the problem, their team of expert aircon technicians are highly experienced at servicing all types of aircon units and always delivery good job to their customers.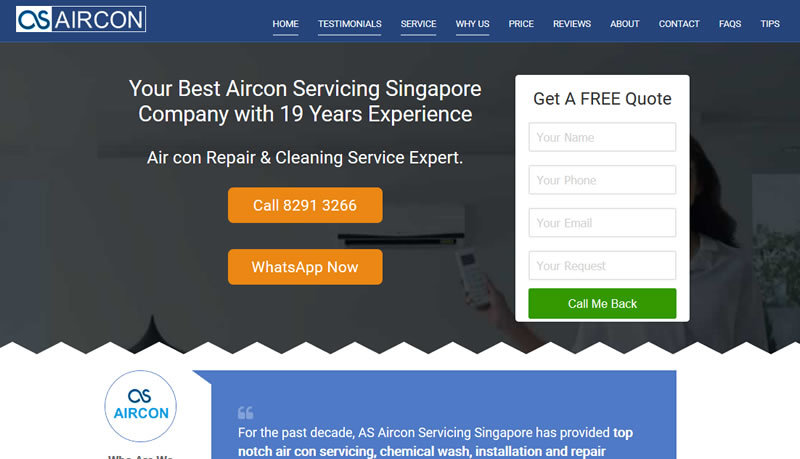 AS Aircon Servicing offers several services at low, affordable rates when compared to other companies.
They specialize in servicing aircon, repairs, and aircon installation services as well as chemical overhaul washing. In addition to their standard aircon servicing, they also offer aircon chemical overhaul services. Check out their packages on their website where you are invited to specify the type of job you need to be done and to set an appointment for an assessment and quote.
Their main drawcard is their professionalism in delivering the type of quality work valued by their customers. Their clients include business owners, homeowners, and corporations who are all very satisfied with the quality of workmanship they receive. AS Aircon Servicing pride themselves on always striving to exceed the expectations of their clients by providing the best professional quality aircon servicing experience in the industry.
6. Aire Control
Aire Control is an established air-con company that has been operating in Singapore for many years. Their well-trained team of aircon experts are highly experienced in providing quality services for their hundreds of clients on an ongoing basis. They are well known for providing the best aircon service in Singapore.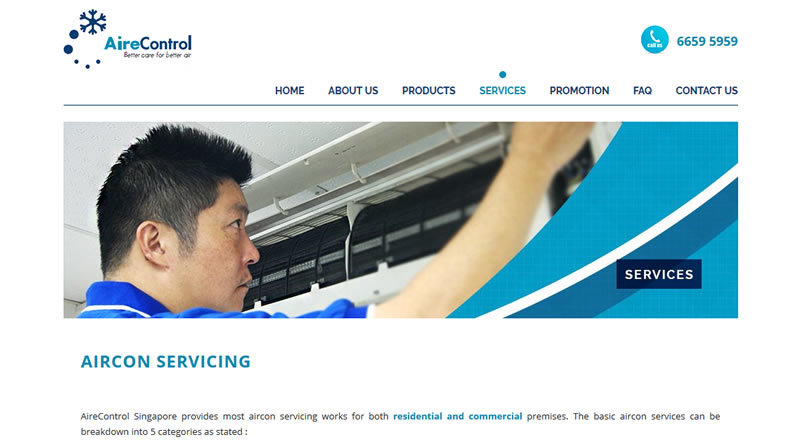 Their team of aircon technicians are armed with the appropriate tools and equipment to perform their jobs on location. They are also capable of providing emergency services when required.
Aire Control has been awarded a TrustSg accreditation which can be found as a seal on their website. Back in 2010 they were also given the Successful Entrepreneur Award as a professional air-con service company and for their commitment to excellence and quality service.
They are located at 7030 Ang Mo Kio Avenue Five, Northstar, AMK, Singapore 5698880. You can contact them by email at [email protected].
Call them today to set an appointment for an aircon servicing at 659 5959
7. Lemon Cool Aircon
As the name indicates, this company promises to deliver a "breath of fresh air" to their clients by providing an array of aircon services tested over a long period of time. Their services include diagnosing the condition of the unit to detect any problems that may need fixing as well as standard service and new installations.
One of their top-rated services is aircon chemical cleaning which is a comprehensive, deep-cleaning method for air conditioner units that have not been cleaned or serviced for many years.
Lemon Cool Aircon has been servicing communities across Singapore for over two decades including residential and commercial properties as well as non-profit organizations. They offer fast and accurate quotations and a choice of several different packages.
If you would like to find out more about their services and the cost of having your aircon repaired or cleaned, visit them at their website where you can request a quotation. Here are some of the service you can expect from Lemon Cool Aircon:
Highly trained aircon specialists
Exceptional customer support
Country-wide service coverage
To learn more about their great service, visit their website at https://www.lemoncool.com.sg
8. Gain City
Primarily an AC retailer, Gain City Pte Ltd has expanded its services to include air con servicing including maintenance, aircon repair, and installation of new units. They also offer other solutions to clients who need aircon servicing.
A highly trained team of aircon technicians are at your disposal when you need aircon services, all of whom are BCA certified and true professionals in their field of expertise which means that you are assured that they will provide high-quality service.
Excellent customer service and an extended workmanship warranty are just some of the service you can avail yourself of when you hire Gain City. Their service comes highly recommend which is what you should be looking for when you are thinking of hiring the service of an aircon servicing Singapore contractor.
The company guarantees customer satisfaction for their air-con services as well as any products you buy from them. They also provide delivery and installation when you buy an aircon unit from them.
9. Aircon Vision
With a myriad of aircon service providers available in Singapore, a professional air conditioner company like Aircon Vision Pte Ltd is hard to find. From inspection, aircon overhaul service, maintenance and repair to effective chemical overhaul washing, their trademark the delivery of safe and effective aircon services.
The make and model of the air conditioning unit do not matter as their technicians are highly trained to service all types and brands. This makes them a highly sought-after aircon service contractor to hire when you need your air conditioner fixed or serviced.
Some of the best things about this company are their affordable rates, guaranteed contracts, friendly customer service, workmanship warranty, and easy booking service.
10. Freezy Aircon Servicing
Freezy Aircon is a highly popular aircon service provider for corporate offices, commercial areas, and large residential properties in and around Singapore because of their professionalism and quality of workmanship warranty.
Customers can choose from their standard aircon servicing packages or have them customized to suit their needs. This is particularly useful as the type of services required by commercial customers differs substantially from residential requirements which can be established during the initial inspection.
One of their unique services includes 'clean' and 'green' solutions such as steam cleaning that is an extremely effective method of chemical overhaul cleaning an aircon unit without the use of harmful chemicals. To access their hotline dial (65) 3138 2106!
11. Aircon Boy
Book your very own aircon service with Aircon Boy, Singapore. You can contact them by phone or via their website. Their technicians are trained to work on any brand of air conditioner including all the most popular brands available in the country.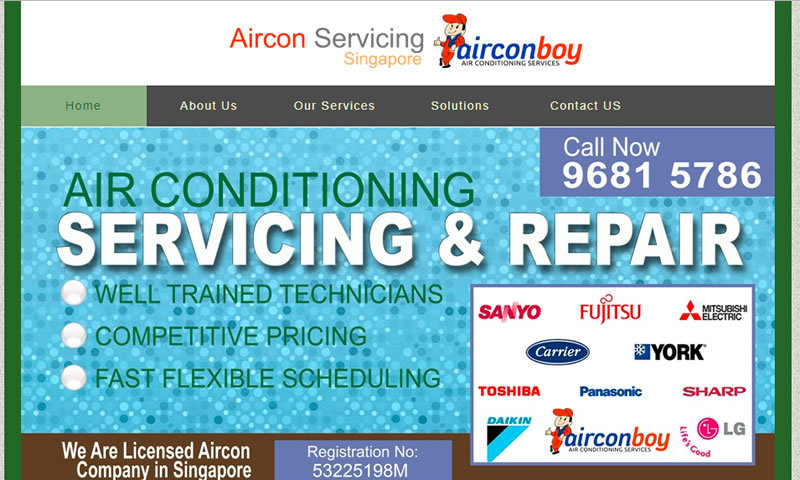 You can expect excellent service from well-trained aircon technicians who are not only expert servicemen but are also highly professional in their work.
The rates charged will depend on the type of work required. Different pricing packages are available for each unit that include aircon gas, fan coils, and troubleshooting problems. There are also special rates for chemical overhaul washing. For worry-free aircon maintenance you can avail yourself of their yearly rates – just set the schedule you prefer and Aircon Boy will take care of everything.
What you need to think of when getting aircon service assistance
It may surprise you to learn that even with general services for aircon units, there are quite a few price ranges to work with. While it does depend on who you hire for the job, there are plenty of other factors that you have to think of.
# How many units do you need to be fixed?
Of course, the more aircons you have, the more they cost to take care of. However, there are companies that charge a rate that's standard for more systems so the average price per unit can go down.
# How often you need servicing?
Getting a one time service isn't going to cost as much as working with some kind of package deal. If you're happy with a company's reputation and level of service, however, a package deal can save you in the end if you need their help often. Find out more here.
# What kind of servicing?
Regular servicing doesn't include things like cleaning with chemicals, steam or replacing parts. If you have a unit that requires these kinds of things you'll have to pay a little more in the end. It's smart to go over the costs with the person doing the aircon work before you need to work with them.
# How many coils?
If an aircon is more powerful than what standard buildings have in place, it will cost more to work with. The reason for this is that they have extra coils and it can cost up to $40 per coil.
# Other considerations
If you're going to have a company come to help you on an emergency basis, it may cost you more money in the end. However, you may not know that if you're going to work with certain companies they may charge more if the unit is higher than 3m up or on your ceiling.
What do you get with air con servicing?
If you have an aircon unit then you should be working on maintaining it regularly yourself. This means that you're going to want to wipe off the aircon vent, clean the fan inside, and washing the filter after removing it. You also need to replace the filter every half a year to a year.
Aircon servicing generally will include these things:
1. Aircon Cleaning
Your technician is going to clean any filters, coils, the drain pan, pipes, and outer panels while getting rid of excess moisture in the aircon. This helps the aircon to have efficient and clean airflow. Know that the parts are dry before you put things back together. There are some Singapore aircon services that deodorise and purify your air filters as well.
2. Repairs and maintenance
If there are parts that don't work well the technician is going to take care of them.
3. Oil fan lube work
Lubricating your unit's fan bearings is important for quiet operation.
4. Checking and inspecting various parts
There should be a visual check done to know what works right and what needs to be replaced.
5. Top up your refrigerant gas
There is a gas called freon in your aircon that cools air and keeps the unit running properly. You generally don't have to add more refrigerant unless there is water leakage and in that case, the technicians are going to fix the issue before adding refrigerant.
6. Aircon Chemical Cleaning
Generally, this isn't part of the regular procedure when it comes to servicing air conditioners. You need to use chemicals in addition to water if you want to request a more thorough cleaning. Your aircon will be dismantled so that the fan foil, evaporator coil, and blower wheel can be immersed in a solution of chemicals. If parts can't be taken apart like with pipes, there will be chemicals pushed through them. This gets mould and bad substances in general out of your aircon.
Now, you know what will happen in a regular routine you need to know that not every company is going to stick to the same standards. Make sure you check out a company's reputation before you hire them to do any work.
Why is it important to service aircon?
It's crucial to service an aircon so you know that it is running well at all times. If you want to make sure it's working well then it needs to be cleaned with chemicals.
Over time as you run your aircon it's going to remove a lot of pollutants from the air that then gets stuck in the unit. As time goes on, this build-up of chemicals will damage the unit and will make it perform at a lower level so it doesn't blow as cold.
A good aircon service can regularly help you with this.
Know that your aircon is working well so you get the best results.
Keeps energy costs at a lower price.
Makes your unit last a long time, even up to around 15 years in some cases.
Helps you know that the air in your building is clean.
Lets you catch problems before they get worse and cause the whole unit to have issues int the near future.
Reduce power consumption
There is dirt that will build up in aircon filters that cause it to not perform at its best level possible. Due to this, you need to make it a thing to get your aircon checked out on a regular basis so you always know what's going on with it.
Reduce the possibility aircon parts get burned
When a unit has issues then it's going to have to do extra work which really wears down the parts that it's made of. After it reaches a certain limit, the motors in it can get damaged or burnt.
Reduce aircon not cold issue
After the unit absorbs the heat from inside, the refrigerant will pass the air to the condenser coil in your outdoors unit. A fan blows cool air on it making it ready to cycle the air properly. However, if there is a lot of dirt and other residues on the coils then the heat transfer may not be as effective. This can cause your aircon to not be that efficient. The aircon is going to get hotter as it goes through its cycles and this causes some damages and not cold. Find out more why aircon not cold.
Improve Air quality
Your aircon is also there to act as a way to purify the air. It grabs a lot of dust out of the air so you get cool and clean air as a result. As time goes on, dirt is going to build upon the filters This can not only restrict airflow, it also allows for bacteria to grow if everything isn't cleaned properly.
Bacteria and things like mould are going to grow and end up coming out of your vents. This means that instead of you getting nice clean air, you'll get sick from the mould and bacteria in the air. You can also expect particles that are from a polluted unit to make the air smell or the particles will settle in drainage areas around your home causing more issues.
How much should you pay for aircon servicing in Singapore area?
The aircon servicing price in Singapore is going to depend on a couple of factors:
The number of fan coil units: You have to add more if you have more units to be serviced because in the end that means the company has more work to get done. If you have a lot of units to fix then you should see if you can get a good deal on a package of some kind since they'll be doing more than one job.
How often you get services: if you get services often then it will cost more. With that being said, you need your aircon looked up up to 4 times a year.
What type of aircon services: the more that someone has to do to work with your units the more you'll have to pay.
What type of aircon you have: if you have a powerful and expensive aircon then it'll cost more than something that's cheap and small o take care of. This is because a nicer aircon is going to have more coils to work within the end.
There may also be charges for special requests, depending on who you work with, like if you have to have them come out on an emergency basis.
Since companies are going to charge different prices, there are a lot of different prices to pay for help. To know that you're not paying too much, here are some average prices of getting services in Singapore.
Average Aircon Service Price in Singapore
How often should an aircon be serviced?
If you are using an aircon on a regular basis, you should get help once a quarter. Even if your aircon isn't used that much, at least once a year you should get it looked at.
When you are getting your aircon looked at regularly, see if there is a package deal you can work with to make things cheaper.
That being said, you want to also know that the company you are working with has a good reputation and positive reviews backing it.
Top Highly Recommended Aircon Servicing Companies in Singapore
We have gathered quite a bit of information on the aircon service companies that are out there to make a list of who you should work with. The companies we picked are AS Aircon, Billy Aircon, and Cool Aire so you can read on to learn more about them.
1st Choice – Billy Aircon Servicing & Repair Singapore
Billy Aircon is recommended by a lot of people because they have a wide range of service coverage. They will help you no matter where you are in Singapore for the most part. There is sure to be a Billy Aircon near where you are located.
They also have a warranty that they offer that lasts for 3 months. This is a good plan to take advantage of if you want to work with a company that knows what they're doing. This means that hiring them is not a risk to you because if something goes wrong it will be taken care of. In addition, they provide worry-free 90 days workmanship warranty.
2nd Choice – Gain City
Grain City is one of the most recommended aircon servicing companies if you want to work with people that know their work inside and out. Gain City has a lot of air conditioners for sale and they know how to do maintenance on them while providing you with a warranty.
If you're a busy person and want to work with a convenient company, go with Gain City. You can subscribe to their package for yearly maintenance when you get a new aircon so you can save electricity bills & money in the long run.
3rd Choice – Cool Earth Aircon Services
To round out this top 3 we definitely recommend Cool Earth Aircon Services who operate out of Tampines. They have a prime location where they are able to help clients with ease. They have great service as their trademark and a lot of people have had a great experience & customer reviews with them.
You need help from well-trained technicians so you know that your aircon is going to last a long time. These services are here to work with anyone at an affordable price in Singapore so people can get the best servicing experience possible.
Do you know of any other good aircon servicing companies that operate in this field? If so, leave their name in a comment below!