Last Updated on
Summer is in full swing, and with the rising temperatures comes an increase in the need for air cooling. If you're looking for a quality air cooler to keep you comfortable this summer, check out our list of the five best Europace air coolers. We've compared different models and price points so that you can find the perfect one for your needs. Whether you're looking for a small personal unit or something to cool down a large space, we've got you covered. Keep reading to learn more!
1. EuropAce 4-in-1 ECO 2130V
Basic Air Cooler
This powerful little unit not only cools and circulates air, but also acts as a humidifier and air purifier – perfect for those stuffy, stagnant indoor spaces.
With a 1500 meter cube per hour airflow volume and twin wind turbine, the EuropAce 4-in-1 Evaporative Air cooler ECO 2130V will quickly and efficiently cool any room. The thick honeycomb filter ensures that the circulated air is clean and fresh, while the 24-hour preset timer and three fan speed settings make it easy to customize your cooling experience.
2. EuropAce ECO 6301W
Looking for an evaporative air cooler that can do it all? Look no further than the EuropAce NEW ECO 6301W 4-IN-1 Evaporative Air Cooler. This powerful cooler has a strong 200W motor that can move air at a speed of 12m/s, making it ideal for cooling large rooms quickly. It also features a front-loading water tank for easy filling and a durable full copper motor that ensures long-lasting performance.
Plus, with six-speed options and four different functions (evaporative cooling, fan only, humidifier, and ioniser), you can tailor the cooler to your specific needs.
3. EuropAce Portable AC EPAC-20A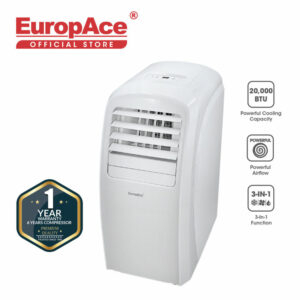 Want to stay cool and comfortable all summer long, without breaking the bank? Then check out the EuropAce Portable Aircon EPAC-20A! This powerful air conditioner has a cooling capacity of up to 20,000 BTUs, making it perfect for large rooms or apartments. It also features a rotary compressor for maximum cooling power, as well as water auto-evaporation and CFC-free refrigerant for environmental friendliness.
Plus, with its large air outlet and adjustable louvers, you can direct the airflow just where you need it. And the large screen display makes it easy to see the temperature and other settings at a glance. Best of all, the EuropAce Portable Aircon EPAC-20A is a 3-in-1 unit, so it can also be used as a fan or dehumidifier.
4. EuropAce 5 -in-1 ECO 8401W
The EuropAce 5-in-1 Evaporative Tall Air Cooler has a powerful airflow that can cool down even the largest of rooms quickly and efficiently. You can choose the perfect setting for your needs with six-speed options. The built-in ionizer ensures that the air is purified as it circulates, while the auto 4 directional swing ensures even cooling throughout the room.
The timer function means you can set it to run for however long you need, while the low noise level means you won't even know it's running. Plus, with a water tank capacity of 40L, you won't have to worry about refilling it all the time.
5. EuropAce ECO 1501Y
Ultra Compact
With its ultra-compact design, extra large air outlet and simple controls, it's perfect for use in any room. It also features a high wind volume of 330m/h and a high evaporation capacity of 900ml/hr, making it ideal for use in hot or humid conditions. Plus, the honeycomb filter ensures better cooling efficiency while the ultra-silent motor ensures low-noise operation. And with the included infared remote, you can control the unit from anywhere in the room. Finally, the 6L water tank with filter ensures long-running operation.
Why Choose Europace for Your Air Cooler?
Europace is one of the leading brands of evaporative air coolers in Singapore. With a wide range of models to choose from, Europace has an evaporative cooler to suit every need. This budget-friendly brand also offers a variety of features and options that makes their evaporative air cooler truly unique. From automatic swing louvres to remote control operation, Europace offers a wide range of features that makes their evaporative air cooler truly unique.